Trusted by over
465,000

businesses globally
Awards and recognitions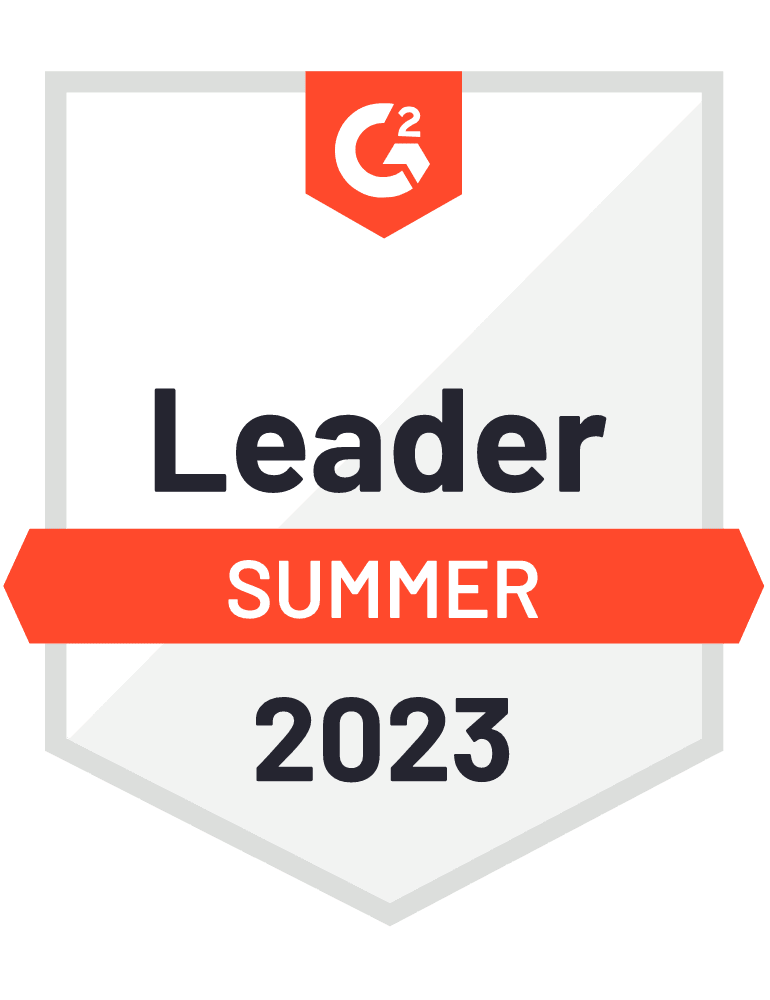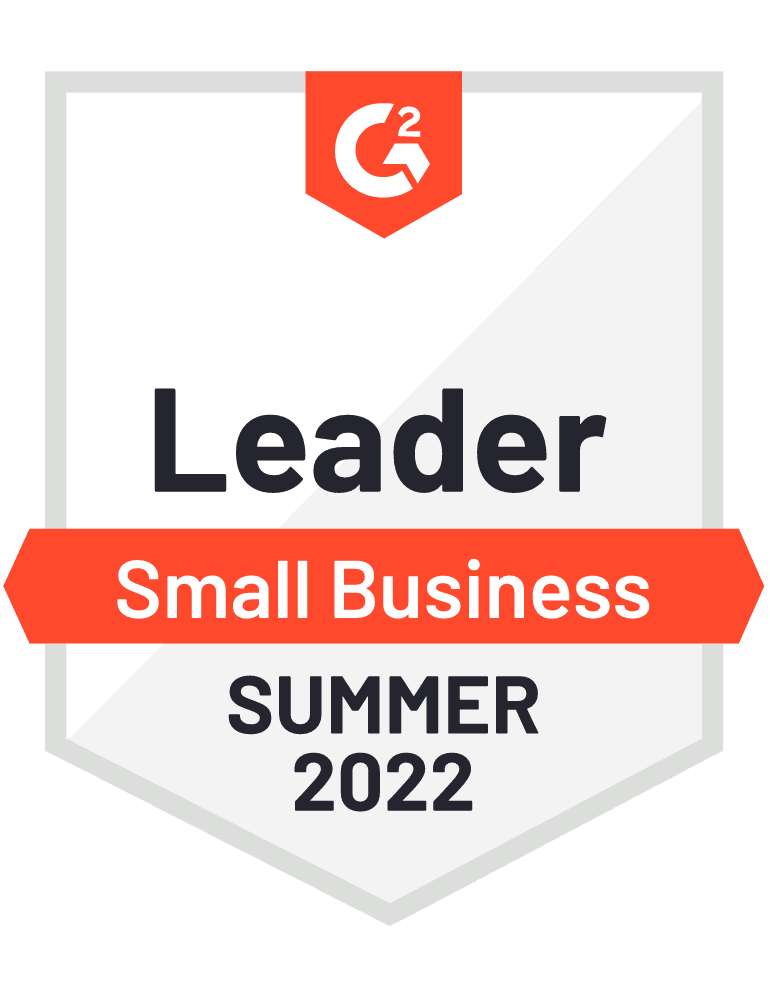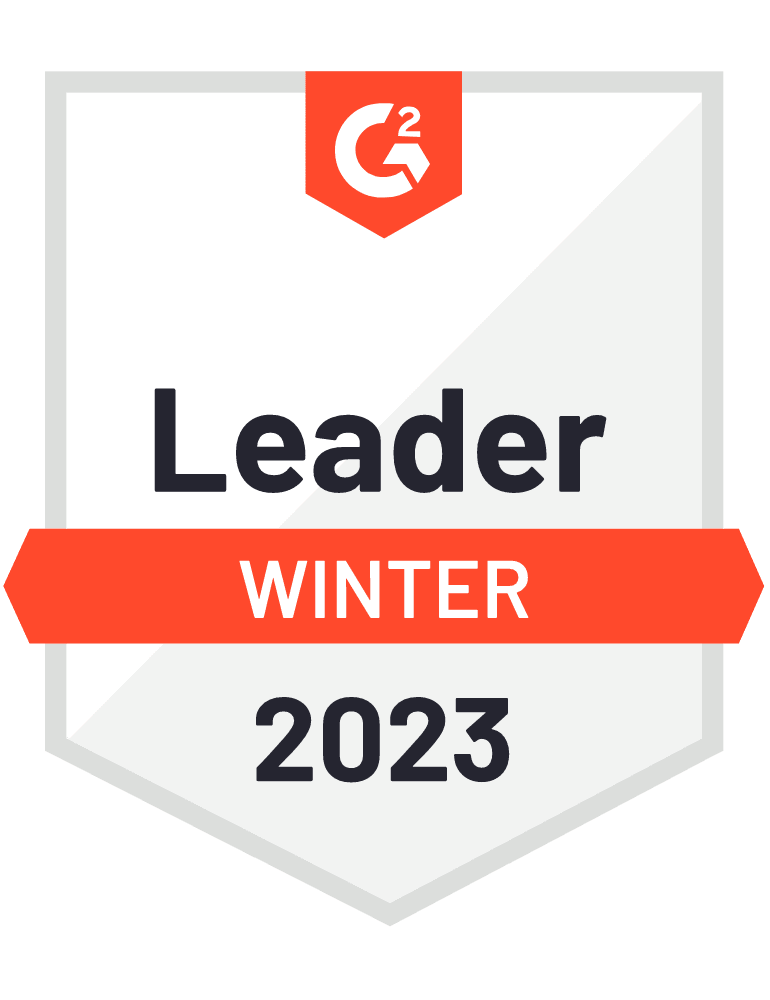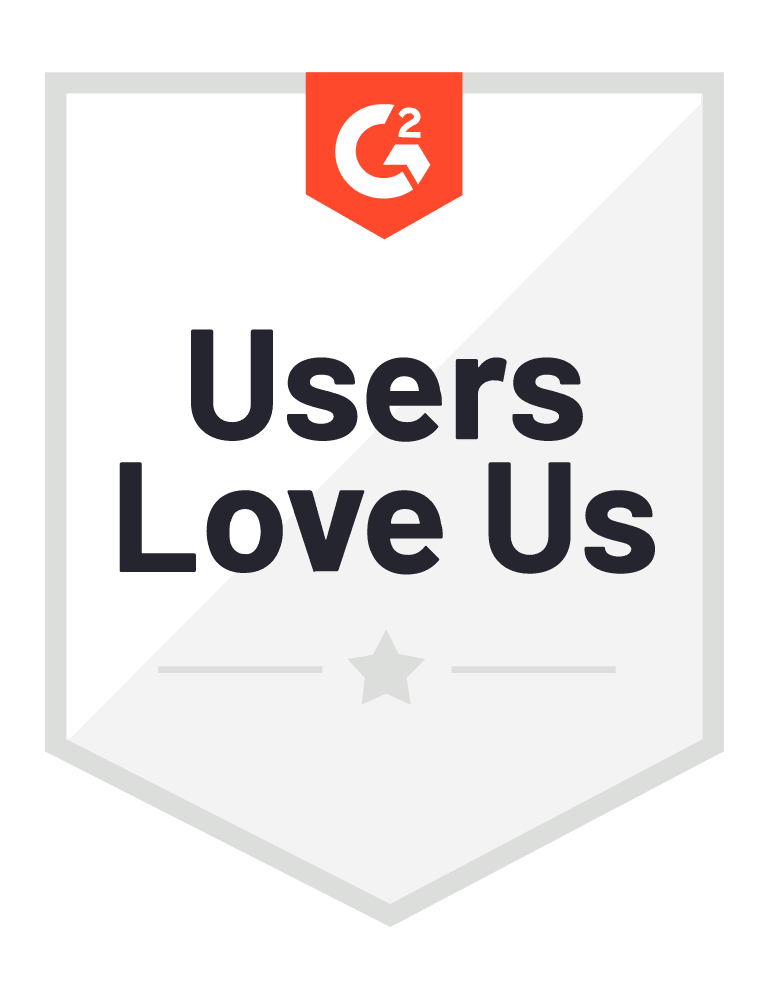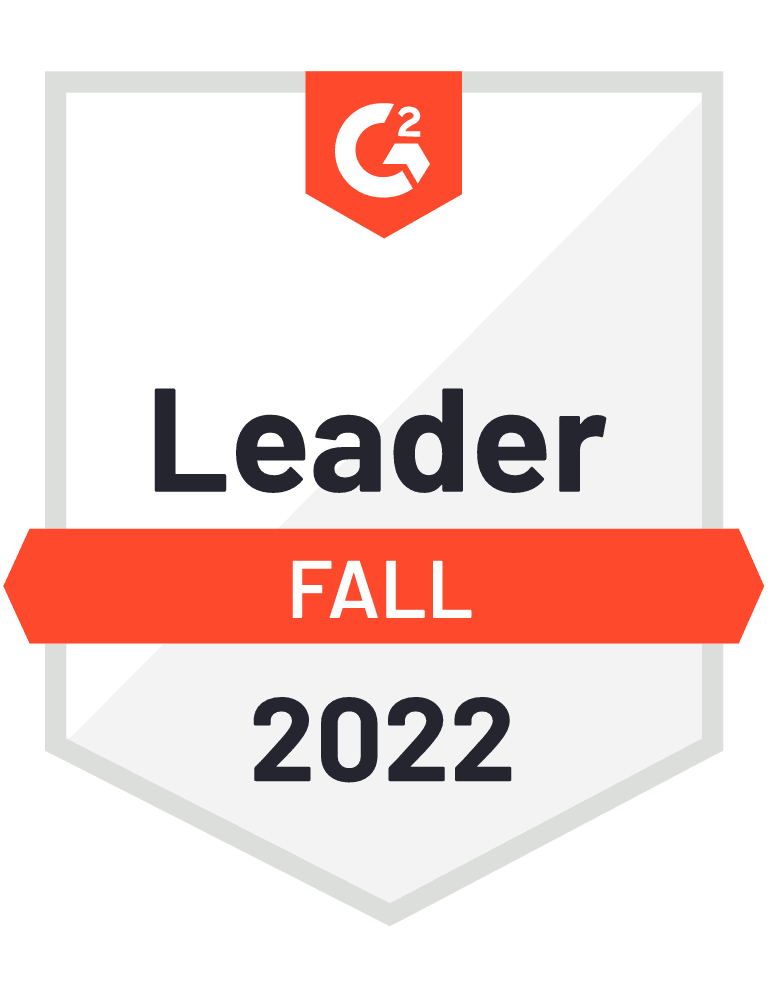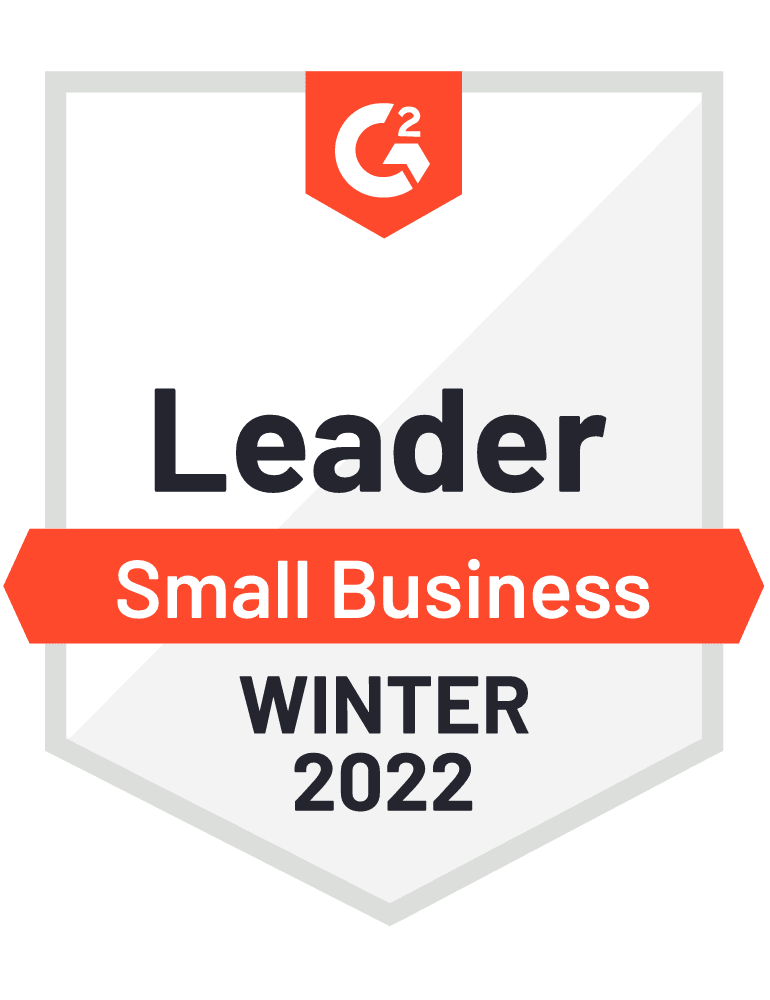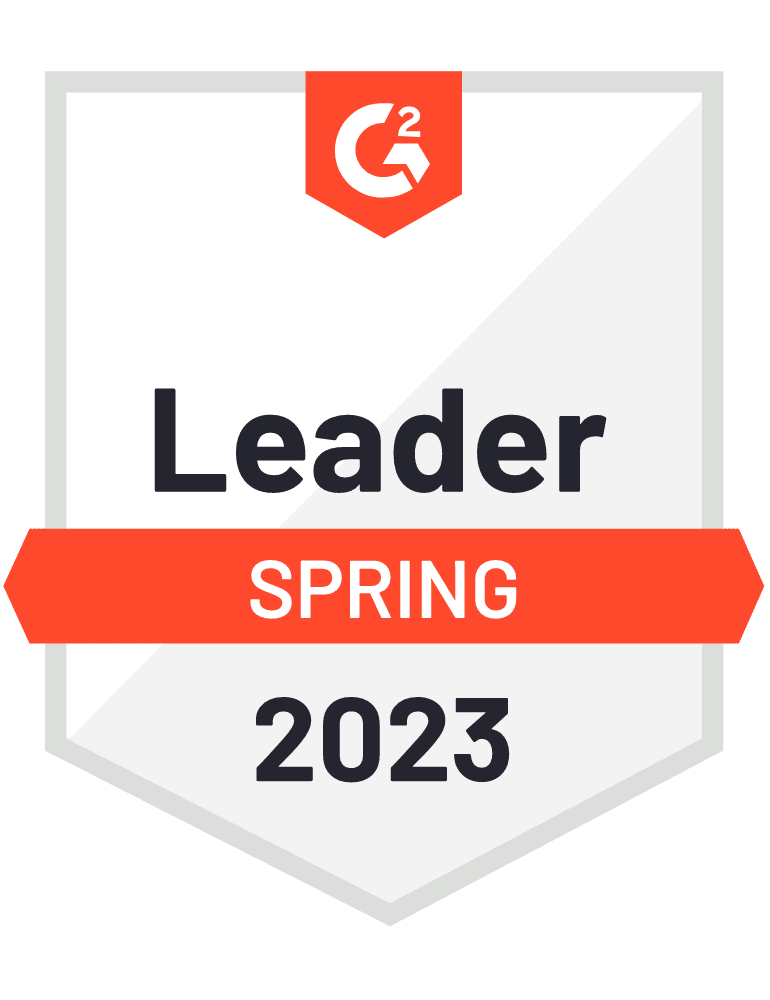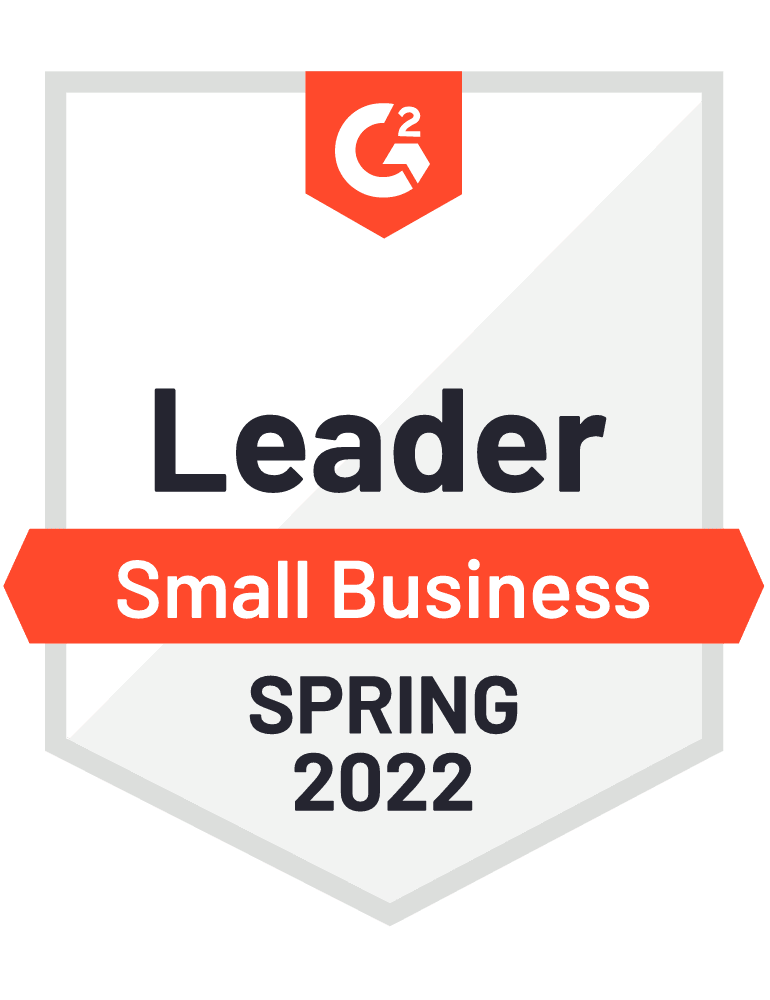 Why is Zoho SalesIQ the best live chat for customer support?
Your front door to customers
Be more approachable by adding live chat for customer service on your website, product, mobile app, and social media so customers can easily reach you for assistance.
Chatbots for 24/7 live chat support
Leverage the power of AI to scale up your live chat for customer service. Build a smart virtual assistant with AI and no-code chatbot building platforms. You can also use webhooks to build a bot that performs more complex tasks without having to program each action.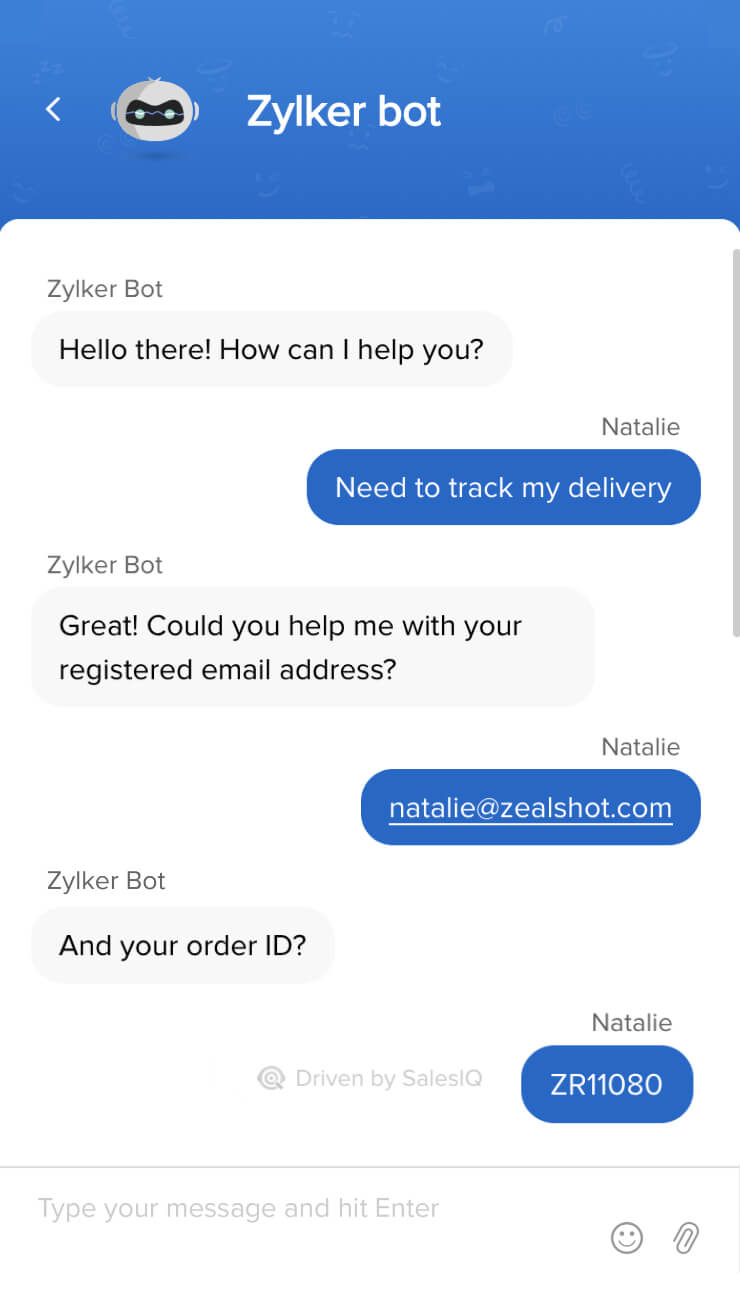 Features that help you race the clock
Response time is of the utmost importance in customer support live chat. Zoho SalesIQ-a complete customer service chat software comes with features that help speed up your responses.
Canned responses
Do you always find yourself typing the same answers while assisting customers? Save time by setting pre-determined responses to frequently asked questions in your live chat support software and use them during chat conversations.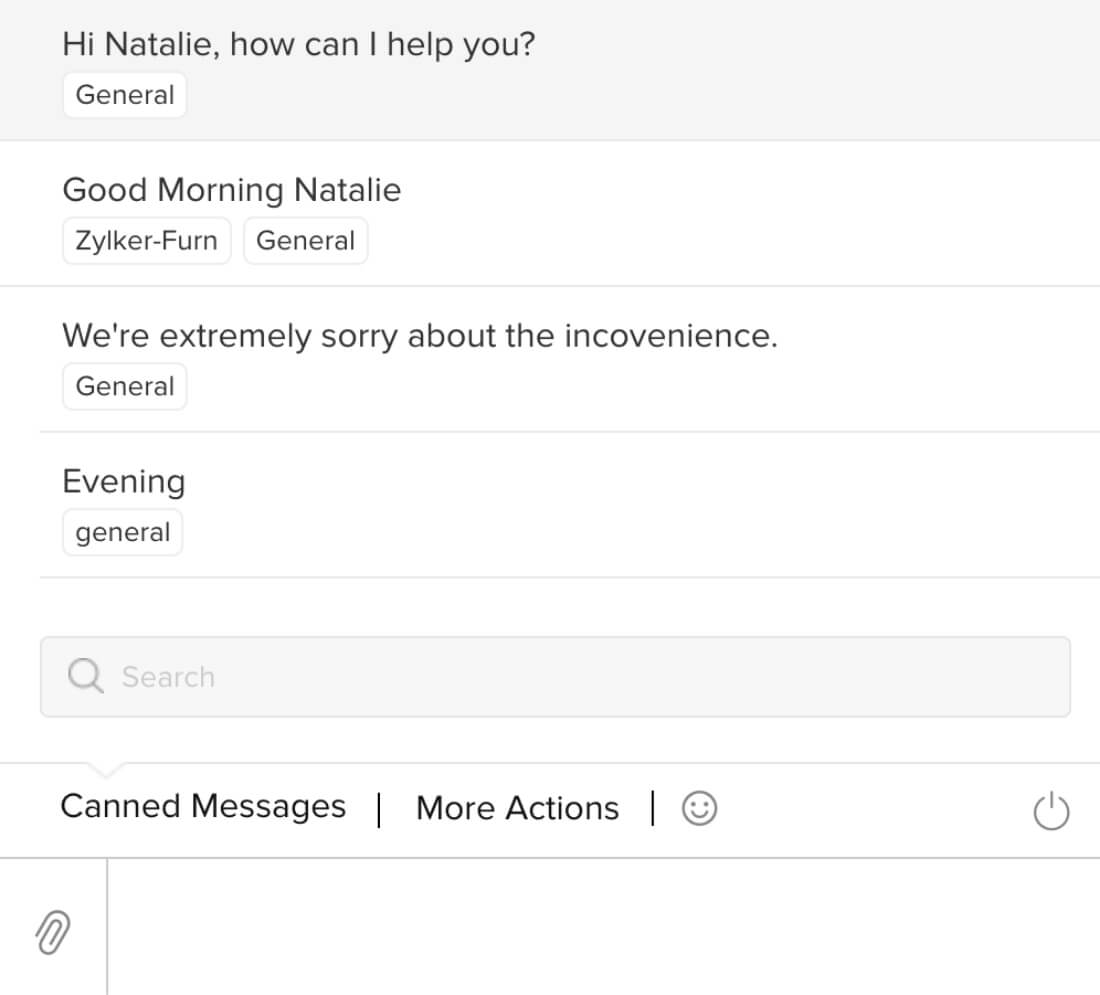 Typing preview
Wouldn't it be great if you could read your customers' minds? Typing preview in Zoho SalesIQ's customer support live chat software gives you a glimpse of your customers' questions as they're typing and buys you some extra time to process your answer.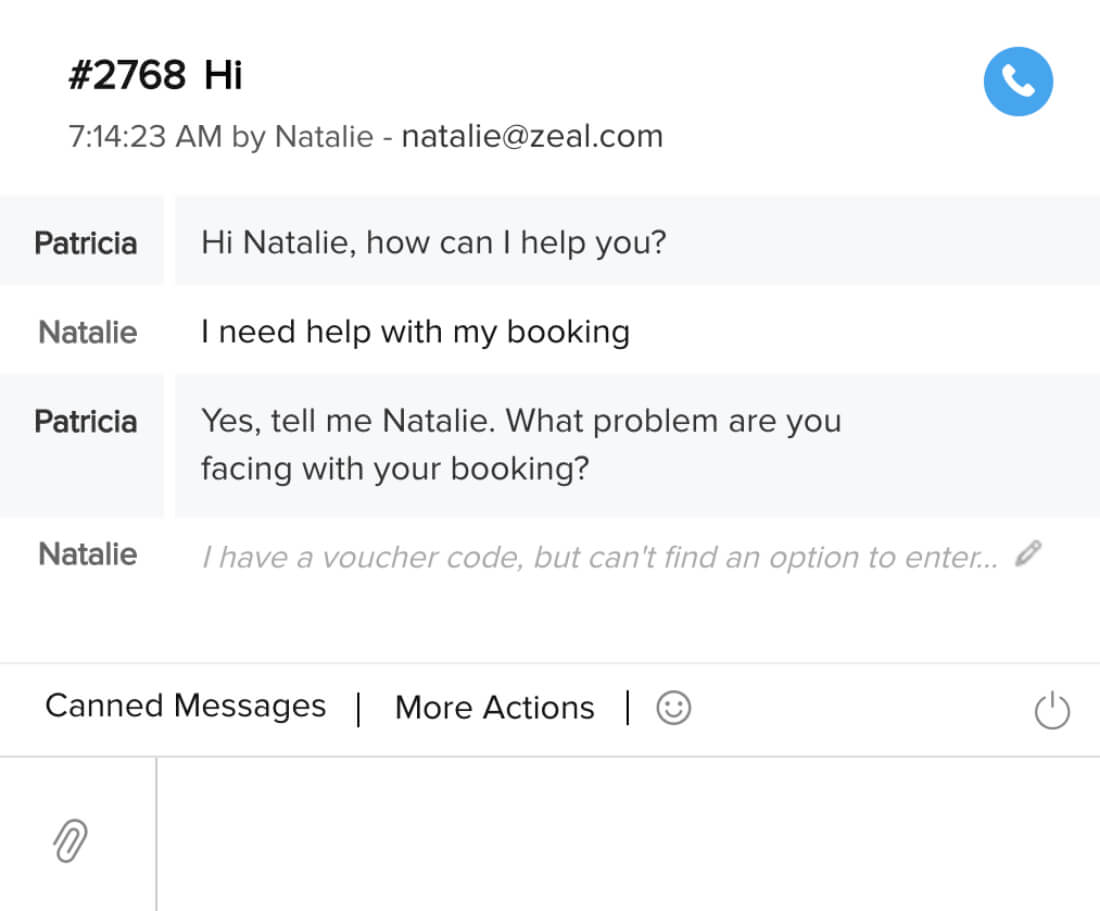 In-chat articles for
self-service
Lighten your team's load by making answers to FAQs and help documentation available within the customer support live chat window so customers can search for answers before reaching out.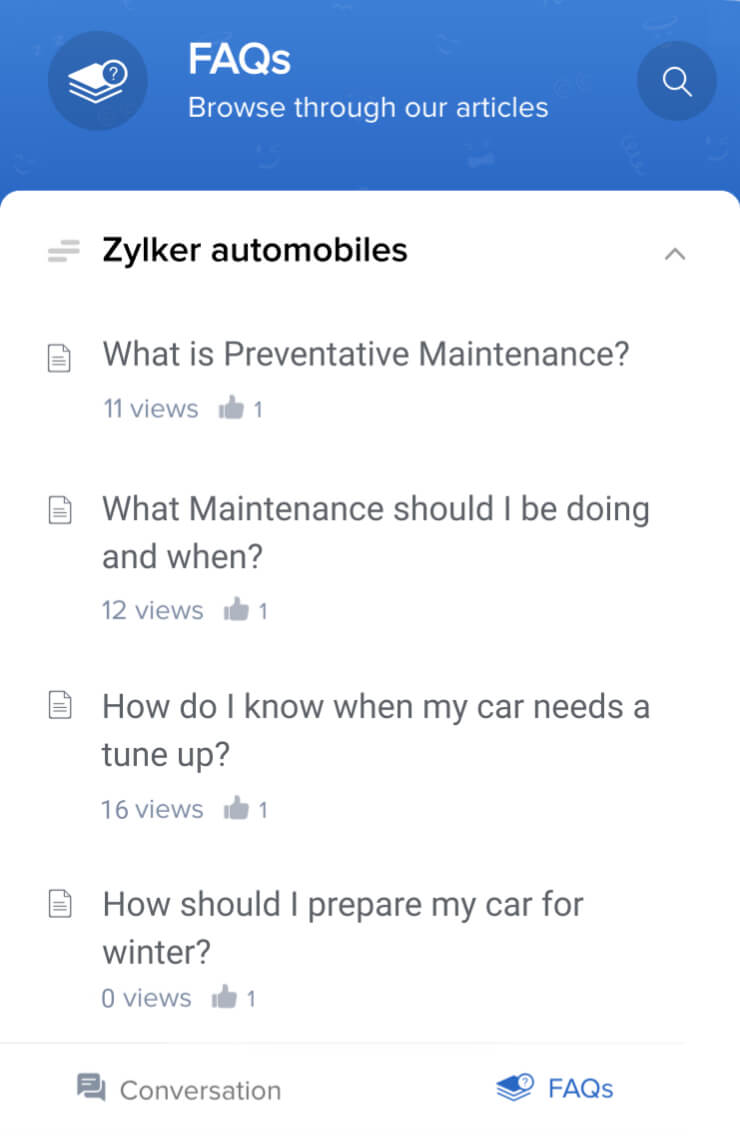 Real-time customer service chat translation
Zoho SalesIQ's real-time chat translation, available in 28 languages, enables you to provide live chat customer support to global customers in a language they're most comfortable in.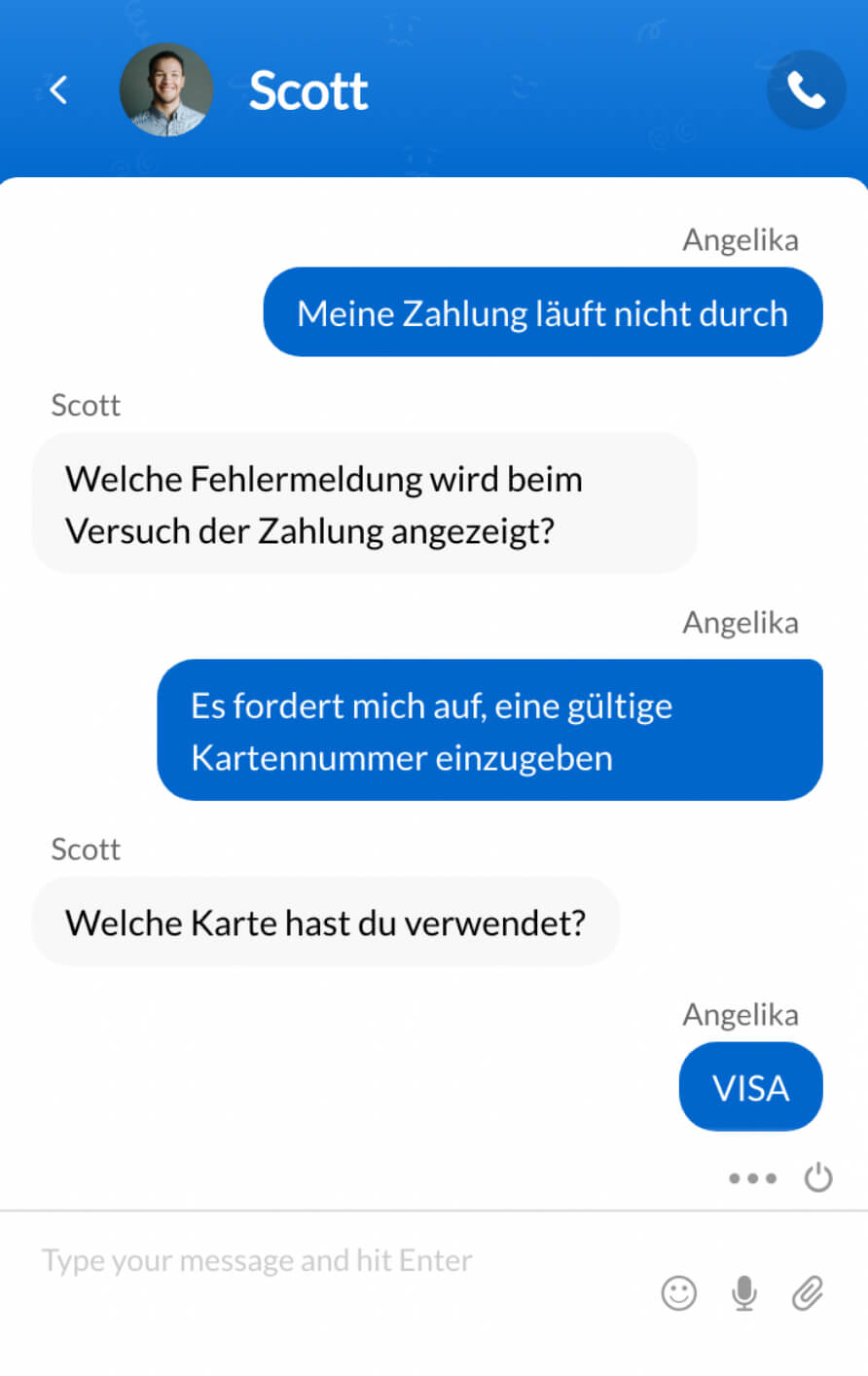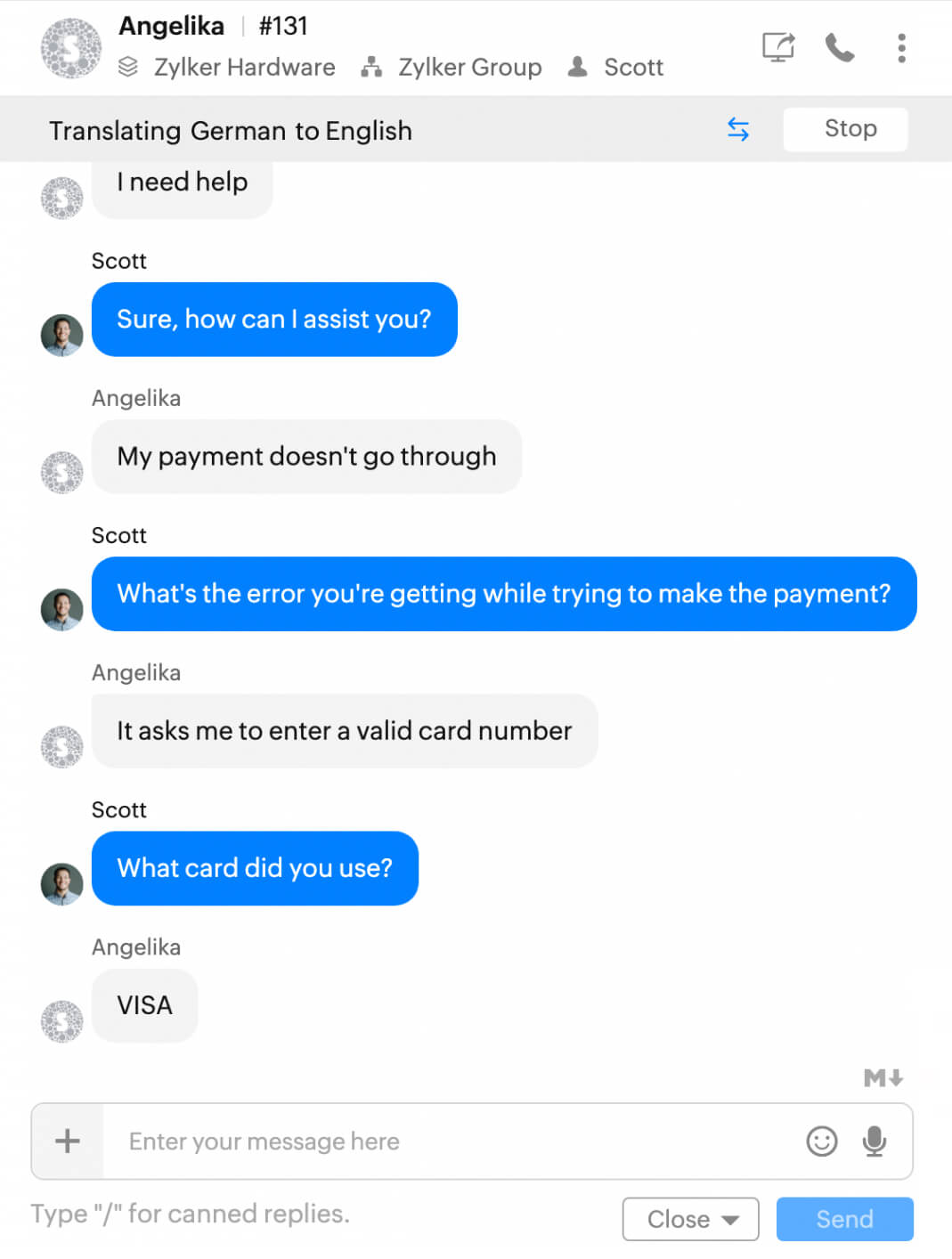 All the data you need for personalized live chat support
Ever suggested a help article a customer has already seen or frustrated them with too many questions? Zoho SalesIQ gives you details on customers' browser or device configurations, actions on your site, and chat history so you can assist them better. You can also integrate your live chat support software with your CRM or ticketing tool for more context.
Customer support that goes beyond messaging
There's no one customer support channel or method that fits every customer or situation. Effortlessly switch between customer support live chat, voice calling, and even screen sharing or remote access to assist customers right from within your customer service chat software.
Voice note
Zoho SalesIQ's live chat support software comes with voice note capability so customers and agents don't have to type long paragraphs to explain complex questions and solutions.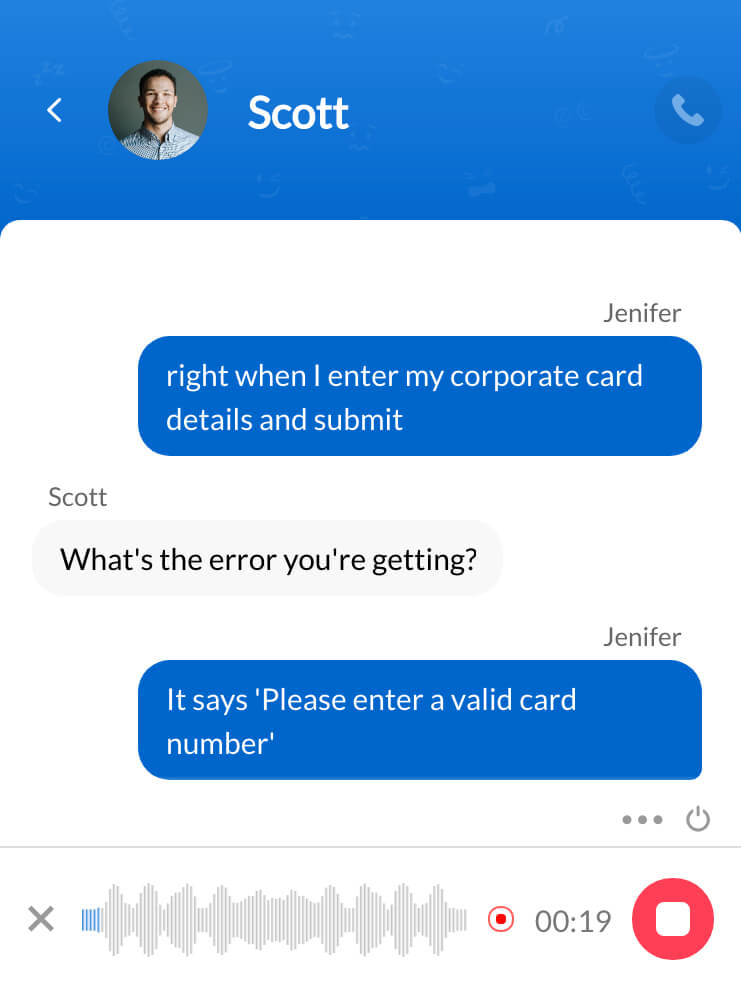 Hassle-free audio calling
Enjoy the benefits of phone support without the hassles. Solve complex queries by getting on a call with your customer right from your live chat support software without any installation or added cost. Customers can also call you from the chat window in a click.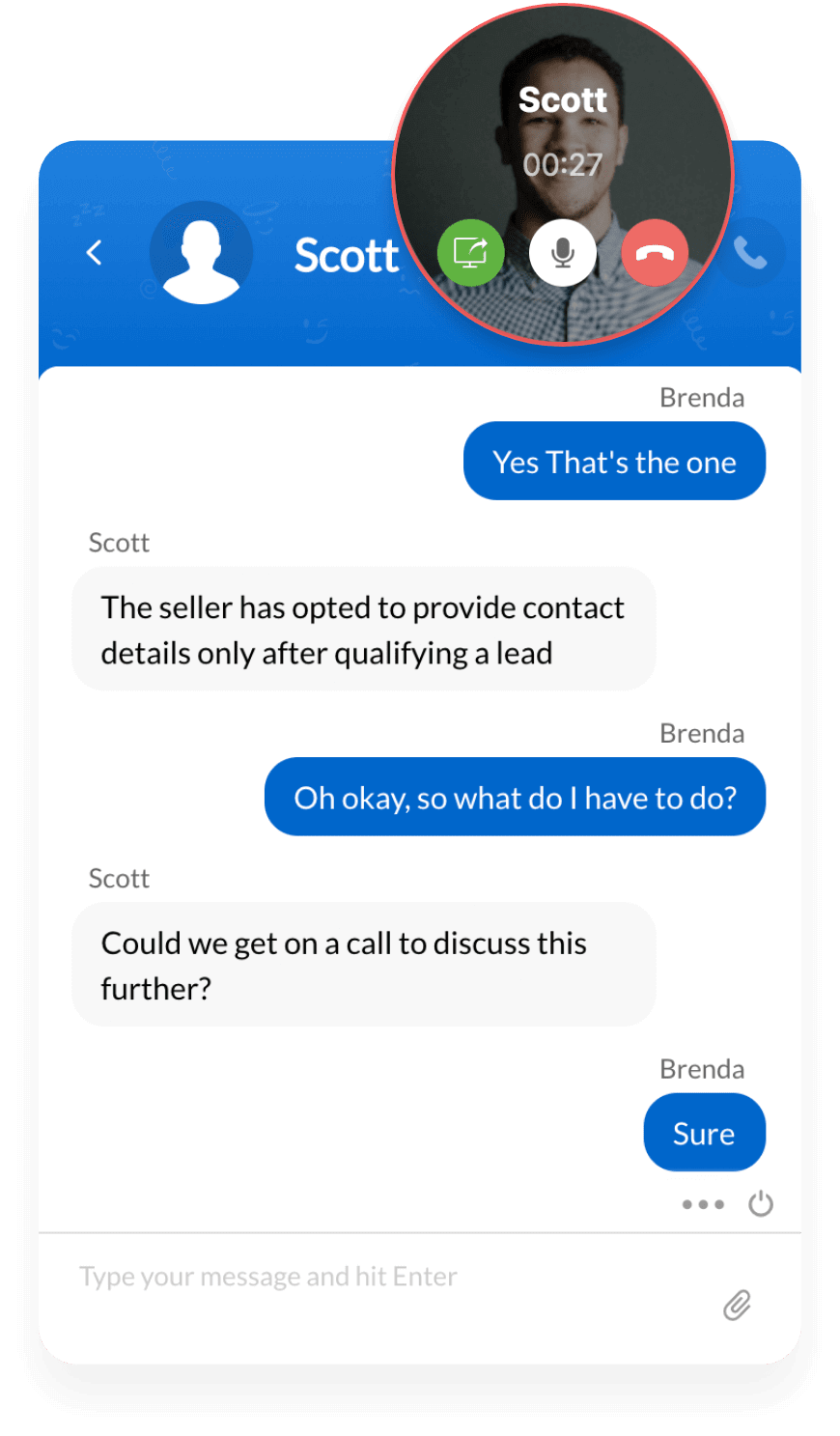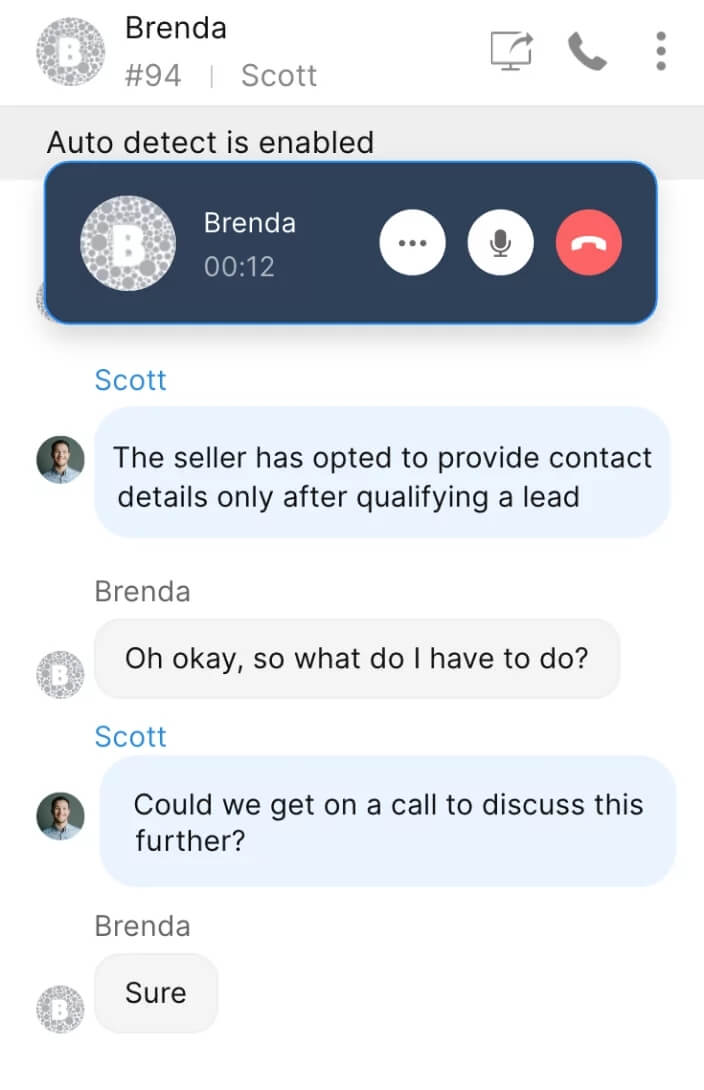 Screen sharing and remote access
Get a first-hand view of the issues your customers face with screen share and remote access powered by Zoho Assist and provide instant resolution with real-time demonstrations.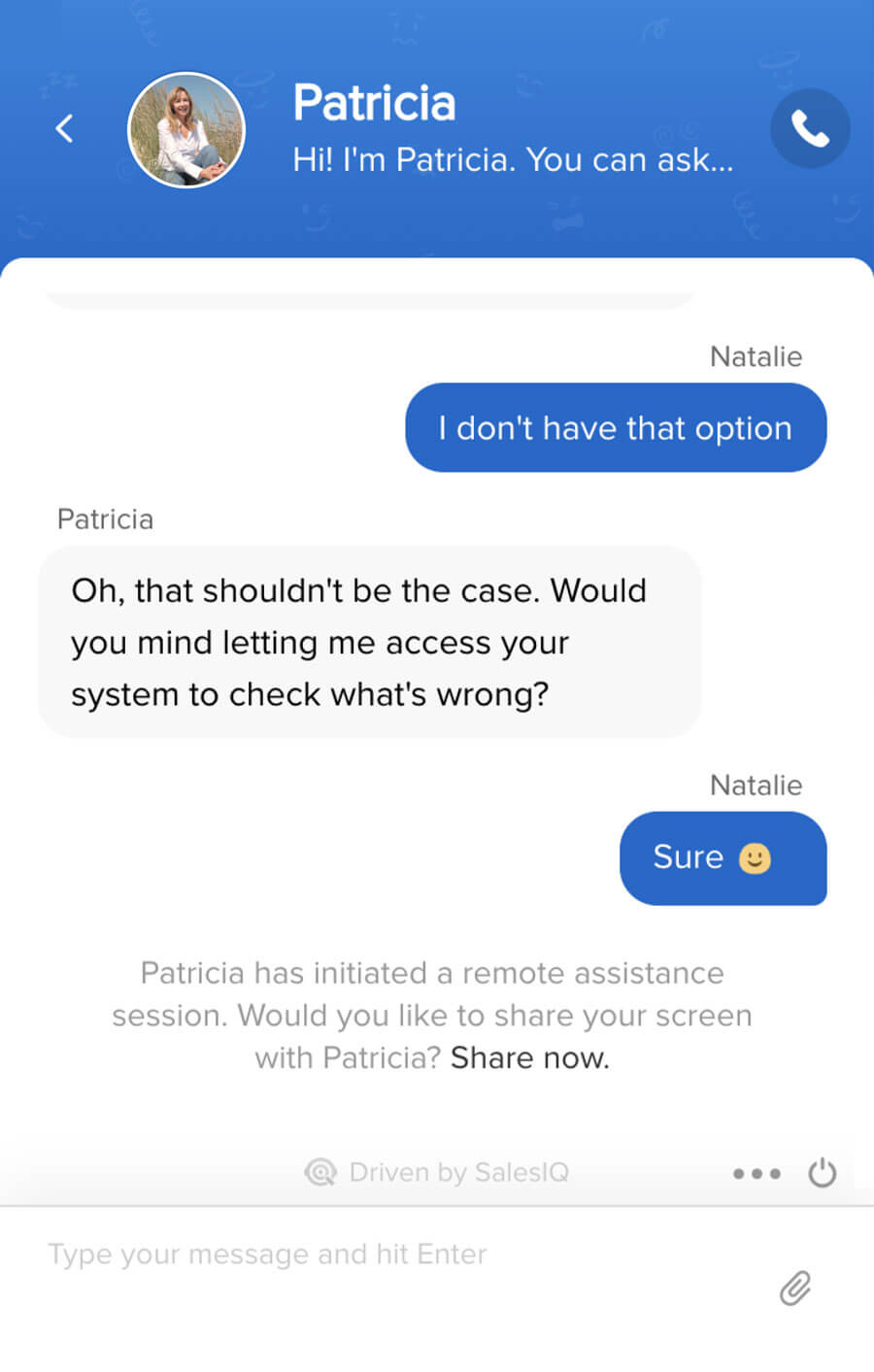 Customer chat reopening
Context is crucial when it comes to live chat customer support. SalesIQ allows customers to view all their conversations with you and also reopen older customer service chats for further assistance.
A direct link to the right staff member
Improve customer experiences by reducing chat transfers between live chat support service agents and cutting resolution time. Let users choose the department they want to connect to, or use smart chat routing rules to direct them to the right agent instantly.
Works well with leading help desk software ticketing systems
New to live chat? Try it for free and pay only if you need more
Start with our forever free live chat plan that offers all the basic features businesses need, like 100 chats/month, visitor tracking, mobile apps, plugins and extensions, in-app chat, and more.
There are absolutely no hidden charges and we don't need your credit card details unless you want to purchase a higher plan.
Live chat support software trusted by businesses around the globe.
"Is this magic or just a really smart, progressive team, offering an amazing product? It works!"

Todd Sutcliffe, CEO, NATSB
"With Zoho SalesIQ, we have raised the bar of customer relationship. Our customer support has never been so efficient."

Rodrigo Ferrer, CTO, Pró-Laudo
"Zoho SalesIQ literally changed the way we provide assistance to thousands. We are very happy with it and will definitively continue to use it."

Gobat Laurent, Coordinator, Scientific Information University of Neuchatel
Frequently asked questions
What is live chat support?
Live chat support is a type of customer service that allows customers to communicate with a support representative in real time via an instant messaging system on a website or application.
Why should you use a live chat for customer support and customer service?
There are several benefits to using live chat for customer support and customer service, including:
Swift assistance: Resolves customer queries quickly, without the delay of email responses.
Boosts sales: Prevents cart abandonment, increasing the chances of successful purchases.
Cost-efficient: Agents can handle multiple chats simultaneously, lowering the additional staff requirement.
Convenience: Provides context about previous interactions and customer details, which helps resolve issues.
Enhances productivity: Boosts efficiency with features like canned responses, typing previews, and in-chat articles.
Multilingual support: Offers global assistance with real-time chat translation.
Collects customer data: The data collected during chats can be used to improve products, services, and customer support processes.
Essential features of the live chat software for support
Here are some must-have features of live chat software for support:
Multi-channel live chat support
Real-time chat translation
Chat routing and queuing
AI chatbot
In-chat knowledge base
Productivity enhancers like canned responses and typing preview
Voice notes, audio calls, screen sharing, and remote support options
File sharing options
Integration with CRM and ticketing systems
Post-chat customer feedback collection
Live chat mobile app
Mobile SDK
Live chat analytics and reporting
Benefits of live chat support software
The main benefits of using live chat for customer support are:
Enhanced customer support experience
Effective customer onboarding and retention
Building rapport with customers for customer advocacy
Increased productivity of customer support teams
Reduced customer support and retention costs
Competitive edge over competitors
Valuable insights into customer expectations and identifying gaps in your offerings
Live chat support best practices
Here are some best practices for live chat support:
Be available: Make sure that live chat support is available during business hours, ideally 24/7. Customers expect quick and efficient support; if they can't get it from you, they will go elsewhere.
Be responsive: Respond to chat requests promptly and resolve issues quickly. Set expectations for response times and let customers know if you're experiencing high volumes of chat requests.
Be friendly and professional: Chat representatives should be friendly and professional in their tone and language. Use appropriate greetings, such as "Hello" or "Good morning," and avoid jargon or slang that customers may not understand.
Be personal: Use the customer's name in the chat to make the interaction more personal and build rapport. Ask questions to understand their needs better and provide personalized support.
Be clear and concise: Use clear and concise language to avoid confusion and ensure the customer understands the information provided. Avoid using long and complicated sentences.
Use canned responses wisely: Canned responses can help answer common questions quickly, but they should be used judiciously to avoid sounding robotic or impersonal.
Follow up: After the chat session, follow up with the customer to ensure their issue has been resolved and ask for feedback on the support experience.
Monitor performance: Track metrics such as response time, customer satisfaction, and first-contact resolution rate to monitor the performance of your live chat support and identify areas for improvement.
How to choose the most suitable live chat for your website to enhance customer experience?
Here's a list of the primary criteria you should consider while choosing live chat software for your website:
The size of your customer base and your live chat team strength.

- If you have a large team with different expertise, make sure the customer service chat software lets you create departments and route incoming chats to the right agents.
- If your customer base is huge and you need more team strength to handle a huge influx of chats, check if the software has chatbot builders with AI functionality.
- If your customer base is spread across the globe, look for customer support chat software with real-time translation.

Ease of use and learning time needed. Choose a live chat software with a user-friendly interface that makes it easy for your team to manage chat conversations and for your customers to initiate chats.
Customization options to match your website's branding and style.
Integration capabilities with your CRM, helpdesk, inventory software, and anything you'd need while assisting customers.
Availability of a mobile SDK and a live chat agent mobile app.
Ensure the live chat software is secure and meets industry data protection and privacy standards.
Budget.
Reporting and analytics features to track metrics.
How to implement live chat customer support software?
Choose the right live chat software for your business by evaluating different options.
Install the live chat software on your website. This typically involves adding a small code to your website's HTML.
Customize the live chat widget to match your branding and preferences. Also, customize the chat window, greeting messages, and chat buttons.
Configure the live chat software settings. This includes setting up routing rules for chat requests, creating canned responses for frequently asked questions, and configuring notifications for incoming chat requests.
Train your support team on how to use the live chat software. Ensure that they understand the software's features and functionality, how to manage chat conversations, and how to handle common customer issues.
Test the live chat software to ensure it's working correctly. You can do this by initiating chats or asking friends or colleagues to help you test the system.
Launch the live chat support on your website. Promote the availability of live chat support to your customers through your website, social media, and other communication channels.
Monitor the performance of your live chat support. Use the reporting and analytics features of the live chat software to track metrics such as response time and customer satisfaction ratings. Use this data to improve your live chat support performance continuously.
Why is Zoho SalesIQ the best live chat support software for support teams?
Zoho SalesIQ offers a range of features that can help support teams deliver exceptional customer service, such as:
Real-time visitor tracking provides information about visitors' browsing behavior, allowing you to engage with potential customers proactively.
Canned responses that enable support teams to respond to frequently asked questions from customers quickly.
Integrations with popular customer relationship management (CRM) systems, helpdesk software, and other third-party tools.
Reporting and analytics features that provide insights into chat volume, response times, and customer satisfaction.
AI-powered chatbots that can handle simple customer queries and provide 24/7 support.
Mobile app that allows support teams to chat with customers from their smartphones.