Why use Zoho SalesIQ as your customer service live chat software?
Your front door to customers
Don't wait for customers to hunt down your customer care information. A chat widget on your website, product, or mobile app makes it easy for them to reach you and receive live customer support in real time.
Website
Adding a customer care live chat window on your website or web app is literally as easy as pasting a few lines of code that we provide.
Mobile apps
Embed our live chat software into your mobile apps built on iOS, Android, and React Native using our mobile SDK, Mobilisten.
Chatbots for 24x7 customer support
Leverage the power of AI to scale up your support team. Build a smart virtual assistant with Zobot, our low-code bot builder that works with major AI technologies like Zia, IBM Watson, and Dialogflow. You can also use webhooks to build a bot that performs more complex tasks without having to program each action.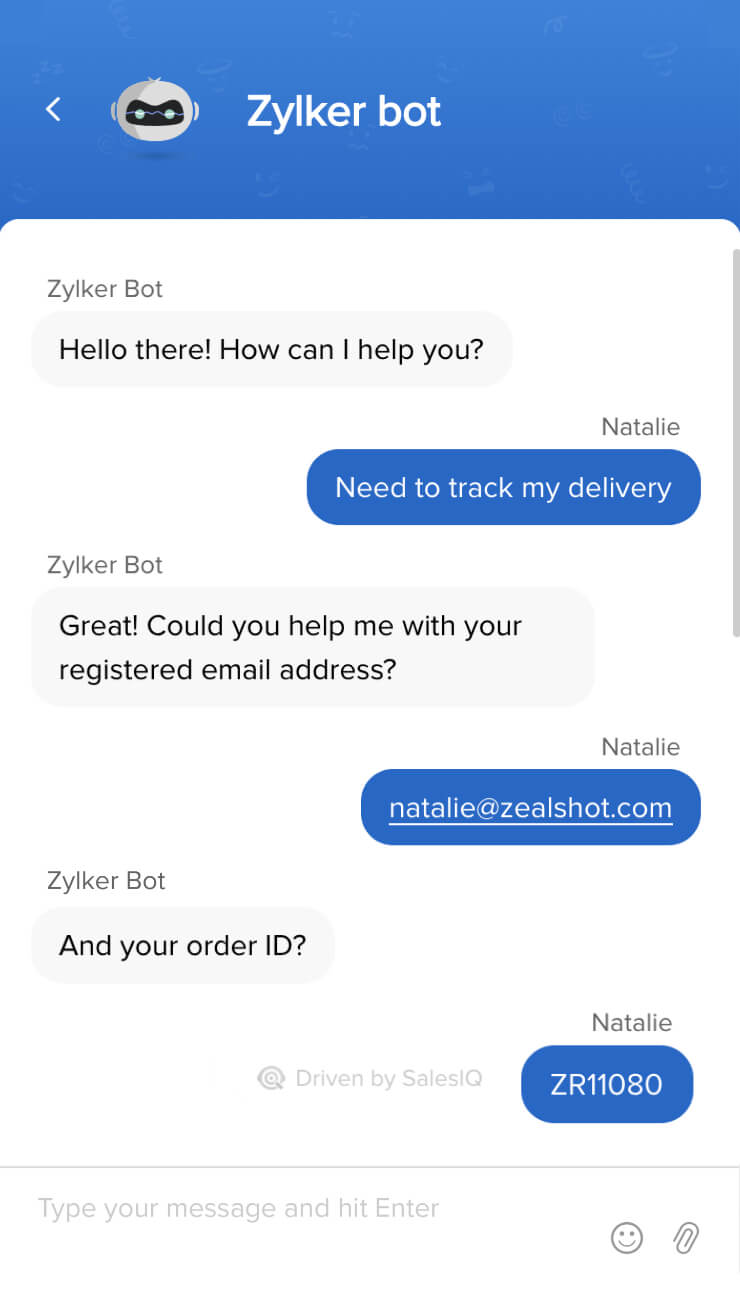 Features that help you race the clock
Response time is of utmost importance in live chat support. Zoho SalesIQ comes with features that help you respond instantly to customer queries.
Canned responses
Do you always find yourself typing the same answers while talking to different customers? Save time by setting pre-determined responses to frequently asked questions and use them during chat conversations.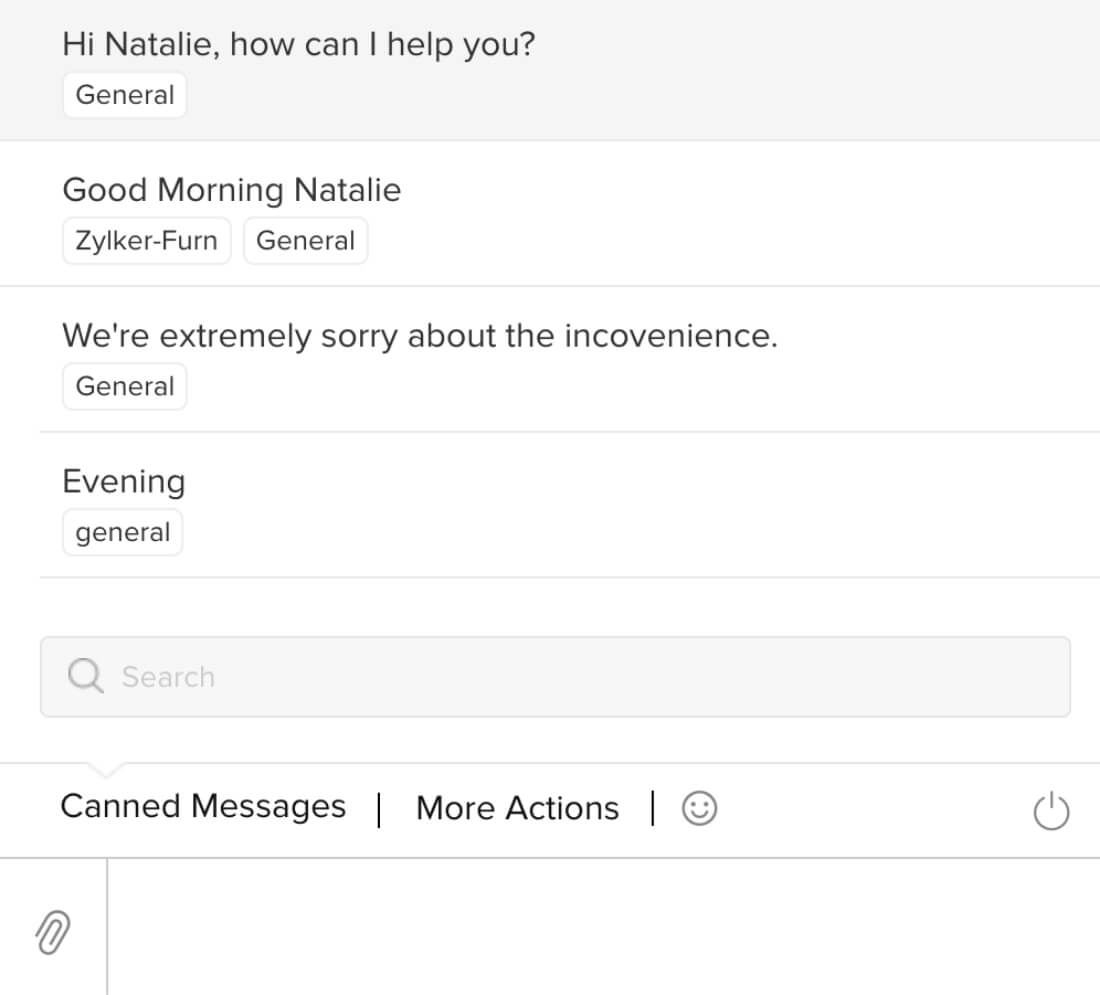 Typing preview
Wouldn't it be great if you could read your customers' minds? Zoho SalesIQ's typing preview does exactly that and buys you some extra time to process your answer by giving you a glimpse of your customers' questions as they're typing.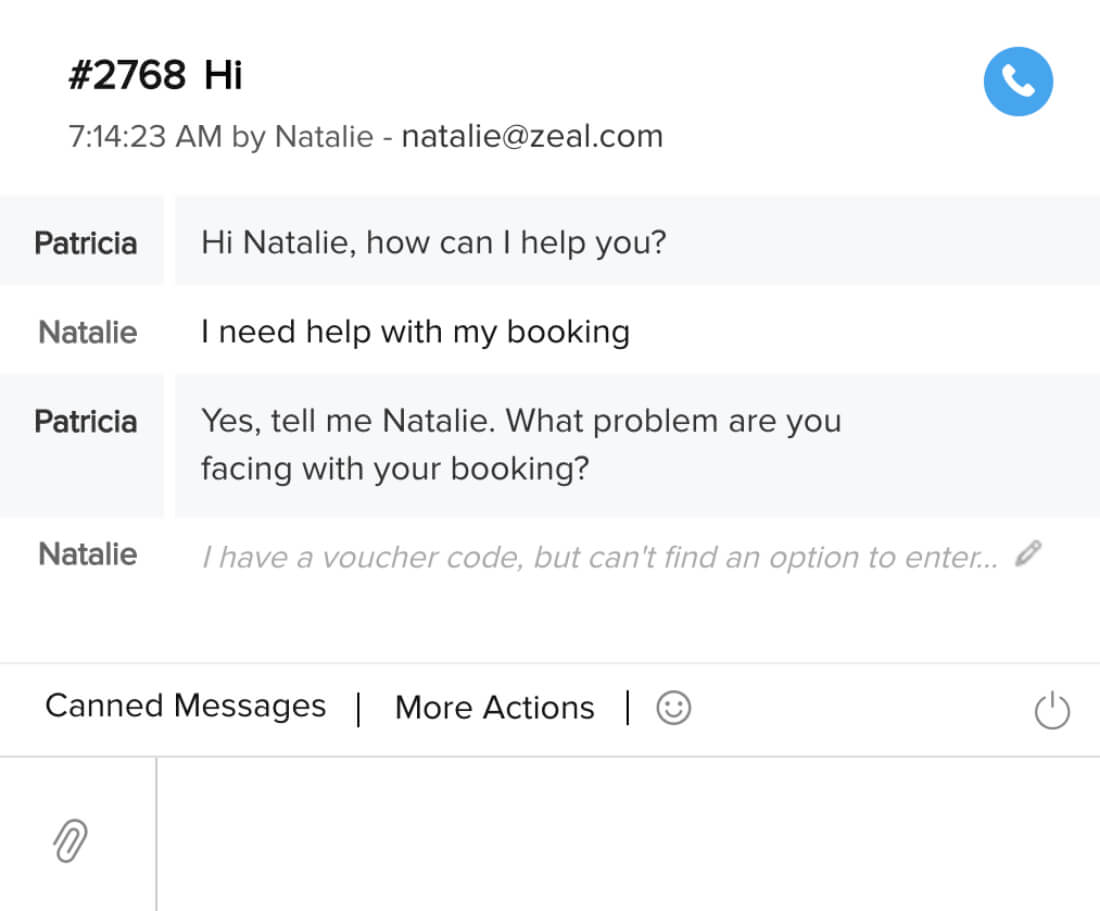 In-chat articles for
self-service
Today's self-reliant generation doesn't like waiting for answers when they can look it up themselves. Make help documentation available within the chat window so customers can search for answers before reaching out to you. This also helps lighten your team's load.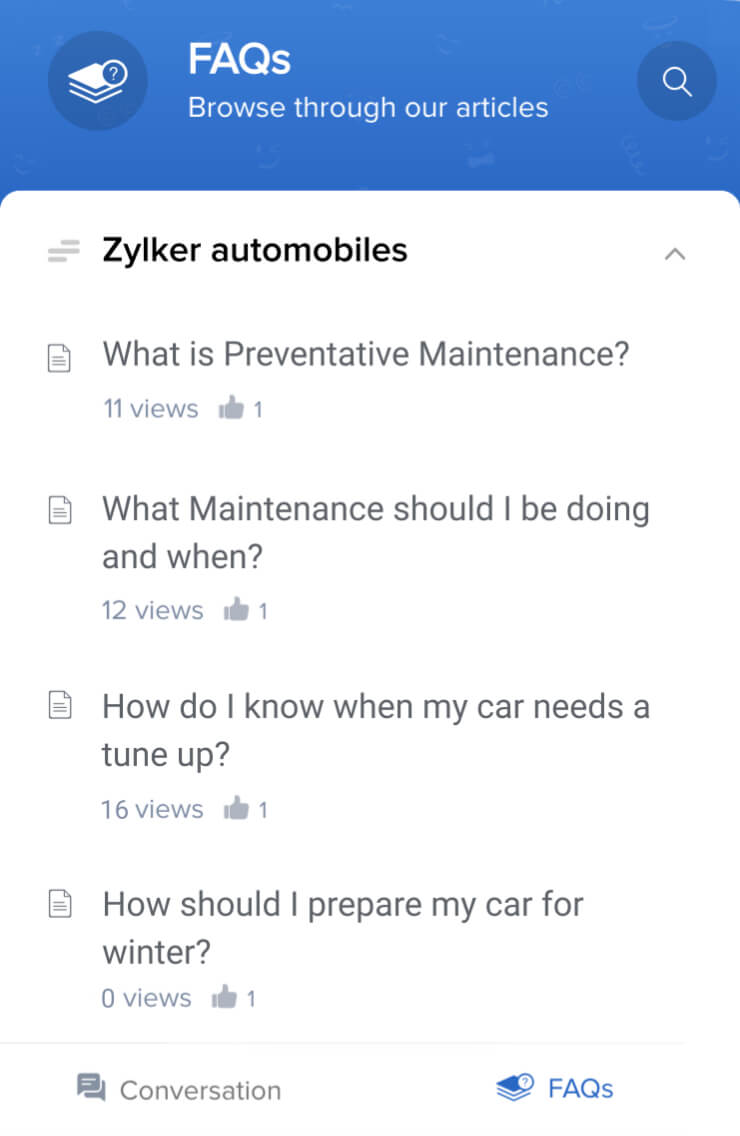 All the data you need for personalized support
Ever suggested a help article a customer has already seen or maybe frustrated them with too many questions? Zoho SalesIQ gives you details on their browser or device configurations, actions on your site, and chat history so you can assist them better. You can also integrate your CRM or ticketing tool for more context.
Customer support that goes beyond messaging
There's no one customer support channel or method that fits every customer or situation. With Zoho SalesIQ, you can effortlessly switch between chat, voice calling, and even screen sharing or remote access to assist customers.
Hassle-free audio calling
Enjoy the benefits of phone support minus its hassles. Solve complex queries by hopping on a call with your customer without any installations or added cost. Customers can also call you from the chat window in a click without any wait tones or IVRs.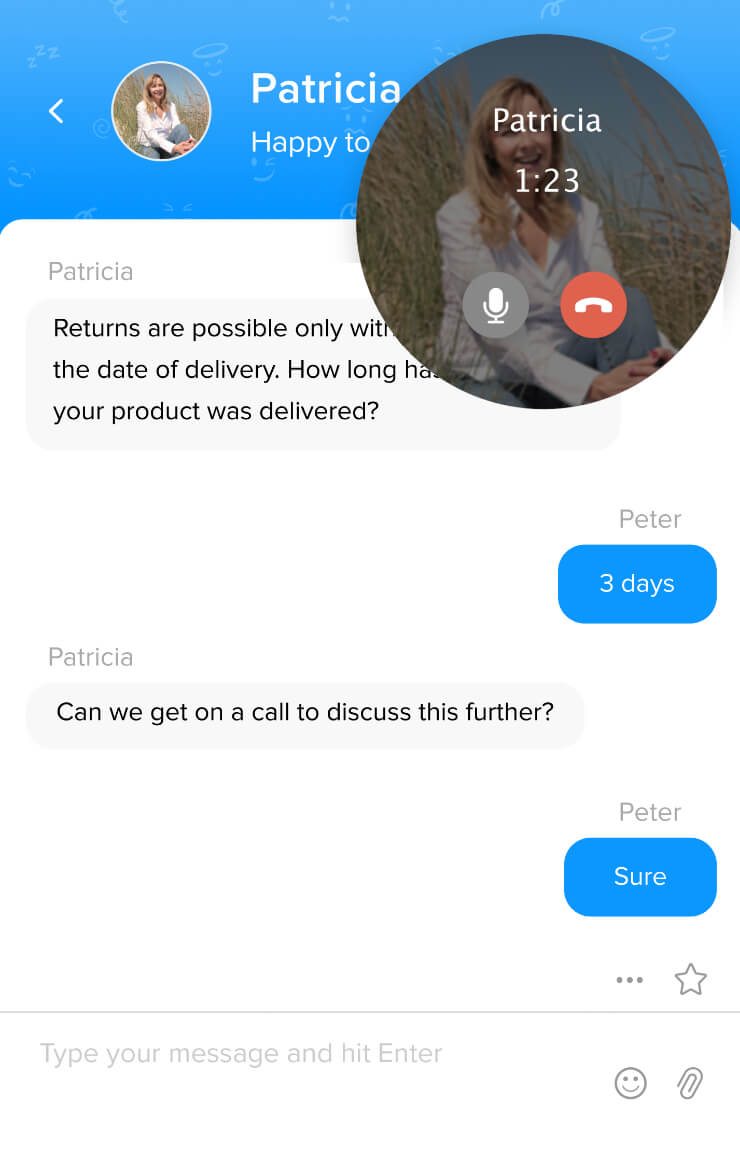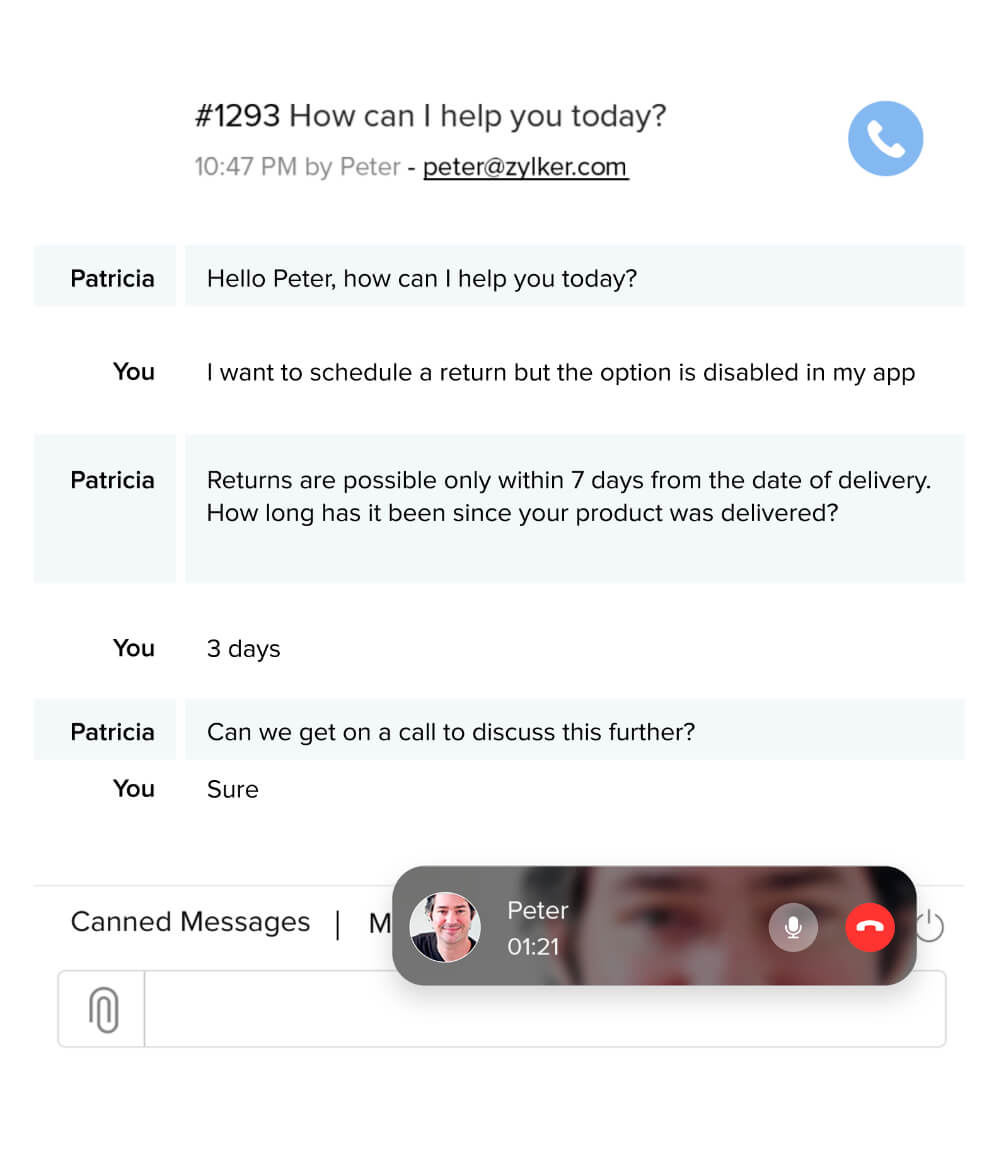 Screen sharing and remote access
Zoho SalesIQ's screen share and remote access feature powered by Zoho Assist gives you a firsthand view of the customer's problem so you can provide instant resolution with real-time demonstrations.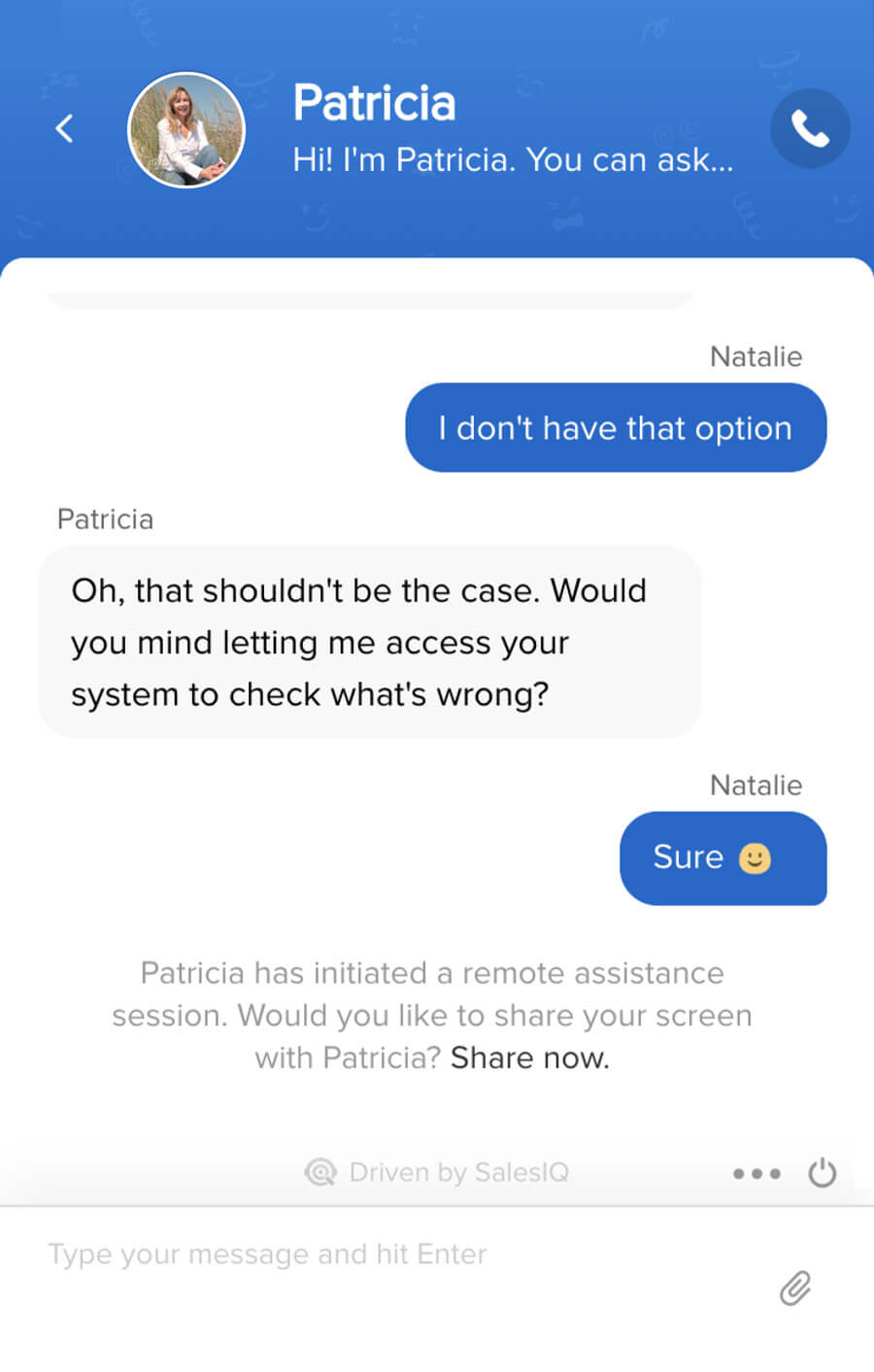 A direct link to the right staff member
Improve customer experience by reducing annoying transfers between customer service agents and cutting resolution time. Let users choose the department they want to connect to, or use smart chat routing rules to instantly direct them to the right person.
Works well with leading help desk software ticketing systems
Trusted by businesses around the globe for their live chat customer service
Is this magic or just a really smart progressive team, offering an amazing product... It works!

Todd Sutcliffe, CEO, NATSB
"With Zoho SalesIQ, we have raised the bar of customer relationship. Our customer support has never been so efficient."

Rodrigo Ferrer, CTO, Pró-Laudo
"Zoho SalesIQ literally changed the way we provide assistance to thousands. We are very happy with and definitively continue to use it."

Gobat Laurent, Coordinator, Scientific Information University of Neuchatel