Trusted by over
465,000

businesses globally
Discover exceptional
live chat for travel agents with Zoho SalesIQ
Target the right customers
Understand your travelers better by getting insights from their behaviour on your website and use lead scoring to prioritize.
Ignite the traveler's imagination
Capture the imagination of your visitors by showcasing the captivating display of the destinations you have to offer in a live chat.
Drive conversions
Seize the opportunity to effortlessly convert interested travelers into confirmed customers ensuring seamless and secure transactions.
Why is Zoho SalesIQ the best live chat solution for the travel industry?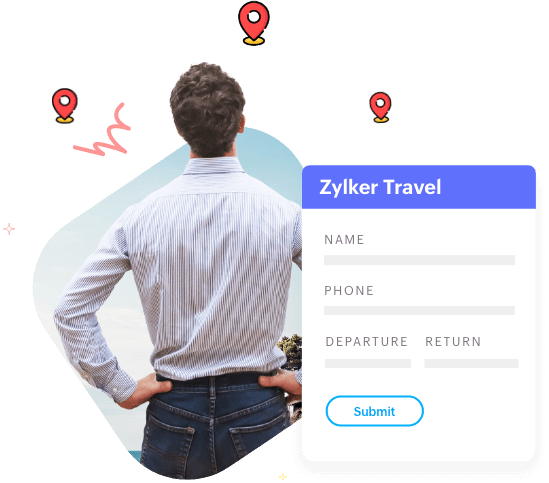 Convert prospects in the moments of decision
By harnessing the power of visitor activity monitoring, down-selling strategies, and automated triggers, you can revolutionize your conversion rates. Don't let hesitant prospects slip through the cracks – engage them at the right moment, address their concerns, and guide them toward making confident purchasing decisions.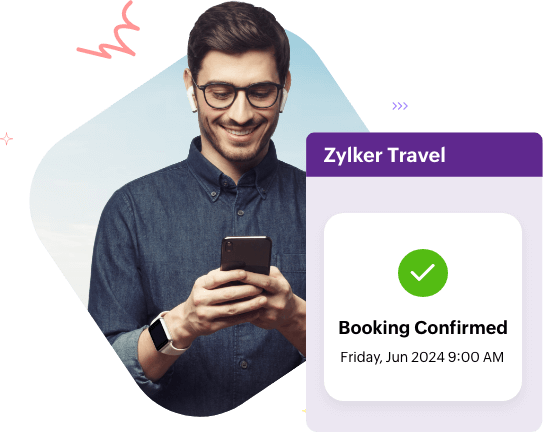 Provide seamless booking experience
Bookings made through calls and emails can be expensive, time-consuming for your business, and inconvenient for your customers. Accept bookings through live chat and reduce your acquisition costs.
Manage interactions from multiple channels with ease
Bid farewell to the frustration of switching between different apps to handle customer inquiries. Our platform brings together all your messaging channels into one convenient dashboard, allowing you to manage conversations seamlessly.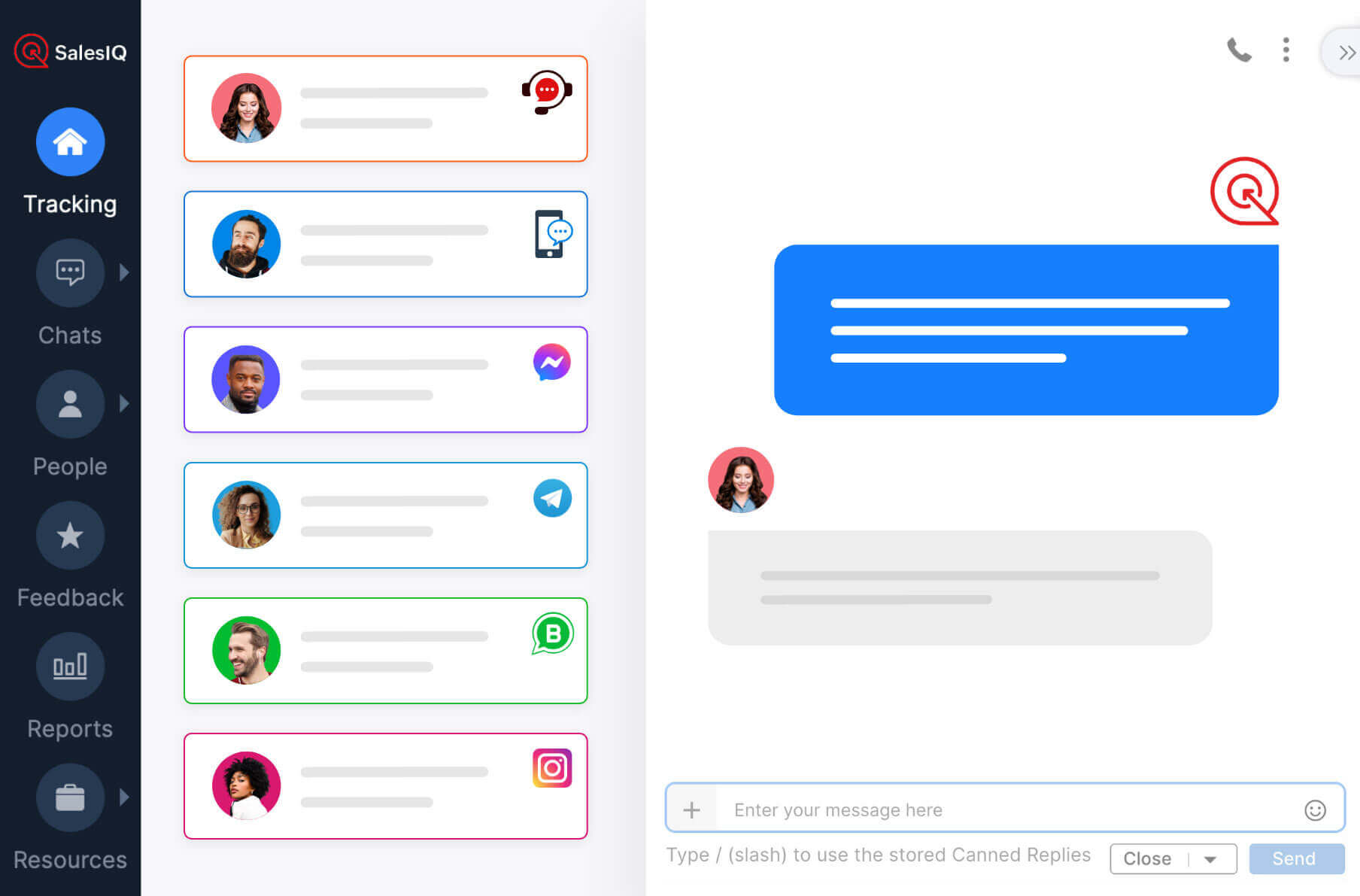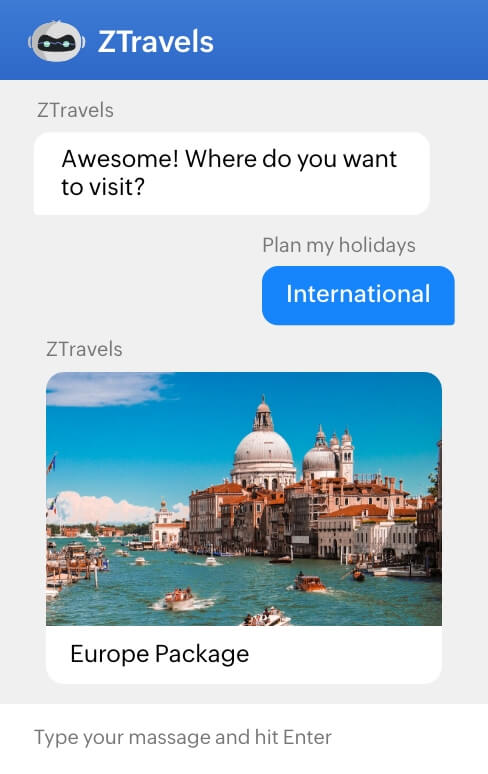 Use the power of AI chatbots to level up the conversations
Engage in interactive conversations with travelers 24/7 using AI chatbot and provide tailored recommendations by analyzing user preferences, budget constraints, and travel dates to curate personalized itineraries.
From flight information, and hotel reservations, to FAQs, chatbots provide real-time responses, ensuring customers feel supported and valued throughout their journey. Add value even after the trip by assisting with post-travel inquiries, such as requesting receipts, submitting feedback, or resolving issues.
Simplify travel preparations for a seamless journey
Provide a direct line of communication to travel agents using live chat who possess in-depth knowledge about various destinations. They can expertly address questions about weather, recommended items to pack, and connectivity options, empowering travelers to make informed decisions.
In urgent situations, with the click-to-call feature, you can offer immediate assistance to your customers ensuring their safety and well-being.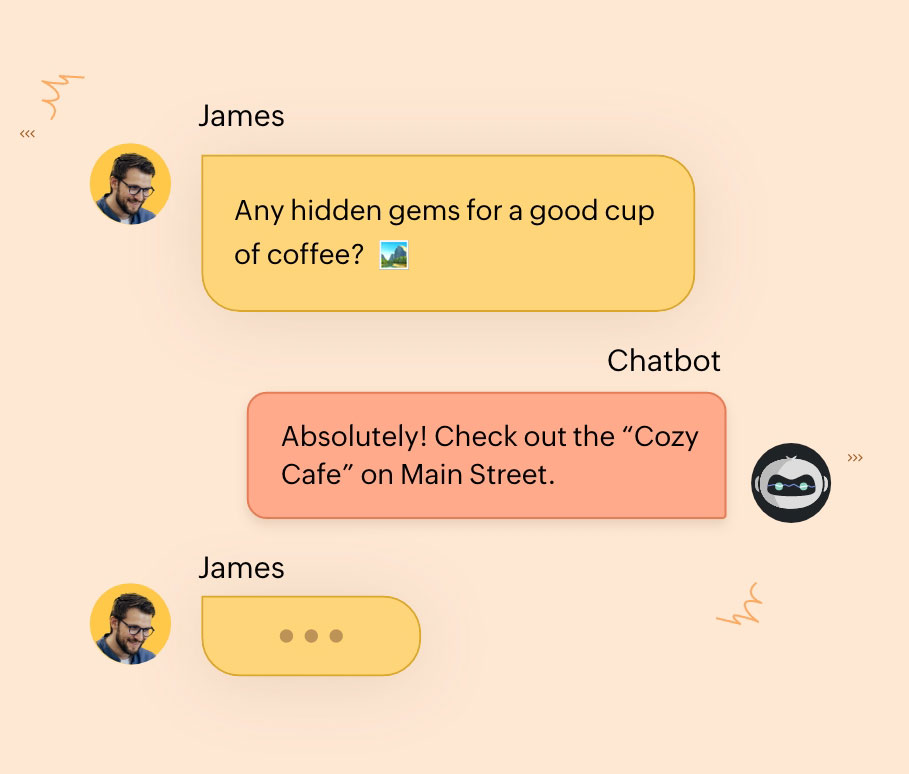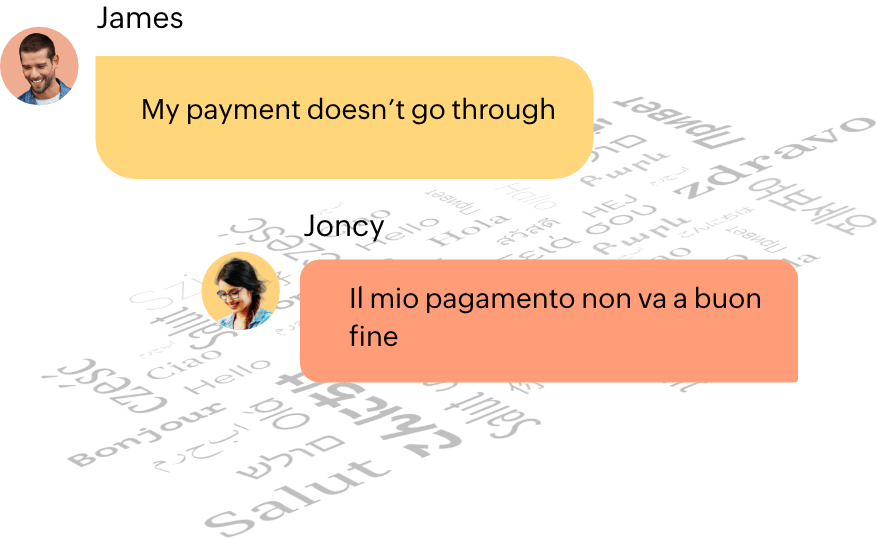 Converse in any language with our multilingual chat support
Provide personalized interactions with the travelers across the globe by seamlessly communicating in multiple languages. Our native integration with Zoho Translate and compatibility with Google Translate makes it easy to communicate with users from around the globe.
Gain valuable insights for travel service enhancement
Unleash the power of actionable reports and analytics to drive continuous improvement in your services. With auto-consolidated reports, you stay informed about the performance of your website and agents.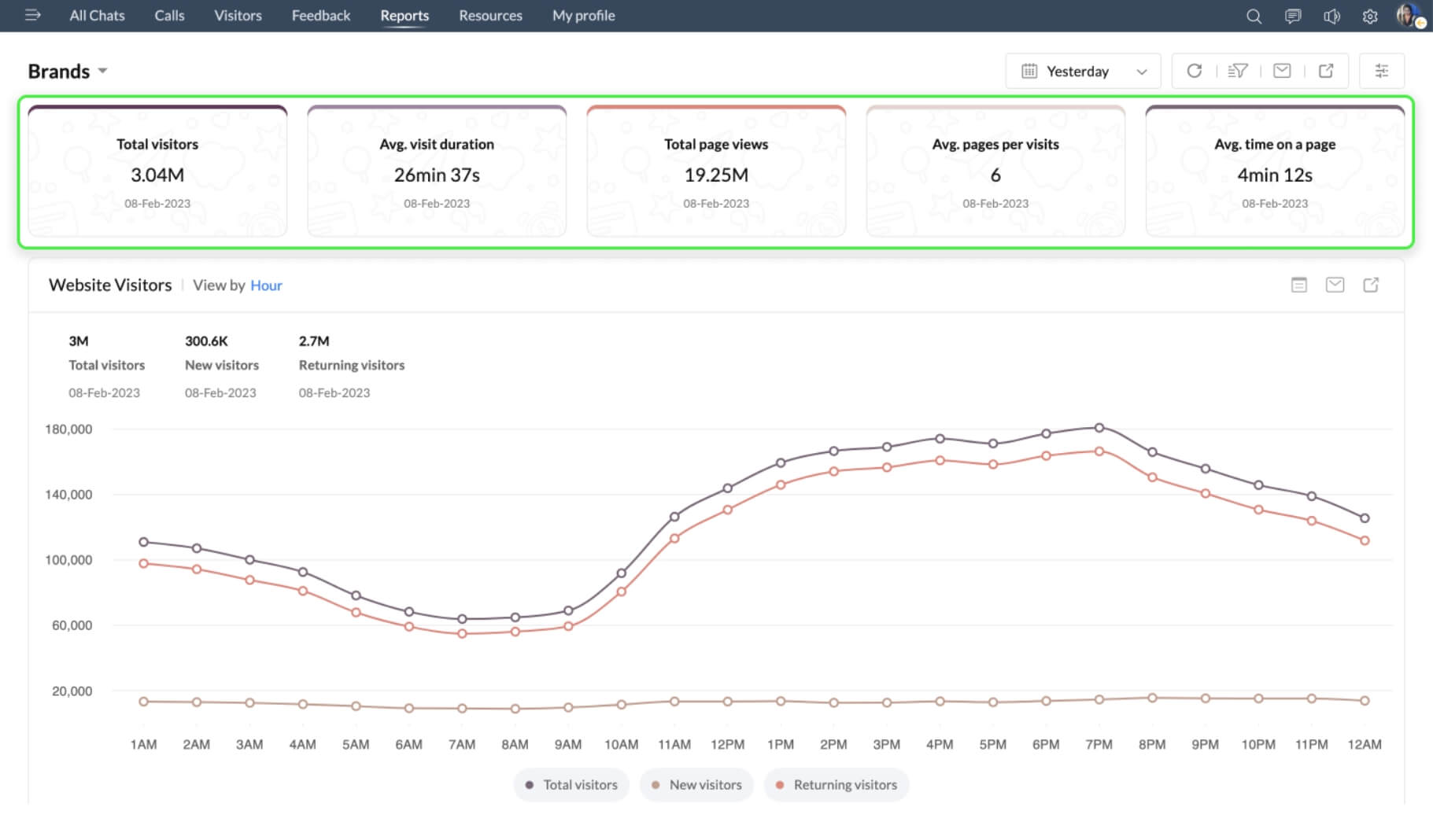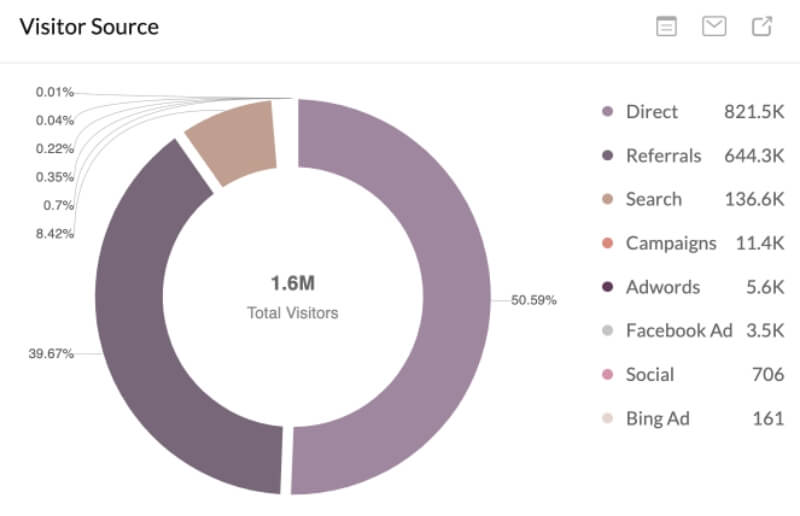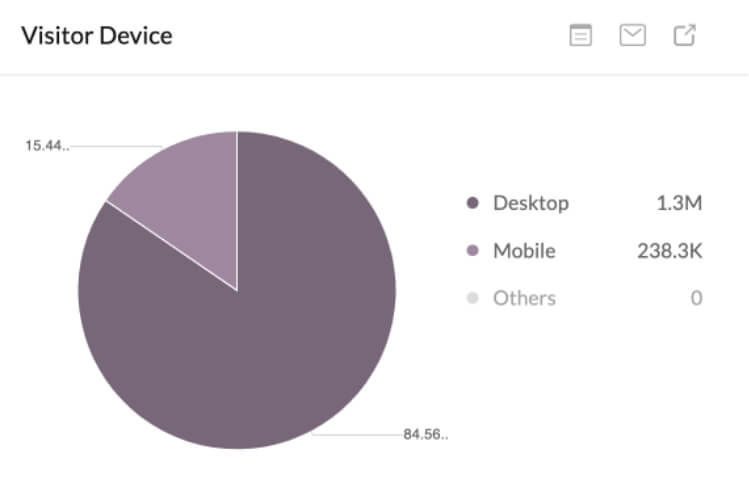 Try our free live chat software for travel and tourism
Give our forever free live chat plan a chance and pay only when you need additional features. With 100 chat sessions/month, file sharing, voice notes, departments, 30-day chat history, offline messaging, in-app chat, daily reports delivered to your inbox, mobile apps, plugins and extensions, and more, our free plan has everything your travel and tourism business needs. No hidden fees, and no credit card details are required unless upgrading.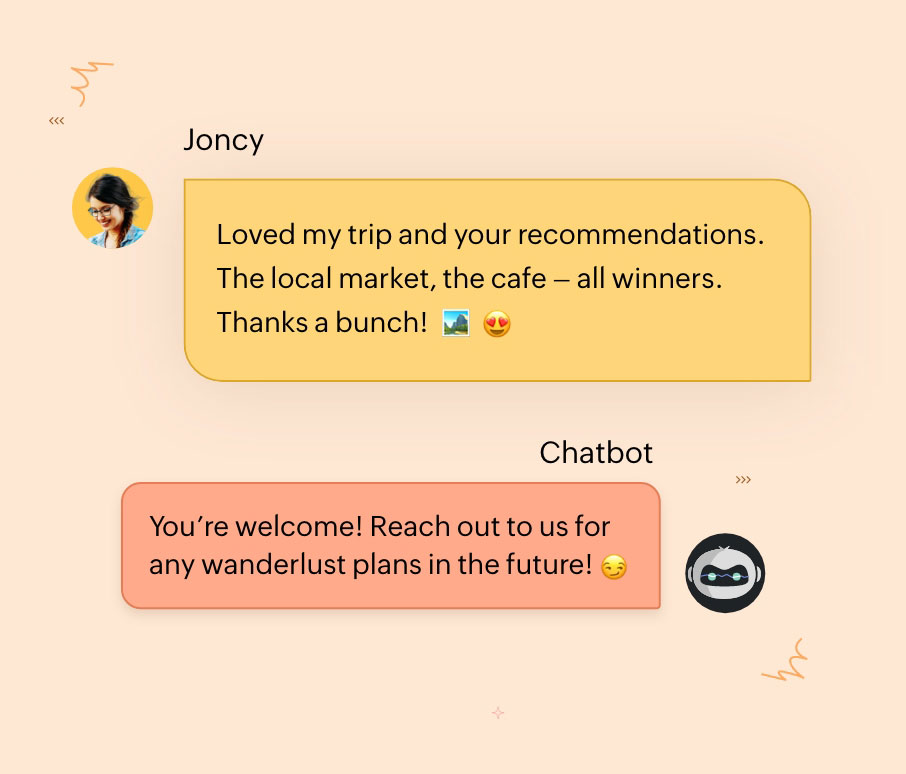 Frequently asked questions?
What is live chat for travel & tourism?
Live chat for travel and tourism refers to a real-time communication platform that allows travel agents to communicate with potential and existing customers. It enables immediate assistance and support for travel-related queries, booking inquiries, destination information, and other travel-related services.
Why do travel agents need a live chat software?
Travel agents need a live chat software because it allows them to provide better customer service. Live chat is a convenient way for customers to get help with their travel needs, and it can help to improve customer satisfaction. Additionally, live chat can help to increase sales by allowing travel agents to close deals in real time.
Benefits of using live chat in the travel & tourism industry
There are many benefits to using live chat in the travel & tourism industry. Some of the key benefits include:
Improves customer service by providing a convenient way for customers to get help with their travel needs.
Enables personalized communication with customers, allowing travel agents to understand their preferences and offer tailored recommendations.
Helps in building trust and increasing the likelihood of completing bookings.
Helps to increase website traffic by making it easier for potential customers to find the information they need.
How to select best live chat for travel websites?
When selecting a live chat for travel websites, there are a few factors you should consider, including:
Cost: Live chat software can range in price from free to hundreds of dollars per month. It's important to find a solution that fits your budget.
Features: Not all live chat software is created equal. Make sure to choose a solution that offers the features you need, such as the ability to chat with multiple customers at once, send files, and track conversations.
Scalability: Consider the scalability of the live chat software, especially if your travel business is expected to grow. Ensure that the solution can handle increased chat volumes without compromising performance.
Customer support: Evaluate the customer support provided by the live chat software provider, including the availability of technical support, training resources, and documentation.
Why is Zoho SalesIQ best travel agent's live chat software?
Zoho SalesIQ is considered a top choice for travel agent's live chat software because it offers a wide range of features and benefits, including:
Feature-rich platform: Zoho SalesIQ offers a range of features specifically designed for the travel industry, including co-browsing, proactive chat triggers, real-time visitor monitoring, AI chatbot, click-to-call and more.
Easy to use: Zoho SalesiQ is easy to set up and use, even if you're not a technical person.
Integration capabilities: Zoho SalesIQ integrates with various platforms, including CRM systems, email marketing tools, customer support software, ecommerce builder platforms, OpenAI (ChatGPT) and more.
Mobile compatibility: Zoho SalesIQ provides a mobile SDK (software development kit) and mobile app support, ensuring a smooth live chat experience for mobile users.
Analytics and reporting: The software offers detailed analytics and reporting capabilities, providing insights into customer behavior, chat performance, and agent productivity.
Strong customer support: Zoho is known for its reliable customer support, with various support channels and resources available, including documentation, knowledge base articles, and responsive technical support.