Trusted by over
465,000

businesses globally
Here's how Zoho SalesIQ provides seamless ecommerce live chat software
Gain insights on your website visitors
Unlock valuable insights about your website visitors using our real-time website visitor tracking feature. Use lead scores to interact with high-intent buyers while they're still on your site.
Start a chat proactively to engage visitors
Initiate personalized conversations, provide discounts, recommend products and new arrivals, reduce cart abandonment and boost sales–all from your ecommerce live chat widget.
Offer instant customer support
Leverage chatbots to resolve simple queries and route complex questions to operators resulting in happier customers for your ecommerce business.
Importance of live chat in ecommerce business
Having live chat software for ecommerce businesses can give you a competitive advantage by increasing sales and customer satisfaction. Here are some of the key benefits of using live chat on ecommerce websites:
Real-time 24x7 support
Offer real-time customer support for your ecommerce business without making them wait for an email or phone response.
Convenience
Access live chat for ecommerce businesses from anywhere and at any time, making it a convenient support option that can fit into busy schedules.
Personalization
Create a more personalized customer experience. Tailor your live chat responses to the specific needs and preferences of each customer.
Increased sales
Provide customers with quick and convenient answers to their questions, which can help them make a purchase decision.
Customer insights
Get valuable customer insights and feedback that can be used to improve products, services, and the overall customer experience.
Cost-effective
Ecommerce live chat is a budget-friendly alternative to traditional phone support, making it a cost-effective option for businesses.
Why is Zoho SalesIQ the best live chat software for ecommerce businesses?
Offer a smoother shopping experience
Knowing how customers use your website is key to improving their shopping experience. Zoho SalesIQ's live chat for ecommerce websites lets you track visitors' footprints, which is useful to identify webpages with high and low engagement rates. Get useful information about visitor activity to find out what's working—or what isn't—to deliver a smoother shopping experience for customers.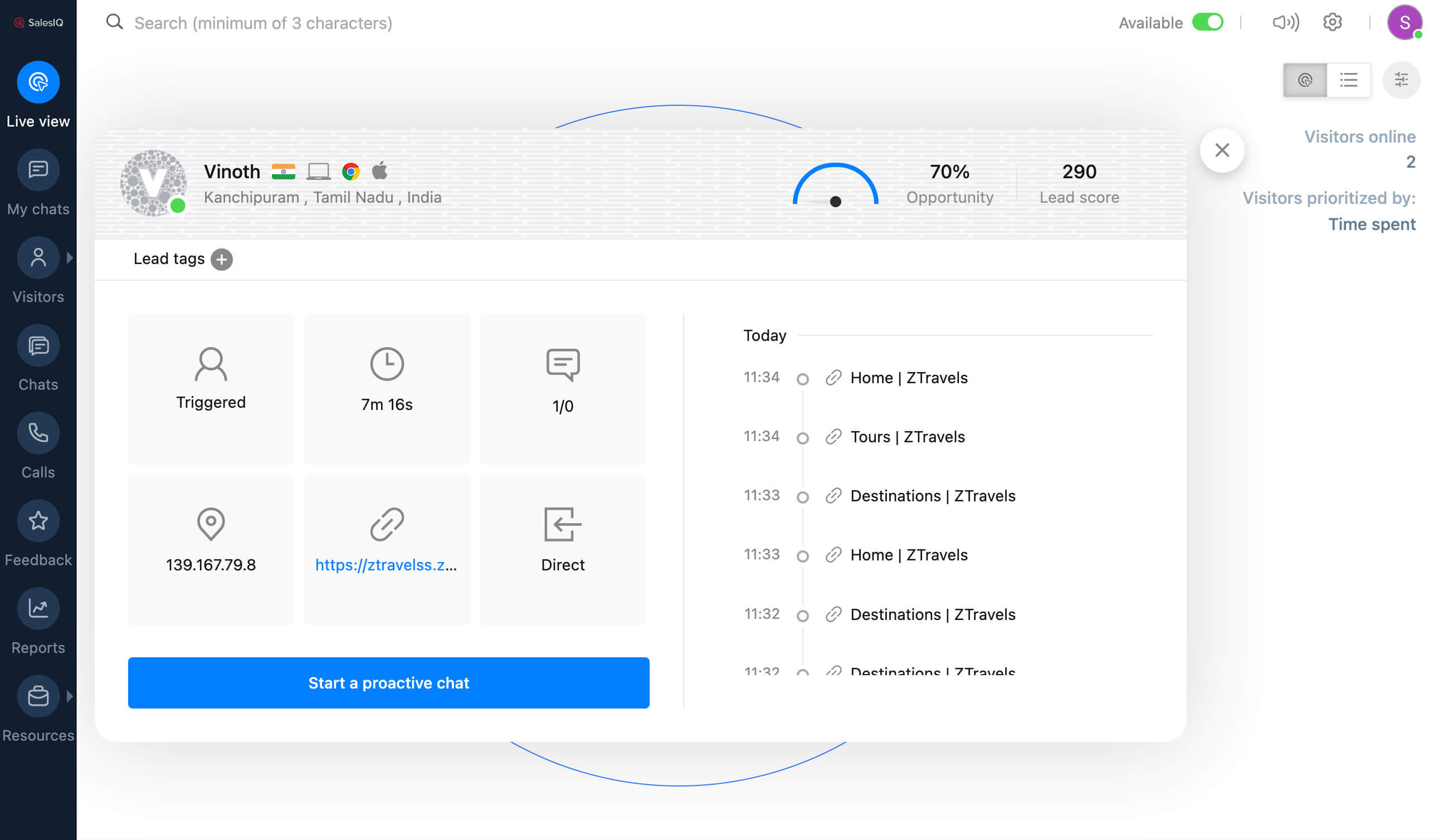 Catch your customers' attention
Have conversations that are relevant to your customers by tracking the pages they've visited, the page they're on, and the time they've spent on the site using Zoho SalesIQ's ecommerce live chat platform. This will help you provide guidance on the product they're looking at. Customers are more receptive to chats that address their immediate queries and issues.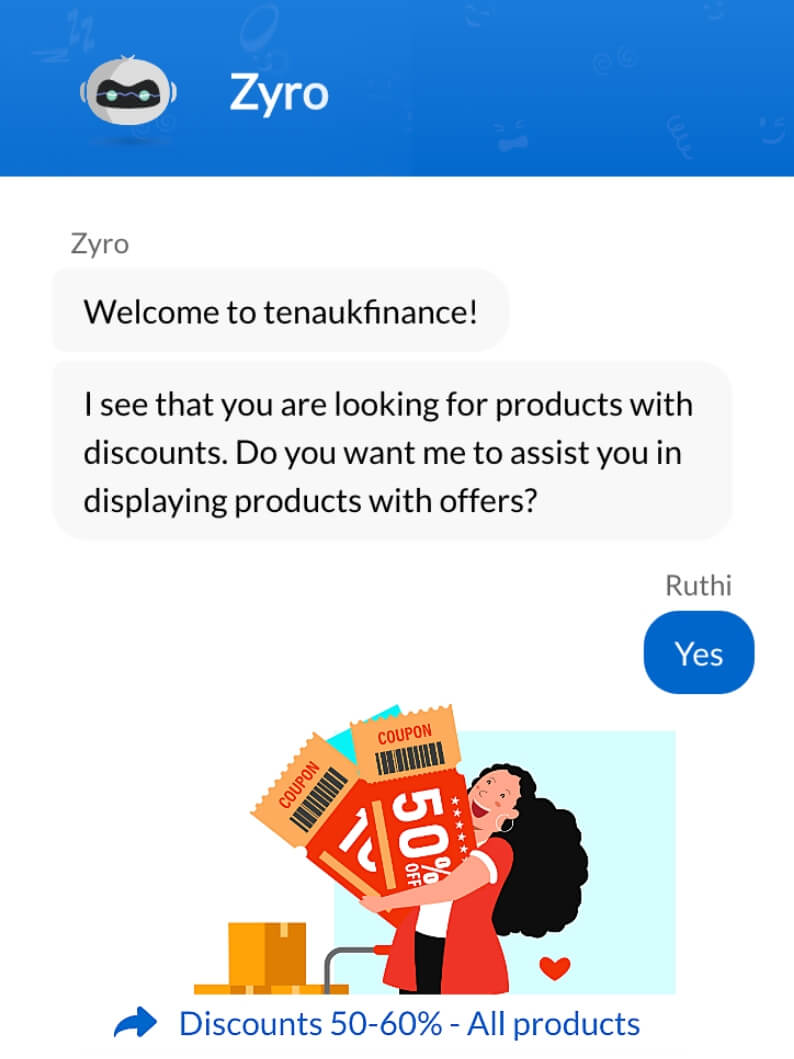 Reduce cart abandonment with timely intervention
Proactively engage with customers before they think of abandoning their cart by analyzing their behavior on your website. With Zoho SalesIQ, you can set up an ecommerce chatbot to initiate chats with discounted price rates, providing a personalized experience for your customers and reducing cart abandonment rates.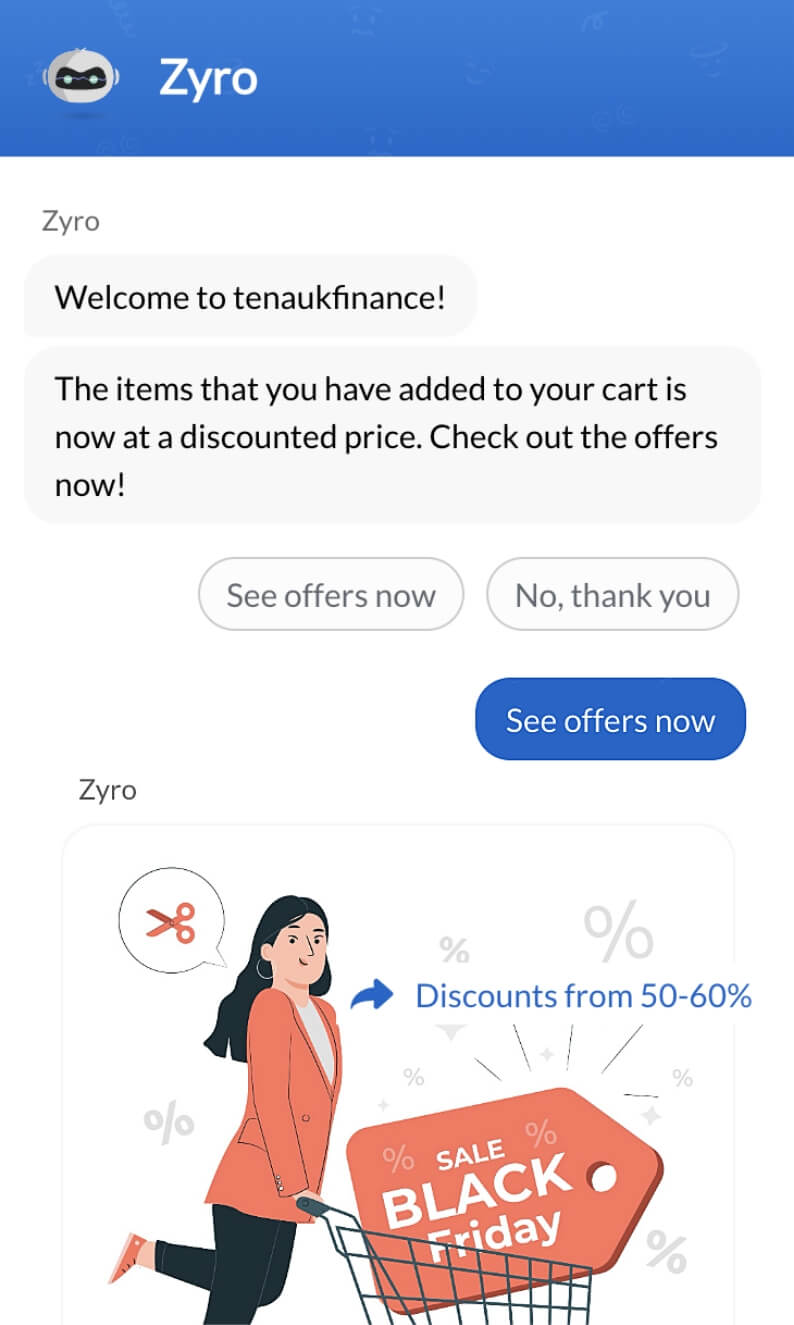 Connect via seamless mobile chat
Extend your ecommerce business availability on the mobile app for your customers. Mobilisten —our mobile SDK for iOS, Android, and React Native—lets you provide in-app chat support to mobile shoppers to boost ecommerce sales. Set up push notifications, in-app event triggers, and more!
Analyze customer data effortlessly
With Zoho SalesIQ, you can seamlessly send live chat data to your CRM and convert chats into tickets through Desk integration . Additionally, Zoho SalesIQ integrates with analytics and other marketing automation tools, enabling ecommerce businesses to manage customer data.
Communicate with customers on multiple channels
Be where your customers are! For ecommerce businesses, it's a must to be in the instant messaging space to gain the competitive advantage. Connect your ecommerce business's instant messaging accounts with Zoho SalesIQ, and get in touch with customers in real time, on their preferred messaging channels–all from a centralized location.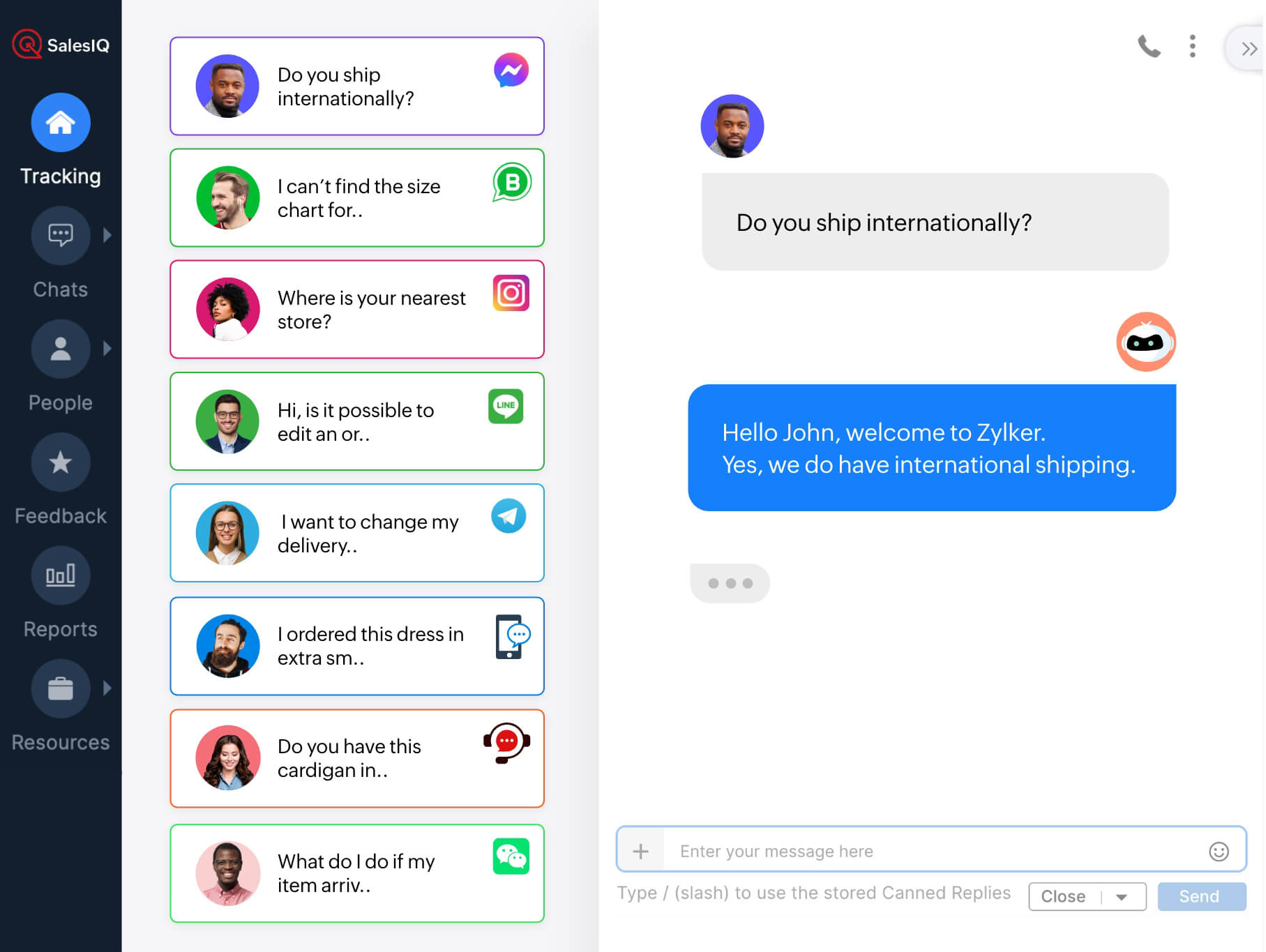 Improve customer trust
Use Zoho SalesIQ to elevate your ecommerce customer support and foster trust and loyalty with your customers. Exceed their expectations by offering multilingual support and providing self-service options such as FAQs and knowledge base resources. Additionally, you can use pre-written responses to expedite response times, acquire rapid feedback, and more.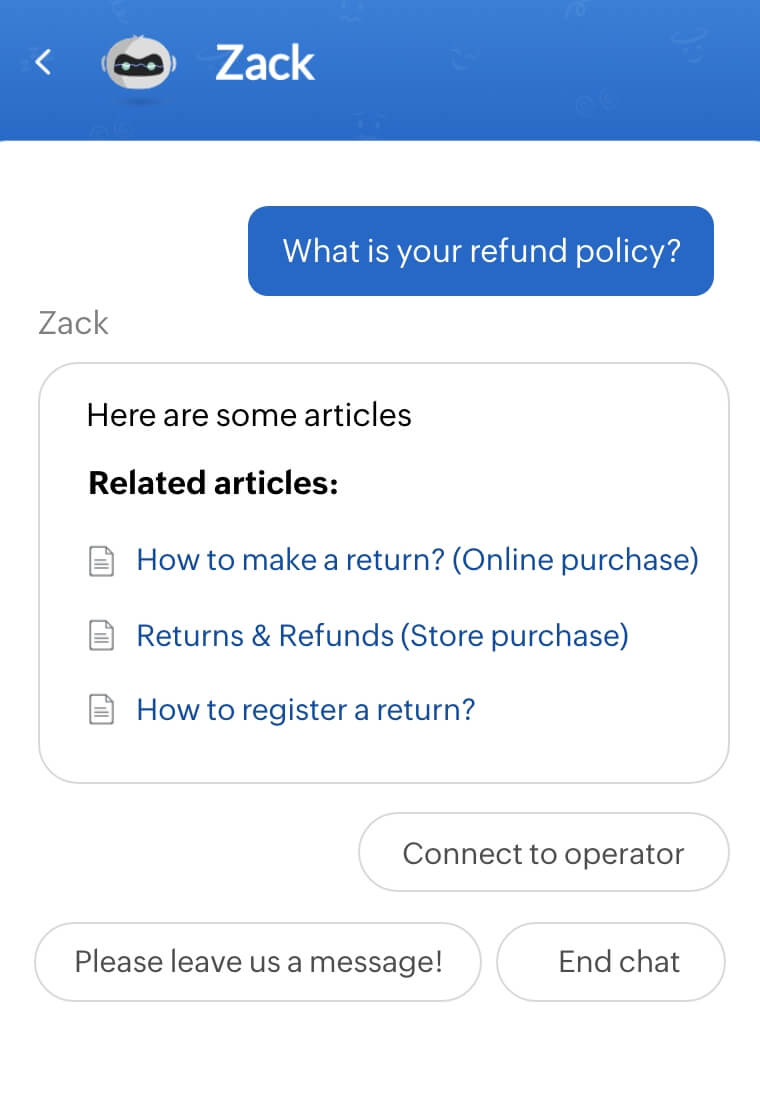 Use SalesIQ with all leading ecommerce platforms
Here's all there is to know about ecommerce live chat software
What is ecommerce live chat software?
Ecommerce live chat software is a tool that enables online businesses to communicate with their customers in real time through a chat interface. It allows customers to instantly connect with a representative from the business and get their questions answered, seek support, and make purchases.
The software typically offers features such as chatbot integration, file sharing, audio/video calling, and screen sharing to provide a seamless and personalized customer experience. The software can be integrated with the ecommerce platform, website, and mobile applications, making it easy for customers to connect with the business from anywhere.
Key features of ecommerce live chat software
Here are some must-have features of ecommerce live chat software:
Real-time communication
AI conversational chatbot
Multichannel support
Customization
Automated messages
Visitor tracking and lead scoring
Analytics and reporting
Real-time chat translation
Chat routing and queuing
Self-service options
Productivity-boosting features like canned responses (preset answers) and typing preview
Voice note, audio/video call, screen share, click-to-call, and remote support options
Integration with other tools like CRM, ticketing systems, bookings, payments, etc
Customer feedback collection
Live chat mobile app
Mobile SDK
Benefits of ecommerce live chat software
Ecommerce businesses need live chat for several reasons. Here are some of the main benefits of using live chat for ecommerce:
Improves customer service
Boosts your ecommerce sales
Cost-effective compared to other support channels
Gives your ecommerce businesses a competitive edge over your competitors
Provides valuable customer insights
Lets you build loyalty with customers for customer advocacy
Increases your customer support team's productivity
Reduces the cost of customer service and retention
Gives you a clear idea of your ecommerce customer expectations and the gaps in your offering
How to choose the best ecommerce live chat for your business
Choosing the best ecommerce live chat software tool for your business can be challenging, as there are many options available. The following are some things to think about to make an informed decision when choosing ecommerce live chat software:
Features: Consider the features offered by the ecommerce live chat software solution, such as real-time chat, customization options, automated messages, visitor tracking, analytics and reporting, and integration with other tools. Make sure the software has all the features you need to support your business and provide excellent customer service.
Ease of use: Choose software that is simple to set up and use, has a simple user interface, and that your team can rapidly become proficient at using.
Customer support: Choose a vendor that offers reliable customer support, with quick response times, multiple channels of support, and a helpful and knowledgeable support team.
Cost: Take into account your ecommerce live chat software's price and make sure it's within your spending limit. Choose a vendor with flexible pricing that includes choices for expansion and scaling.
Integration with other tools: To guarantee smooth workflow and data management, find out if your software can interface with other products you already use or want to use in the future, such as CRM or ecommerce platforms.
Reputation: Check the vendor's reputation and read customer reviews to be sure they have a history of offering trustworthy and efficient solutions.
By considering these factors, you can choose ecommerce live chat software that meets your business needs and provides a great customer experience.
Is there a free live chat software for ecommerce available in Zoho SalesIQ?
Yes, SalesIQ offers a forever free live chat plan with up to 100 chat sessions/month, file sharing, voice note, departments, 30-day chat history, offline messaging, in-app chat, daily reports delivered to your inbox, mobile apps, plugins and extensions, and more!
You can also sign up for a 15-day free trial of our enterprise plan to test out everything SalesIQ has to offer. There are no hidden charges or credit card details needed!