Meet virtually with the industry's best virtual meeting platform
Up to 25 video feeds on the screen
Present virtually and interact with your audience in real time using our innovative multi-video feed system.
Intuitive video conferencing
Easily interact with your participants with our proprietary video and audio conferencing system.
Simplified host controls
Switch roles, manage participant entry and exit, and use many more controls at your fingertips.
Record and replay your meetings
Record,share,and replay your virtual meetings for future reference. Store and download your recordings directly from our secure cloud servers.
Easy scheduling
Set up recurring meetings with our hassle-free scheduling system, and invite participants using customizable email invites.
Multi-device compatibility
Join virtual meetings from multiple devices, such as your desktop, Mac, iPhone, and more.
How to setup a virtual meeting with Zoho Meeting
Zoho Meeting's virtual conferencing solution helps you save travel costs and set up virtual meet-ups with just a few clicks. Here's how you schedule a virtual conference call using Zoho Meeting's virtual conferencing platform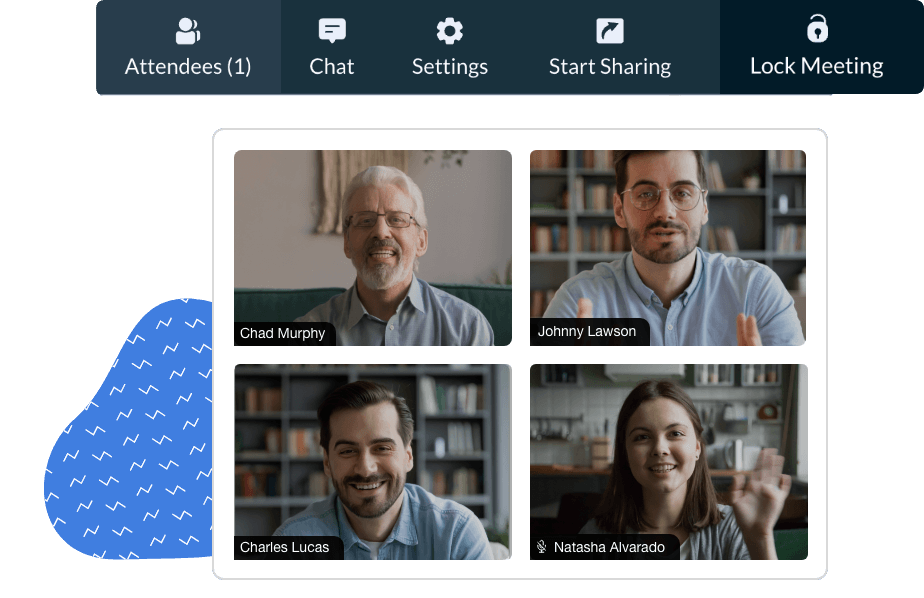 Log in to Zoho Meeting.
Click Schedule a Meeting.
Enter the title, date, time and duration of your meeting.
By default, it will auto-populate the timezone set under My Settings. Change the timezone, if required. You can click the drop-down menu to select a different time zone.
By default, you will be the presenter of the meetings that you schedule. Use the dropdown arrow next to the presenter's name if you wish to assign the presenter role to other members in your organization. An email will be sent to them notifying them about the same.
In the Participants field, Invite participants by entering their email address.
Enter the Agenda for your meeting and click Save to schedule your virtual conference call.
Pass the baton with a single click
Using Zoho meeting's simplified virtual meeting control, you can quickly request control from your meeting's moderator, share your remote screen, switch presenters, mute participants, and remove unwanted participants.
Level up your virtual presentations using our in-house virtual
meeting software
Present virtually with confidence using our web-based virtual conferencing software, which does not require any additional downloads
Share your screen while meeting remotely to enhance your virtual participant engagement
Chat with your participants while virtually meeting online to communicate more efficiently
Embed your virtual meeting's custom link on a webpage or in a social media post to increase your audience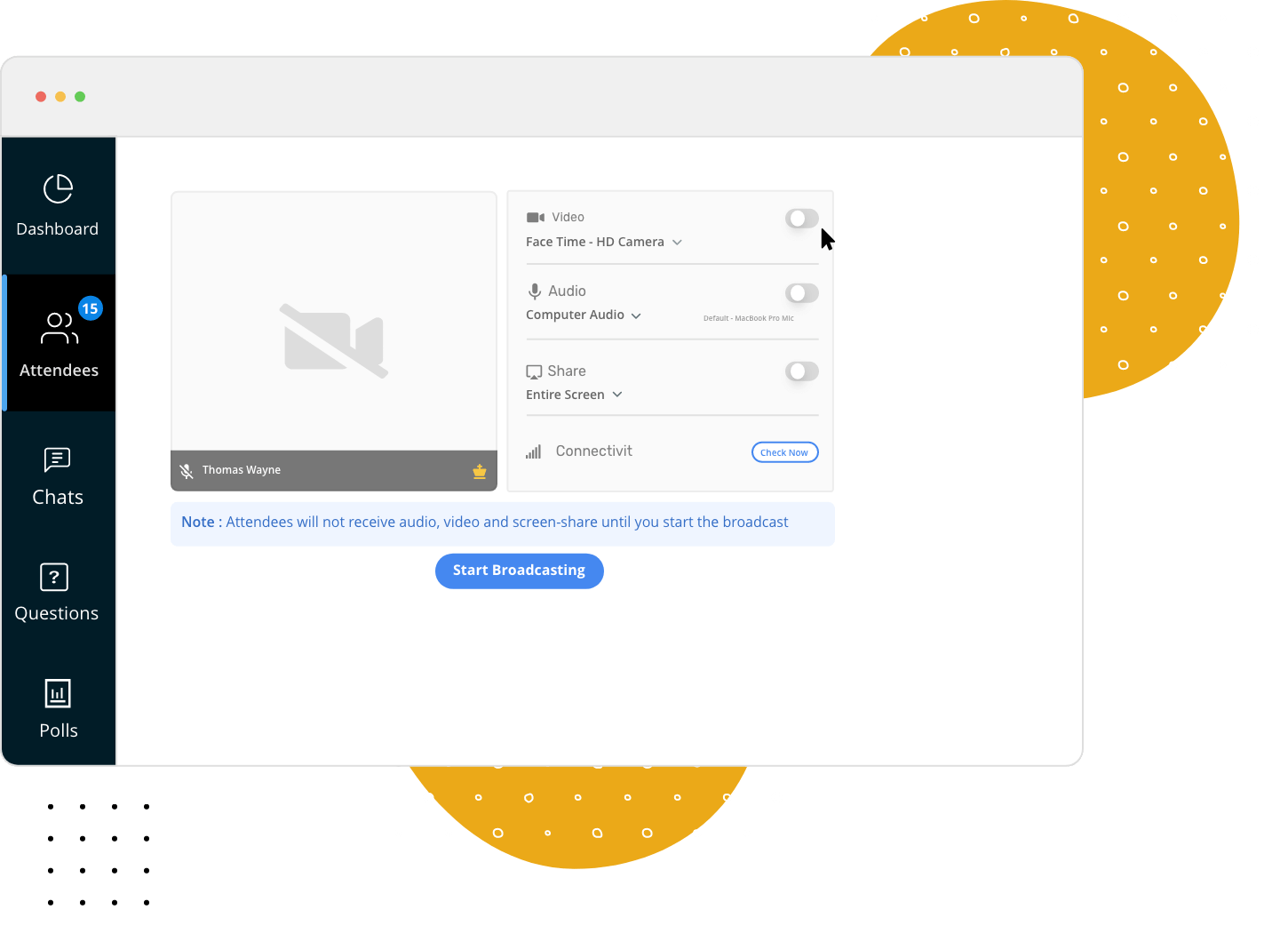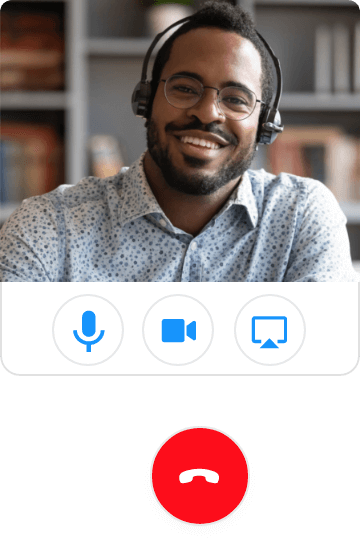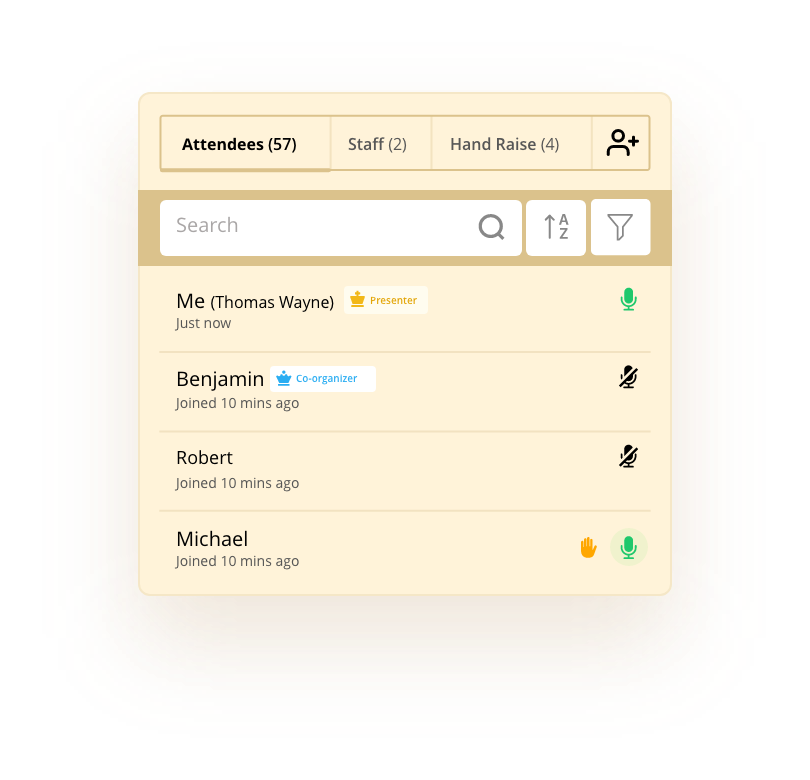 Custom organizational management
Co-branding
Display your branding through our virtual meeting software by adding your company name and logo to the headers of Meeting's email invitations and reminders.
Manage users
Add, edit, and remove users in your organization based on your team needs. Set up virtual meetings and assign members as presenters.
Define camera settings
Allow or restrict the use of video meetings by defining a single camera setting for all the users in your organization.
Custom domain
You can customize the domain name of the service to include and promote your own website or organization. This lets internet users access the online service through the customized domain you provide.
Highly secure virtual meeting platform
Zoho Meeting is protected by TLS 1.2 protocols. Customer data at rest is encrypted using the latest 256-bit AES encryption standards. To keep your confidential discussions private, you can lock your virtual meetings to keep out malicious intruders from invading your privacy.
Learn more about Zoho Meeting security features.
Frequently asked questions
1.What is a virtual meeting?

Virtual meetings, also known as virtual conferencing, is the hosting of a meeting in a virtual environment online. You can host a virtual meeting with audio, video, and screen sharing.

2.Can I join a virtual meeting from my browser?

Yes, using our web-based virtual meeting platform, you can join a virtual meeting directly from your browser with no need to download software.

3.How can I lock my meeting?

You can simply click on the lock meeting button to lock your virtual meeting.

4.What are some of the virtual meetings best practices?

You'll need to choose a battle-tested tool when you conduct your meetings online. The main etiquette during an online virtual video conferencing is not to interrupt a speaker while they're speaking.
Start using the best virtual meeting software today!