Types of web conferencing
Differences between

web conferencing and video conferencing
Though both web conferencing and video conferencing are often used interchangeably, they don't quite mean the same thing.
Web conferencing
Web conferencing is a broader term that encapsulates all types of audio and video interaction that happens over the internet. Audio conferencing, video conferencing, screen sharing, and webinars are all generally referred to as web conferencing.
When to use web conferencing:
1. Business-wide meetings
2. Online events
3. Training sessions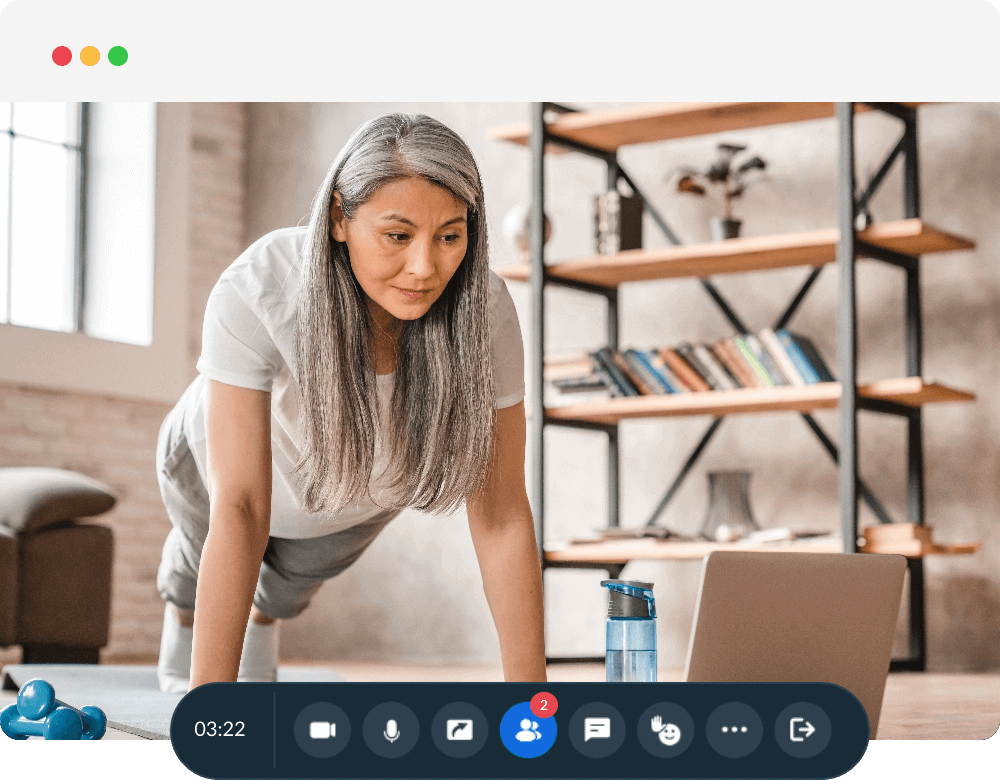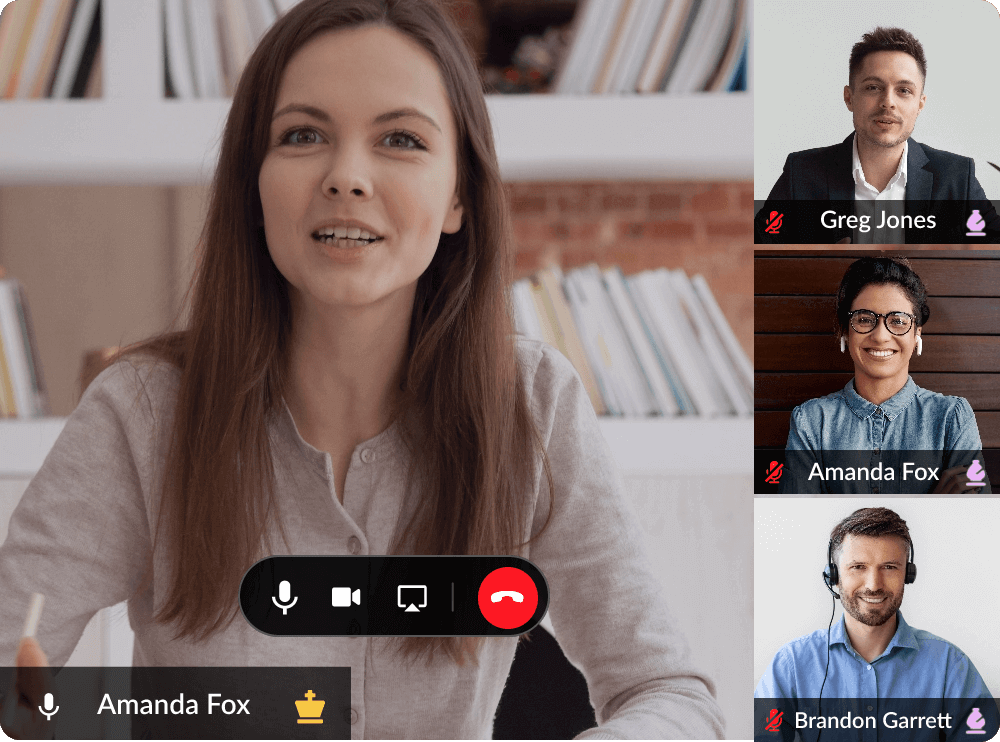 Video conferencing
Video conferencing refers to when two or more people connect over the internet and interact with live video and audio. Though this is a type of web conferencing, video conferencing usually refers to remote collaboration within a small group using real-time audio and video feed.
When to use video conferencing:
1. Remote team meetings
2. Personal video calls
3. Feedback sessions
How does web conferencing software work?
Web conferencing software uses different names for different scenarios, depending on whether you need to connect for brief business meetings, extensive business presentations, or webinars.
As an all-in-one web conferencing software, Zoho Meeting provides a unified platform to cater for different meeting scenarios over the internet.
How to start web conferencing with Zoho Meeting?
You can get started and launch web conferencing over Zoho Meeting in three simple steps:
01

Create a Zoho Meeting account and sign in

Sign in to your Zoho Meeting account to start a meeting. If you don't have one yet, you can quickly create an account now.

02

Start/schedule meetings and webinars

You can start instant audio and video conferencing using Zoho Meeting. You can also choose to schedule meetings for a future time.

Using webinars, you can start broadcasting presentations and training sessions to many attendees simultaneously.

03

Screen share and record web conferencing sessions

Share your screen and collaborate with your peers over web conferencing. You can record audio, video, and screen sharing during the meeting.

Once recording is done, recorded clips will be available under the Recordings tab. From there, you can play, download, and even share these recordings with others if necessary.
Key features of web conferencing tool
Web conferencing for

remote work
Getting work done remotely requires continuous collaboration with your team members. Stay up to date on your team's progress through web conferencing while they work from different locations on multiple projects. Collaborate with up to 100 participants through audio, video, screen sharing, and remote control access.
Web based


video conferencing

Conduct real-time face-to-face collaboration through video conferencing directly from your browser. Zoho Meeting is a browser-based web conferencing and webinar platform, which means you can conduct online meetings and webinars without downloading software.
Web video conferencing with
screen sharing
Share your screen to collaborate better with your team during video meetings and smoothly deliver presentations during webinars. Share your entire screen to let your collaborators view multiple windows as you navigate through them or just share the single app you want to work together on.
Secure

web conferencing

Conduct online meetings and webinars securely online using encrypted audio transmission, video conferencing, and screen sharing. Zoho Meeting employs multiple measures to protect your data as you conduct web conferencing sessions. Learn more.
Cost-effective


web conferencing tool

Web conferencing enables your organization to reduce traveling costs and provides a safe atmosphere for employees to work from home. With our affordable rates and easy adoption at the organization level, Zoho Meeting is one of the best web conferencing solutions for small businesses.
Mobile friendly


web conferencing platform

Join meetings and webinars from anywhere you want using the Zoho Meeting iOS and Android apps. View and start web conferencing sessions from your scheduled meetings list or create new meetings on the go. Learn more about our mobile apps.
Look at what our customers have to say about Zoho Meeting's web conferencing:
"Neat! Zoho Meeting is finally a true alternative to Zoom and GoToMeeting! I am so excited and I tried it out today."
Anita Campbell
Founder and CEO at Small Business Trends
"Very useful meeting tools, as we use for Zoho for our CRM and accounts, it was an easy choice to use Zoho Meeting as well. Very good for remote demo's."
Tolik Rozensteins
Business Development Manager, Security & Vetting Solutions Ltd
"We now have several weekly team meetings that allow everyone to be in sync with each other. And for our customers we have created a series of live webinars and group meetings where they can speak directly with our team and learn about raising solitary bees."
Karl Alexander
Marketing Director, Crown Bees
Frequently Asked Questions
01. Does Zoho Meeting offer free web conferencing software?
Zoho Meeting offers a forever free version of web conferencing for up to 100 participants with features including screen sharing, file sharing, multiple video layouts, reports and analytics. You can conduct an online meeting with 100 participants or a webinar with 100 attendees for up to 1 hour. Our free license also empowers you to add co-hosts, lock meetings, and embed meeting links to websites.
02. Is Zoho Meeting's web conferencing secure?
Zoho Meeting's web conferencing is protected by TLS 1.2 security encryption protocols that ensures maximum security to your online meetings. Zoho Meeting's web conferencing encrypts audio and video using DTLS-SRTP encryption. Read more about encryption at Zoho.
03. Why is Zoho Meeting the best web conferencing software for your needs?
With Zoho Meeting, you can conduct online meetings with your team and host webinars for your customers, partners, or any other audience. Zoho Meeting allows you to collaborate through computer audio, phone audio, real-time video conferencing, and screen sharing. You can even record your sessions for later use. It is also a budget-friendly web conferencing solution for your organization's needs.