Easy online screen sharing using Zoho Meeting
Share your screen with other participants in seconds. Collaborate on documents to deliver presentations efficiently using our free online screen sharing app.
Share

the entire screen or app windows

Share your entire screen or only a select application window with other participants. By sharing only an application window, the rest of your screen—including the applications you use, your desktop wallpaper, or any open browser tabs —will not be visible to others in your meeting, thus you can share screen online without worrying about your privacy.
Secure

remote screen sharing software

Online screen sharing is encrypted in Zoho Meeting, on both the presenters' and participants' ends. On the presenter's end, live screen sharing is encrypted through WebRTC and uses DTLS-SRTP encryption. On the participants' end, online screen sharing is encrypted using the TLS 1.2 protocol.
Record

screen sharing

In Zoho Meeting, online screen sharing is captured in meeting recordings along with the audio. This helps you recap your meetings or easily catch up on the discussions you missed. Recordings can be accessed only by the organizer of a meeting or webinar and they can share it with others if required.
Browser-based

screen sharing

Share your screen during online meetings and webinars using our screen sharing website, without downloading any software. As a web-based online conferencing software, Zoho Meeting's easy to use "share my screen" feature allows you to share screen online directly from your browser. You can also share your screen from mobile devices using the Zoho Meeting iOS app.
Collaborate

with remote access

The remote access feature in Zoho Meeting helps participants access the presenter's shared screen using their mouse and keyboard. Use remote access to collaborate on documents or presentations during your online meetings.
Desktop screen sharing with
video meetings
Share your screen and see other participants face-to-face through video conferencing. Video meetings using online desktop sharing help you articulate your thoughts better and build consensus during discussions and presentations.
How does
screen share

with Zoho Meeting work?

Start online screen sharing with other meeting participants with the click of a button. Become a presenter and share your entire screen, or an application window, or even a chrome tab over Zoho Meeting.
Entire screen
Share your entire screen with all the participants of the meeting. All the open applications on your system will be visible to the meeting participants by sharing the entire screen.
Choose what you share
Entire Screen
Window
Chrome Tab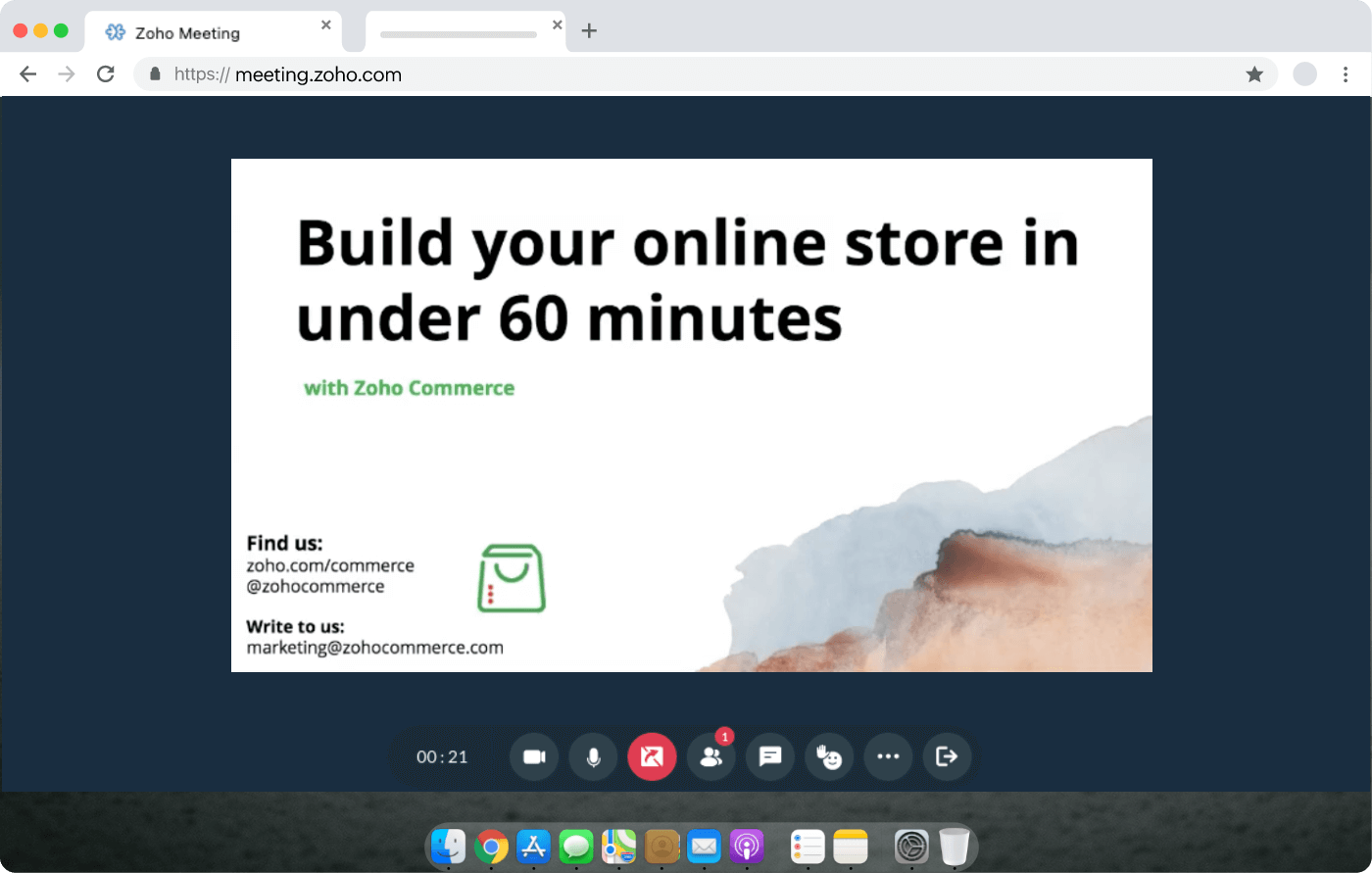 Choose what you share
Entire Screen
Window
Chrome Tab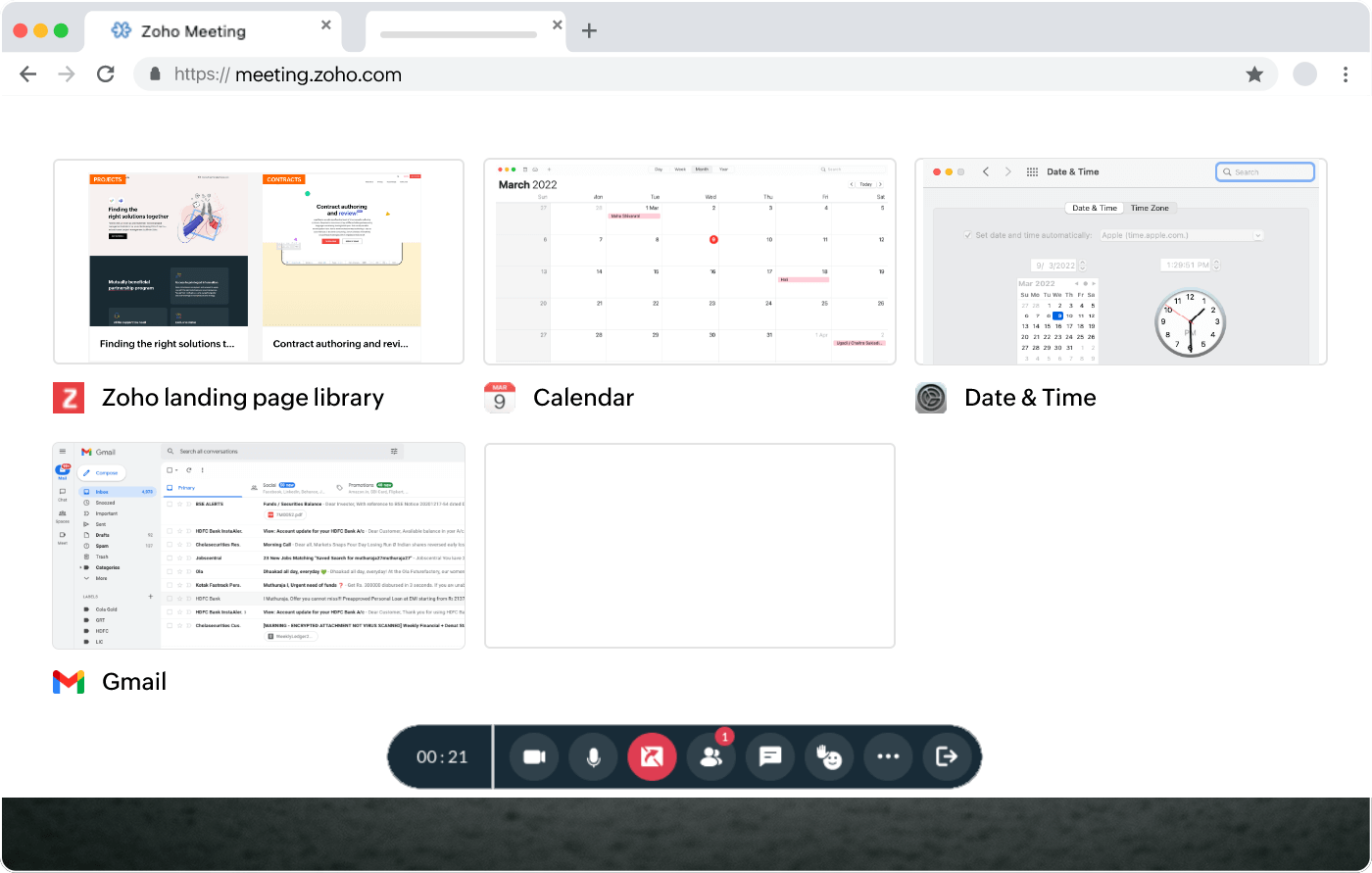 Window
Share a specific application window that's relevant to the participants of the meeting. You can choose to share one of the open application windows on your system with the meeting participants, not having to show all the open applications over the meeting.
Chrome Tab
If you have joined the meeting from chrome, you can even choose to share a particular chrome tab with the participants. They will only get to see that specific chrome tab and not any other application on your system during screen sharing.
Choose what you share
Entire Screen
Window
Chrome Tab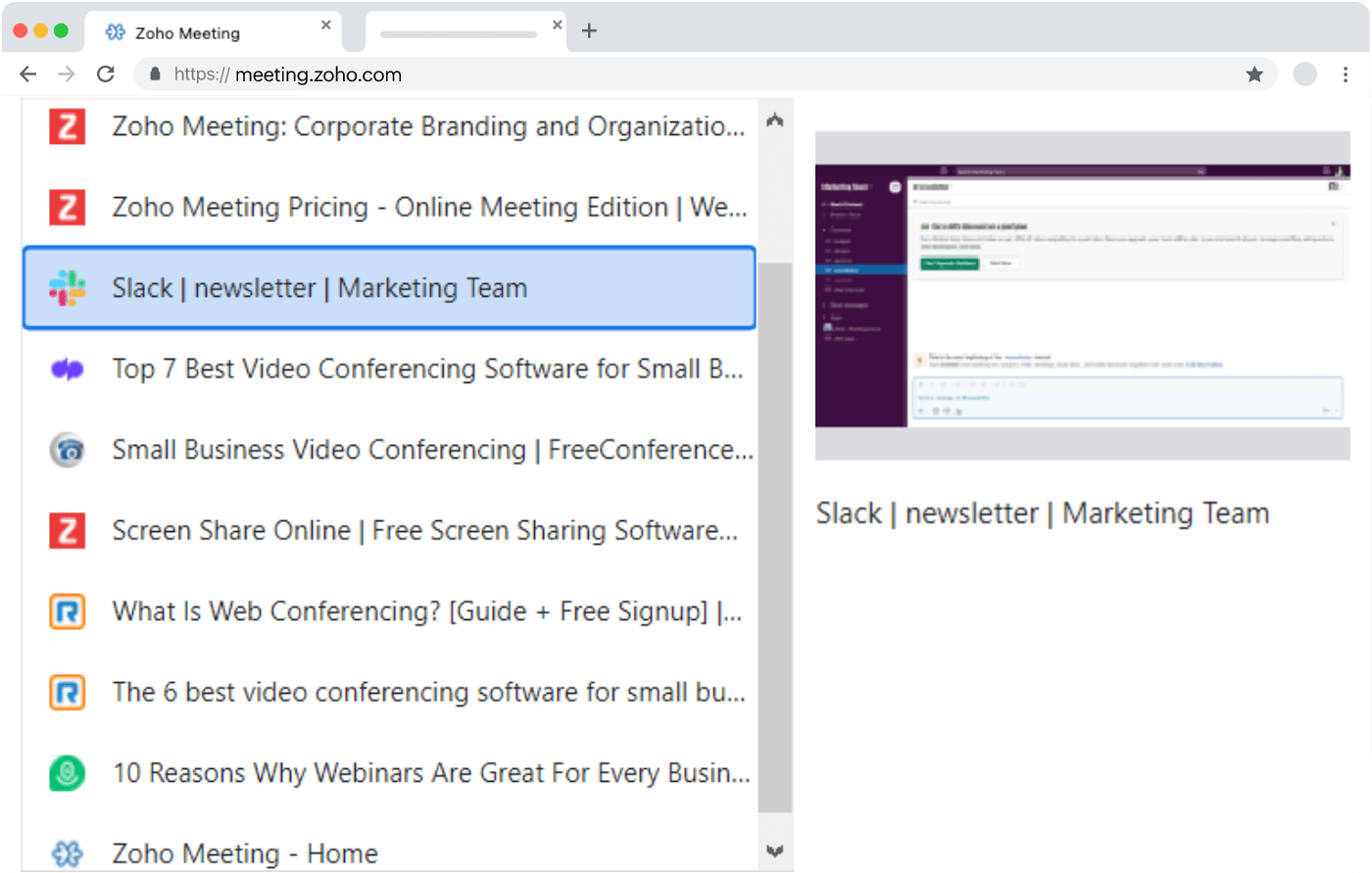 Prerequisites for
screen sharing
Before you begin to share your screen, there are certain prerequisites that need to be satisfied from the presenter's end.
Make sure you have a reliable internet connection to provide seamless screen sharing.
Check beforehand whether screen sharing is working properly on your online meeting platform.
Ensure the application window you intend to share is open on the screen and ready to share with the meeting participants.
Close or minimize unnecessary application windows or tabs that may cause distraction while sharing your screen.
Start your meeting recording, which will capture screen sharing as well. This will be helpful to review sessions in the future.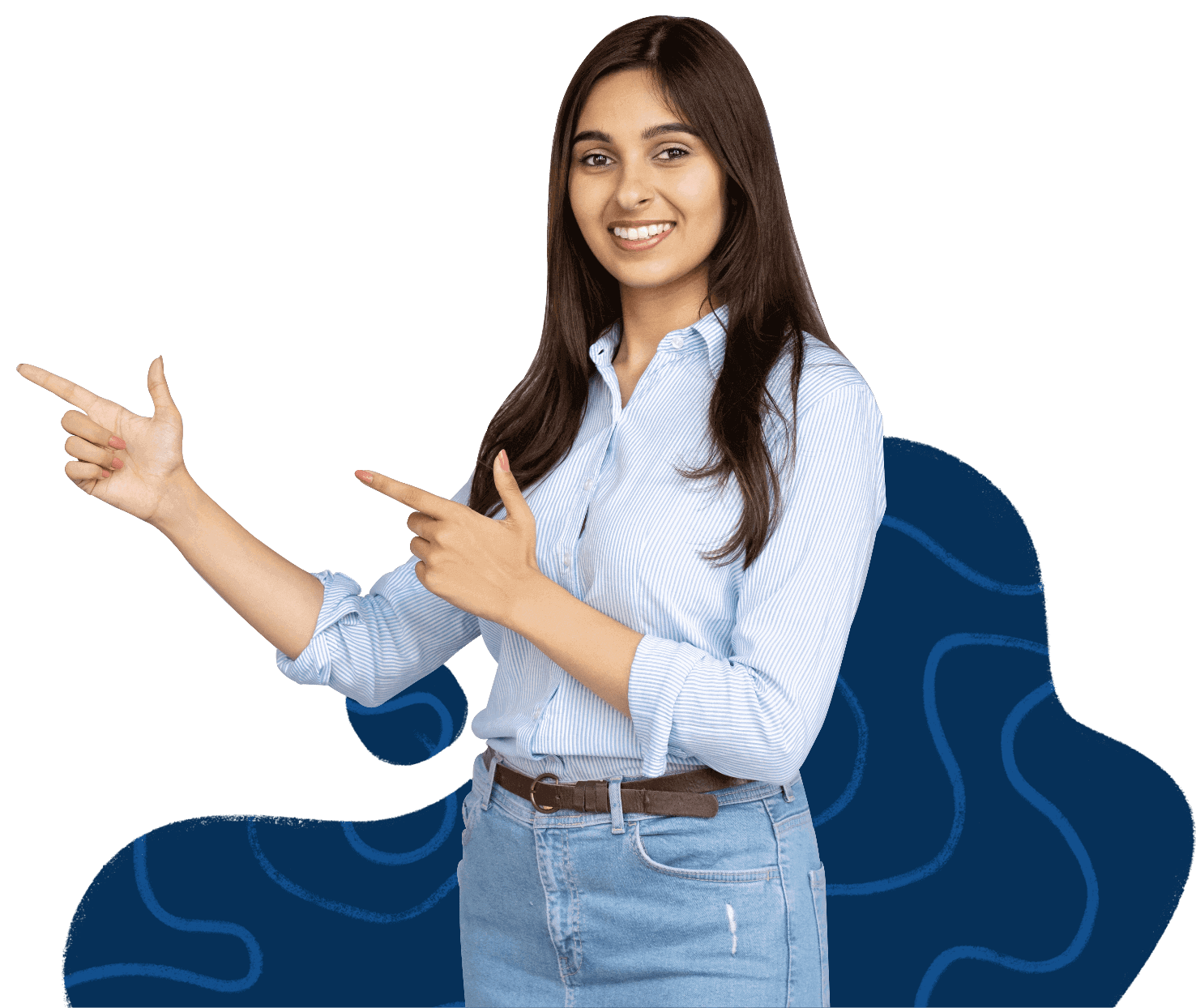 Look at what our customers have to say about Zoho Meeting's free screen sharing software
"In my business I am a vendor to the child care industry and provide a service for child care providers. I have found Zoho Meeting to be very helpful in giving online demonstrations of how our web application works."
Linda McKnight
The Child Care Square
"Very useful meeting tools, as we use for Zoho for our CRM and accounts, it was an easy choice to use Zoho Meeting as well. Very good for remote demo's."
Tolik Rozensteins
Business Development Manager, Security & Vetting Solutions Ltd
"We now have several weekly team meetings that allow everyone to be in sync with each other. And for our customers we have created a series of live webinars and group meetings where they can speak directly with our team and learn about raising solitary bees."
Karl Alexander
Marketing Director, Crown Bees
Online mobile screen sharing app
Download Zoho Meeting for iOS and Android to share screen and collaborate from your mobile.
Read more
Frequently Asked Questions