Conduct meetings for free up to 60 minutes with 100 participants
How free is our free online meeting software?
| Zoho Meeting | Forever free plan |
| --- | --- |
| Number of meetings | Unlimited |
| Participants/Attendees | 100 |
| Meeting duration | 60 minutes |
| Screen & file sharing | Yes |
| In-session chat | Yes |
| Virtual backgrounds | Yes |
| Whiteboard | Yes |
Instant and scheduled meetings
Meet instantly, or plan ahead
Set up meetings and send email invitations with detailed descriptions and agendas. When quick decisions are needed, you can conduct instant meetings from anywhere in a matter of seconds. Use Zoho Meeting as a free online meeting software.
Get RSVPs
Find out in advance who can make it to your online meetings with confirmations from participants through the RSVP mechanism. Meeting invitees can choose either Yes, Maybe, or No, and you'll receive response emails based on their choice.
Email reminders
Make sure everyone makes it to your online meeting on time by scheduling reminder emails for the participants before the meeting starts. Choose a predefined time when scheduling to remind your participants about the meeting—whether it's 5 minutes, 15 minutes, or an hour before the session.
Real-time collaboration
Audio conferencing
Seamlessly communicate by audio conferencing using your computer's built-in microphone and speakers with Voice over Internet Protocol (VoIP) technology. You can also join on free mobile meetings from any part of the world, using dial-in numbers. Purchase the toll-free add-on to let your participants join for free, using their phones.
Video conferencing
Express your ideas better by video conferencing with participants, from your video source of choice. Use our free web and video conferencing solution for a seamless collaborative experience with your remote business teams.
Screen sharing
Share your entire screen, a particular application, or just a chrome tab with your meeting participants and collaborate in real time. Select the specific content and share screens from multiple monitors.
Whiteboard
Jot down ideas, prepare flowcharts, and annotate new concepts with your meeting participants using collaborative whiteboard. Save the entire whiteboard and clear the same with the click of a button.
In-session chat and file sharing
Exchange messages with everyone in your ongoing meeting using the chat tab. Send voice notes and share images, documents, or any other type of files with the meeting participants in a jiffy.
Raise hand and emojis
Empower meeting participants to engage with the host using the Raise Hand feature and reaction emojis. Raise your hand to get the presenter's attention and use emojis to react to the presenter in real time.
Recording
Replay, share, and download sessions
Record your meetings with audio, video, and screen sharing, and replay them later to gather the insights. Download meeting recordings to your computer, and share recorded files with your team members.
Cloud recording storage
Recorded online meeting sessions will be readily available for access in your Zoho Meeting account's cloud storage. Unlike other online meeting tools, we don't limit recordings based on storage space.
Customization
Co-branding
Promote your brand by adding your business name and logo to the email headers of meeting invitations and reminders. Reinforce your branding using customized emails and registration forms.
Custom domain
Conduct meetings on a custom domain including your business logo and identity. Create a personalized domain to meet with your business prospects and reflect your branding on a domain level.
Embed meeting links
Share your custom domain meeting links as widgets on your organization's website. Embed meeting links with your business name and logo, and let anyone who visits your website join the meeting with a click.
Organization management
Departments
Manage multiple teams across your organization using the Departments feature. Add relevant members and schedule department-only meetings to keep sessions organized amongst your business teams.
Manage users
Add and remove members in your organization all from one place. Assign the department, role, and type of license for each user. Set up department-specific meetings and designate members as presenters.
Add co-hosts
Assign the role of co-host to other organization members and share hosting responsibilities. Co-hosts can start and end meetings, record meetings, and manage participants in your absence.
Analytics
Extensive reports
Analyze past meetings and monitor participant engagement for a specific period using metrics such as Session Count, Session Duration, and Session History. Find out how meeting participants engaged with your sessions from one consolidated dashboard.
Analyze notes and chats post-session
Get your entire chat history and associated notes in one place even after your meetings are over. Analyze your notes, chats, whiteboards, and polls post-session to gather insights and improve future meetings.
Integrations
App integrations
Improve real-time collaboration and enhance productivity using Zoho Meeting's integrations within the Zoho ecosystem and other third-party apps. Launch and schedule free online meetings from other apps in no time. Learn more
API integrations
Create your own online meeting solution or build custom apps using the Zoho Meeting API. Integrate your day-to-day cloud-based apps for a variety of use cases like marketing, sales, and project management. Learn more
Security and privacy
Security standards
All data transmitted to Zoho services are encrypted using TLS 1.2 protocols. Zoho uses certificates issued by SHA 256 based CA, ensuring that our users have a secure connection from their browsers to our service.
Virtual backgrounds
Protect your privacy and keep your video feeds professional using virtual backgrounds. Choose a static image, GIF, or upload your own custom virtual backgrounds to customize the experience.
Action log viewer
Monitor all meeting errors, warnings, and messages across your Zoho Meeting account using the action log viewer. Export the entire log as a CSV file for auditing purposes.
Anonymize personal data
Keep user data secure across your organization. Anonymize key personal data of the organization members including name, email address, and IP address for improved privacy.
GDPR Compliance
Your data privacy is important to us. All Zoho products are in compliance with GDPR guidelines.
Frequently Asked Questions
01. What is an online meeting?
An online meeting is a virtual gathering where two or more people can seamlessly connect and collaborate with each other over the internet. Also called virtual meeting, this empowers individuals and businesses to communicate from remote locations effectively.
02. Does Zoho Meeting offer a free web conferencing solution?
Yes, we offer free web conferencing software. You can conduct free online meetings with up to 100 participants using our online free meeting platform.
03. How secure is our forever free online meeting version?
Zoho Meeting's online free meeting version does not compromise on quality and functionality. Your free web meeting platform is protected by TLS 1.2 AES protocols, making Zoho Meeting most secure among other free online meeting platforms.
04. What are the free online meeting features available in Zoho Meeting?
With Zoho Meeting's free edition, you can conduct free online meetings with screen-sharing, video conferencing, and use moderator controls like muting and removing participants.
How to choose free online meeting software?
Selecting the right video meeting platform is crucial for effective business connection and collaboration. Here's how you can make an informed decision and choose the best free video conferencing software:
Audio and Video Quality
Ensure your chosen free video conferencing platform maintains high audio and video quality.
Number of Participants
Check the maximum number of participants allowed in your free online meetings.
Meeting Duration
Determine the duration of each free video meeting with the specified participant limit.
Security and Privacy
Prioritize a secure, yet free video meeting software that emphasizes user data security and privacy.
User Interface
Opt for an intuitive video conferencing software that's beginner-friendly and easy to get started with.
How freelancers and startups can benefit
using our free meeting software?
Seamless business communication
Connect with your clients as a freelancer via live video conferencing at zero cost. Use Zoho's online meetings and business phone calls for both extensive meetings and quick review sessions without having to juggle between apps.
Effective remote collaboration
Brainstorm with your startup team in a shared virtual space without any cost. Our free online meeting software enables real-time collaboration through screen sharing, file sharing, and whiteboards.
Free online meetings on-the-go!
Conduct free online meetings from your mobile devices using the Zoho Meeting iOS and Android apps. Sign into the iOS app to view and launch your upcoming meetings, share your screen and collaborate with video.
Read more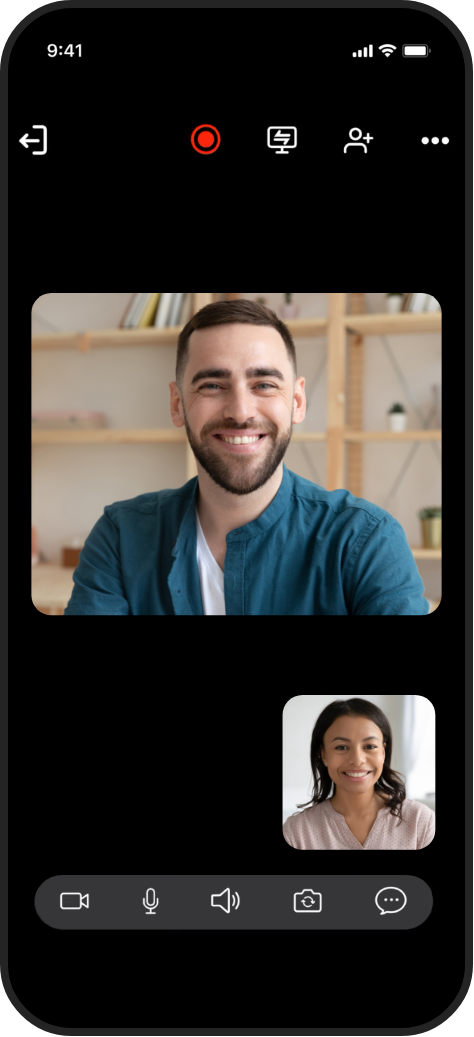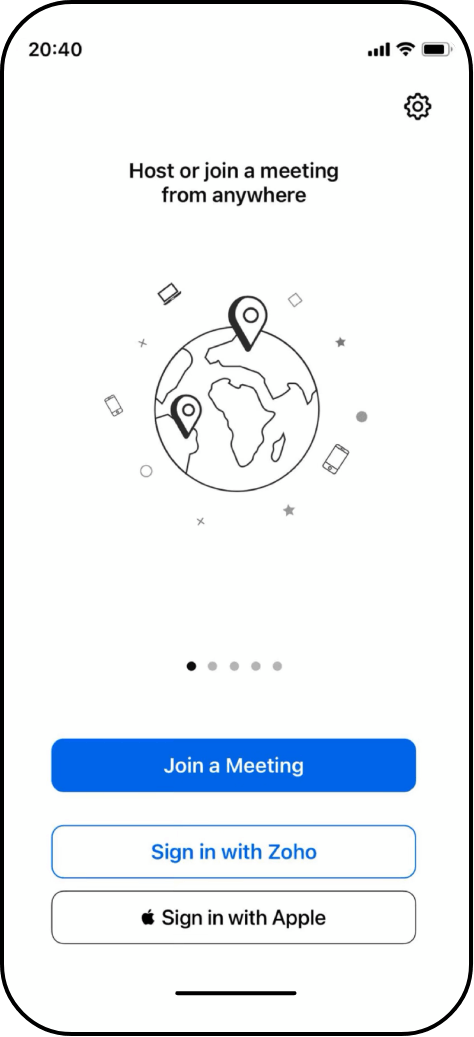 Look at what our customers have to say about
Zoho Meeting
"Neat! Zoho Meeting is finally a true alternative to Zoom and GoToMeeting! I am so excited and I tried it out today."
Anita Campbell
Founder and CEO at Small Business Trends
"Very useful meeting tools, as we use for Zoho for our CRM and accounts, it was an easy choice to use Zoho Meeting as well. Very good for remote demo's."
Tolik Rozensteins
Business Development Manager, Security & Vetting Solutions Ltd
"We now have several weekly team meetings that allow everyone to be in sync with each other. And for our customers we have created a series of live webinars and group meetings where they can speak directly with our team and learn about raising solitary bees."
Karl Alexander
Marketing Director, Crown Bees