Host video webcasts with
Zoho Meeting's webinar software
Zoho Meeting's webinar software offers a wide range of battle-tested features that help you expand your global outreach with just a few clicks. Conduct a live webcast for up to 1000 attendees and tell your story in style by sharing your remote screen.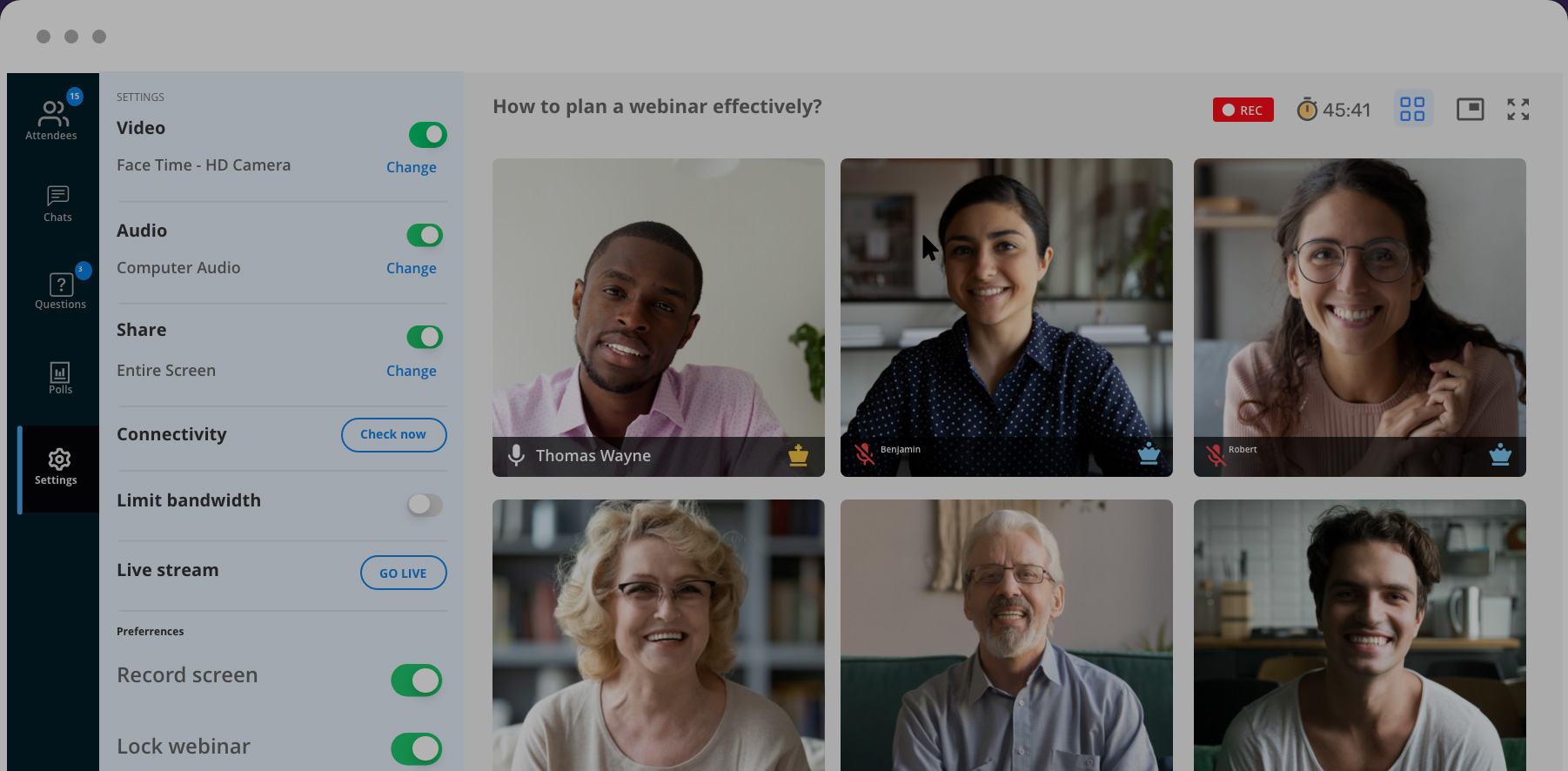 Trusted by teams at
Zoho Meeting's webinar hosting software offers a wide range of battle-tested features that help you expand your global outreach with just a few clicks.
Live stream your web events with Zoho Meeting's webcasts
Live streaming your web events for a larger group might seem daunting, but our YouTube live streaming service makes live streaming your web events and conducting enterprise-level webinars a breeze.
Bigger events with better return on investments
Zoho Meeting's webcasts via YouTube live streaming keep you prepared for any challenges while conducting large events with video streaming, screen sharing, live polls, Q&A sessions, and much more. With Zoho Meeting's innovative webcasting, you can launch products with large-scale live web events, provide training to an entire company, and conduct town hall meetings seamlessly.
YouTube live streaming
YouTube live streaming helps you maximize your reach and connect with a much larger audience. During the live stream webcast, people can comment and ask questions on YouTube.
Video conferencing
Communicate your thoughts and ideas more effectively through video conferencing. Use your built-in laptop camera or an external camera for video webinars and conduct your live web events with peace of mind.
Custom branding
Custom brand your webcasting by customizing the webinar registration forms for your organization. Add your brand's logo and images to maintain brand consistency. You can also use custom domain mapping for your webinar links and live stream your webinars on YouTube.
Screen sharing
Make your web conferences interactive by sharing your remote screen with just a single click. Share your entire screen or just a specific application window with other participants using our screen sharing app.
24/5 technical assistance
We offer around-the-clock technical support five days a week to help you efficiently conduct your online events and quickly resolve any technical issues you face.
Advanced analytics
Generate detailed reports on attendee and registrant information and use polls and Q&A sessions to track and analyze your audience engagement levels. Use your performance reports to enhance your webcasting productivity.
How to webcast your webinar using Zoho Meeting's YouTube live streaming
Enabling YouTube live streaming for webinars:
Log in to Zoho Meeting. Don't have an account? Sign up for a 14-day free trial.
Click Settings in the left pane.
On the My Settings tab, enable the Live streaming webinars on YouTube option.
To live stream your webinars on YouTube Live:
Schedule the webinar as an Organizer.
Click the Go Live button in the top-left corner and click Start.
Sign in with your Google account and click Next.
Select Allow to give permission for Zoho Meeting to access your Google account.
Enter the Zoho webinar title as you want it to be displayed on YouTube.
Verify your Account Information.
Select the video access level: Public, Unlisted, or Private.
(Note:
Public: Videos can be seen by anyone on YouTube.
Unlisted: Videos can be seen and shared by anyone with the link.
Private: Videos can only be seen by you and the people you choose to give access.)
Click the Go Live button. The progress bar will show that your session is being prepared for streaming.
Attendees on YouTube can use the YouTube comment section to share their questions or thoughts. Live streaming will stop when you end the webinar.
Awards and Reviews
See what leading experts have to say about Zoho Meeting's webcasting software:
Look at what our customers have to say about Zoho Meeting's webcast solutions
Neat! Zoho Meeting is finally a true alternative to Zoom and GoToMeeting! I am so excited and I tried it out today.
Very useful meeting tools, as we use for Zoho for our CRM and accounts, it was an easy choice to use Zoho Meeting as well. Very good for remote demo's.
We now have several weekly team meetings that allow everyone to be in sync with each other. And for our customers we have created a series of live webinars and group meetings where they can speak directly with our team and learn about raising solitary bees.
Advantages of webcasts
Brand awareness
Hosting successful webcasts helps you level up your publicity and can positively impact your global brand awareness.
Cost efficient
Webcasting is an affordable alternative to conducting large-scale in-person events. You can use your webinar tool to generate high-value quality leads with minimal investment.
Reach a larger audience
You can stream your live webinar with up to 1000 attendees in a session using Zoho Meeting's webinar software. This will help improve communication with larger groups.
Train employees quickly
You can train your internal employees more efficiently by offering informative on-demand webinars. Record these training sessions to reuse them for future employees.