Enable hybrid work culture with remote meetings
Stay connected with your workplace from anywhere and enable a flexible, hybrid work model using remote meeting software such as Zoho Meeting. Stay on top of your work from anywhere with online remote meetings
Schedule and invite

All you need to do to set up a meeting is enter the details of the meeting and participant email addresses in the Schedule Meeting form. Your participants will receive email invitations which they can use to join the meeting at the scheduled time.

Make your remote meetings interactive

Share your screen with other participants to add a personal touch to your online remote meeting experience. Collaborate with your participants by easily showing them important meeting documents or data graphs with screen sharing in the Zoho Meeting software.

Learn more

Record your remote meeting

Capture everything discussed during an online meeting, including your remote screen sharing sessions. Using our Record Meeting feature, you can record online meetings with audio and video feeds in just a few clicks.

Learn more

Best practices for conducting remote meetings with Zoho Meeting

Make sure you have a stable internet connection
Use an external headset
Use a laptop or PC with Google Chrome
Keep all participants muted when you start your meeting. They can easily unmute to speak by holding down the space bar.
Tips
Participants can test whether their microphone and camera are correctly detected by Zoho Meeting by visiting https://test.webrtc.org/
Mute all participants to avoid echoes, feedback, and background noise during your meeting.
Highly secure remote meeting app
Zoho Meeting's remote meeting software is protected by TLS 1.2 protocols. Customer data is encrypted at rest using the latest 256-bit AES encryption standards. To keep your confidential discussions private, Zoho Meeting offers a unique dial-in code feature in addition to the phone number to help you keep malicious intruders out.
Learn more about Zoho Meeting's security features.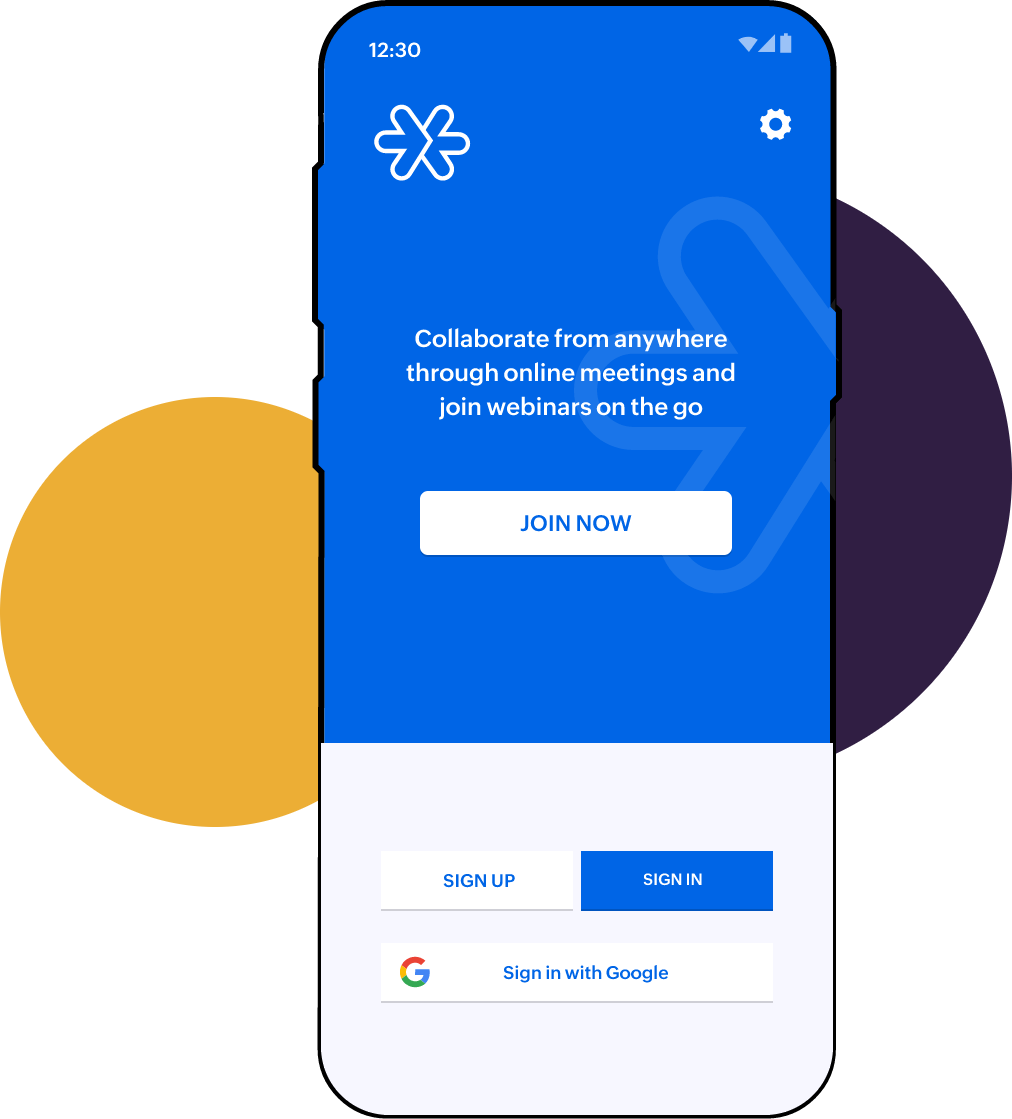 Look at what our customers have to say about Zoho Meeting's remote meeting software
"Neat! Zoho Meeting is finally a true alternative to Zoom and GoToMeeting! I am so excited and I tried it out today."
Anita Campbell
Founder and CEO at Small Business Trends
"Very useful meeting tools, as we use for Zoho for our CRM and accounts, it was an easy choice to use Zoho Meeting as well. Very good for remote demo's."
Tolik Rozensteins
Business Development Manager, Security & Vetting Solutions Ltd
Remote meeting apps and extensions
Install our desktop app

Use the Zoho Meeting desktop app for better experience during your online meetings. Download now

Get our mobile apps

Download our mobile apps for iOS and Android to start and join online meetings on the go using Zoho Meeting's online meeting apps.

Browser extensions for quick access

Add our browser extensions for Chrome and Firefox browsers to get quick access to all your meetings.
Frequently Asked Questions
1. What is a remote meeting?

A remote meeting is a virtual meeting where you can connect and collaborate with your peers from anywhere, at any time.

2. How do you hold a remote meeting?

To start a remote meeting:

1. Click My Meetings in the left pane.
2. Click Start to the right of the meeting you want to begin.
3. Select your audio option:

Phone: If you're using Zoho Audio, enter the dial-in number followed by the conference code and pin. If you're using a different phone conferencing system, follow that particular system's instructions to join a conference call.
Computer audio: Simply start speaking once the meeting participants have joined.

4. Click Start Meeting.