"We have tried many remote support tools, and Zoho Assist has consistently been the easiest for our clients on multiple platforms to use."
IT Consultant
How to choose the best remote desktop access tool?
Remote desktop software is a technology that gives IT technicians the ability to access their customer's device remotely for maintenance and support. However, it's tricky to find a standalone remote desktop app that has remote support and unattended access, and that suits your organizational needs. Ideally, the best remote desktop access software should contain strong safeguards for your data and an extensive feature list that helps your team troubleshoot faster.
Apart from these options, remote computer access software must also offer you customization options, so you can shape it to fit your brand identity.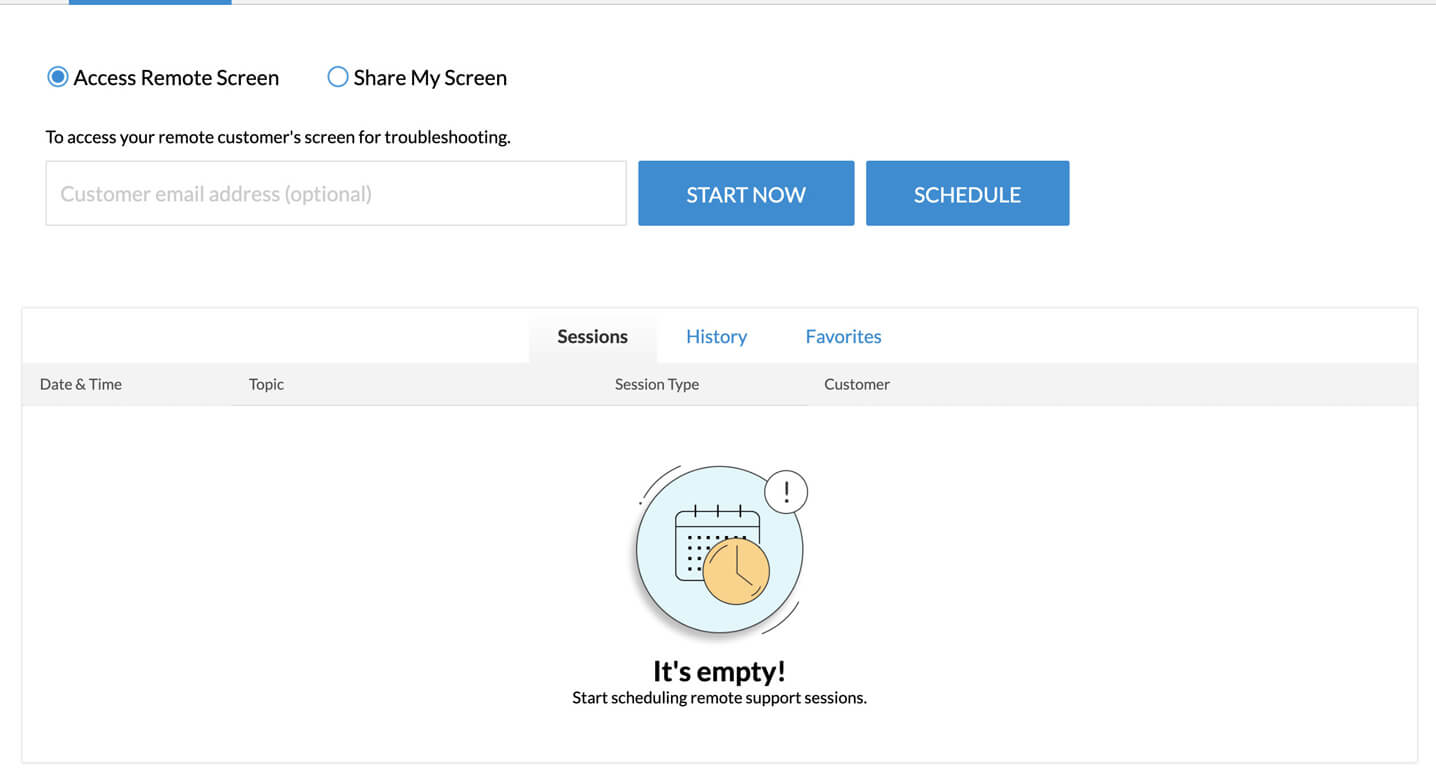 Secure Remote Desktop Access for Customers
Customers expressing their concern to let a technician access their device over a remote connection is genuine and understandable. Building trust with a customer would therefore be the foremost step in remote troubleshooting.
Keeping in mind remote connections can pose privacy risks, security and data protection should be the top priority. With SSL encryption and 256-bit AES encryption, inactive session timeout, data anonymization, and other data protection options. Zoho Assist - remote access tool, is secure remote control software that gives customers good reasons to trust your service by ensuring safe and secure connections to remote desktops.
Features that add something extra to a remote connection software
Technicians need a lot more than just access to a remote desktop for resolving tickets faster. Zoho Assist, remote desktop control software allows technicians to perform several tasks during a session to resolve issues effectively and faster on a remote desktop. This remote desktop access tool has features that help you with faster troubleshooting, including file transfer, live chat, multi-monitor navigation, screen sharing, and support for multiple technicians.
File Transfer
Our remote connection software offers file transfer options to help technicians with operations like software installations, patch updates, and driver installations. File transfer in Zoho Assist does not use intermediate FTP or cloud-based storage devices, which are susceptible to data theft. Learn more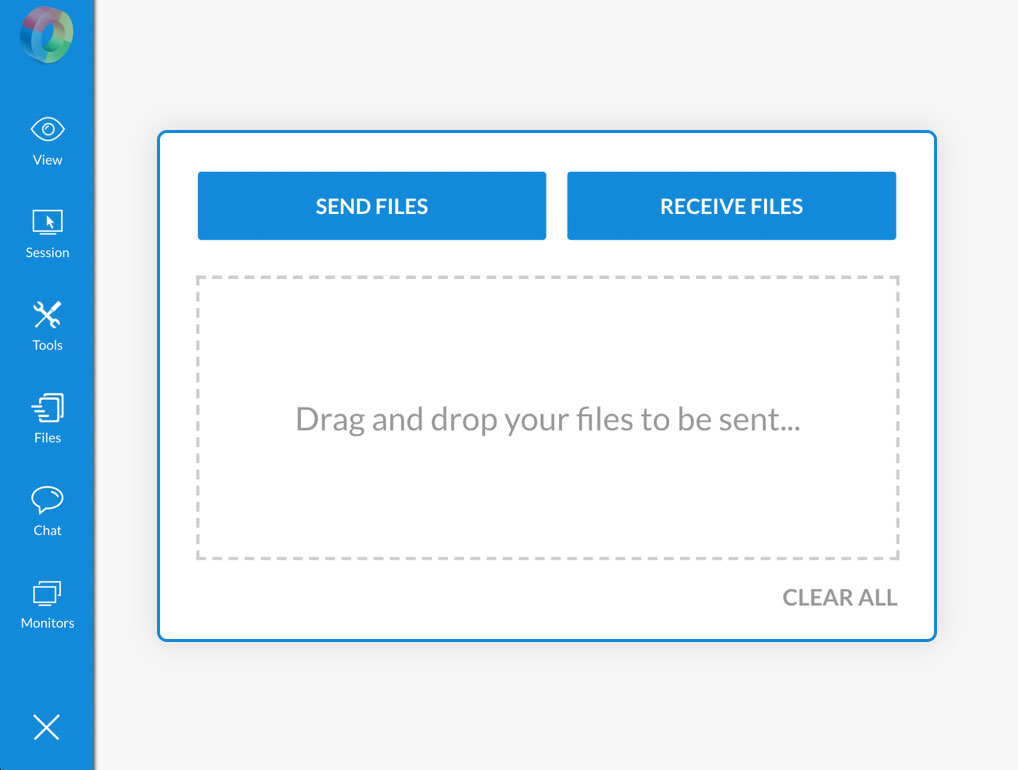 Chat
It is imperative for a technicians to stay in-touch with their customer during remote computer control ensures faster analysis of the issue and faster troubleshooting. Zoho Assist, remote desktop access connection software, a technician and customer can chat with each other from their consoles, avoiding the hassle of external chat applications.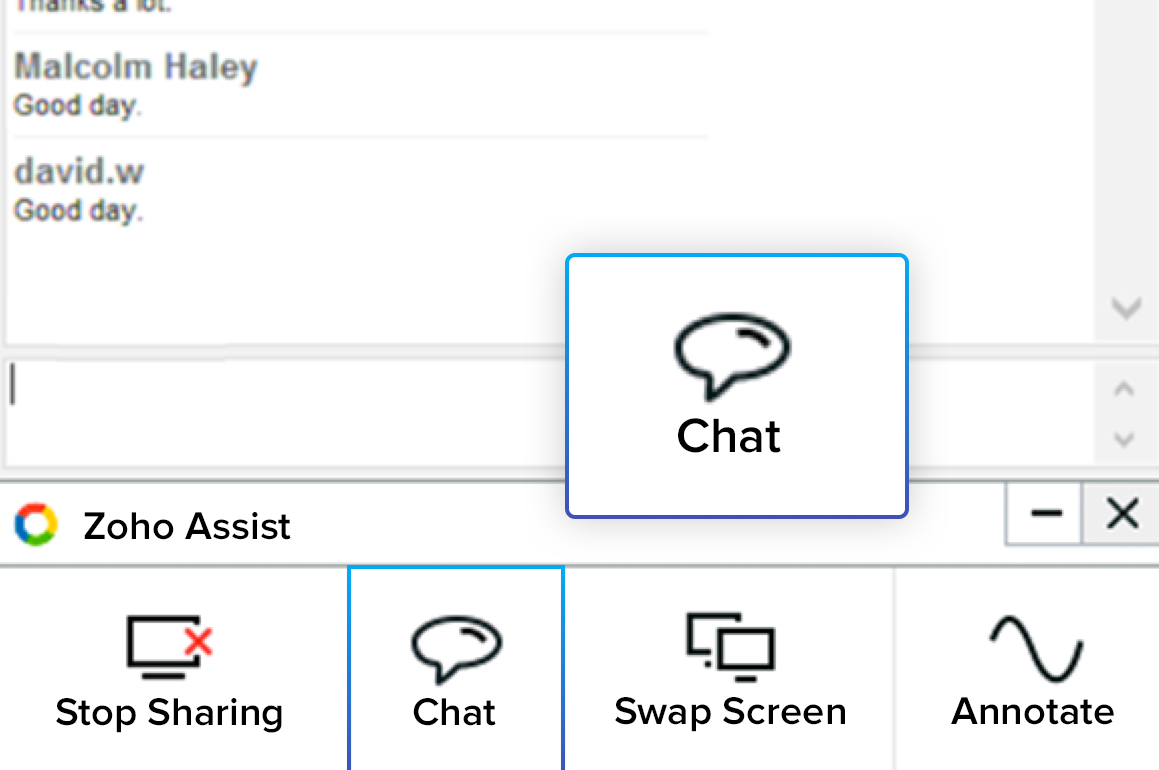 Multi-monitor Navigation
When your customer is working with multiple monitors, asking them to navigate between them each time you need to see another monitor is cumbersome. This remote control software offers you shortcuts from the technician console to navigate between multiple monitors of the remote PC.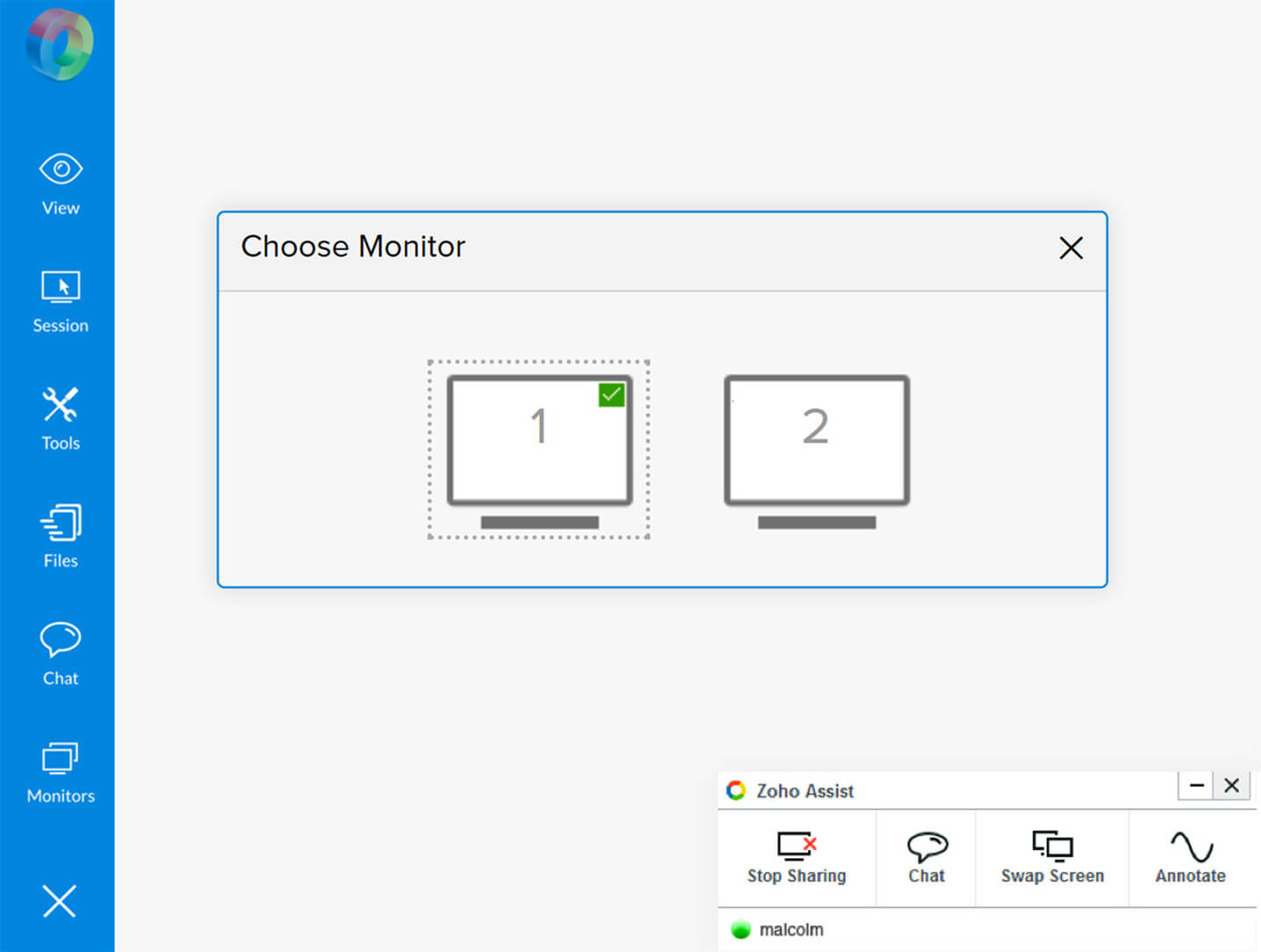 Swap Screen
During a remote session, technicians can broadcast their screen to the customer by reversing the shared screen. With screen sharing technicians can demonstrate installations or train the customer on a particular aspect of the product. Showing customers how to solve simple issues on their device can also save you time by preventing repeated calls to your support team while establishing a remote desktop connection.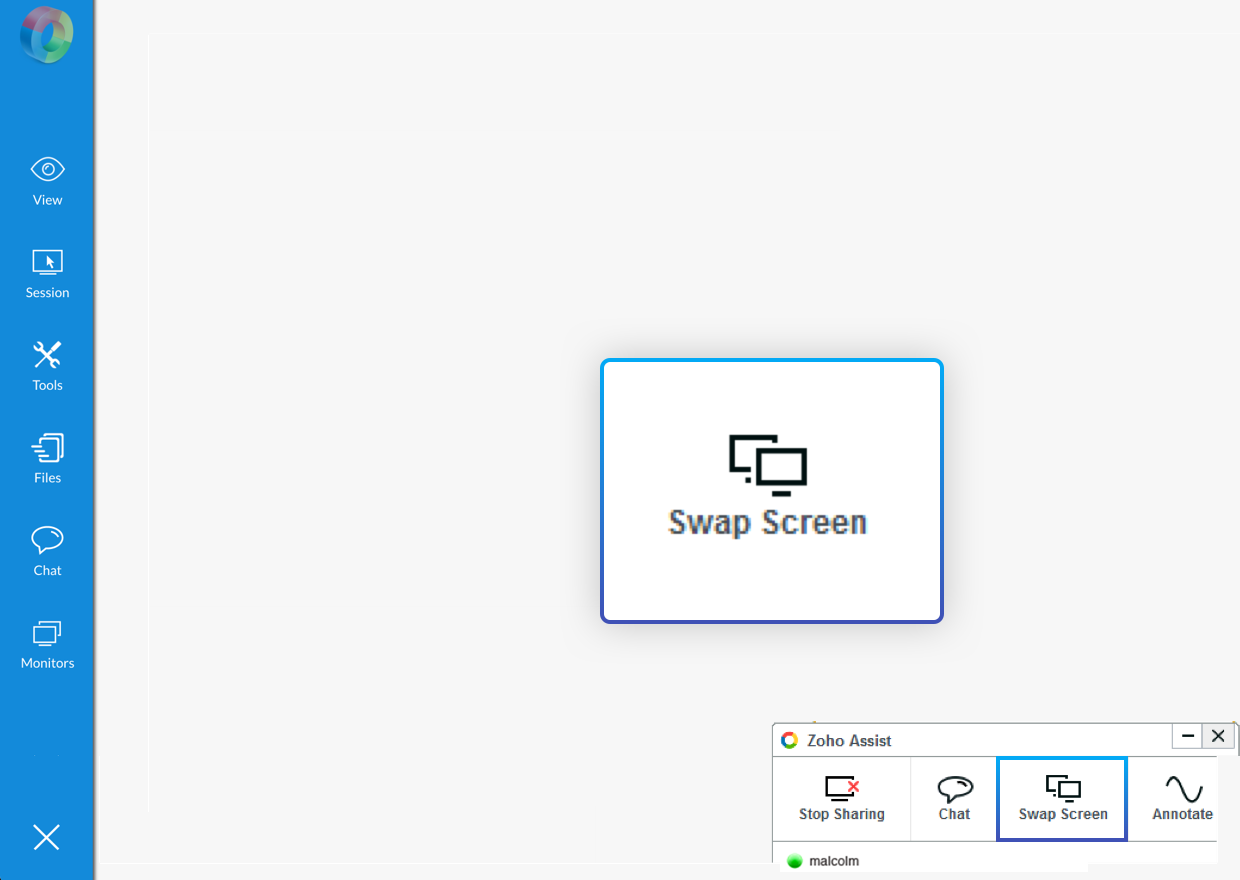 Remote desktop access software with multi-OS interconnectivity
Ideally, the best remote desktop software in the market should allow its users to traverse all operating systems such as Windows, Mac, Linux, Ubuntu, Android, and iOS. Using our Windows remote desktop access tool, you can remotely access, manage, diagnose, and control your workstations, laptops, and other devices running on macOS with efficacy. You can also use a device running on macOS to establish a remote connection with your workplace PCs running on Linux or Windows instantly. With Zoho Assist you can provide remote IT support to users on all major OS platforms seamlessly. This helps you cut down on expenses incurred due to OS support issues and thereby increase workplace productivity.
Remote access software that allows as many technicians and computers as you want
Each technician's skill set is different. Sometimes, you might require multiple technicians with different skill sets to tackle all the issues that your organization has to contend with. With Zoho Assist - remote access software, you can have as many technicians as you want in your organization. You also can give them specific group-based permissions and put them into specific departments.
Zoho Assist, remote desktop software allows you confusion-free management of large number of unattended computers with features like computer grouping, group-based permissions, and departments. You can organize computers based on location, function, or any other criteria you prefer. With departments, you can create internal divisions within your organizational account, so each department can also have its own set of technicians, email templates, and email configurations.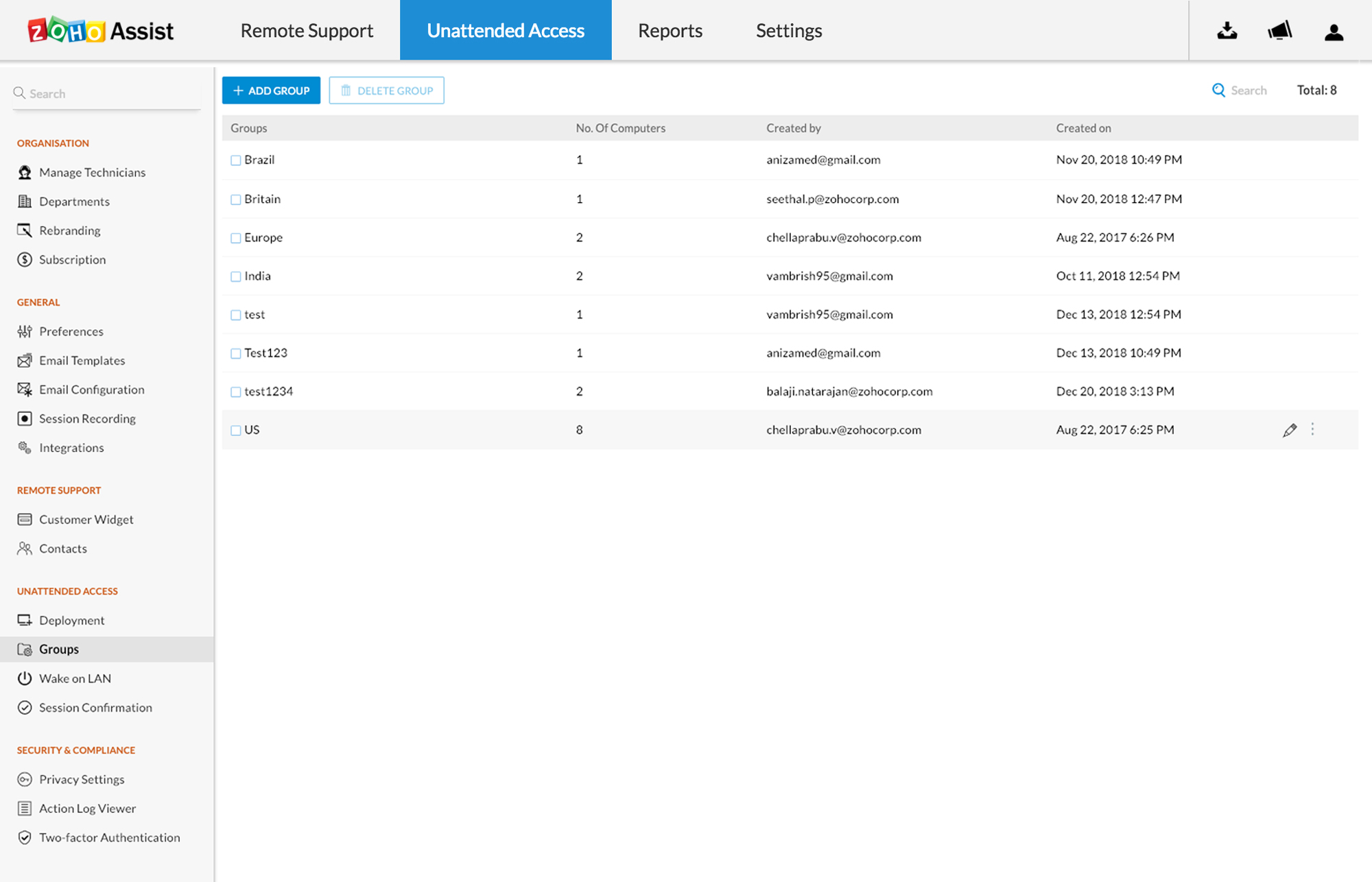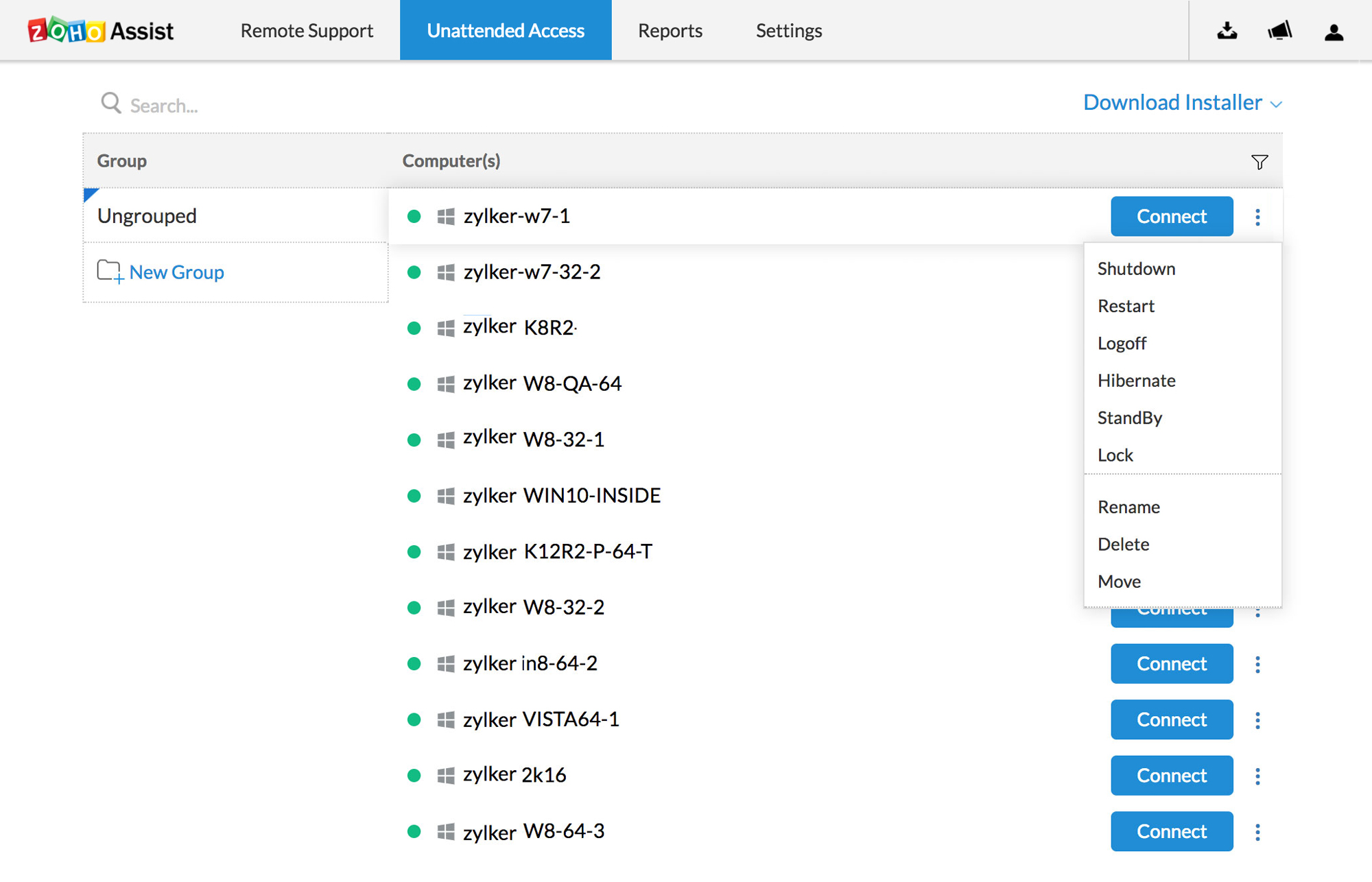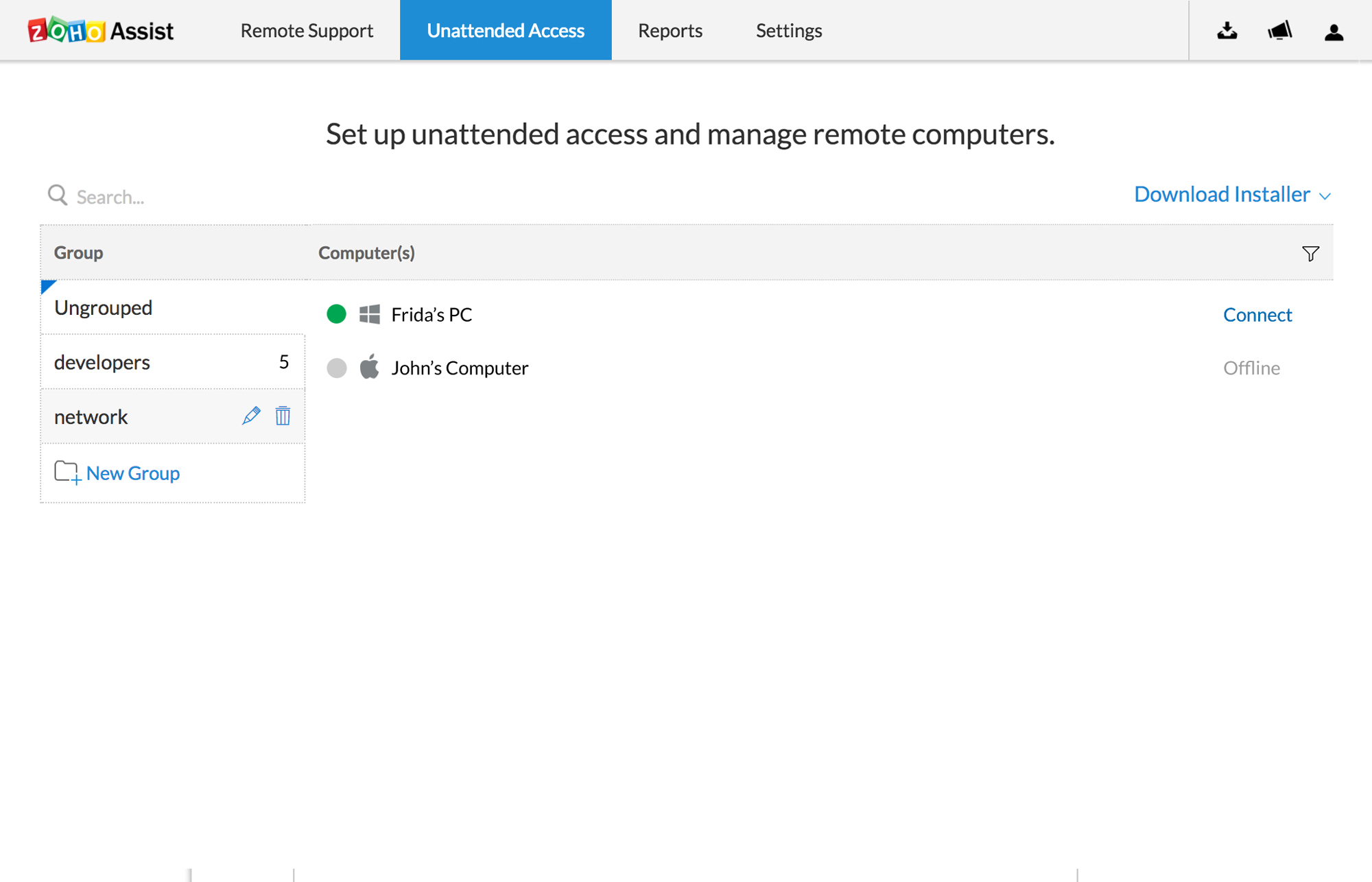 Support a remote desktop with your brand name.
Big corporations are often apprehensive about supporting their clients from an app with another company's brand. Zoho Assist is one of the best remote access software that offers you rebranding options so you can use your company's name, logo, favicon, and a customized portal URL. Our rebranding options also allow you to customize the emails sent to customers and also configure the sender's email address, along with reply-to and CC email addresses in your remote desktop solution.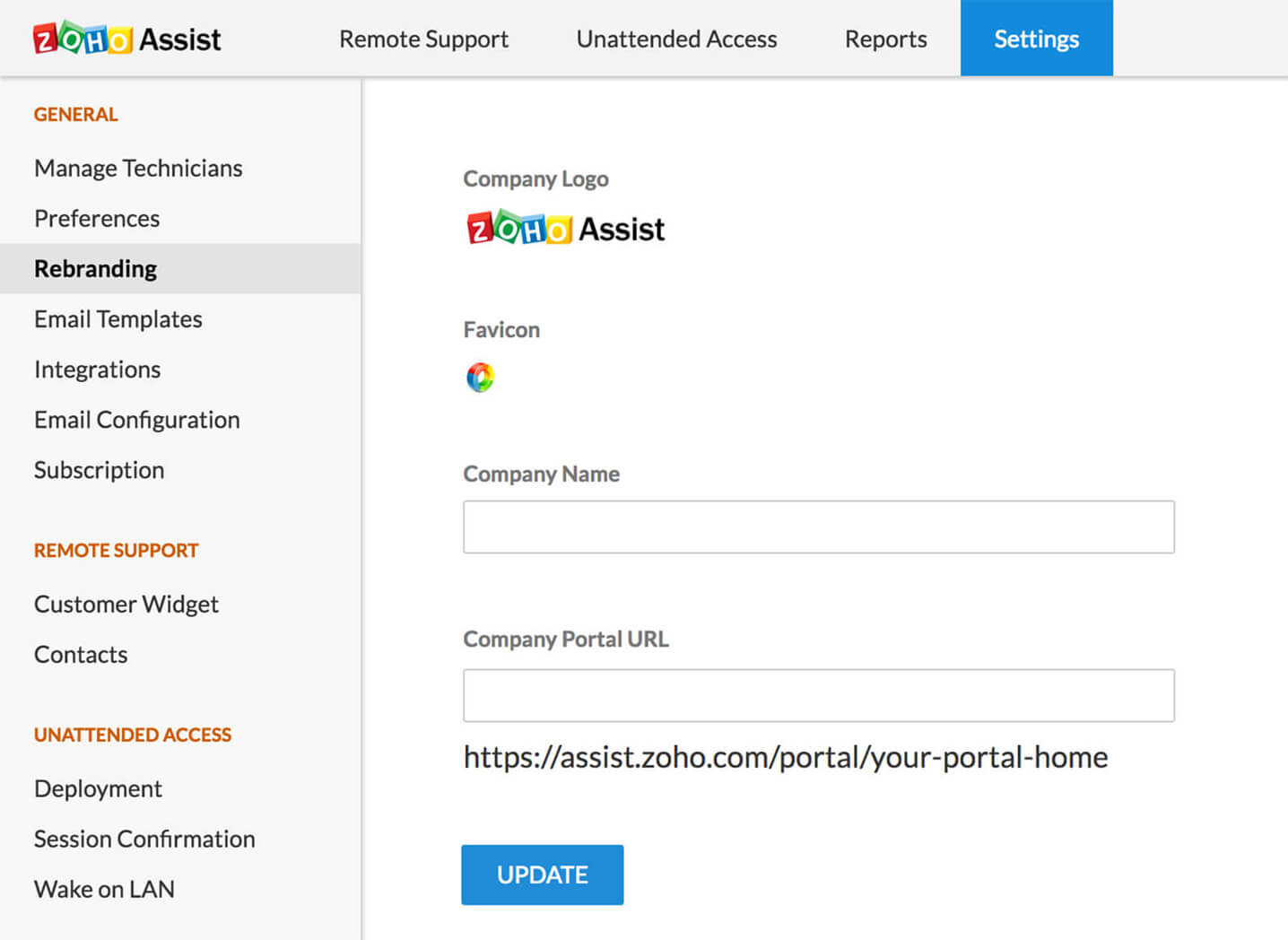 Clutter-free interface: Minimalist design for faster navigation.
Working with a user interface with too much information causes problems. Remote customers usually expect issue resolution in the fastest possible timeframe. A complex user interface makes technicians search through information they don't need, which naturally delays the troubleshooting process. Zoho Assist remote desktop control software offers you a clutter-free user interface that even first-timers can navigate easily.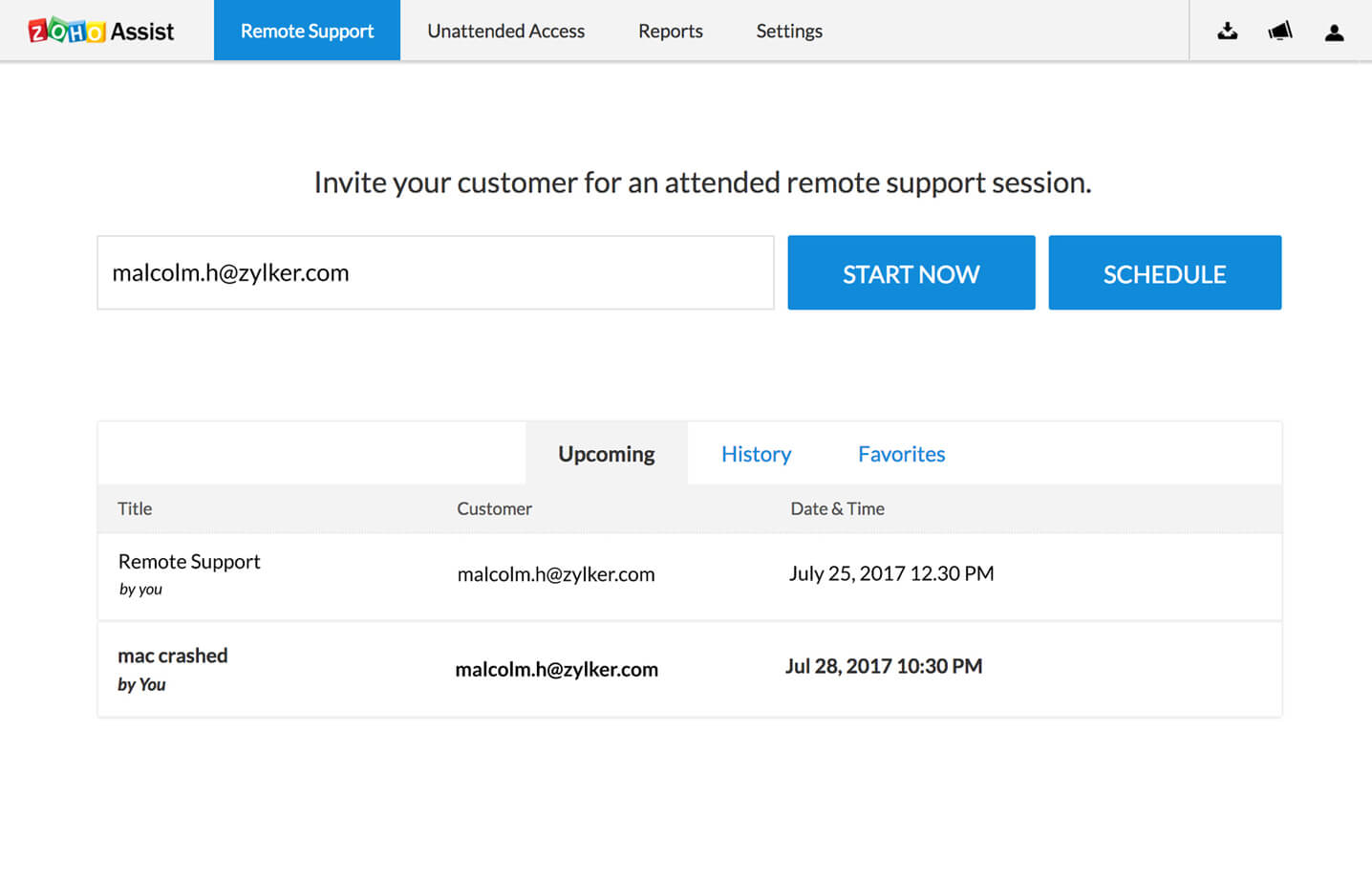 Learn from the past and track your growth.
A large organization will have a lot of activities to keep track of. In such a case, a super-admin has a difficult task at hand, to know what's going on in the organization. Reports in Zoho Assist give a super-admin or manager a detailed view of all the activities carried out in the organization.
Session metrics available in Reports include:
Start time
Duration
Session Video
Session Title
Customer's operating system, IP address, and email address
Technician's name, email address, and operating system
Viewer type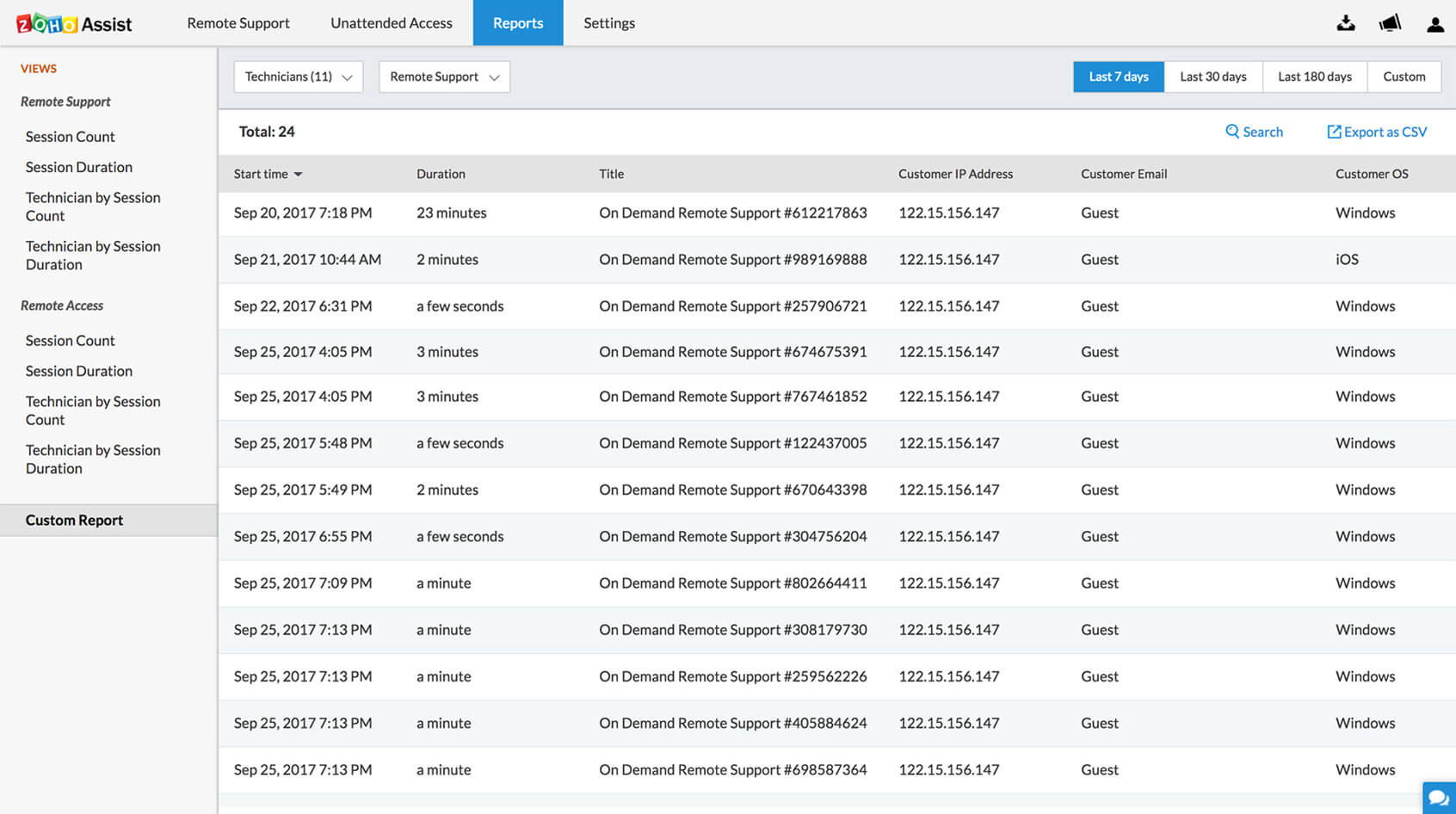 Along with these metrics, you can also choose various custom views to see how your organization is performing. Different custom views available for remote support and unattended access in Zoho Assist are based on:
Session duration
Technician by session count
Technician by session duration
Session count
Session duration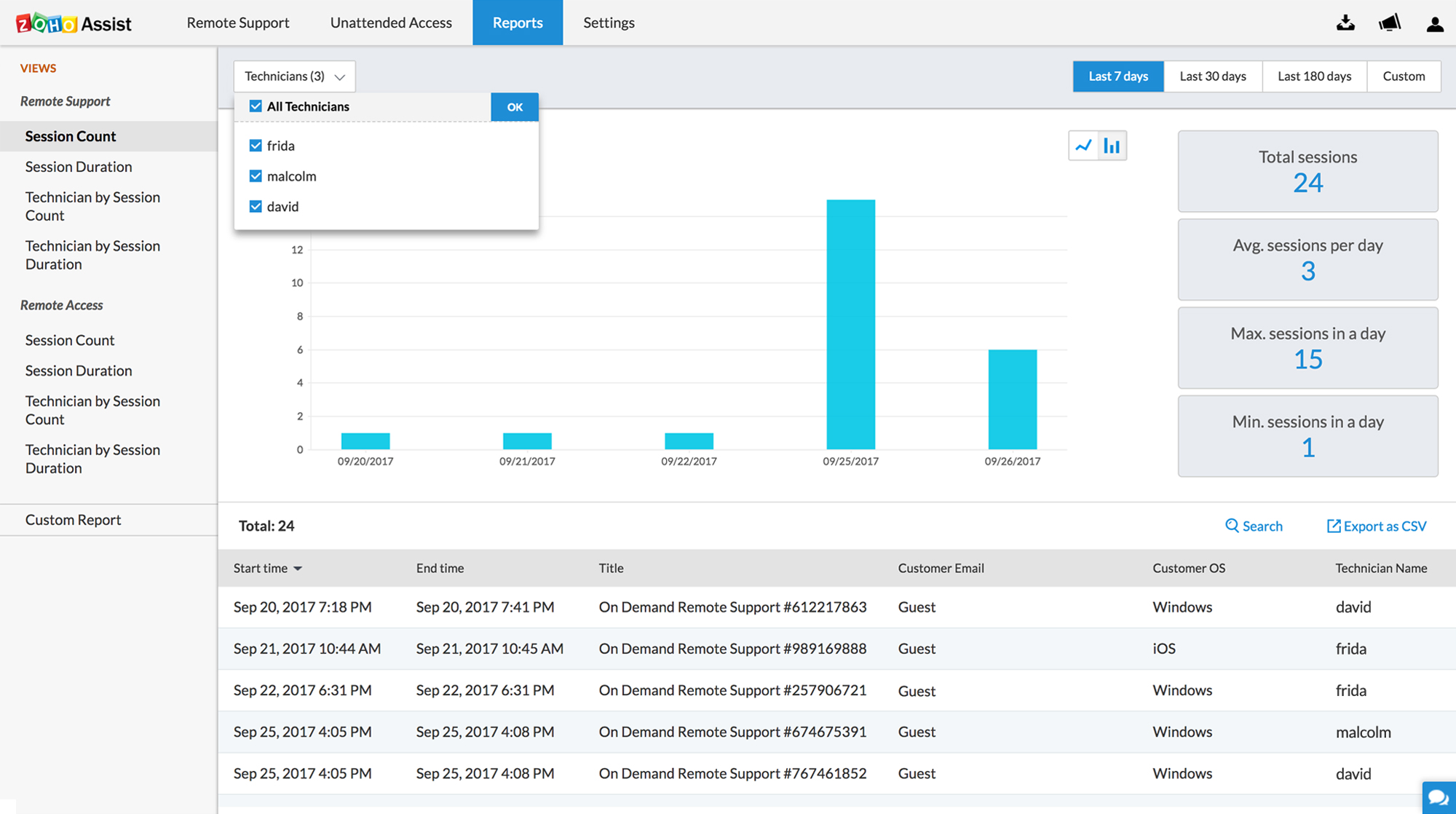 Technician by session count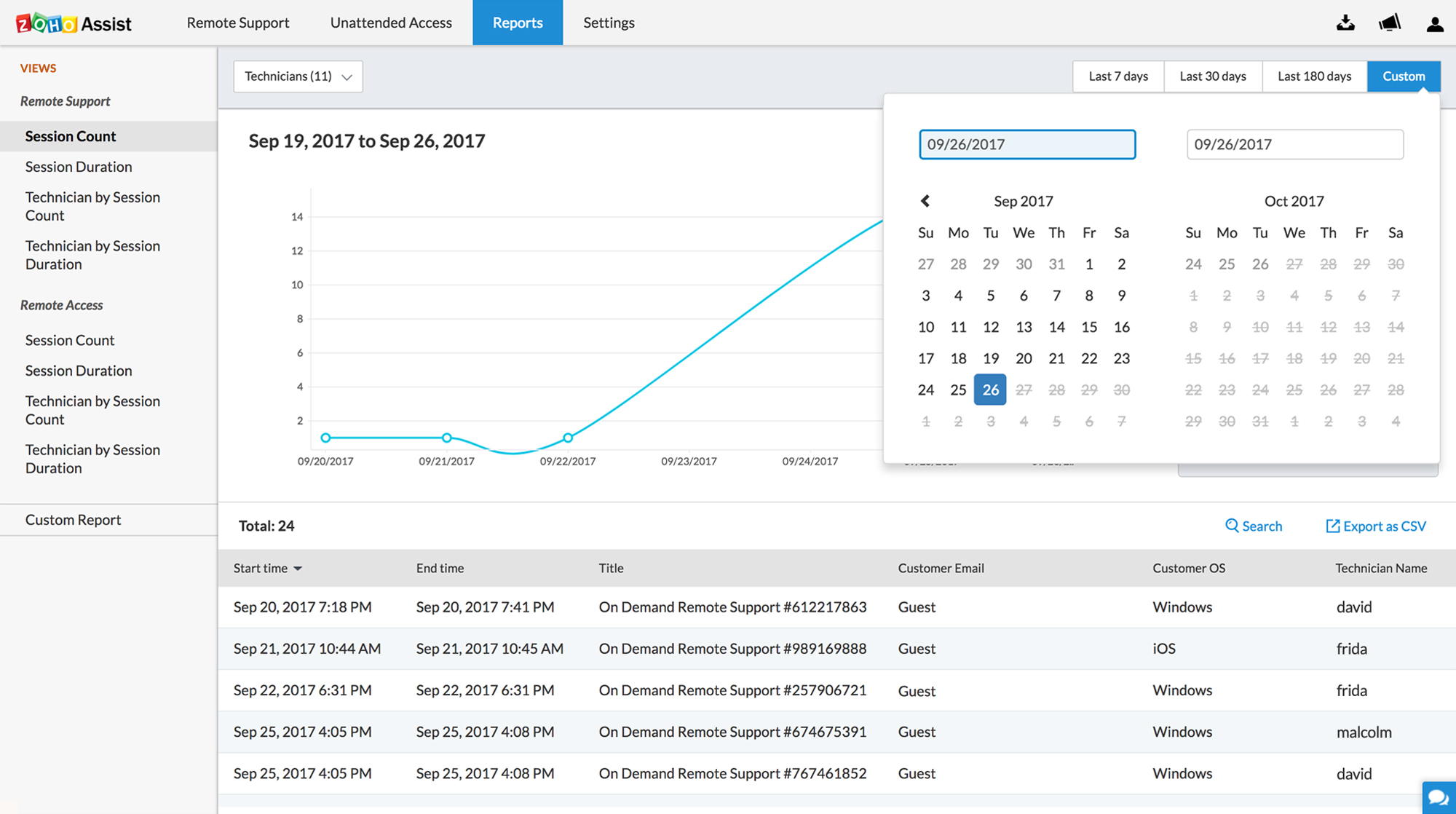 Technician by session duration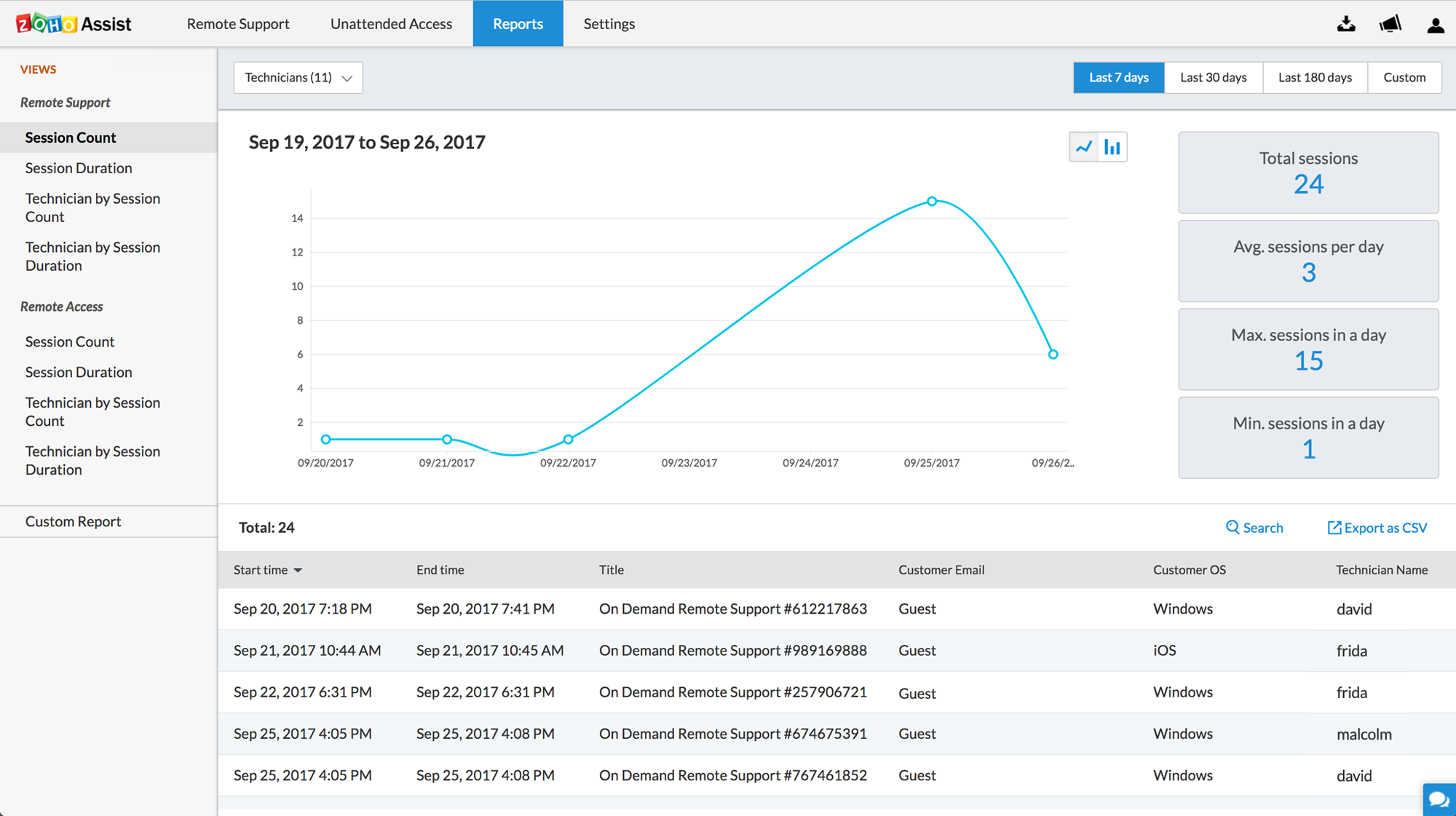 Session count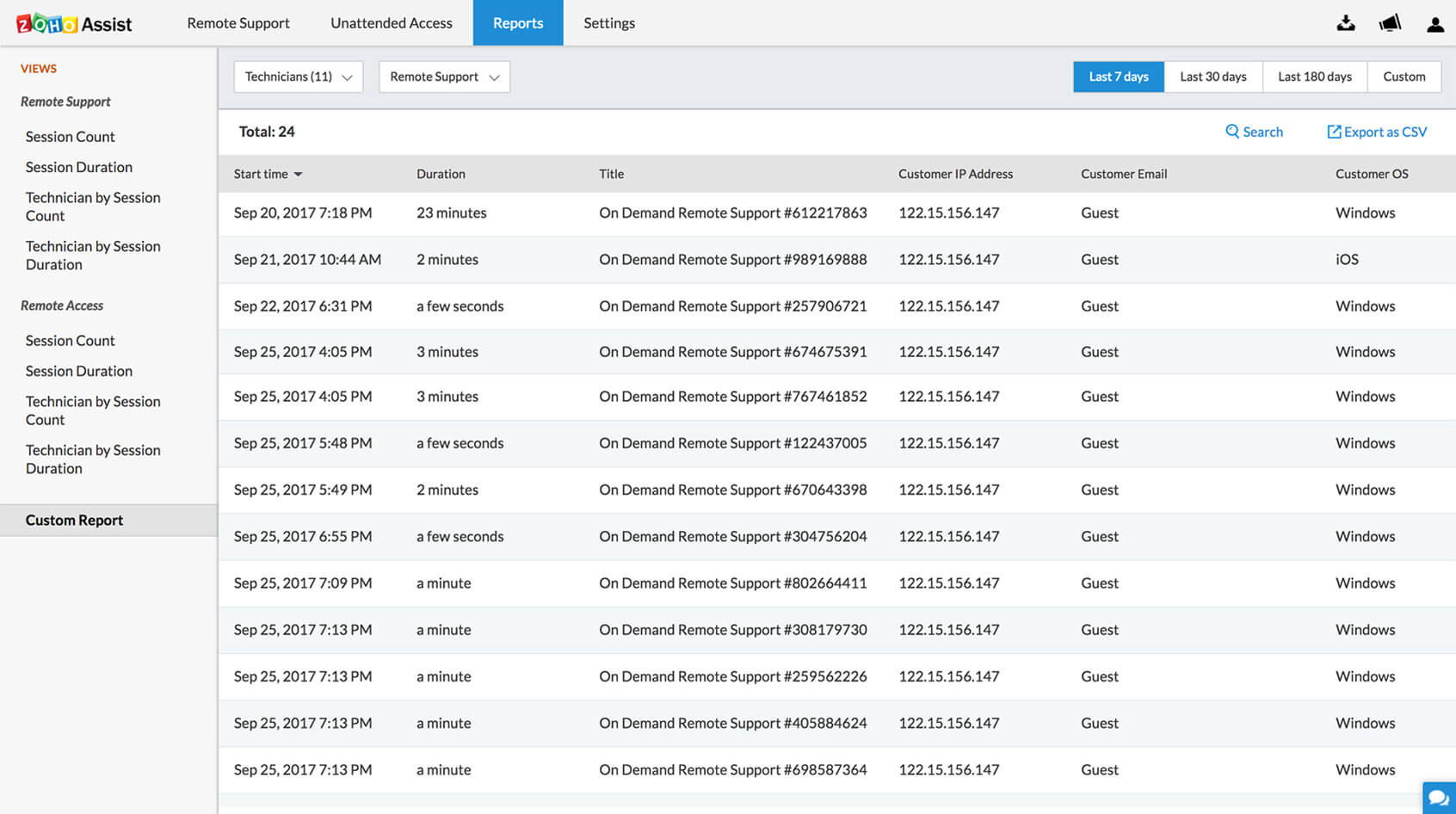 Establish remote connection faster with our remote desktop application!
You don't have to be tied to your work station anymore. Simply tap your Android or iOS mobile app and start using our remote desktop app to connect to a remote desktop and manage unattended remote computers anytime. Learn more
Frequently Asked Questions
01. What is remote desktop software?
Remote desktop software allows you to quickly establish secure access connections to remote computers in no time . Once the technician obtains control of the  remote desktop, he/she can view any system's content and when needed, provide troubleshooting and driver updates.
02. Does Zoho Assist offer free remote desktop software?
Zoho Assist remote desktop software is free for personal use. With the free version, you will be allowed to work with one technician and configure upto 5 devices for unattended access.
03. How can I access my desktop remotely?
You can access a remote desktop through an on-demand remote support session or an unattended access session. To initiate an on-demand remote support session you can invite your customer through email or SMS. For unattended access, you configure the remote desktop individually or through our bulk deployment methods.
04. How secure is Zoho Assist - Remote connection software?
Our remote connection software is secured by our industrial standard 256-bit AES encryption. You can monitor the activities of technicians in your organization using our Action Log Viewer. Zoho Assist also provides you an additional layer of security through two-factor authentication.
05. Is the Zoho Assist remote desktop app free?
Zoho Assist and its features are free for personal use. We also have tailor-made packages for your business and organizational use. Click here to know more about the various plans we offer.
06. Who uses remote desktop software?
Organizations of all sizes use remote desktop software to coordinate with employees, provide instant assistance to customers, and more.
08. Can I use remote desktop software on a mobile device?
Zoho Assist runs on both Android and iOS platforms. We provide apps to help technicians and customers use our remote support software with ease. Click here to learn more about Assist for iOS and Android devices.
09. How do I choose the best remote desktop software in 2022?
Choosing the best remote support software in 2021 is crucial for any business. The best remote desktop software offers a wide range of features at an affordable price. Zoho Assist is one such remote support tool that provides multiple packages based on the size and needs of your business. To learn more about our packages, click here.
10. Why Zoho Assist is the best remote desktop software?
Zoho Assist offers state-of-the-art features such as session recording, file transfer, session scheduling, audio and video chat, multi-monitor navigation, rebranding, and more to make it highly user-friendly and reliable. Learn more about our extensive set of features here.
Why choose Zoho Assist for remote desktop access in 2022?
Buying remote desktop software or choosing free remote desktop software by just looking into the long list of features or a quick demo is a big risk. Zoho Assist offers you a 15-day trial period during which you can work with our feature-rich enterprise plan, with an unlimited number of technicians and unattended computers.
Try it for free