Establish Mac remote desktop connection
Zoho Assist's Mac remote desktop software offers instant access to Mac desktops, allowing you to provide remote support and screen sharing sessions to your customers anytime, anywhere. With our easy-to-use remote access solution, all you need to do is log in to your Zoho account, start a remote session, and share the details with your designated customer. Once the customer joins the session, you can remotely access and control their Mac desktop with ease.
How to access Mac remote desktops from anywhere
Step 1. Getting started

To get started, signup for Zoho Assist with your email address, or if you're already a Zoho user, click on Access Zoho Assist to get started. For first time users, we offer a 15-day trial with all our enterprise features. After 15 days, Zoho Assist remains free for personal use.

Step 2. Initiating a remote support session

You can initiate a remote support session, click Start Now, or click Schedule to conduct a session at a convenient time. After initiating a remote assistance for Mac session, there are three ways you can invite a person at the remote end.

Step 3. Connecting to the remote desktop

Upon receiving the invite, your customer can join the session through one of the methods mentioned in Step 2, and install the lightweight agent to give you complete access to the Mac remote desktop.

Click here to read more about how you can connect to remote desktop through an on-demand remote support session or an unattended access session.
Can I connect to Mac remote Desktop from Windows?
Step 1. Open a browser on your Windows device and navigate to assist.zoho.com.

Step 2. Sign in to your Zoho Assist account, if you are an existing user.

Step 3. If you are a first time user, register for our 15-day free trial program to use Assist.

Step 4. To initiate a remote support session, click the Start Now button on the home page.

Step 5. Share the session details with your remote end user.

Step 6. Once your end user joins the session, you will have complete access to their Mac remote desktop.
How to establish a safe and secure connection to access remote mac desktops from other devices?
Step 1. Launch a web browser from your device.

Step 2. Go to assist.zoho.com and log in to your account using your credentials.

Step 3. Click the Start Now button to initiate a remote access and control session.

Step 4. You can also schedule sessions using the Schedule option on the same page.

Step 5. The session ID and other details can then be shared with your customer so they can join the session.

Step 6. You will be able to control your customer's Mac desktop remotely once they join the session using the shared details.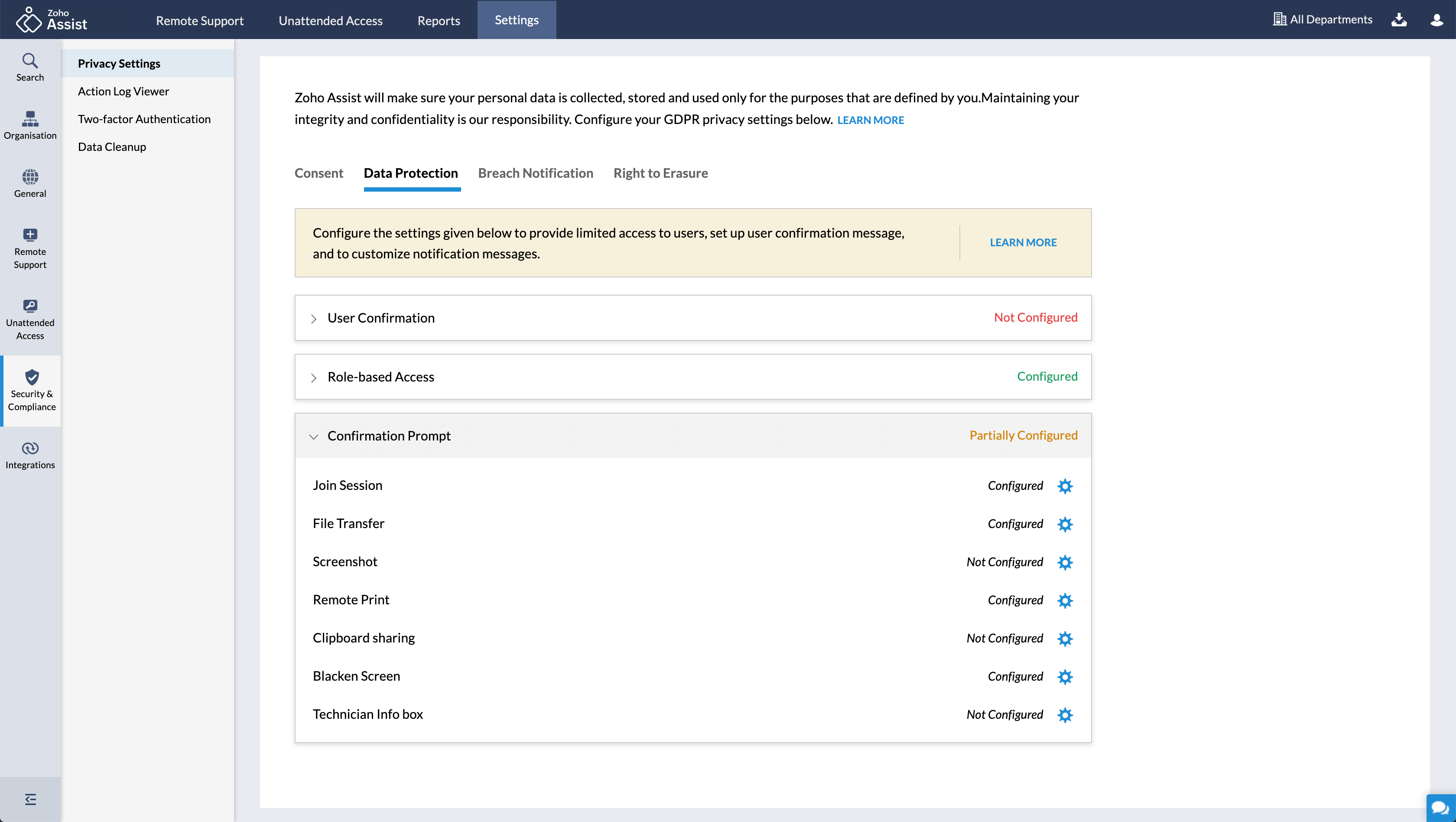 Remote desktop connection: Mac to Mac
Step 1. To connect to a Mac remote desktop from a different Mac device, open a browser from your Mac system.

Step 2. Log in to your Zoho Assist account.

Step 3. You can use the Start Now button to initiate a session, or the Schedule button to schedule a remote support session.

Step 4. Share the session details with your customer. This will enable them to join the session and provide remote access to their Mac desktop.
Optimize Your Mac Remote Desktop Experience with Zoho Assist App
Maximize your efficiency with Zoho Assist's remote desktop apps for Mac. Our technician and customer apps offer faster issue resolution and an improved user experience. If you prefer not to work from a browser, our technician app provides a native option to run support sessions directly from the application. Technicians can easily download our app and remotely access and control Mac desktops right from there. Customers using remote Mac desktops can also download our customer app to join sessions quickly and easily. Streamline your IT support with Zoho Assist's Mac remote desktop apps. Learn more
Remote access from Mac to PC with just a browser
While Mac OS is known for its "It just works" tagline, issues can still arise, leaving users in need of help. The troubleshooting process can be hindered by installation and compatibility issues. Zoho Assist's cloud-based remote desktop software for Mac bypasses these issues, making it a reliable choice for remote access and troubleshooting. Remote technicians can use Zoho Assist from any browser to access and work on a Mac OS remote desktop, even from a PC. With Zoho Assist, there are no installation hassles, and you can customize the software to suit your needs.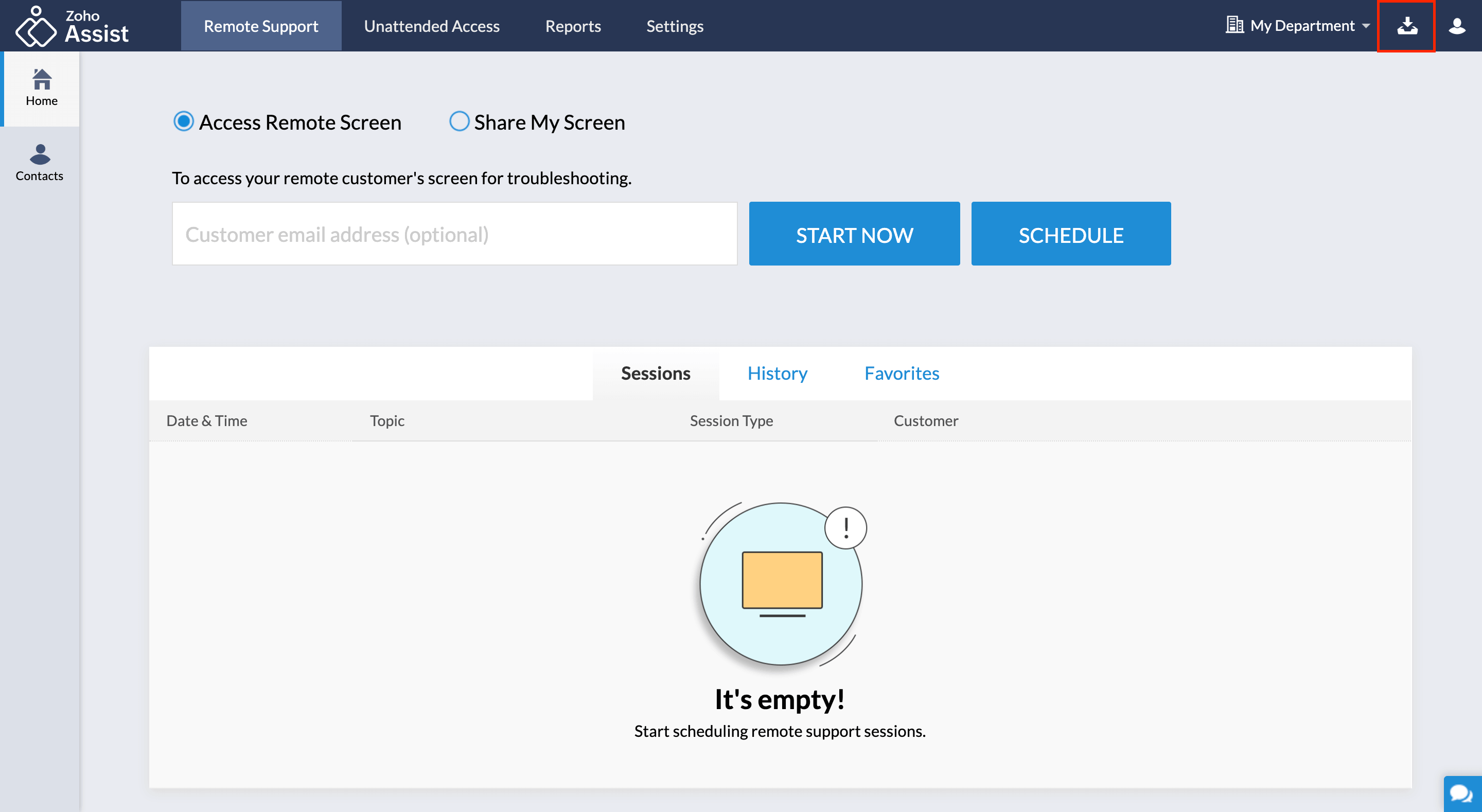 Key features of a Mac remote desktop software
To take a remote technician's help to solve issues on a Mac desktop is a time-saving idea! But, remote technicians have many problems to contend with on a daily basis and have to accelerate troubleshooting to resolve more issues. Here are some of the features that Zoho Assist's Mac remote access software offers technicians to increase their efficiency.
​
Reboot and reconnect

Restart a remote computer to fix a frozen or unresponsive screen without losing control.

Instant chat

Exchange messages with your customers during a session to communicate smoothly then and there

Multi-monitor navigation

Switch between monitors of a mac remote desktop with ease.

Invite technicians

Ask colleagues with different skills to help you during remote support sessions

Swap Screen

During a remote session, technicians can broadcast their screen to the customer by reversing the shared screen.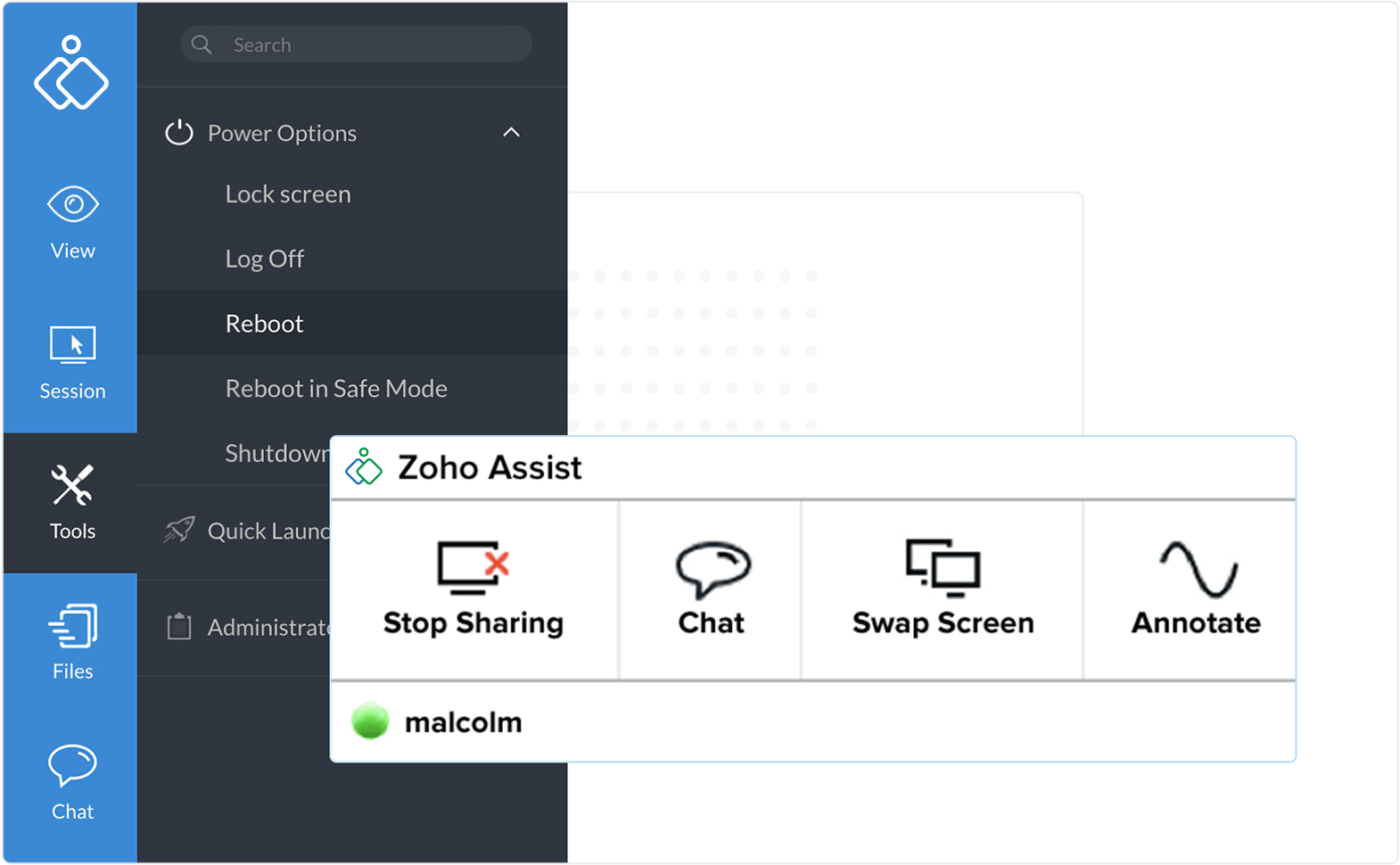 Customizing Your Mac Remote Desktop Software with Zoho Assist
Big corporations may hesitate to use remote support apps that display another company's brand. With Zoho Assist, you can rebrand the software with your company's name, logo, favicon, and a customized portal URL. You can also customize the emails sent to customers, including the sender's email address, reply-to address, and CC email addresses. This way, your customers will always know who they are communicating with during the support process. Learn more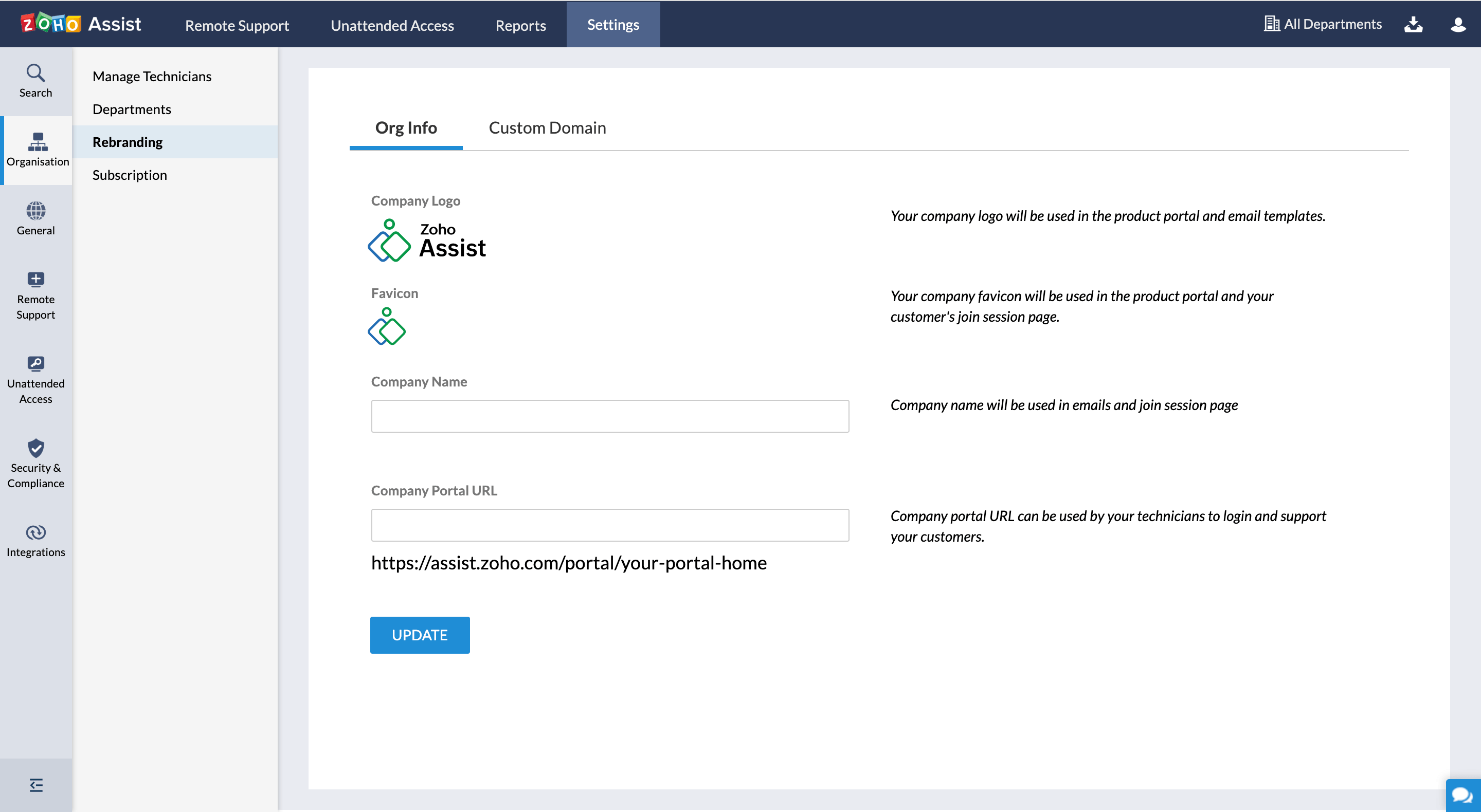 System requirements for MacOS remote desktop software
Zoho Assist - Best Mac remote control software is compatible with most versions of Mac. Please check our system requirements guide for more details regarding compatibility.
To conduct remote support / unattended access sessions:

Mac OS 10.6 and above

To join a remote support session - Customer end:

Mac OS 10.9 and above

To set up unattended access - Remote computer end:

Mac OS 10.9 and above
"It's snowing like mad where I am, and Zoho saved me a 90 minute round trip to reboot some resources. Thank you!"
William GoveiaIndiana Limestone, Ind.
Trusted by great brands
Hitachi

element

Merck

united nations foundation

oneplus

tata elxsi

ola

morris
More customers
Try Zoho Assist, a mac remote desktop software, at no cost.
If you're still not convinced about the real-time working capabilities of Zoho Assist, you can give it a shot by trying out our 15-day free trial. During the trial period, you can work with all the features with an unlimited number of technicians and unattended computers.
Try it for free