Email Hosting Setup in Zoho
Zoho Mail Suite provides enterprise Email Hosting features, which suits the requirements of different types and sizes of organizations. The entire process is simple, and you can get custom domain based email address for all the members of organization, with no down time. The steps to migrate your Email Hosting to Zoho is explained below.
Add Domain | Verify Domain | Create Users | Configure MX Records | Email Migration
The steps to migrate your Email Hosting to Zoho are explained in detail below.
When you email host your domain with Zoho, the Super Admins and the Admins get access to Control Panel, using which they can manage their entire domain.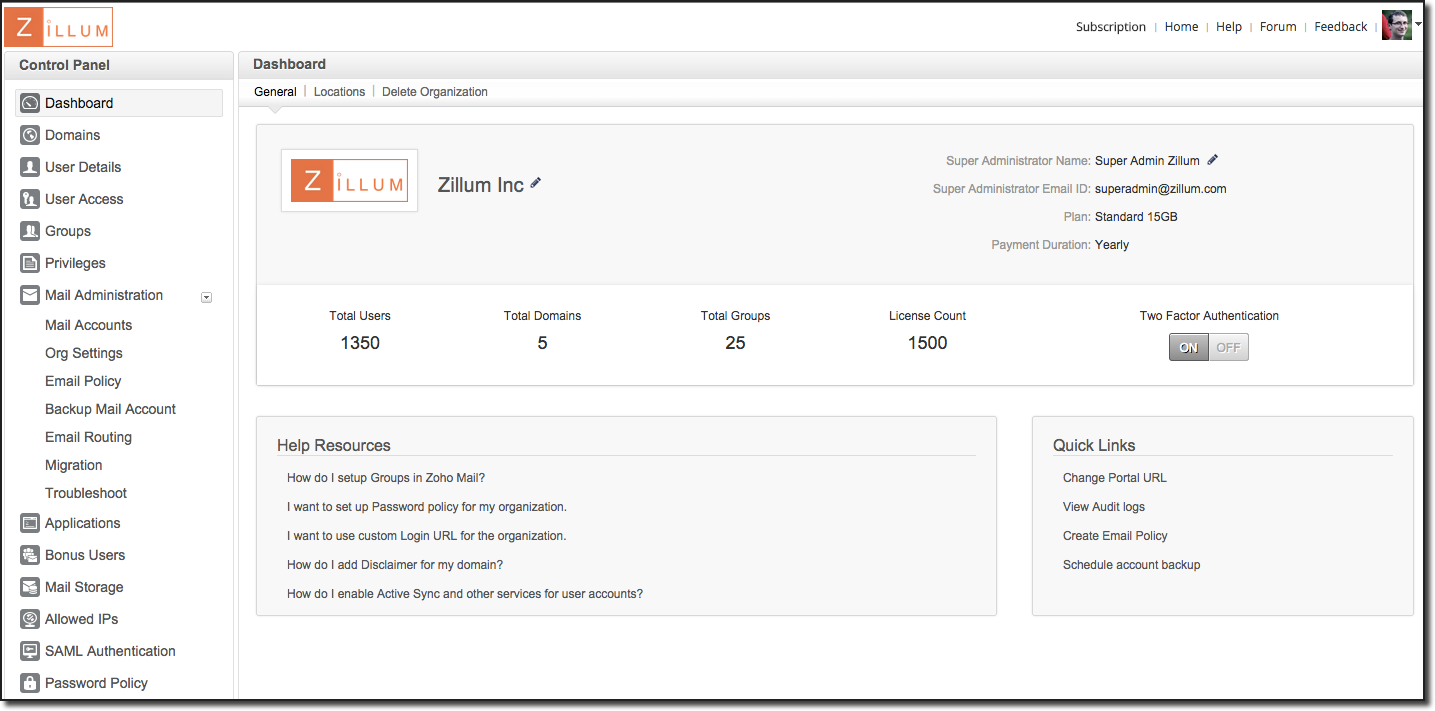 Domain Verification: You need to add and verify the domain for which you want to set up Email Hosting with us. The verification process is required, for us to verify that you have the Administrator Privileges for the domain and are entitled to set up and use the domain with our Services. If you have registered your domain through Zoho, you can skip this step. 
Adding Users: Once your domain is verified, you can proceed to add or import users and create their mail accounts. You can set up Groups for common accounts that are used by more than one user. 
Catch all Setup: You can set up a Catch all for your domains, to ensure that the emails to your domain get delivered to the Catch All account, in case you have missed to set up any user or Group account. 
Configure Email Delivery: Once you have set up the accounts, you can change the MX Records of the domain. Once the MX Records are set up, the emails will start getting delivered to your accounts in Zoho. Refer here for advanced Email Routing options available in Zoho Mail.
Configure Dual Delivery: You can also set up dual delivery for your domain, where you can configure another Mail Server to receive emails for your domain. 
IMAP or POP Migration: Once the email delivery is properly configured, you can set up migration for the email accounts from your previous servers via POP or IMAP protocols. 
SPF Configuration: You need to set up SPF Records for your domain, to validate the emails sent from your domain and also to prevent any email spoofing by specifying the IP addresses and servers allowed to send emails for your domain.
Domain Keys Configuration: In addition to SPF Records you can also configure Domain Keys, which is also a trusted authentication system for sending emails. 
Customizing Logo and URL: You can customize the login URL and add your custom Logo in Zoho Mail Suite for customizing the users mailboxes.
Once you have set up the webmail, refer POP and IMAP pages for configuration in POP and IMAP clients like Outlook, iPhone etc.
Zoho Mail provides Domain Registration and domain auto renewal services to enable startups and enterprises to register new domains for use in Zoho Mail. The domains registered through Zoho are pre configured for use with Zoho Mail. The domains are pre-verified and have pre-configured MX entries and hence the setup is even more simpler.