Add your Domain for Email Hosting
Zoho Mail suite is a business focused email service with essential administrative controls and features. It provides an excellent and powerful medium for communication between the members of the organization and to the external contacts, yet is simple to use. Zoho Mail is a package of a suite of applications listed below along with Email.
Calendar – Event creation, invitation, notifications, Group Calendaring etc.
Contacts – Managing personal contacts, Organization contacts, Frequently used Contacts, Chat buddies etc.
Tasks – Creating tasks, reminders for self and other team members, Managing group tasks, tracking and assigning etc.
Notes – Small pinup notes for self/ group for current and future references.
Chat – Allows instant messaging within the members/ groups or instant communication
The suite of applications ensures that the members of the organization can collaborate effectively and be highly productive with efficient use of the various tools. You can manage single or multiple domains with Zoho Mail suite. You can get started by adding your first domain. Adding an Verifying a domain in Zoho does not affect the existing email service or incoming emails of your domain. You will start receiving emails only after you configure Email Delivery (change MX records) of the domain. You can later add your other domains from the same Control Panel.
You will be able to add only a single domain in the free plan. You can upgrade to one of the paid plans, to manage multiple domains in Zoho Mail.
Getting custom domain based account:
If you are yet to sign up for a Zoho Account, you can get started by choosing one of the plans in the Pricing page.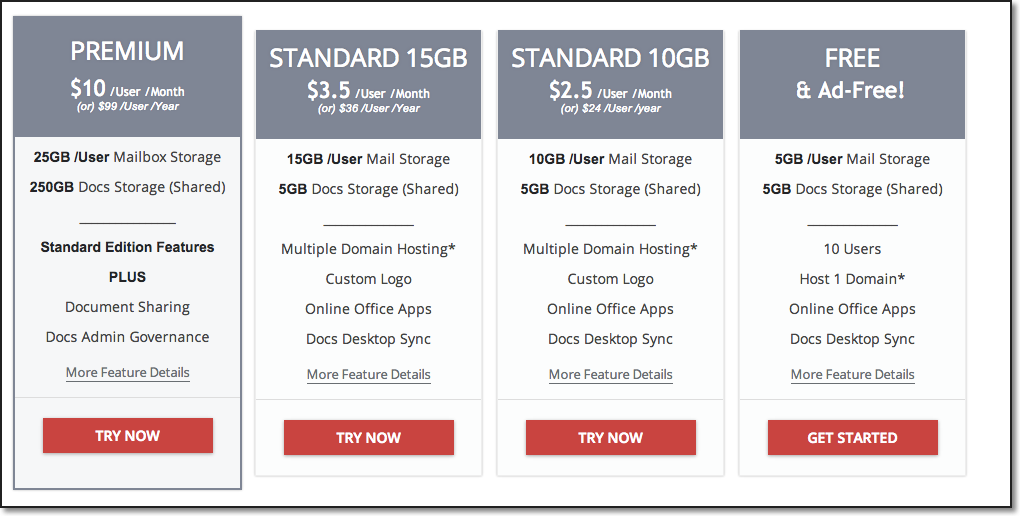 If you already have a Zoho account, login to www.zoho.com/mail. Click the link 'Enable Mail Hosting' on top of the page, to add a domain and set up an organization account. The domain you add should be the one you already own and have access to the DNS. You will have to verify the ownership of the domain, before proceeding with the other steps to create the custom email accounts (you@yourdomin.com).
Without access to the DNS Manager of the domain, email hosting cannot be done for the domains/ subdomains. Hence email hosting cannot be done for some blogs or website pages, where there are no DNS associated with the domain.
Buy a new Domain
You may choose to buy and register a new domain with Zoho, in case you are yet to get an own domain. The DNS settings will be pre-configured and you can directly set up the account. Learn more.
You may also check the 'Zoho Sites' for getting yourself a free website to get started with your new domain.