How Stark Medical optimised employee productivity and automated over 80% of their workflows using Zoho apps
The Company
Founded in 2017, Stark Medical is a health care technology provider. They supply hospitals, health facilities, and medical practitioners with the tools they need to diagnose and treat patients. On a mission to "empower the healer," Stark Medical runs an ecommerce store that healthcare providers can easily access. The company coordinates directly with manufacturers to supply medical equipment to their customers. This results in more efficient supply chains, fewer intermediaries, and unmatched customer service for health care providers.
The Challenge
When Greg joined the company, the employee count grew to three. Though it began as a microbusiness, Stark Medical was aiming for rapid expansion. "When I arrived at the company, we had three employees. And we were about to hire a new one. That's when we decided that it was time to find a good CRM to manage all customer data," Greg said.
Until that point, the company had been relying on a combination of apps, including Google Workspace, Slack, and Microsoft's core trio (Word, Excel, and PowerPoint). None of these apps were integrated tightly enough for the Stark Medical team to enable automation. Greg's daily work involved logging business proceedings manually in Excel, writing documentation in Word or PowerPoint, and then printing physical copies of everything.
Stark Medical hoped to simplify and streamline these processes, but with a growing team, it needed more than a good CRM. It also needed reliable employee data management, onboarding, and training systems.
The Solution
The company's owner, Todd Spokes, looked into a few CRM vendors, including HubSpot and Salesforce. That's how he came across Zoho CRM. As he explored Zoho further, he discovered Zoho One—a comprehensive package of 50+ business applications. "Zoho One brought so many possibilities to us that we decided to go with Zoho," Greg said. "Considering its extensive features and affordability, it was better than the others."
Today, almost three and a half years after choosing Zoho, Stark Medical is using more than 10 apps in the Zoho One package.
One of their biggest requirements was workflow automation at scale. To achieve this, the team used Zoho Flow, an app that helps users create workflows between multiple apps. "We are operating an ISO-certified quality system, which requires certain documentation to be recorded and stored," Greg explained. The Stark Medical team has set up around 50 Flows so far. "Zoho Flow has been of huge help. It logs complaints and feedback, and also connects our third-party applications, like Starshipit and Shopify, with Zoho Analytics."
For example, Stark Medical has a specific workflow for when a customer returns a product. This flow is linked to the company's shipping solution, Starshipit. When a customer submits a return request, the workflow runs a series of verifications. It first checks if they're an existing customer, whether they're returning the product for preventative maintenance after a trial, whether it's a defective product, and whether the request is coming from a wholesaler. Once all the conditions are checked, the workflow will trigger the creation of a shipping label for the customer.
Stark Medical has also created a connection using Zoho Flow so that every time a customer purchases a piece of equipment though Shopify, the sales team will receive a Zoho Cliq notification. "The sales team can add it to Zoho CRM and follow up from there," Greg explained.
As for customers who returned an order, the Stark Medical team has a Zoho Sheet set up to log details and follow-ups.
To make sure customer requests are handled promptly and with diligence, Stark Medical's service department uses Zoho Desk. Every time a customer has an issue, they fill out a form on the company's website, which automatically creates a ticket in Zoho Desk. "We then do an internal assessment of the case," Greg said. "Based on that, we'll decide how serious the case is and whether we need to escalate it, or the customer service team can handle it."
Zoho Forms is another important app for Stark Medical's operations. It helps the team collect, store, and manage data, and ensures that data is processed in a standardised manner. "We use Zoho Forms to create online enquiry forms," Greg explained. "For instance, we sell defibrillators. It's a custom-made product—it takes roughly 8 to 12 weeks to manufacture, and has many different components. So we created this form where the user can just go through each question, and at the end, they'll receive a Zoho Writer document as a PDF." When someone orders a product through that form, the Stark Medical sales team gets a notification with the order details, making information gathering easy. "We also created a customer feedback form. When someone fills out the form, a corresponding document is created in Zoho Writer outlining their responses, and it is sent out to the person who filled out the form."
Recruitment is a crucial part of Stark Medical's growth. To make this process easier, the team has created employee contracts with Zoho Forms and Zoho Writer. "My manager fills out a form outlining details of the role, the pay, and the allowances that come with the role," Greg said. "Once he submits the form, Zoho Writer sends out a signable PDF to the new employee." Once the new employee signs the document, both parties receive an executed copy. To make the onboarding process smoother, the Stark Medical team also runs online and face-to-face courses using the Learning Management System module within Zoho People.
Zoho One has also enabled Stark Medical to analyse business progress. They use Zoho Analytics to generate reports and inform key business decisions. Because the team uses a third-party inventory system, Greg imports information from that system into Zoho Analytics to create business forecasts, and monthly and annual reports. In addition, he has created a live shipping dashboard that is visible to the whole company. When a customer reaches out asking about delivery delays or orders in transit, the sales team can immediately look up the status details of their order.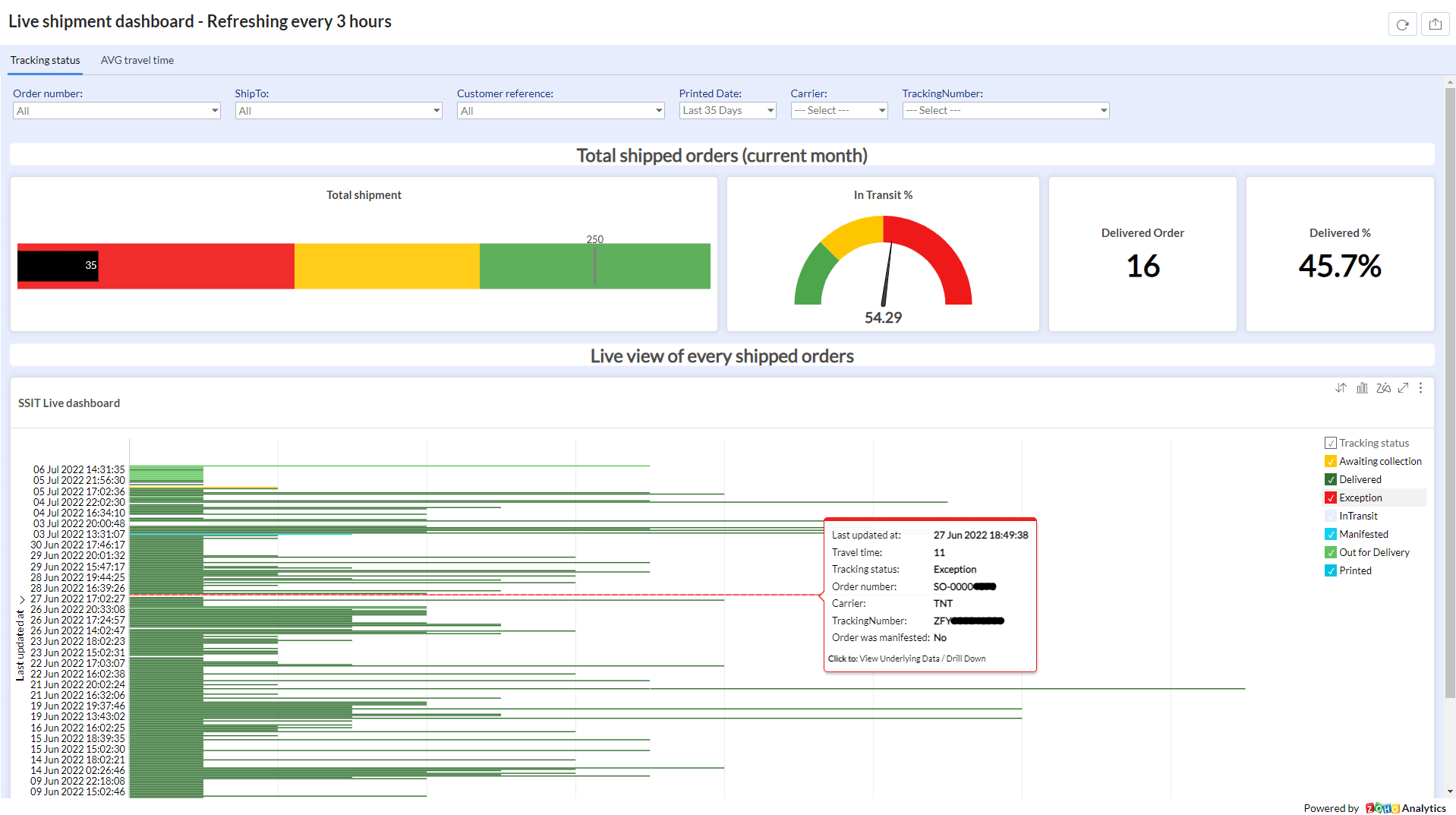 As an ISO-compliant company, Stark Medical has to maintain a database and distribute different types of documentation to various departments. To achieve this, Greg has set up a custom application on Zoho Creator called QMS (quality management system) Library. Employees needed to access and understand the quality system used by the business, including its quality policy, objectives, and work instructions. "So we created this app, which is amazing," Greg said. "It's really simple. The app has the latest updates on a specific file and when you click "open", the file opens in WorkDrive. We don't need to print and distribute files, or change everything and reprint again. It saves us a lot of paper and time spent communicating changes. Everyone knows that the recent update is saved in the app."
Apart from these apps, the Stark Medical team also uses Zoho Mail to communicate between colleagues, customers, and vendors; Zoho Show to create monthly and annual reports and learning materials; Zoho WorkDrive to store company records; the Learning Management System within Zoho People for employee training; and Zoho Projects to manage any changes in the quality system.
Benefits and ROI
"It was always easy to use Zoho," said Greg. "I don't remember a single moment when I felt frustrated because the support didn't work...There's the knowledge base, the Zoho Cares Twitter handle, and millions of videos on Zoho's YouTube channel and on various Zoho partners' channels. As a last resort, if I can't solve something, because it needs coding experience, then I just write to Zoho support, and then they come back with a solution or workaround."
Before implementing Zoho, Stark Medical had a lot of manual processes. "That's the biggest difference for us. Now everything is in one environment, and it's really easy to connect the different applications and our documents with each other. I don't feel like we'll miss anything, because we have built-in notifications, messages, and emails, which come through the system automatically."
Previously, Stark Medical didn't have a way to measure key performance indicators and operational efficiency. Now, with Zoho One in place, the team has automated most of their processes, preserving time for the staff members to work on other priority tasks. "I have more time to think about other business challenges because I don't need to manually enter endless data to keep everything up to date," Greg said. "That's been a huge help!"
For previous jobs, Greg had used ERP systems. Zoho provided a drastically different experience. "I can customise Zoho One to work the way we work, and not change the way we work just to meet the requirements of the system," he said, before recalling what it's like to make changes to an ERP system after implementation. "It's painful and frustrating. You know you want to solve this problem, but you can't because you need a developer who needs to come on site."
In the long term, Greg believes Zoho One will help optimise employees' work. "As the operations manager, I don't produce revenue," he said. "I save money for the company, but I'm still a big investment. Same with a customer service person who isn't producing any money directly. By optimising the warehouses and customer service processes, we can make their overall workflow more productive. And we won't need to hire as many people to manage our company."
Looking forward
"We're just scrubbing the surface of Projects at the moment," Greg said. He intends to expand usage by setting up employees' individual KPIs, tasks, and sub-tasks in Projects and conducting periodic performance reviews. "That will give us more insight into how big our KPIs are and how much time it takes to solve an issue."
After attending a Zoho User Group meetup in Sydney, where an attendee spoke about cybersecurity threats and password management, Greg realised he could use Zoho Vault, a password management tool in Zoho One. "Everybody got thinking, and then I did a presentation, showed them the product video and the app, and we decided that we were going to implement it," Greg explained.
As the company's growth expands, they're looking to hire more people—especially marketers who can use products offered in the Zoho Marketing Plus bundle. "Later this year, or maybe early next year, we need to hire a marketing person who can really unleash the potential of Zoho Campaigns and the other marketing tools in Zoho One," he said.
With team expansion comes the task of hiring. Greg is also looking at how he can implement Zoho Recruit for Stark Medical in the future. "We want to set that up properly, and then we can start to hire and use Zoho Recruit hiring links through our website."
Thanks for sharing your story with us Greg and Stark Medical! We're pretty stoked to see how you will continue to grow with Zoho One.