Getting Started
Welcome to Zoho Invoice, a cloud-based invoicing and time tracking tool designed to save your time and money. Here you can read about how to sign up and get started with your Zoho Invoice account. With secure data storage, easy navigation, and customizeable features, Zoho Invoice provides a platform for small to medium-sized businesses, and even freelancers to start invoicing right away.
To start using Zoho Invoice, you'll need to create an account. Start with a free, no-commitment 14-day trial. Check out the Pricing Plan page for more details.
---
System and Browser Requirements
To use Zoho Invoice, all you need is a Web browser. Currently Zoho Invoice has been tested to work on the following browsers:
Mobile users can access Zoho Invoice web app through their smartphone's browser, or they can download the Zoho Invoice mobile app that's available for their respective platforms. (iOS, Android & Windows.)
---
Signing Up
To get started, click on the Sign Up button from the Zoho Invoice homepage. Fill out this information in the sign up form:
Company name
Your Name
Your Email Address
Password for your Zoho Invoice account
Country.
Now, click on the Sign Up Now button to finish the process and begin setting up your account.
An account verification link will be sent to your email address. Click on the link provided to confirm and verify your email address. Once you finish the verification, your account will be activated.
---
Setting Up your Account
After the sign up process, you will be directed to a five page setup, where Zoho Invoice will help you capture some basic information to set up your business, and begin invoicing.
Step 1 : Organizational Details
| Fields | Description |
| --- | --- |
| Industry | Select the industry your organization belongs to. |
| Portal Name | This is automatically generated. You can also set your own portal name. The client portal helps your customers to access their estimates, invoices, and make online payments. |
| Company Address | Enter the address of your company. |
| Regional Settings | Enter the other basic details such as currency, language, and time zone. |
Step 2 : Taxes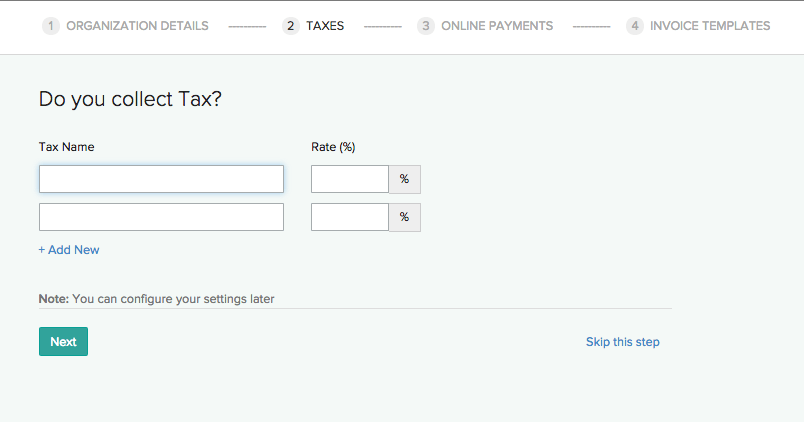 If you collect tax from your customers, please enter your tax details.
Step 3 : Setting Up an Online Payment Gateway
To get paid faster, set up an online payment gateway.
Step 4 : Invoice Templates
Select, customize, and choose a default template from the available options. Non-default templates can be selected while generating invoices.
---