What's a
Survey?
Surveys are essentially a set of questions that you ask to a bunch of people, called your audience. They help you collect necessary data to come to the right conclusion about something a topic. Surveys help organizations and individuals make smart business decisions or learn something new about their customers.
There could be several reasons why you'd like to send out a survey. You may be looking for feedback from users on a new product you've launched, or maybe you're looking to find out which candidate people are voting for.
Online surveys also provide you with a certain level of anonymity for the respondent, and this is more likely to bring out an honest answer when compared to a paper or face-to-face survey.
You don't need to worry about how to create an online survey and how to send it out to your customers. It's really quite easy and can be done in a few clicks.
This piece will guide you step by step through how to start crafting surveys the right way, the many options you have for distributing them, and how to analyze their reports. For many of our examples, we'll be using Zoho Survey, which we believe to be a powerful, yet easy, survey building app.
Here's an example:
Let's assume your task is to learn which phone 15 to 18-year-old teenagers want. You also need to understand if being a girl or a boy affects their choice. In this case, you can send a survey to this specific group to learn their preferences. Once you've collected responses, you can then use a response filter in your survey reports and find out whether smartphone choices and gender are correlated in any way.
step 1
Identify why

you want to send a survey

There could be a variety of reasons for someone to send a survey. Figuring out your goal early on will help you focus your questions better.

Generally, the reasons for sending out a survey are one of the following:
Getting information
Identifying your target market
Getting a better idea of how people perceive your product
Identifying gaps in your customer support
Knowing what people are thinking about your product/service
Getting a better idea of how people perceive your product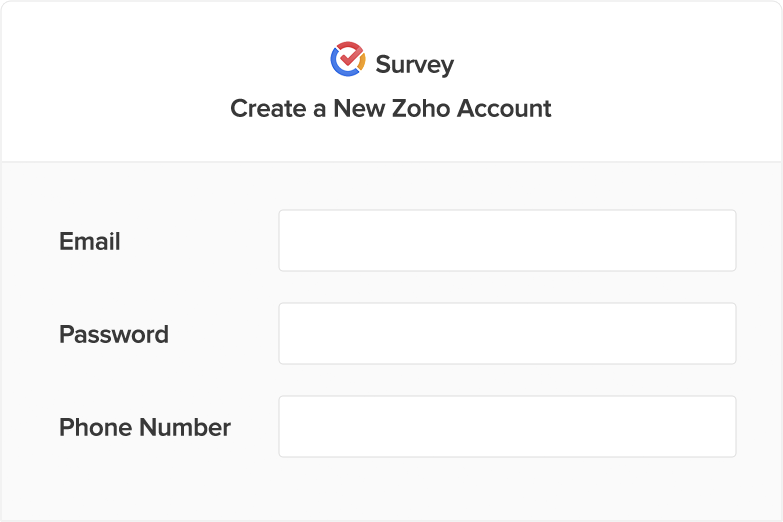 step 2
Setup

your account

Most online survey builders store the surveys you create in the cloud, so they will likely have you sign up with your email. You can usually log in through Google, LinkedIn, Microsoft or some social media account.
step 3
Creating a
survey
There are two ways you can start building a survey- choosing a pre-built template, or creating from scratch.
Choosing a template
Once you are onboard, you will be directed to pre-created sets of surveys called 'templates'. These are ready-to-use surveys based on common causes of surveying that you can select and good to go.
Zoho Survey offers 200 expert-verified survey templates that provide numerous surveying options. Which one you choose will depend on your surveying needs and the type of organization you are representing.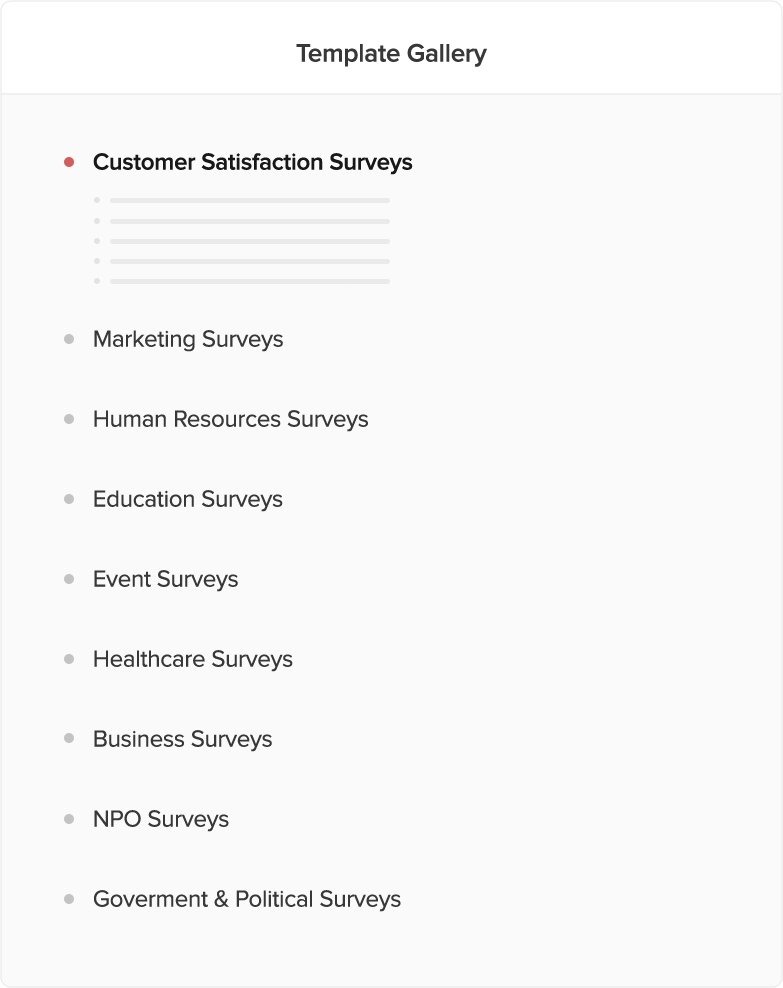 Creating from scratch
If you opt to create your own survey, you have to ensure you create appropriate questions depending on the survey's goal.
1. Choosing questions
Survey builders usually come with a drag-and-drop feature that allows you to customize your survey to your needs. To choose a question, simply click and drop it exactly where you want it to be in your survey.
Zoho Survey gives you the option to choose from twenty-five different question types. This includes multiple choice questions, single lines, matrix questions, and so on.
You can also add options for participants to upload a file or include their signature and contact information.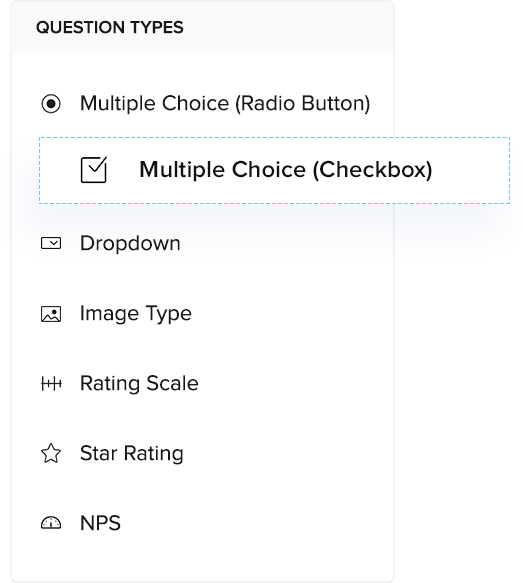 2. Editing questions
You can simply click on a question to edit the content anytime. You can also change its order in the survey using the action button on the top-right.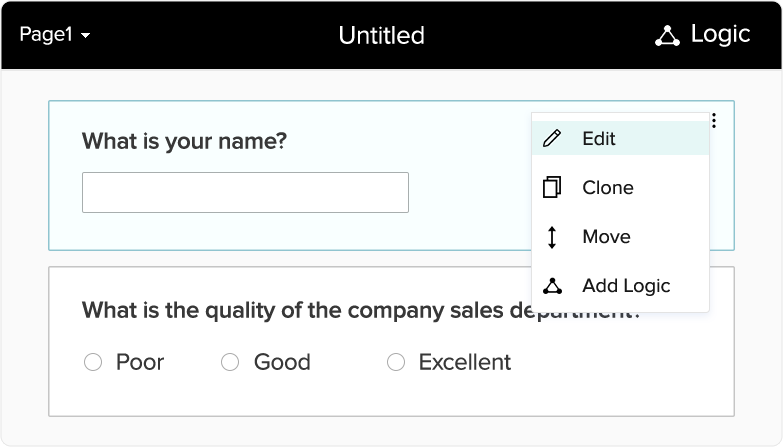 3. Applying logic
Applying logic to a question means placing a condition in the survey that will dictate what questions are next. For example: "Do you have a dog?" If the person answers yes, the survey will display the next question: "What breed?" If the person does not answer yes, they will not get this question. Logic is useful to disqualify respondents who do not match your criteria.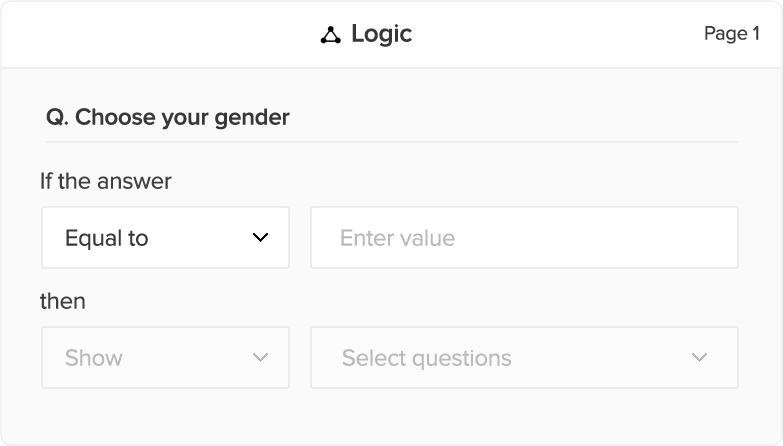 step 4
Customize

your survey

After adding the questions to your survey, you have the option to enhance it visually by choosing various themes and colors. You can also further customize a theme according to your organization's corporate identity.

For Example:

You could add your logo to the header, or even host the survey on your own domain. Customization options vary from builder to builder. Zoho Survey provides options to customize everything from the font's size and color to the color scheme of your entire survey.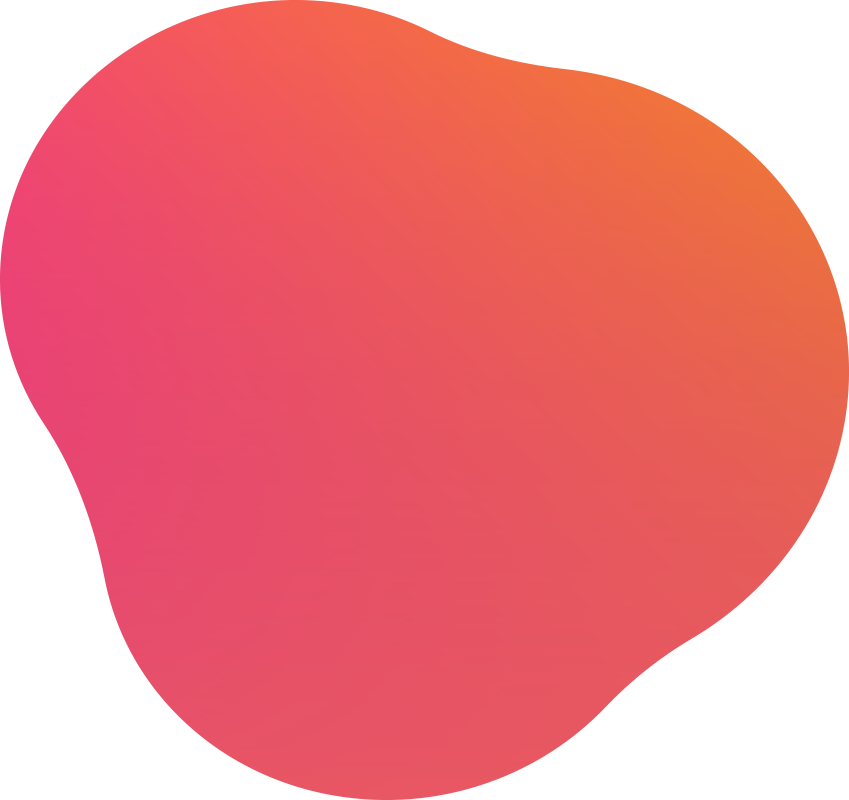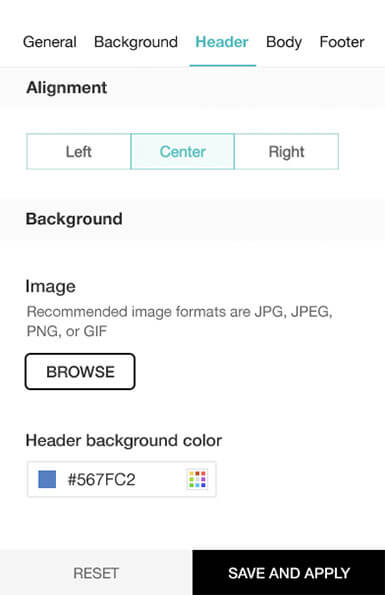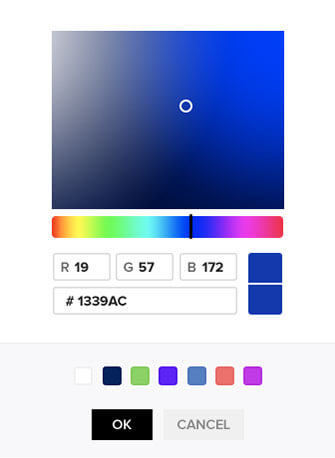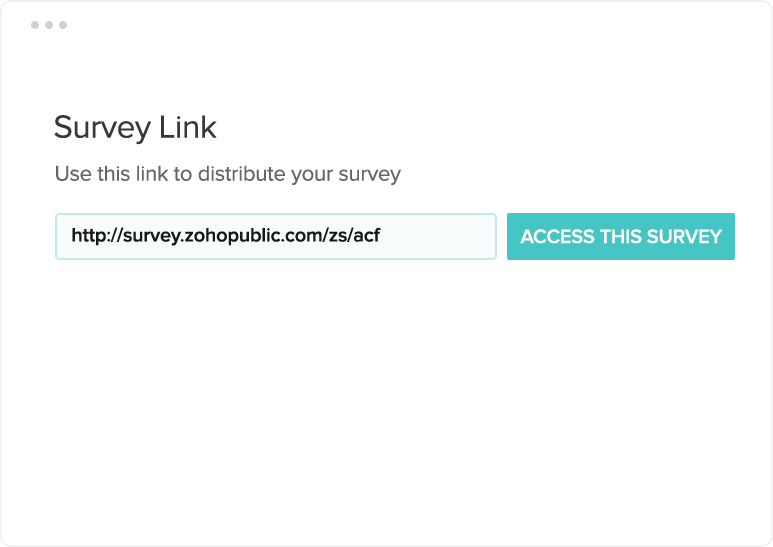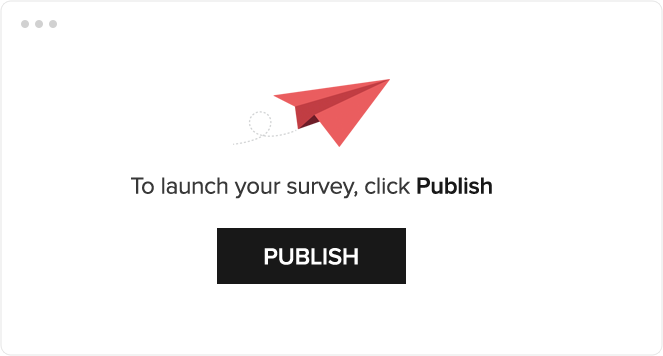 step 5
Publish

your survey

Once you're done writing the entire questionnaire and have verified all other necessary information, your survey is ready to go. Now, to make sure it's visible, you have to publish your survey. Publishing your survey means it is live with its own URL. Once you share this URL with people using mail, campaigns, and social media, they can use it to access your survey.

Once you have published your survey, you can select from the many available options for distributing your survey. Some of these can include setting a start and a end date for the survey, putting a limit on the number of responses you can accept, encrypting the survey with a password, setting up a new distribution list for your survey, among others.

Remember: Once you've hit publish, your survey is officially out. You can then start sharing the link with respondents.
step 6
Send

your survey

How you distribute your survey is important, because it is the single most important factor in getting you closer to the responses you need.

Before you send out your survey, you need to have a clear idea which audience will give you the right responses. Is the information you are looking for precise or generic? Do you want a specific audience to give you responses or will you be sending out surveys to the public? The answers to these questions will help you decide how to distribute and target your surveys.

You have many distribution options when using Zoho Survey. These include:
Email distribution
Visibility
Embes/QR codes
Email campaings
Social media
Keep your survey clear, simple, and in a non-biased language. Making it short and including the right combination of questions will go a long way towards ensuring the survey is easy to complete and respondents will give clear, honest, and truthful answers. Remember, the better the answers, the better the data!
For more information on surveys, check out our videos on the basic and advanced features of Zoho Survey.