Watch Video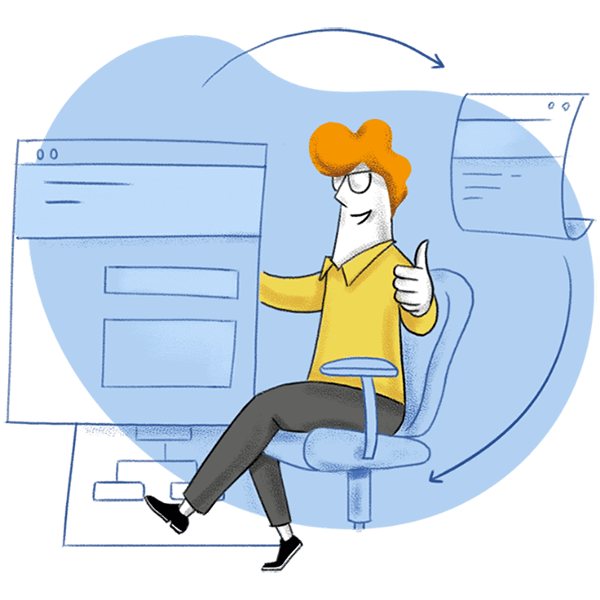 See why developers are choosing Zoho Creator
Zero setup
Rapid delivery
Build once, use anywhere
Think big
Unbounded Integrations
Bring your own code
Zero setup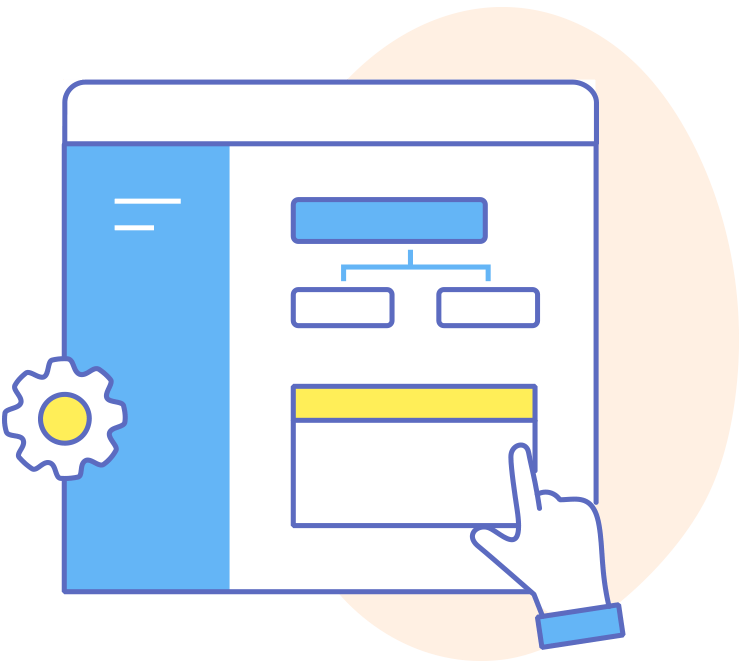 Dive right into building smarter applications, without the hassle of setting up infrastructure. With Zoho Creator, you can focus on doing what you love—delivering innovative solutions.
Read more
Rapid delivery
Leverage the power of low-code development to minimize application delivery time. Get the Zoho Creator advantage and leave your competitors behind.
Read more
Build once, use anywhere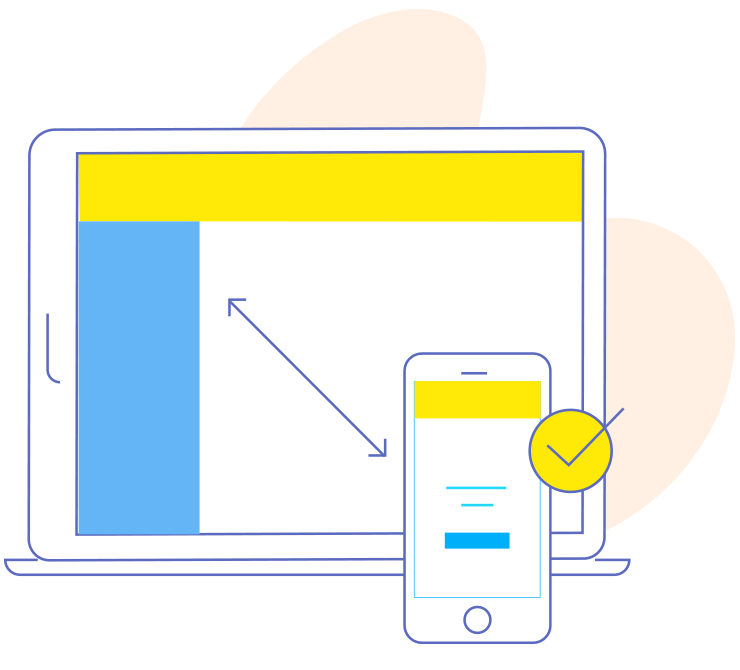 Equip yourself with the power of applications that run on any device. Creator apps built on the web are automatically converted to native mobile apps.
Read more
Think big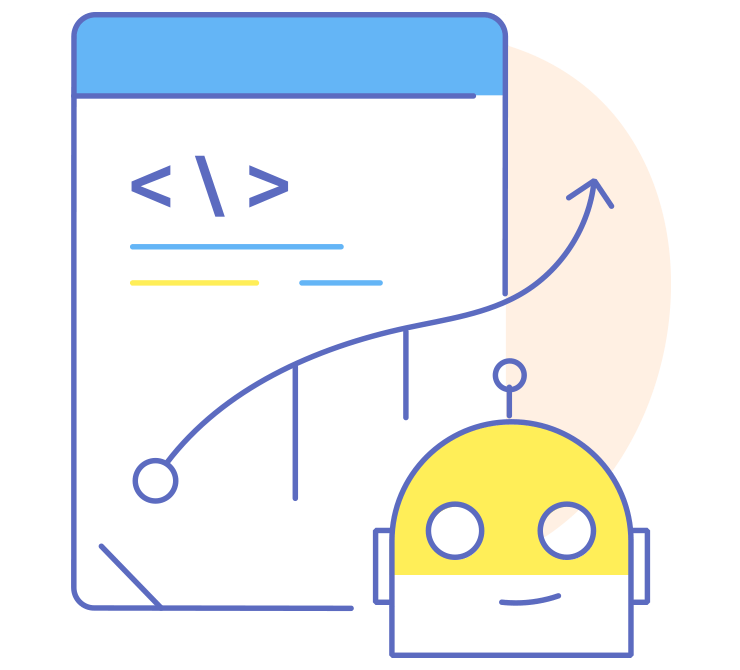 Make business applications that can be modified to your clients' growing needs. Use Zoho Creator to build scalable solutions that endure the test of time.
Read more
Unbounded Integrations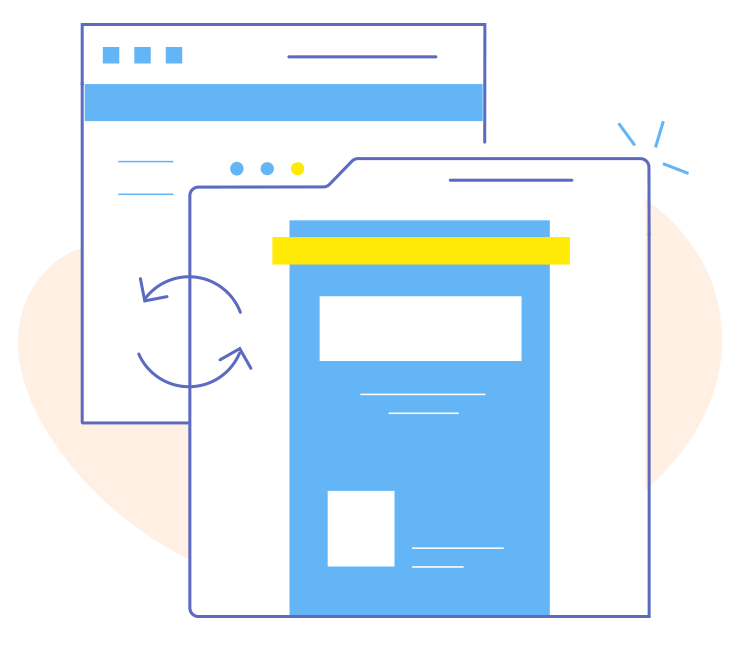 Integrate with Creator's array of built-in connectors or use REST and SOAP services to push and pull data from any database or third-party service.
Read more
Bring your own code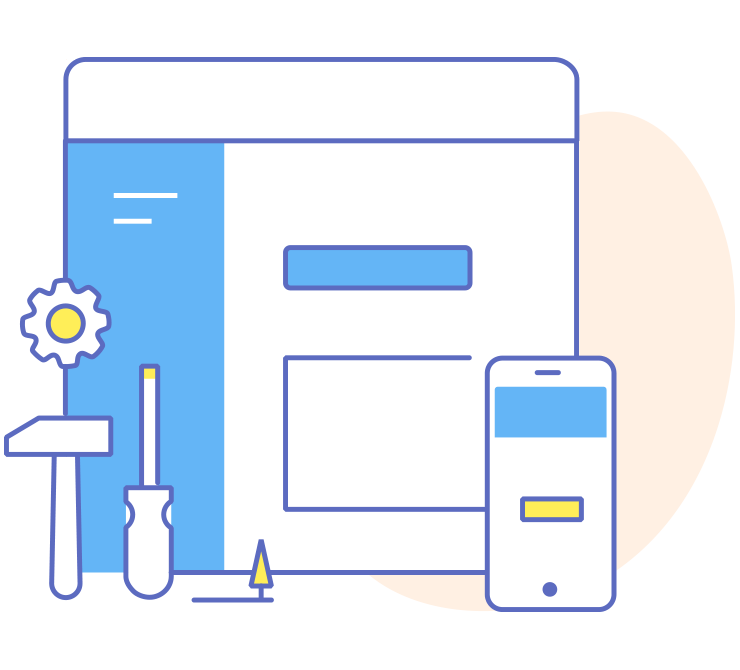 Leverage Creator's ability to support popular languages, like Java and Node.js, to write and host functions that execute complex business logic.
Our developer program offers
Get started with Zoho Creator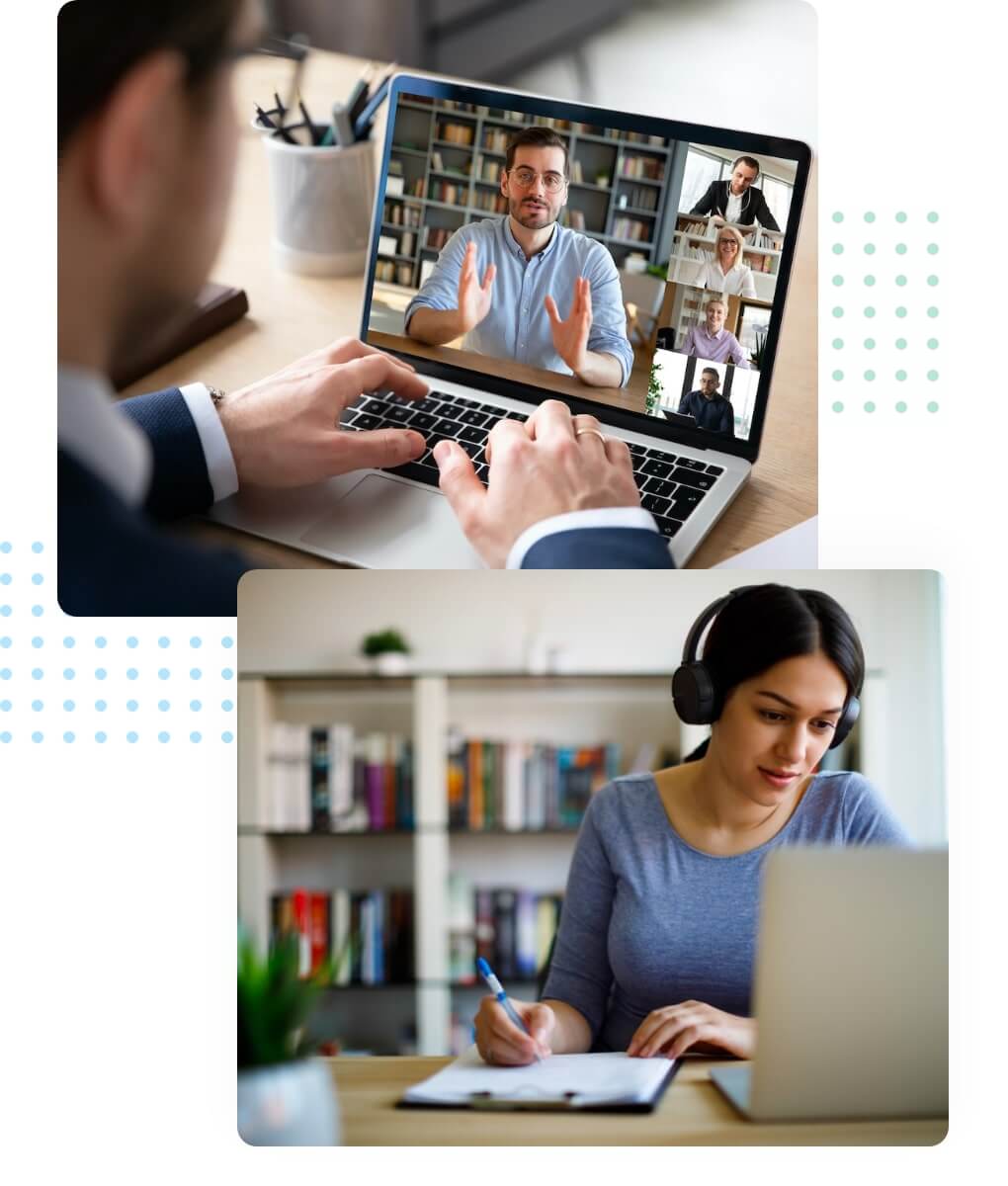 Webinar
Attend our weekly webinars to learn how to design apps that solve business challenges using Zoho Creator.
Register Now
Video resources
Learn the finer aspects of building your custom apps with Zoho Creator. Whether you're looking for a step-by-step tutorial or a quick how-to video, you're in the right place.
Watch Now
Training and Certification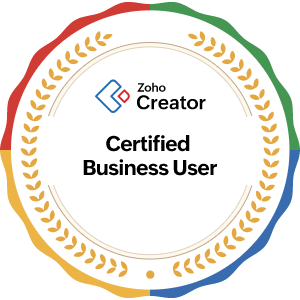 Business User Certification
For all individuals. No coding experience required.
View details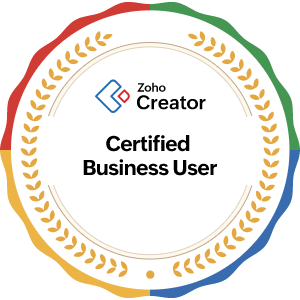 Business User Certification
A Certified Business User is a non-developer who can build simple applications that have a few forms and reports, using Creator's no-code features. It's an ideal certification for a citizen developer just beginning on Creator, or an administrator who manages the application.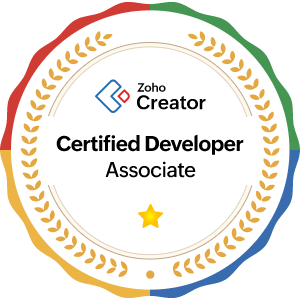 Associate Developer Certification
For individuals with prior coding and implementation experience.
View details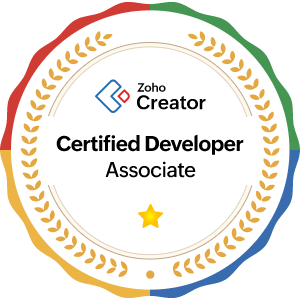 Zoho Creator Certified Developer – Associate
An associate level developer has a solid grasp of Zoho Creator concepts, and is comfortable building simple to medium-complexity applications. They can quickly learn new features as they are released, as well as handle level 1 support issues on their own.
Eligibility: All individuals (No project experience required)
Validity: 2 years from the date of issue
Download Exam Guide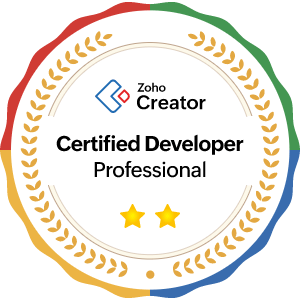 Professional Developer Certification
For individuals with extensive experience in implementing Zoho Creator based solutions.
View details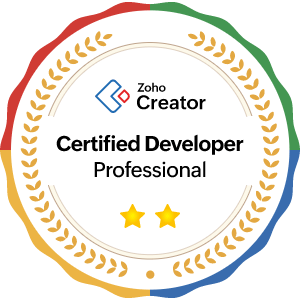 Zoho Creator Certified Developer – Professional
A professional-level developer can plan and develop enterprise-grade implementations using Zoho Creator. They have unique insights into Creator development and can add value with their knowledge of code optimization best practices, architecture design, integrations, and third-party applications/programming languages. They have a good understanding and ability to articulate the benefits as well as challenges in using Zoho Creator vis-a-vis traditional development.
Eligibility: Minimum 1 year experience as Zoho Creator Certified Developer - Associate; should have executed several medium-complexity projects successfully for a customer
Contact us
Choose a Training Path
Learn low code software development from our experts. Check out the list of online courses and join us on the path to developing your Zoho Creator skill set.
Community
Become a Zoho Creator MVP
Creator MVPs are expert developers who go the extra mile to help out fellow users and are passionate about the ever-growing Zoho Creator Community.
They are consistently up-to-date on Zoho Product development and updates, and are active participants and contributors to Zoho led events. Zoho MVPs are looked up to as leaders of the Community and receive special benefits.
Reach millions of users through marketplace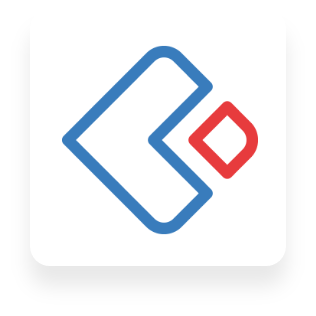 Creator Skills are in demand!
Creator's no fuss app development is a perfect fit for businesses looking to achieve digital transformation. Build a career as a Creator developer.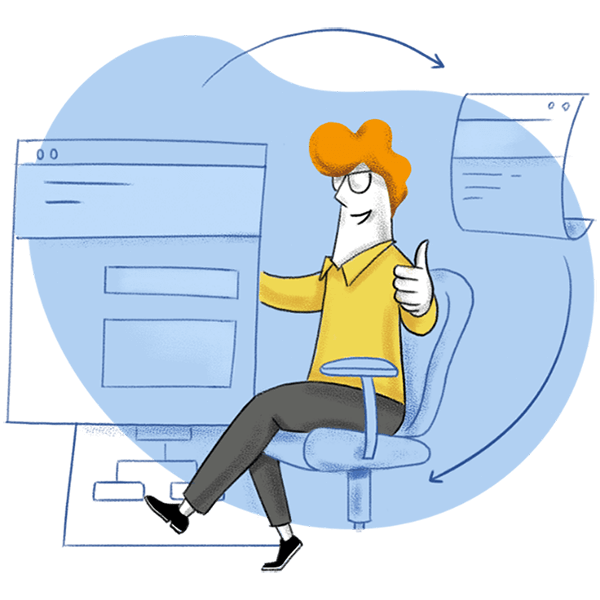 Become a Zoho affiliate
Refer Zoho Creator to your clients, and earn rewards for sales.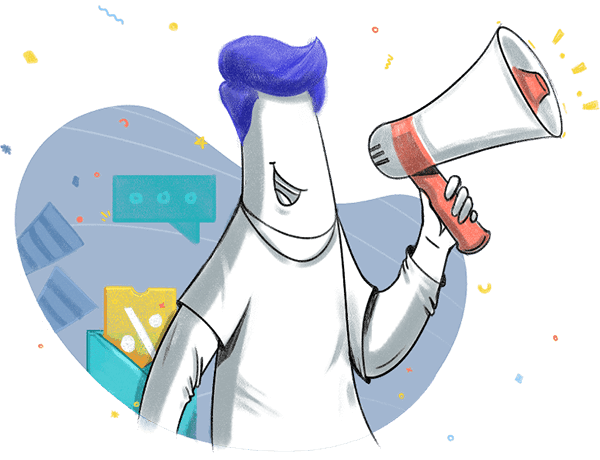 Frequently Asked Questions
What is Zoho Creator?
Zoho Creator is a low-code application development platform that allows users to create custom applications on their own, with minimal coding experience. The intuitive drag-and-drop interface empowers developers and business users to build web and mobile applications that satisfy all their unique requirements with ease.
What are the benefits of Zoho Creator?
With Zoho Creator, businesses can collect data, automate processes or workflows, analyze data in reports, collaborate with other users, and even integrate with external applications. Every application built on Zoho Creator comes with a native app for iOS and Android, allowing users to access real-time data from anywhere, at any time.
How secure is my data in Zoho Creator's cloud?
Zoho Creator ensures the logical separation of one customers' data from another's. Data retention and backup happens in a secure manner. All customer data is stored in data centers in multiple geographies to ensure security and high availability, and Zoho is ISO 27001/27017/27018 certified and SOC 2 compliant.
Are applications built on Zoho Creator scalable?
Applications built on Zoho Creator are built to auto-scale—the back-end infrastructure seamlessly scales as business demand grows. Currently 10,000+ customers across 170+ countries are using over 3M applications built using Zoho Creator, a testimony to the power of the platform.
How do I get started with Zoho Creator?
Zoho Creator has a 15-day free trial of all premium features. You can get started by signing up here.
Does Zoho Creator have a free plan?
Yes, Zoho Creator has a free plan. This plan comes with a limited feature set and only has 1 user, 1 application access, 250MB storage, and 1000 records. However, you have the option to upgrade it to the paid plan whenever you wish.
How are Zoho Creator licenses priced?
Zoho Creator has a flexible per-user pricing model. For more details, please visit our pricing page.
Become a Zoho Creator Developer
Join Now