You have information that you want to share with your customers. Sending out regular email campaigns does not have to be tiresome. With all the right tools, Zoho Campaigns makes it easy to design, send, promote and track all your email marketing campaigns. Learn More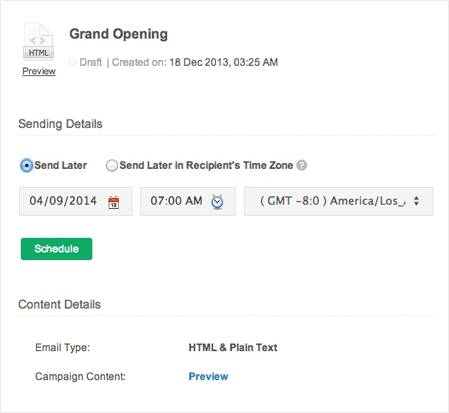 Build and grow your audience list by adding subscribers, and also segment ​them based on specific criteria. You do not have to worry about unsubscribes, bounces or spam addresses. We help you manage your lists.
Do not settle with a single version of your email. Test campaigns based on subject and content, and get maximum results.
Get your email design ready in almost no time. Choose one of the pre-designed templates from the gallery and create professional looking email templates. These templates combined with our drag-and-drop editor make it easy for you to design your newsletters or promotions. Learn More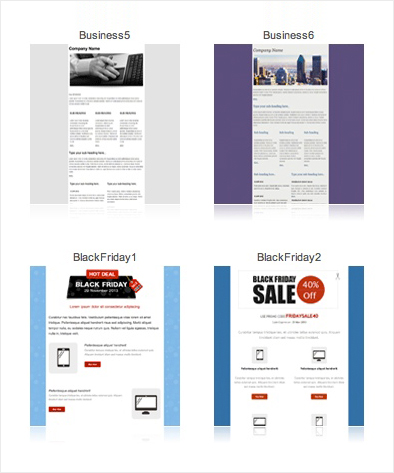 Track the performance of your campaigns in real-time. These detailed reports give you the complete picture including the opens, click-through rates, unsubscribes, bounces, social media engagement and even geolocation reports. You can then make the necessary changes to your future campaigns. Learn More
Send targeted content to your audience based on their current stage in the sales cycle or even send messages based on their behavior in an email. Use email workflows and autoresponders to send relevant content at the right time to your audience. Learn More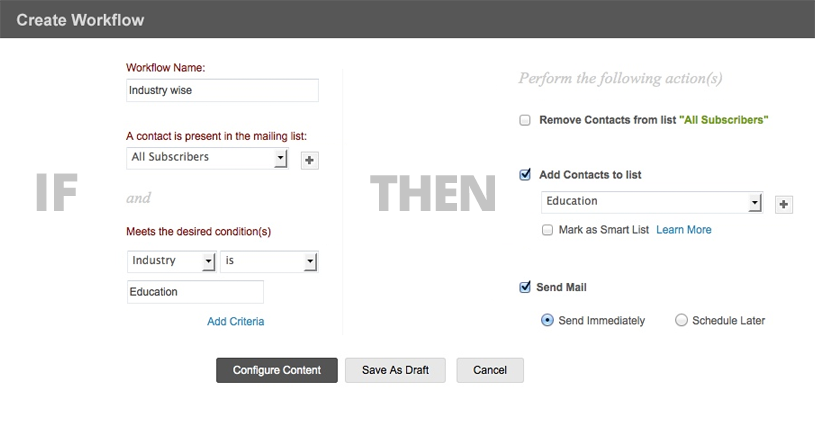 Send out a welcome email series, send out follow-ups based on opens or clicks or even run a holiday promotion.
Move subscribers between mailing lists based on any information that you have about them. Send targeted and relevant campaigns to your subscribers.
Zoho Campaigns integrates with Zoho CRM so that you can target your leads and prospects with engaging email campaigns. The results of your campaigns are available in your CRM account so that you can make better sales decisions. Learn More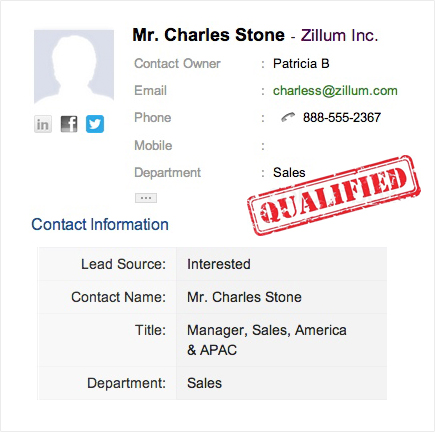 Go beyond email campaigns. Complement your email marketing efforts with social media. You can reach a wider audience by promoting campaigns on Facebook, Twitter and LinkedIn. Learn More
Manage your email campaigns, mailing lists and subscribers while on the go. You do not have to be logged in to your web account to send completed campaigns or to check campaign performance. Learn More
Got a Google Apps Account? You can import contacts from your Google Address Book and even import campaign content from documents in Google Drive. Learn More
Zoho Campaigns in your language
You can use Zoho Campaigns in a language that's native to you. The software is offered in:
English, Chinese, Dutch, French, German, Hungarian, Italian, Japanese, Portuguese and Spanish