How does automation work?
A well-planned communication strategy is the pillar of email marketing automation, because the process is entirely based on the triggers and actions you define. These triggers are usually set up around behavior metrics and profile information. Subsequently, an action takes place whenever a contact meets the trigger's definition.
How Zoho Campaigns fits into the picture
Zoho Campaigns helps you engage your audience with personalized and behavior-centric emails. Following a trigger and action system, our automation capabilities let you send a series of emails as well as build a criteria-based email journey. From onboarding to nurturing and re-engagement to retention, you can configure automated emails for every marketing aspect without breaking a sweat.
Drag-and-drop email workflows
Bring engagement strategies of any kind to life using Campaigns' drag-and-drop workflow builder. Our completely customizable workflow templates help you craft an email journey specific to your sales cycle. Visualize your strategy, build an action flow, define your messages and triggers, and sit back and let Campaigns do the rest.
Learn More



Nurture and engage your leads and contacts

Welcome, onboard, and nurture your contacts with the right set of email triggers while moving qualified ones to your CRM system. With Zoho Campaigns, you can implement each of these steps based on audience interaction, increasing the probability you'll retain them as customers.




Design strategies to meet your needs

Set up your strategy in no time with ready-to-use templates that cater to any occasion. You can also customize your strategy using our drag-and-drop builder that comes with your email workflow templates.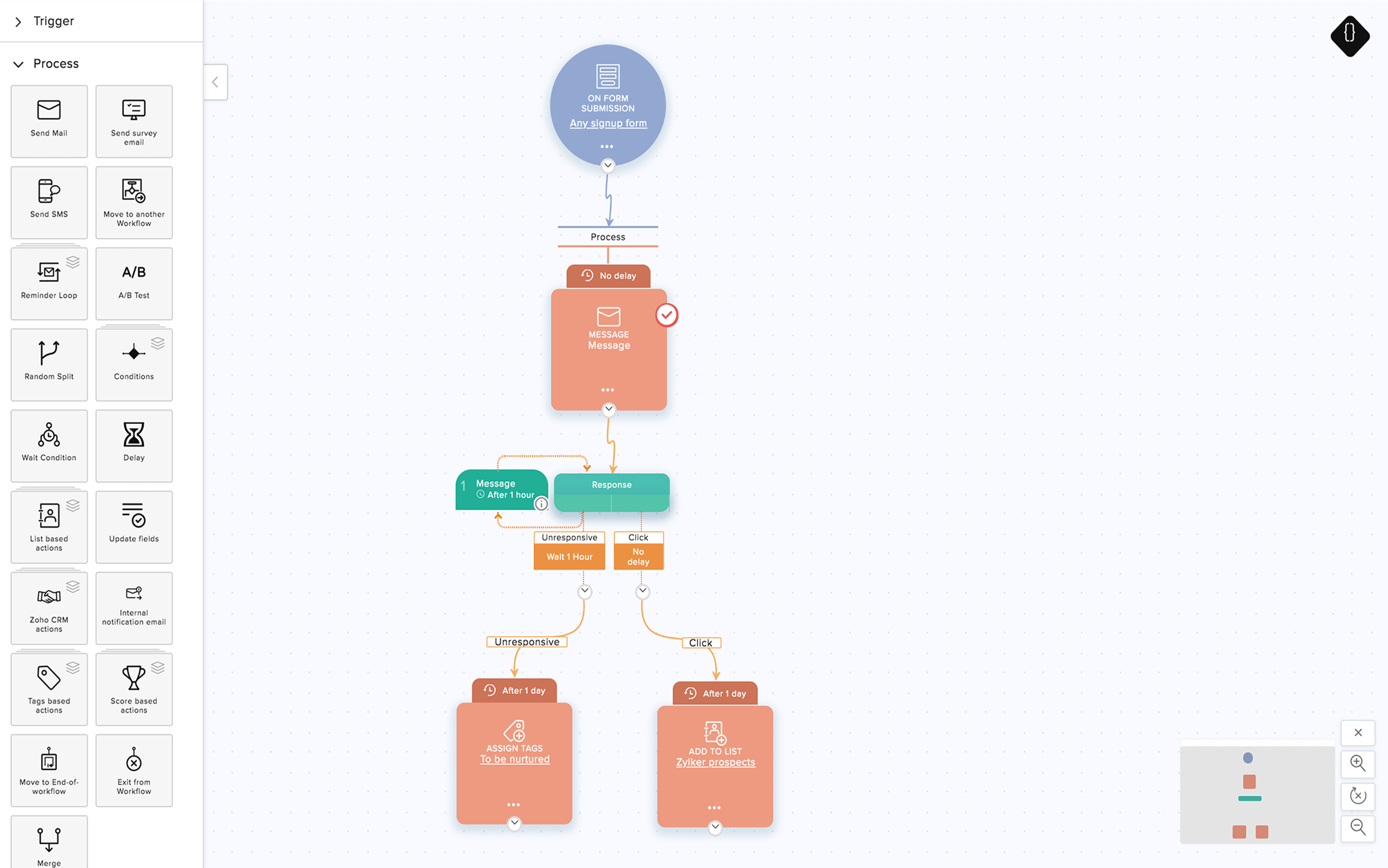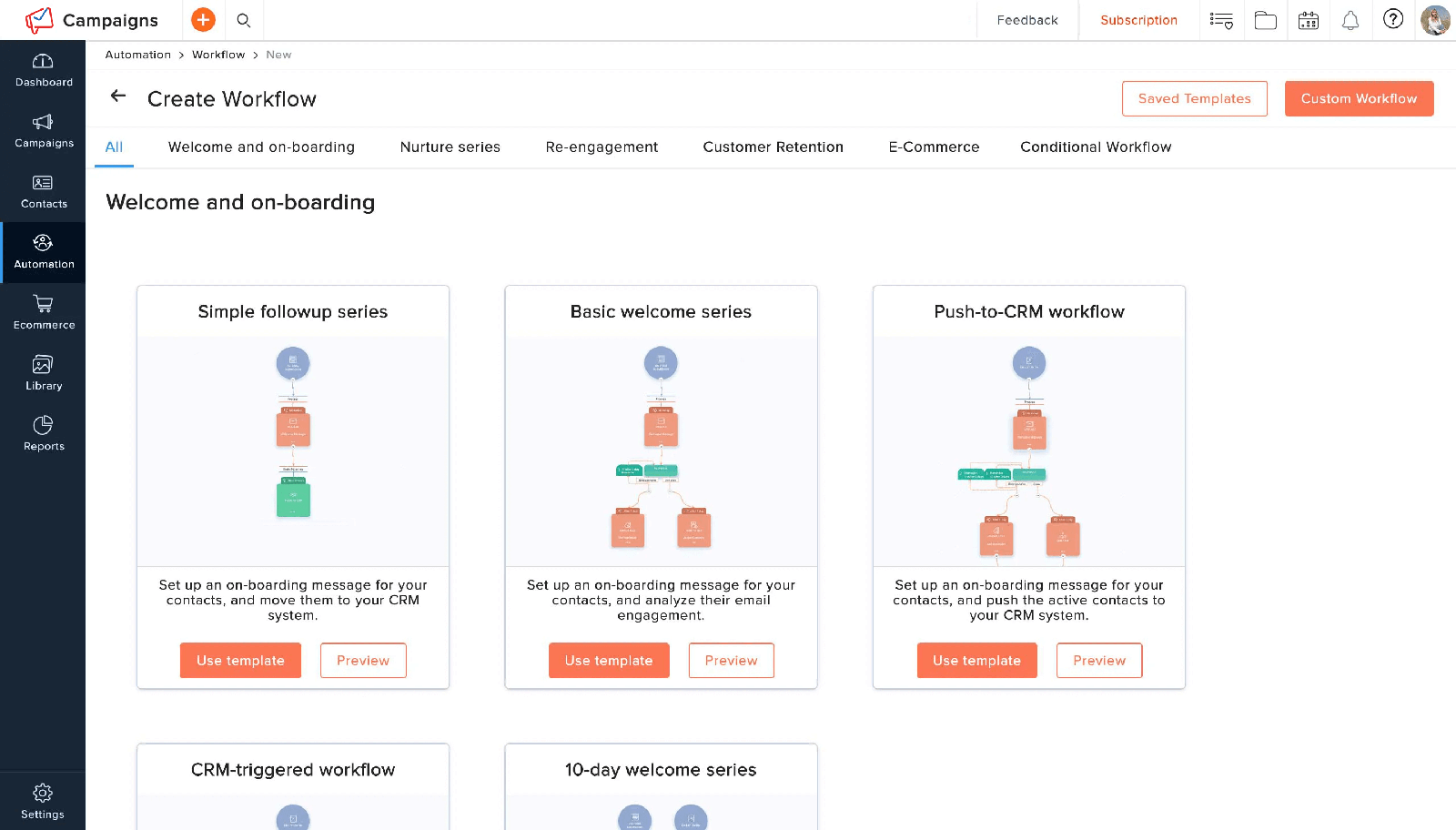 Autoresponders 
Automate contact follow-up at the right time using a series of automated emails called autoresponders. These work great if you want to send a welcome series, birthday or anniversary wishes, seasonal promotions, and more at preset time intervals or on particular dates.
Learn More



A simple reminder can show you care

Send reminders to your customers after a certain amount of time has passed from a particular date using a date-field autoresponder. For example, email a subscription reminder a certain number of months after they subscribed, or offer promotional offers or any other time-critical information.




Boost your sales during the holiday season

Holiday sales can be crucial to a business's bottom line, given that's when people shop more and are looking out for discounts. Scheduling a calendar-based autoresponder allows you to send out season's greetings, holiday promotions, and special offers to your customers on particular dates.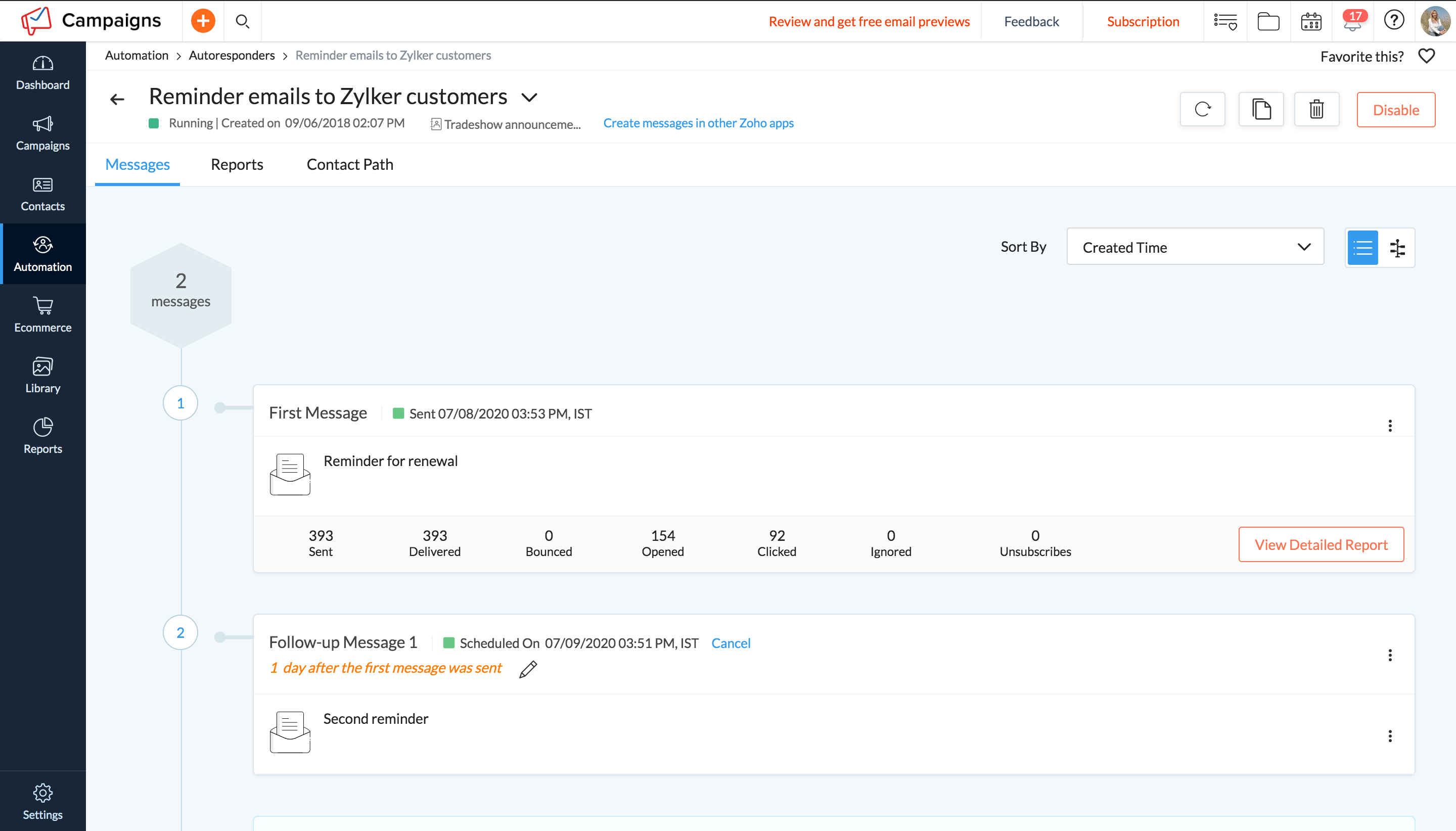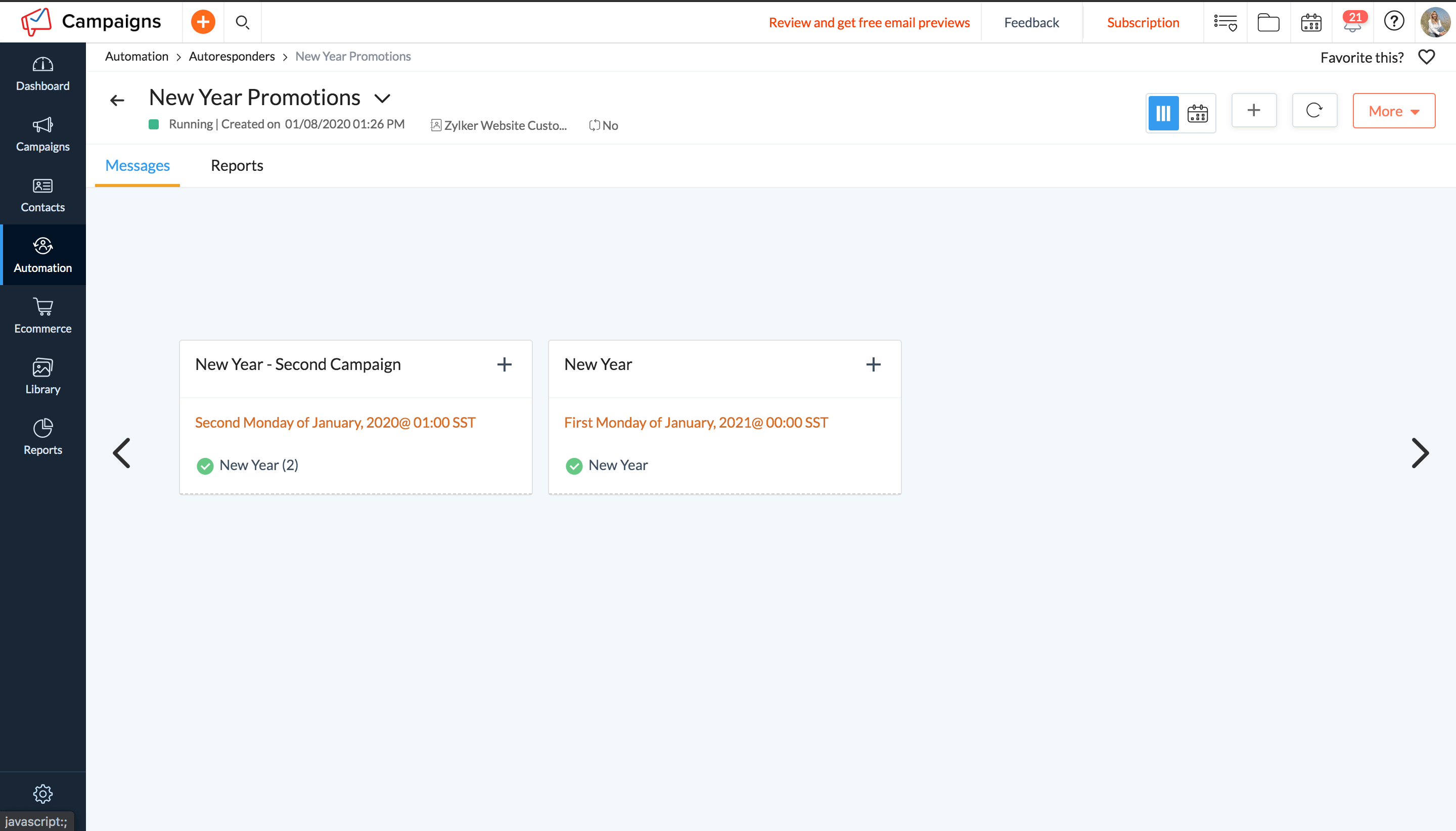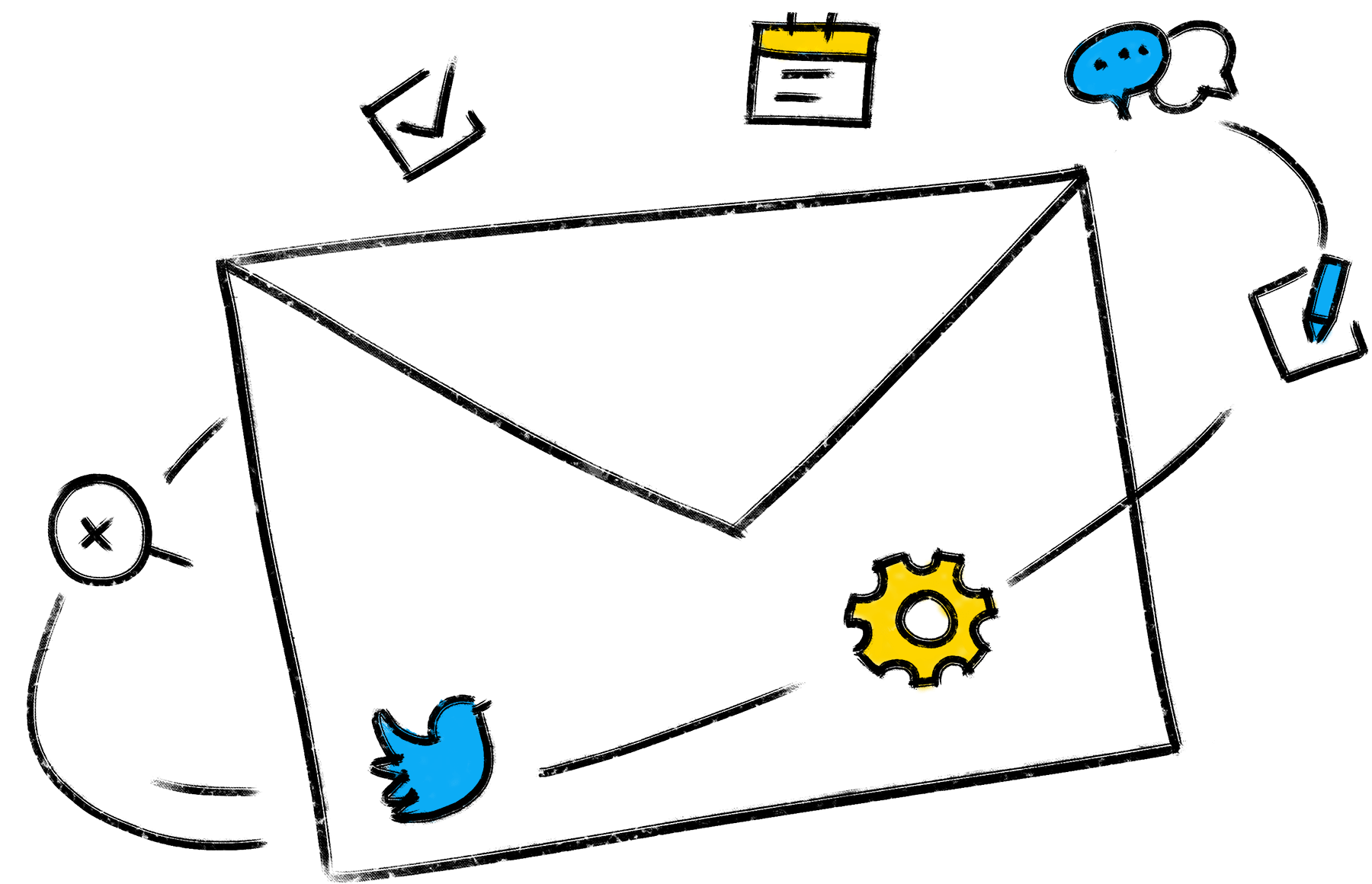 Email marketing in the sphere of marketing automation
Email marketing can act as a vital cog in your marketing automation wheels, allowing you to send timely messages across various touchpoints and influence customer interactions. Email goes well with other marketing channels as it can underpin content, link to social media pages and resources, and more. Its versatility and immediacy means you can lead your audience wherever you want.