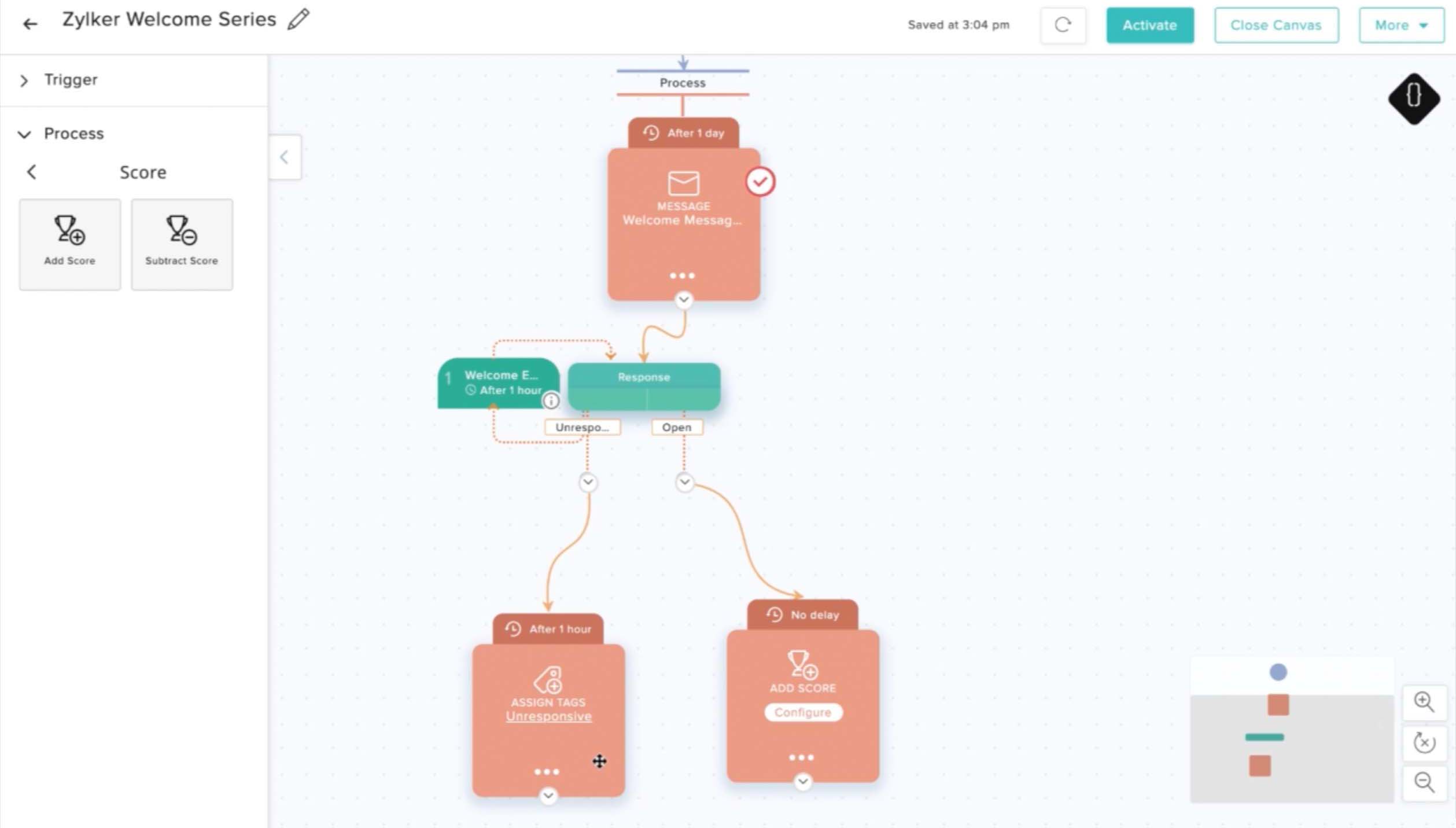 Simplify your email marketing with pre-built workflow templates
Wondering how to lay out the perfect engagement plan for your business? Zoho Campaigns' pre-designed email workflow templates make the task easier than ever. From user onboarding to follow-up emails and re-engagement campaigns, everything you need is at the tip of your fingers.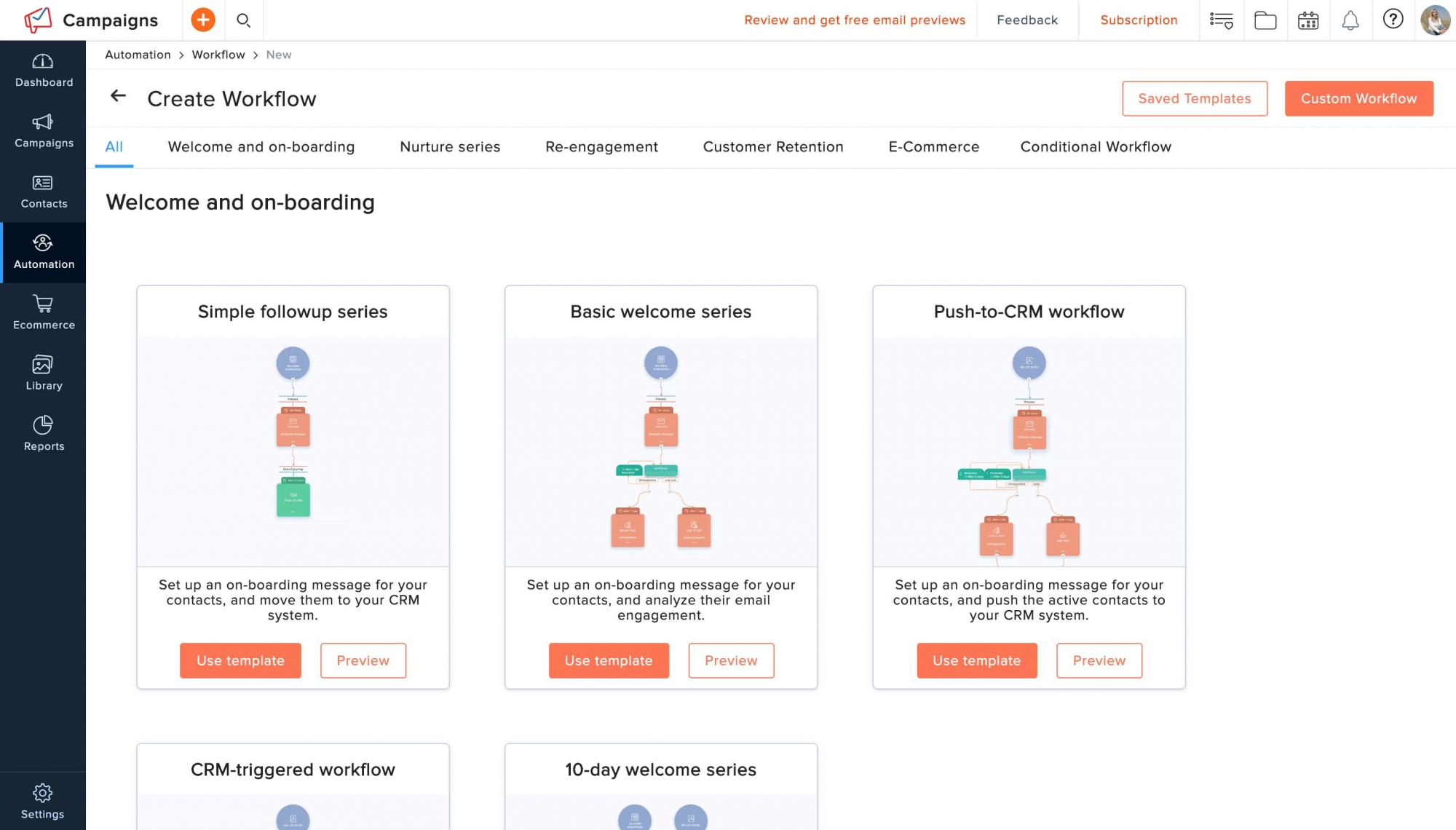 Tailor your email workflow with our drag-and-drop builder
Want to draw different paths for your workflow for varied user behaviors? You can always customize it using the drag-and-drop builder. Add actions and emails, define how and when a contact should enter and leave your workflow, and more.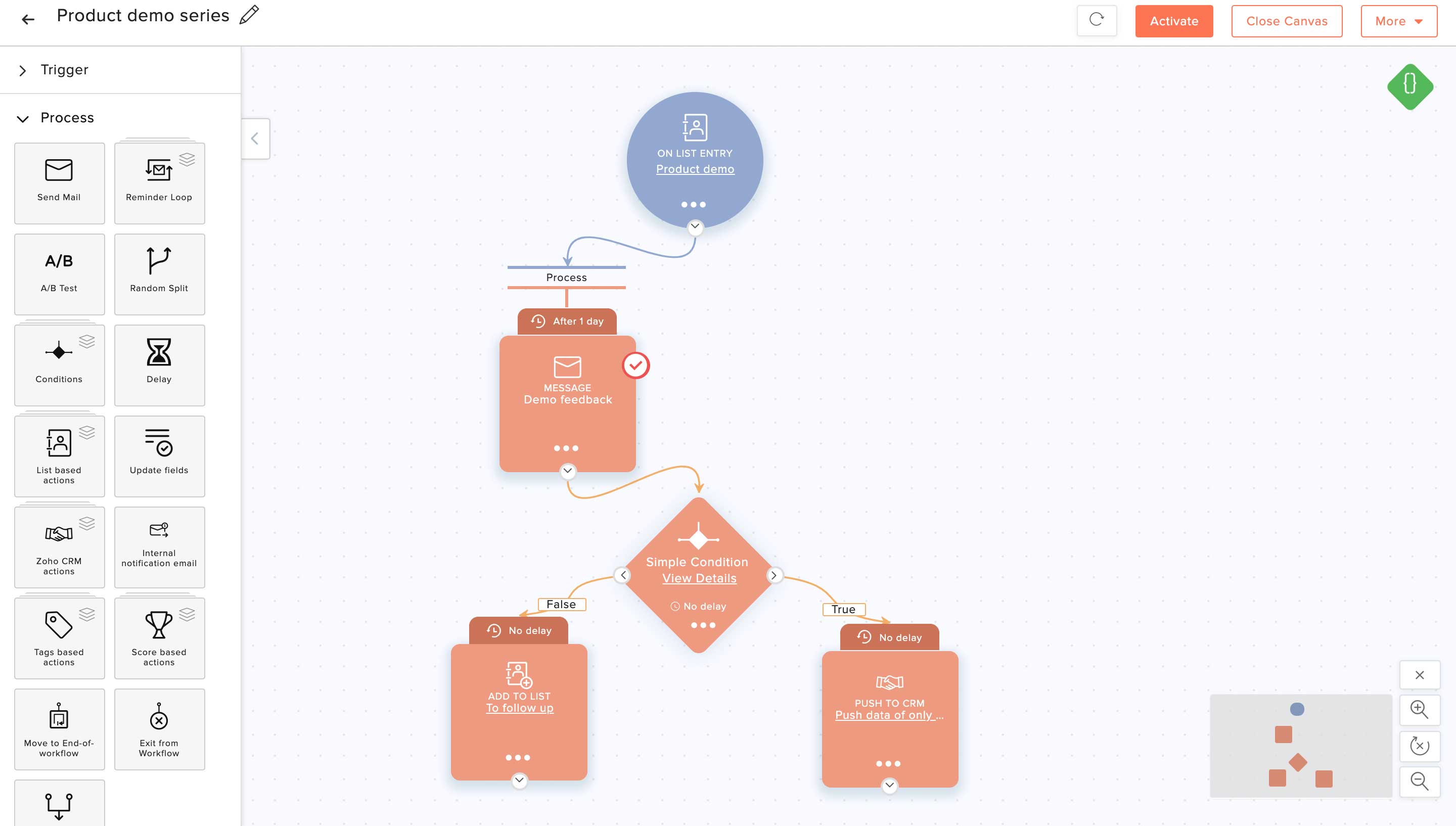 Nurture your contacts with relevant information
Give your contacts the information they want during each stage of the sales funnel. Design your email marketing workflow with elements that let you filter and send emails to your subscribers, assign scores, and more based on their previous interactions. You can also push the data to your CRM software to keep your sales team informed about a contact's progress.
Customize your workflow based on recipient responses
Learn how contacts engage with your emails and cater to them based on their interests and behaviors. The Reply Tracking feature from Zoho Campaigns lets you track your campaign recipients' responses and draw unique workflow paths to those who reply to emails. Run targeted workflow actions such as adding them to a different mailing list, sending them a personalized email series, assigning scores, and more.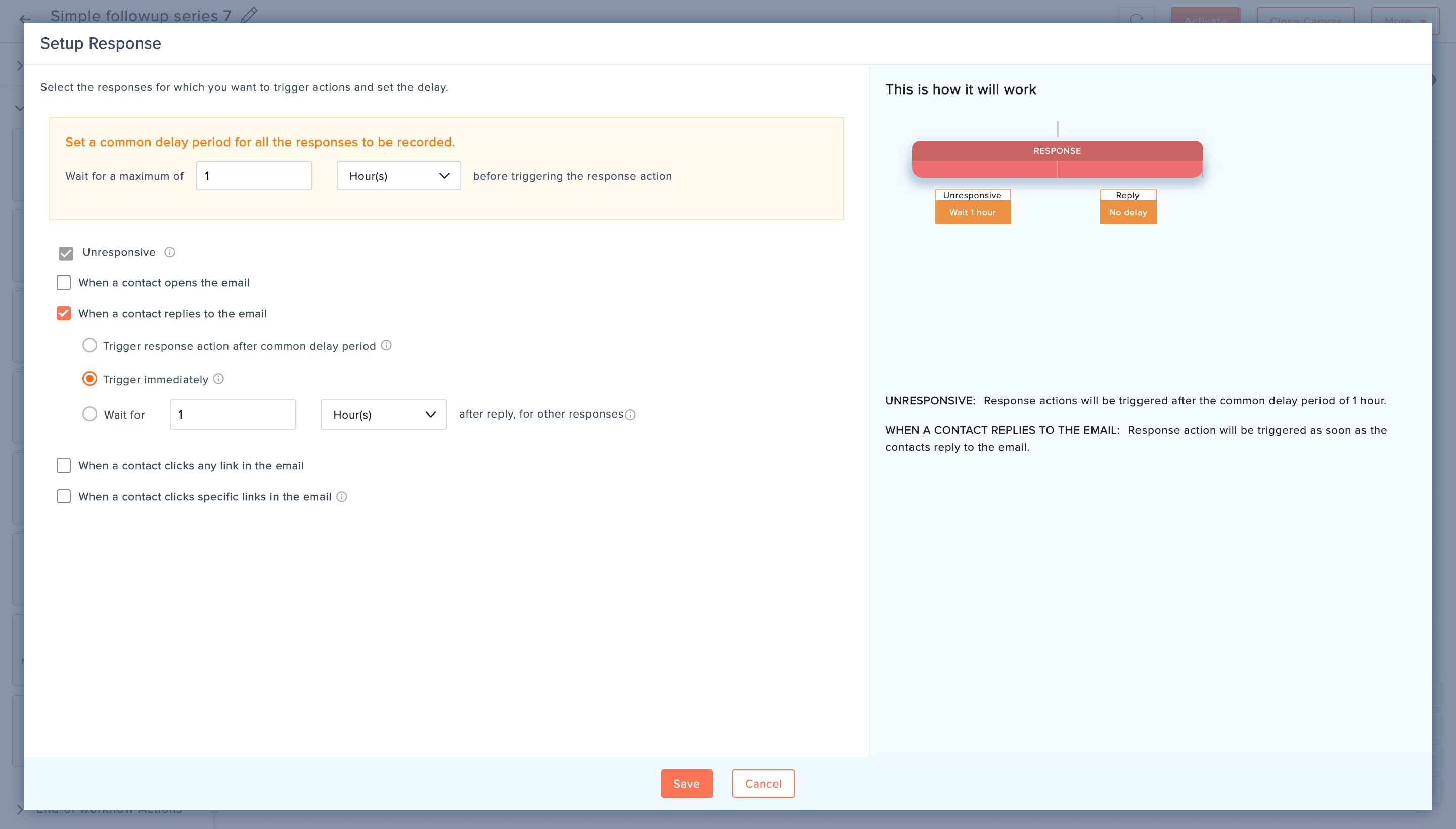 Workflows designed for your ecommerce store
Connect your Shopify, WooCommerce, BigCommerce, and Zoho Commerce store with Zoho Campaigns to automate email communication with your store audience based on their shopping behavior.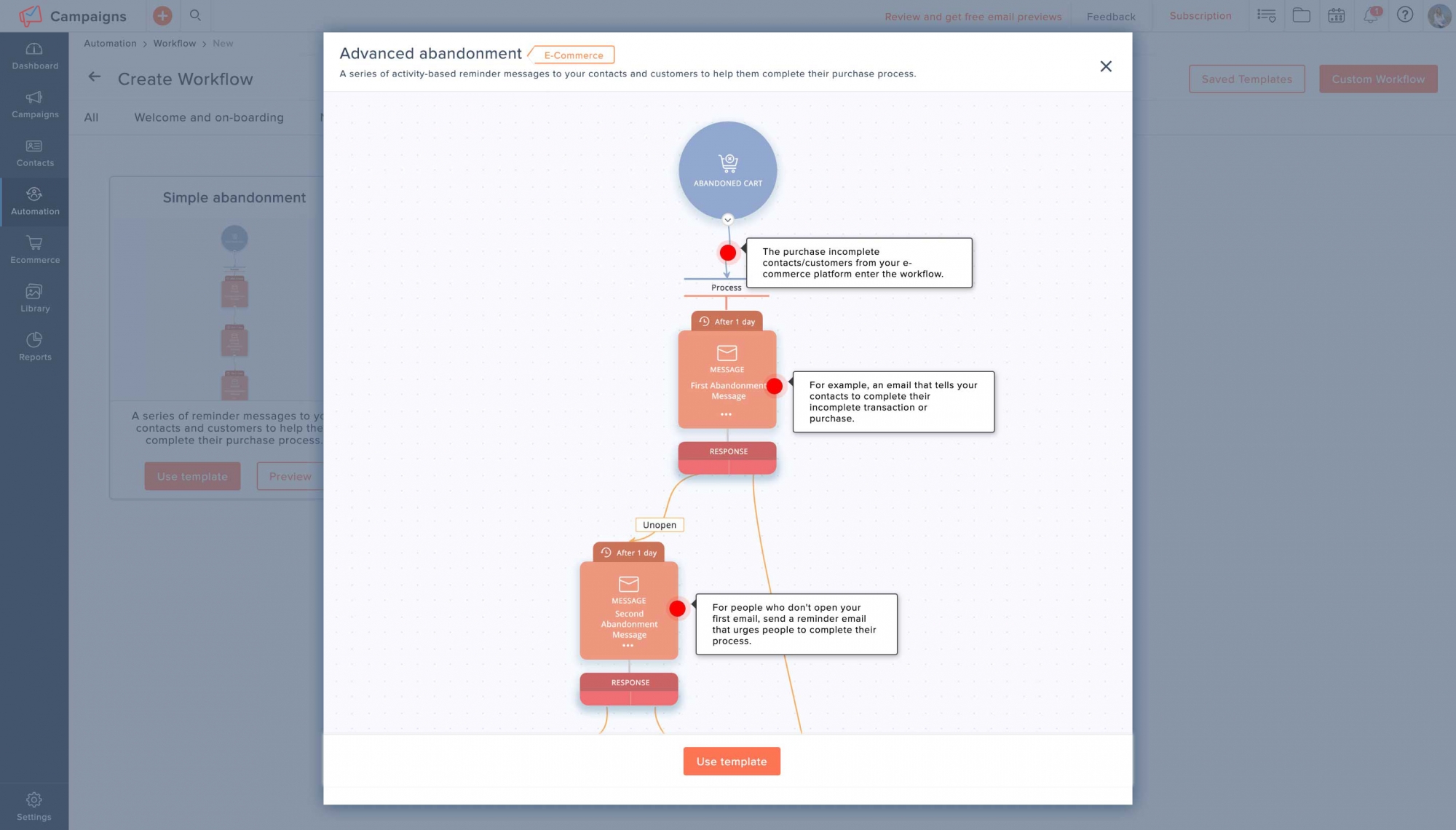 Purchase follow-ups
By integrating your ecommerce store with Zoho Campaigns, you can set up follow-up emails for your contacts that are informed by their previous purchases. Send them relevant products, seasonal sale emails, special coupons, and discounts, and maintain customer relationships by keeping them coming back to you for more.
Cart abandonment follow-ups
The tight integration between the two platforms connects your cart directly with Zoho Campaigns and pulls in your product specifications like name, description, price, image, and more. This helps you automate your cart abandonment emails to your contacts and boost your revenue to a larger scale, especially during the holiday season.
Understand your email marketing strategy's performance
Put your email marketing workflow into action and analyze your strategy's success with regular reports. Get insights about the number of contacts that entered your workflow, and their path and progress in the workflow so you can optimize your engagement better.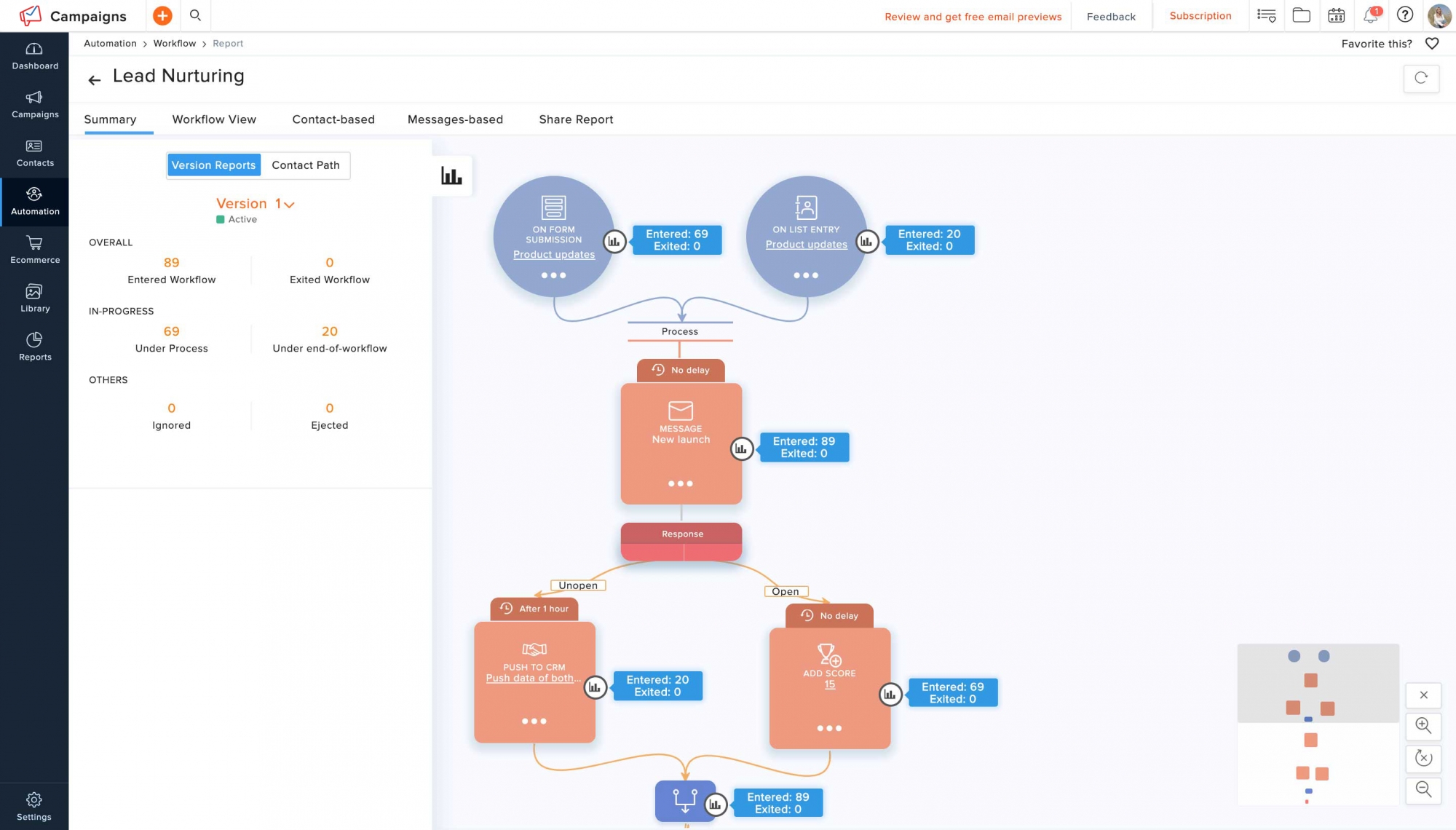 Marketing automation software that delivers results.
Get started
More topics you might like to explore
Icon
Drip email marketing or Drip emails
Whys and hows of automated email series
Learn more
Icon
Email workflows
Seven must-use email workflows for marketers
Learn more
Icon
Webinar email workflows
How to use email workflows for your webinars
Learn more
Icon
Popular email workflows
An expert weighs in on the most-used email workflows