Newsletter templates
Zoho Campaigns' free newsletter templates mean you spend more time creating impressive content while leaving the design to us. If you need more control, our template editor helps you craft a newsletter that can meet your needs perfectly.
Sign up for free
Zoho Campaigns for powerful emails
Be the best content creator
Selecting from an array of simple, eye-catching, and pre-made email newsletter templates lets you spend more time curating content for your templates and less time worrying about the design.
Responsive designs
Cater to the need of your users and their devices with our mobile-optimized templates. This means your designs will adapt to the medium through which they are viewed.
Full control over your newsletter design
Email template builder in Zoho Campaigns will help you edit images the way you want them to be received by your contacts. Create clear, concise and branded newsletter emails by editing these samples from our template gallery. Do all of this without needing to know coding or graphic design.
Extensive range of templates
We have templates for many different business needs and occasions: events, promotions, advertisements, and much more.
How to create an email newsletter
Run email marketing campaigns that deliver better and strong results. Here's a walk through of how you can create email newsletters for long-lasting business relationships.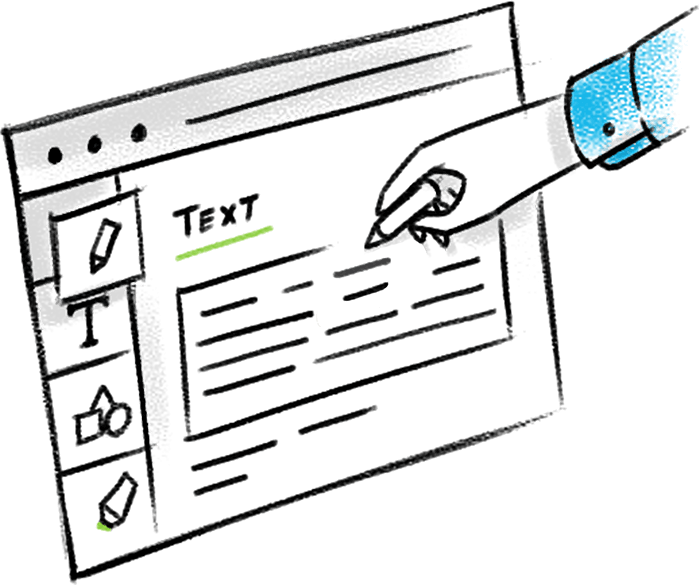 01

Analyze the context

What action do you want your contacts to take once they receive your email? Start creating your email newsletter by first analyzing the main reason you're sending it to this specific set of contacts.

02

Choose a newsletter style

Decide the style you want for your newsletter and choose a template that matches the context of your email. This will guide you in preparing the design and content for your campaign.

03

Assemble your content

Gather your content and drop it in your email newsletter. Sending relevant content to the right contacts is key to nurturing leads and driving sales.

04

Double-check legal compliance

Keep your emails legally compliant to avoid them being added to your contacts' spam folders. Authenticate your domain and follow email laws and regulations to avoid further consequences, not to mention wasted time and effort.

05

Test before you hit send

Send your newsletter to a test email address to check for typos in content or layout errors before emailing it to all your contacts. Preview it on multiple devices to confirm that it's responsive. Also, re-check the sender address and subject name.
Tips for creating the perfect email newsletter
1

Use visuals carefully

Excessive visuals in your email campaigns can confuse contacts about where to focus. When editing email newsletter templates, only tweak areas that really require customization. Your aim is to impress your readers with minimal design and content, not to express all your concepts at once.
2

Goal setting

Make sure your content supports your original goals. Long content and imprudent design can distract from the main topic and might create chaos instead of clarity. Stay focused on your goal while simultaneously informing, educating, and entertaining your contacts.
3

Higher conversions

While email templates with the right content and upgraded design can increase engagement from contacts, using a compelling CTA (call-to-action) button in the right place and with the right link can drive more engagement and conversions.
4

Newsletter content

Generating content for emails can get repetitive. Sometimes you'll need help finding new approaches to concepts you've covered before. This is a scenario where personalization can help you craft newsletter content that is consistently fresh and relevant. Use dynamic content, merge tags and many more to improve the quality of your newsletters so that it doesn't appear to be monotonous.
5

Email consistency

It's a well-known fact that email marketing is not a one-time task to promote your business and brand. You'll have to send multiple emails. Decide the consistency of your newsletters and stick to that plan so you don't overwhelm your contacts.
6

Test and preview

Deliverability and display are two major factors that affect email campaigns. Test and preview your emails before sending them to confirm that there are no mistakes or miscommunications happening between your brand and your contacts.
7

Email reports

Paying attention to your email campaign reports can help you plan future email campaigns. Take note of your open rates, clickthrough rates, bounces, and unsubscribes as you monitor your next set of email newsletters. Understanding them will help you avoid repeating mistakes.
More topics you might like to explore