Company settings
Update organization logo
You can replace the Zoho People logo with your own custom logo. Your company logo will appear at the top of your Zoho People account. Your logo must be the same size as specified. Create your logo in the 80 * 55 size for the best resolution.
Click Setup > Company Settings under Organization Settings.
By default, Zoho People logo will be there. Click Change Logo.

Click Choose Fileand select your own custom logo from your computer.

Click Upload logo.
Organization profile
Your organization profile is the general information about your organization like your organization name, website address, contact person's name and number and the Super-Administrator's email ID. Enter appropriate details in each field.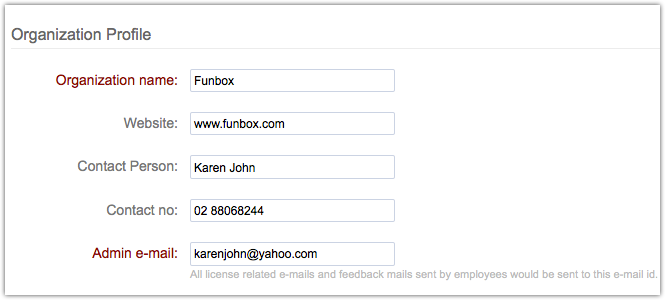 Note:
All license related e-mails and feedback mails sent by employees will be sent to Admin's e-mail ID.
Super administrator
Super administrator is the one who initially sign up for the zoho people account. Super-Admin has complete authority over the organizational account. You can change the Super-Admin of your organization at any point of time.

Note:
Only administrator role users will be listed under the super-administrator field. To know how to change a user's role, click here.
Company address details
Update the postal address of your company where it is located.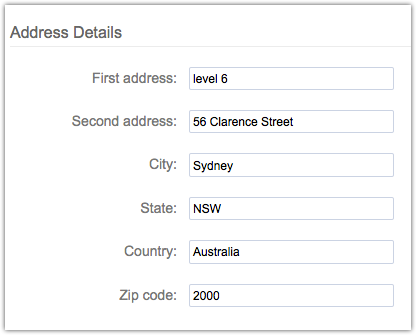 Email settings
Specify the Fromemail address, set the email encoding for the email content and enable the mail alert option to send email notifications in zoho people.

Locale settings
Specify your current location and time zone.

Display settings
Select the display format for name and date in which the user information must be displayed.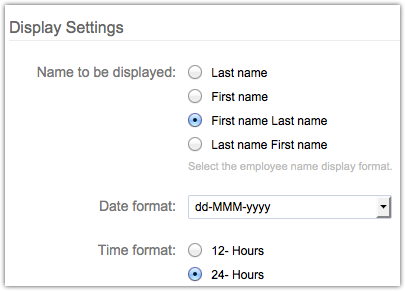 Chat settings
Enable the Chat settings to be able to chat with your organizational employees.
Photo settings
You can either choose the photo uploaded by your employees or uploaded by Admin.