Introduction:
The dashboard in Zoho People comes with various widgets that provides the user with quick access to a lot of important information. Based on the role, the types of widgets that can be used will vary.
List of components available on the dashboard:
Widgets for all users
New Hires list
Web check-in 
Favorites 
Birthday Folks
Wedding Anniversary
Work Anniversary
Department Members
Announcements 
Leave Reports
List of upcoming holidays
Cases (assigned to you or if you are an Agent )
Time logs (How to create time logs)
Timesheets
Pending Jobs
My Pending goals
Pending Tasks
Billable/ Non-Billable
Files (Organization and Employee files) shared with the User

For Reporting Managers/Approvers
In addition to the above list, reporting managers/approvers will also be able to view the list of requests that need approval.
For HR Administrators:
HR administrators will have access to everything listed above and:
Employee Growth
Entry/Exit Report
Hiring and Attrition percentage
Daily Attendance report
Apart from the widgets that you can access, also:
Log time - Click here to know how to log time for jobs
Apply Leave - Click here to know how to apply for leave
Dashboard Customization:
Personalize your dashboard with the widgets you want. Drag and drop, enable and disable, and reorder your widgets. For example, if you want to have web check-in, pending goals, and pending tasks widgets to appear at the top of your dashboard, drag and move them to the top. If you don't want birthday and anniversary widgets, you can disable them.
To customize your dashboard,
Click on the Customize Widgets icon on the top right corner
Go to the respective widget you want to enable or disable

​​

Drag and drop the widgets according to the order you want

 
Organization-wide dashboard
Some organizations prefer to have one common dashboard that will be viewable to all employees while some prefer to provide the flexibility for their employees to customize their own dashboard.
To have a common dashboard configured by the Administrators in the organization,
Go to Settings > Customization > Dashboard Widgets
​

Enable Organization-wide dashboard 
Customize the dashboard that all users will see
Once this option is enabled, the settings will be applied to all users in the organization. It will override existing employees' customizations and they will no longer be able to customize their dashboard.
To have dashboard customization enabled for all employees,
Go to Settings> Customization> Dashboard Widgets
Disable Organization-wide dashboard 
Once this option is disabled, all settings will be reset and employees will be able to customize their dashboard. 
Feeds:
Feeds can be filtered and viewed depending on your need. For example, if you would like to view the feed's post pertaining to HR Cases or Feedback or Jobs alone, you can click on them to see the list of posts that are posted.
To see the messages posted to your department, you can navigate to the 'Department' section of the Feeds and view them.
Click here to learn more about Feeds. 
Announcements:
All the announcements that are posted (Including Sticky announcements) can be viewed by clicking on the 'Announcements'.
Click here to learn more about Announcements.
Groups:
As an administrator, you will be able to view all the groups of your organization here.
To add a group,
Click on the + icon next to 'Groups'
Give a name for the group
Give a description if needed
Enter the group email id
Type in the employee name in the employee search bar and add them either as Members or as Administrators of the group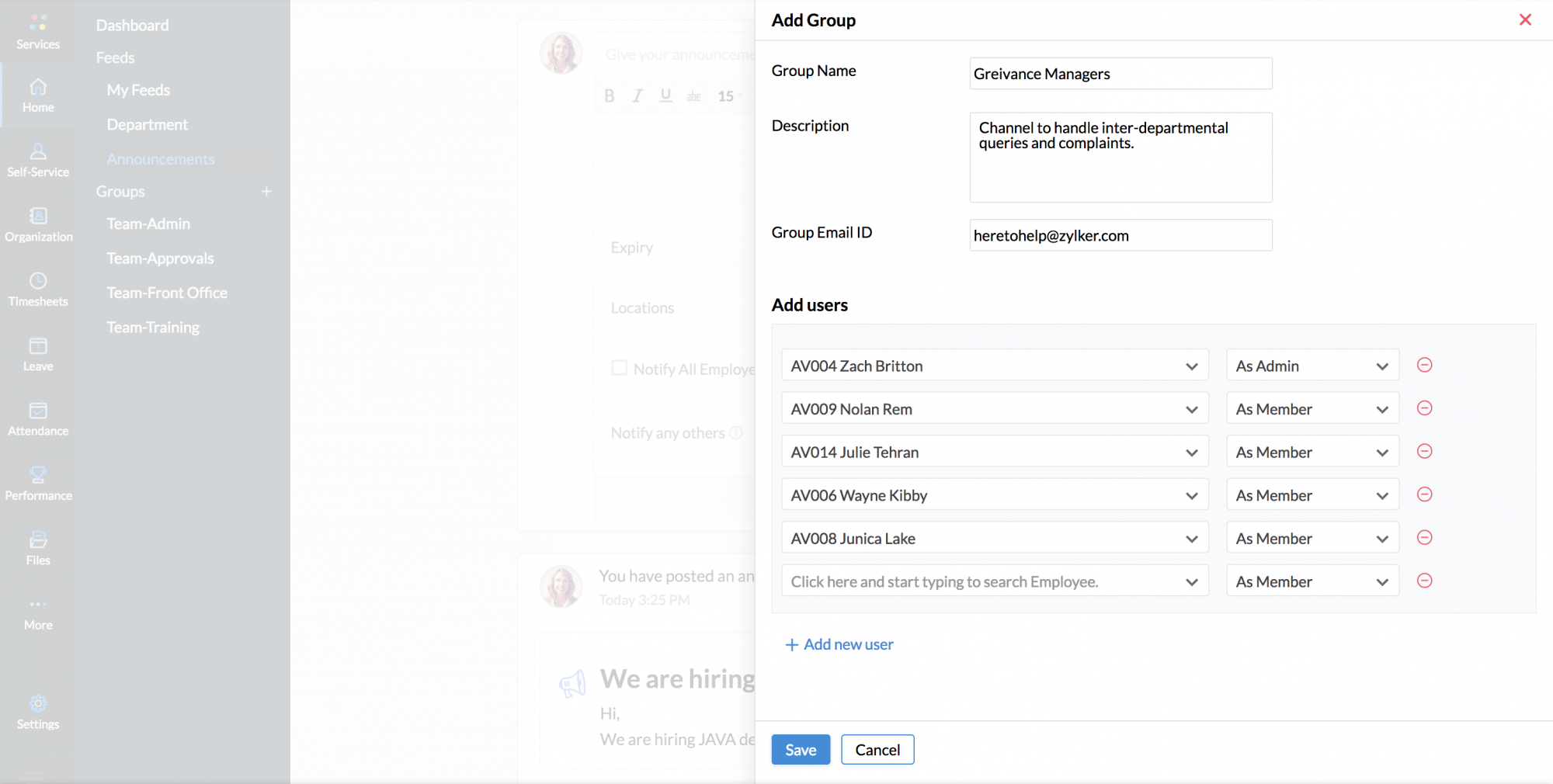 Only the administrator of the group has the permission to add a member to that group.