How CKP Creative improved customer communication and increased its internal metrics and KPIs by 60% using Zoho One.
INDUSTRY

Technology

Key Apps

Zoho One, CRM, Connect, Projects, Desk, Social, Cliq, Learn, SalesIQ, Books, Sign, Workdrive, Analytics, Subscriptions, Flow, TrainerCentral
The Company
CKP Creative is a Brisbane-based digital marketing services provider. Founder and Digital Creative Director Stuart George has over 20 years of experience in the industry. He's also a qualified advisor for the federal government's Digital Solutions - Australian Small Business Advisory Services (DS - ASBAS) program.
A former music and video producer, Stuart and his team help businesses of all sizes connect with their target audiences and create a lasting online presence. Speaking about his business goals, Stuart said he wants to help his clients achieve success on their own terms.
The Challenge
One of the biggest problems CKP Creative has faced was the lack of integration between their online business tools. They had Trello for project management, but were relying on Slack and GMail for communication. "We were trying to manage support requests using Trello. For timesheets we relied on notes on spreadsheets," Stuart said. Having extensive experience working with cloud technology and tools, Stuart knew exactly what he wanted his applications to do, and it became frustrating when they didn't live up to expectations. "We spent more time trying tools than working on our business. It was this constantly iterative testing process. Does this work? No. Does that work? No. Wasted our time to no end."
Because most business processes were scattered across multiple products, management found it hard to oversee progress and manage projects effectively. Their communication system, Slack, presented challenges, mainly because they couldn't track replies and hold people accountable for their messages. Adding to Stuart's frustration, the team was also using Invoice to Go, Agile CRM, and an accounting system—none of which communicated with each other. "It took me a lot of time to go through and copy-paste data from the CRM to the invoicing system, and when it did go through, I wouldn't know. The notifications were poor, and it was completely disconnected," Stuart recollected.
"When you've got siloed software, it's like a [vocal] soloist," Stuart said. "A soloist's job is to shine by themselves, and they shine bright. And they do amazing things. You can almost relate it back to a pianist sitting in a piano bar. They like accompanying themselves. They just play and they get quite grandiose with the way they play. If you put a soloist and a pianist at work in front of a bar or at a restaurant along with a band, they'll just never gel. They'll always remain siloed."
Due to his business experience, Stuart immediately recognised that his team wasn't in sync with their customers. "We were very aware of the barriers and silos between us and our clients," he said. "We were just desperate for a resolution."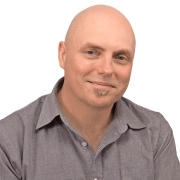 The Solution
"We loved using those tools individually, and as a company that does product and web development, we have the utmost respect for them. But we realised we needed a more complete system." Stuart first heard about Zoho from his business peer, Matthew Cage. When he explained the frustration of having to deal with multiple siloed apps, Cage suggested Zoho One. However, Stuart was early in the evaluation phase and wanted to see what else was out there.
Even though it didn't integrate with his accounting system, Invoice to Go offered data exports in Xero format. So Stuart started evaluating Xero as a possible solution. "I was just about to sign up for Xero, but the cost for what we needed was becoming a big problem." He also had to consider the cost of his other subscriptions, including Agile CRM.
Stuart and his team considered a few Atlassian products, including Asana and Trello, as well as Monday.com. As for CRM, they looked at Freshdesk, Hubspot, and Streak among others. "We went through six different CRMs, and every time, they disappointed" Stuart explained.
At the time, CKP Creative had two employees and as a small business owner, Stuart was feeling the financial burden of investing in multiple software providers. "I was analysing the cost of two licenses in Agile CRM and two in Xero, and I went good grief! It was all in Zoho One! When we looked at Trello, and the amount of plugins people have created just to do the things we can do with a few elements in Zoho One—including Projects—it's an irrational choice to go with anything else."
As a technology enthusiast, Stuart dove head first into the 50+ apps Zoho One placed at his disposal. He received support every step of the way. "The onboarding phone call, the second onboarding call, and then the one-month trial—all that's crucial for any business owner who's got a growth mindset. All the necessary tools and support are there to help. If you do need more help, you can put your hand up and find a Zoho partner. And they will make it really easy as well."
CKP Creative has implemented over 15 Zoho products, including Zoho CRM, Zoho Projects, Zoho Cliq, Zoho Books, Zoho Social, Zoho Connect, Zoho Learn, Zoho Desk, and Zoho SalesIQ.
One of the biggest long-term challenges for CKP Creative was their split invoicing system. The company generates multiple invoices through various stages of each project they take on. This way, clients can see the progress made on their project in real time before they make payments. "We often break projects into chunks," Stuart explained. "We'll have a 40% kickoff and then a 20% payment as the project moves forward."
Though many accounting systems accommodated split invoicing, CKP Creative often found their clients wanted one consolidated invoice for their project. That way, they could easily track payments and record expenses. However, this type of invoice caused issues with CKP Creative's records. "It becomes complex because we'll have an invoice and payments made to it, but this invoice is also related to an ongoing project," Stuart said. They couldn't separate completed and ongoing projects because a completed invoice's status wouldn't match its project's progress. "Things get lost. That'll cause bookkeeping errors and you could easily start to pay too much GST. It'll become a nightmare," he added.
Zoho Books proved to be an ideal solution. Stuart customised the retainer so that when a client receives a project estimate from CKP Creative, it includes full details of the invoicing process. They've also integrated online wallets like Stripe and GoCardless to make it easier for their clients to choose between paying by card, bank transfer, or another payment platform. At the bottom of the retainer, the team has added a clear message explaining that the client will incur a kickoff payment. "So at the bottom of that estimate I add in, 'On approval, this will generate a 40% retainer.' When our clients click approve the retainer comes through automatically. And there's an individual invoice generated on that estimate as well. We don't have to chase people. The payment just comes through," Stuart remarked. As the company grows, they plan to integrate Zoho Sign with this process to keep all their tools centralised.
This system has worked well for CKP Creative. Because Zoho apps are so tightly integrated, when Stuart encountered a recent invoicing issue, he got it sorted immediately. "I started a Zoho Cliq channel from Books in just 3 clicks, and then proceeded to make a phone call to my CFO. I'd just begun explaining my concern when I got a message on Cliq—his team had already fixed the problem!" This saved CKP Creative the time and effort if would have otherwise taken to resolve a problem. "In a traditional workflow, with a phone call, email, and Xero for example, this type of concern would take half a day to rectify. Instead, with the fast fix, I could send the requested report via the Zoho Books client portal and keep moving forward. It just blows my mind the amount of time we save because of the integrated fluid motion of Zoho One."
Like many small businesses, CKP Creative has a part-time admin, Joanne, to help with daily operations. Under the company's current setup, Joanne can update details and statuses of ongoing projects, respond to customer tickets, and still constantly communicate with the management team using the Zoho Cliq functionality built into Projects and Desk. "We're constantly communicating back and forth via Cliq, and Cliq being integrated into Projects—that's brilliant. And of course, Desk is integrated with Projects, and everything's just singing," Stuart said, smiling at the reference to his musical roots.
From Google Drive, Dropbox, and OneDrive, CKP Creative transitioned over to Zoho WorkDrive. "The entire company has migrated straight over to WorkDrive and it was just a seamless experience. We don't have to use We Transfer to transfer these large files anymore!" Stuart said.
The team also has Zoho SalesIQ enabled on their website, so whenever a potential customer lingers on a form, possibly undecided, Stuart's chat bot will pop up and offer help. "I can dive in and say, 'Hey, I just noticed that you're spending a long time on the form. Let's book a time tomorrow so that I can walk it through with you.'" This visitor information is also fed into Zoho Analytics, where CKP Creative tracks most of their daily operational figures.
Zoho Social also plays a crucial part in CKP Creative's everyday operations. Having tried multiple social media management tools, Stuart found that they didn't satisfactorily allow him to tailor the creatives and messages to individual platforms. As a custom designs and branding service provider, CKP Creative uses Zoho Social not only to schedule posts in advance, but also to modify messages as they see fit. Speaking of his favourite use case for Zoho Social, Stuart explained, "When we know that a project we worked on is up for launch, we create a custom-branded post to celebrate the launch, or a lovely testimonial from our customer. It's all on autopilot and we can be awesome on autopilot!"
"We're seeing a lot of cybercrime nowadays, and people's websites getting hacked," Stuart said as he explained how CKP Creative uses Zoho Subscriptions. As part of their website monitoring service, the company offers antispam solutions. When a customer subscribes to this service, a project is automatically created and an email is triggered to team members. Task details are updated in Projects and customer information in CRM. Once they've reviewed the details of the project, they send an email template to the customer from Zoho CRM, requesting access to their website and any further information the team needs to set up antispam solutions. "It's all integrated, and when we get the information, we can protect somebody's website and keep intruders out," Stuart told Zoho. "Rather than it being a phone call or text that'll get lost, we can put all comms through our systems and solve the problem straightaway. It's an exciting evolution for us to be able to offer this service and that's only possible because of Subscriptions. It's just brilliant!"
Following the success of their subscription service, CKP Creative recently launched a new custom, done-for-you bio link page service, called LinkLink. Bio links are used for social media pages, digital business cards, and more. As Stuart put it, "All the regular updates, the support for LinkLink, and its website maintenance is maintained beautifully in Zoho Desk. We keep track of requests and monitor and measure our efficiency—its been a total game changer for us!"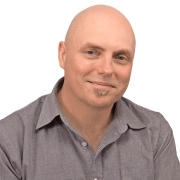 Stuart explained that he needed vantage-point access to what's going on in the organisation without having to open up the details on Zoho Projects every time. When he discovered Zoho Connect, he created a Kanban report that pulls progress data from Zoho Projects. "As part of the C suite, having those different views inside Connect is brilliant. I now have a high-level view of what's going on without being bogged down by too much data," he said. He also uses Zoho Connect as a personal task board, and because his accountant is part of his Zoho One system, they regularly organise CFO to CEO discussions to analyse progress and discuss improvements they need to make, checklists, and task assignments. "It's enabled us to rapidly move through projects that would've involved phone calls, meetings, online meetings, and so on. We can now solve these problems quickly because it's all right there."
With Zoho Flow, CKP Creative has automated and integrate workflows with and around Zoho Desk. The CKP Creative team found clients would often forget to reply back with further information or a confirmation of the issues they're facing. To rectify this communication gap, the team has set up a flow that triggers an automated reminder to clients who've previously raised support tickets. "People would forget and then assume we've forgotten about them. Zoho Flow has been pivotal for our ongoing success in our customer service. That's why we love Flow."
Apart from these core apps, CKP uses TrainerCentral, a Zoho Corp. offering outside the Zoho One bundle. Stuart added that CKP Creative acquired a government project based on TrainerCentral's ability to offer effective remote training across the country. "TrainerCentral blitzed the competition on features and benefits!"
As an advisor for the ASBAS program, Stuart has insight into technology gaps in the market that small businesses often struggle to fill. "I'm absolutely blown away by Trainer Central. It's the next evolution of what we're doing," he remarked. He conducts workshops and webinars for his clients as well as users in his various business groups through Trainer Central.
Benefits and ROI
The biggest benefit CKP Creative has experienced since implementing Zoho One is drastic improvement in communication with clients. Naturally, this has translated to improved customer retention. "We can now communicate more effectively with our clients and track our time within the company. The entire company has improved its internal metrics and KPIs by about 60%," Stuart said.
With Zoho One, Stuart could clearly define the various points of contact in the sales process, and refine them to be more effective. He can now scan leads through his phone and automatically transfer those details into Zoho CRM, becoming more efficient and increasing sales by 40%.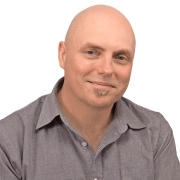 CKP Creative is also benefiting from their extensive integrations with Zoho One products. With Zoho WorkDrive, the team now takes less than a day to collect details from their clients, work on a project, and send it back for the client's feedback. According to Stuart, before Zoho, such a process would've taken them up to five business days of back-and-forth discussion. "That process would've scuttled us, caused frustration," Stuart explained. "Every time a client gets frustrated, an angel dies. Every time a client gets frustrated their expectations and fear about the completion of the project rises."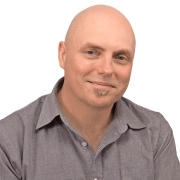 The team also uses Zoho Assist to support their clients better. When a customer was distressed over their business setup, Stuart was able to remotely (and successfully!) address the customer's questions. "By using Assist to show her how to solve the issue, I turned somebody that was frustrated into somebody that was delighted in 15 minutes." Stuart added that Zoho's tools helped the company understand their customers' needs and concerns better. "We even use Zoho Assist with our mobile-only clients when they get stuck. It's safe, simple, and effective to guide a client to a sign-up process using Assist—our clients think it's magic."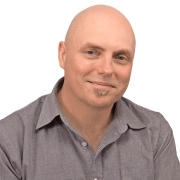 Since starting to use Zoho One, CKP Creative has quadrupled in size, and employee onboarding has been seamless thanks to the comprehensive educational and training material the team has hosted on Zoho Learn and Connect.
Stuart loves the harmony that Zoho One brings to his business, and that it has allowed him to conduct chaotic noise into an orchestra. "Without Zoho, so many of our processes would grind to a halt. We wouldn't be able to communicate effectively. We wouldn't be able to project manage effectively. And we wouldn't be able to achieve our projected business growth."
Looking forward
CKP Creative's future with Zoho is all about maximising their use of all the apps at their disposal. "We're planning to take our business to the next level with the detailed reporting we can capture from Zoho Analytics."
Stuart is also keen to explore how they can use Zoho Connect to establish a comprehensive knowledge base for employees, so they can easily find answers to any questions. "We're now breaking down our documents into Connect, to increase our knowledge base so our team can quickly search and find things without interrupting our lead developer," he said. He's also considering the possibility of using Zoho Connect's Town Hall feature as a meeting point for team discussions.
"We're stepping up our automation with a combination of Qntrl and blueprint," Stuart said as he spoke of further automation plans for the business. Add Zoho Creator into the mix, and they'll have a comprehensive automation engine. "Zoho Creator's sitting in front of us and it's going to solve so many problems," Stuart said, speaking of his plans to use Creator to automate more of his workflows and build new solutions to serve both his and his clients' businesses. "The fact that things can be built really quickly is great. And with rapid prototyping, we can start using them right away. It's brilliant. Creator is absolutely what wakes me up in the morning with the possibilities it presents. I'm really excited!"
Apart from these apps, Stuart is also exploring how he can use Zoho Contracts, Zoho Backstage, Zoho Events, Zoho Survey, Zoho Checkout, and also Zoho Bookings to replace his current Calendly system.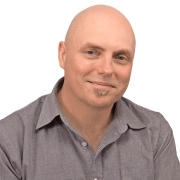 Stuart and his team started using Zoho One in September 2019. "Just as soon as we moved to Zoho One, everything was there," noted Stuart. "We rapidly started using everything, and then found out about the Zoho Users Group in early 2020." Since then, Stuart George has been an active advocate for Zoho, both within the users group and his network. Thanks for your continued support, Stuart!