Appointment scheduling for any industry
Professional services
Education
Personal care
Home services
Healthcare
Fitness
Real estate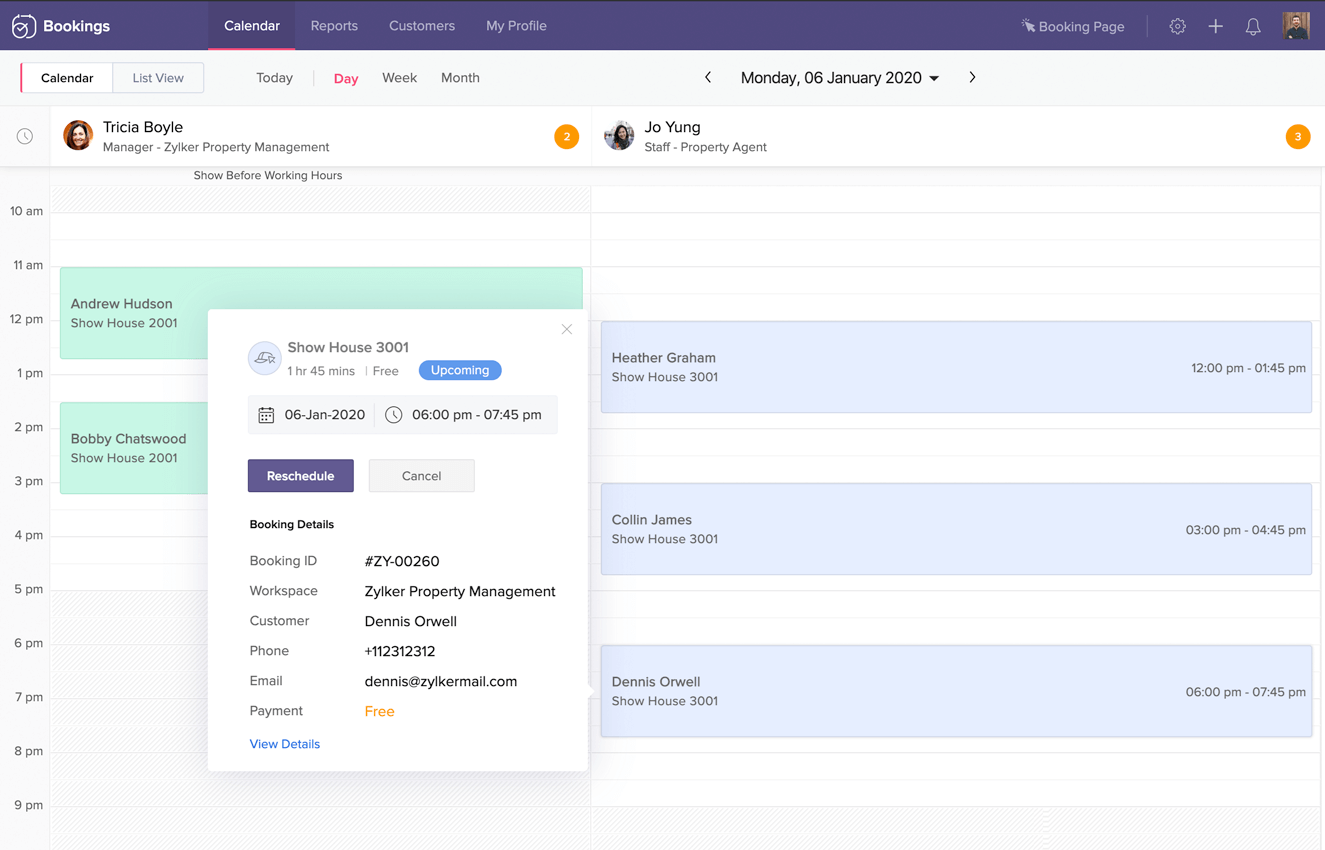 Showcase your offerings
Service booking
Set up booking calendars for online and offline services you offer, and manage them on the web or on the go.
Class registration
Whether you offer online or offline courses, add them to your system and start collecting registrations.
Asset rentals
Maintain a database of resources available for rent, and let people browse before booking.
Keep your calendars in sync
Zoho Bookings integrates with popular schedulers—sync your appointments, calls, and meetings, and be sure you're never double booked.
Stripe

Twilio

Office 365

Paypal

Zoho Bookings

Zoho CRM

Zapier

Zoho Meeting

Google Calendar
"I used the Bookings subscription to take my language school online. It works great and my students (or their parents) love the flexibility it provides. I am also super impressed with the system. It has got me thinking about how I run my business in the future. Mostly though, I would just like to say thank you to the Zoho team. You've basically kept me in business."
Paul EvansOwner Englishpool, Tokyo, Japan.
"The product/service we sell typically requires a conversation with our new contacts. Adding this app to our website has saved a lot of time previously spent returning calls and emails to schedule these consultations. Now they simply show up on our calendar without lifting a finger. The Bookings App has played an important part in streamlining the sales process for our company."
Peter MoonPresident & Principal Engineer, O2 Compost, Washington, USA.
"Zoho Bookings has been a godsend for my business, not only is the rate competitive. It works well with my word press site, integrates with my zoho invoices and google calendar, takes payments and offers me the full functionality of text message reminders too. Best of all, the after sale service has been impeccable, with prompt responses to issues and consultations as I have required."
George Director, MEGAWOG and Echelon Mowing, Brisbane, Australia.