Application review and listing
Before listing, an application undergoes a complete review to ensure the integrity, validity, and functionality of the application.
Stages of review
Technical review to check the code
Functionality review to test the functioning and performance
Security review to ensure the application complies with Zoho's standards
Content review to ensure the application conforms to the description provided and adheres to the Zoho Marketplace listing content guide.
Tracking an application's review status
Visit the Zoho Marketplace home page.
Click on the Profile icon, navigate to the Partner Console in the dropdown menu, and select Apps to view all the submitted apps.
To check the review status of an application, click on that application to view a detailed review flow outlining the status.
The Inbox of your Partner Console displays all your messages and conversations with the admins. Any messages from the admins about the app review or approval will be in your inbox.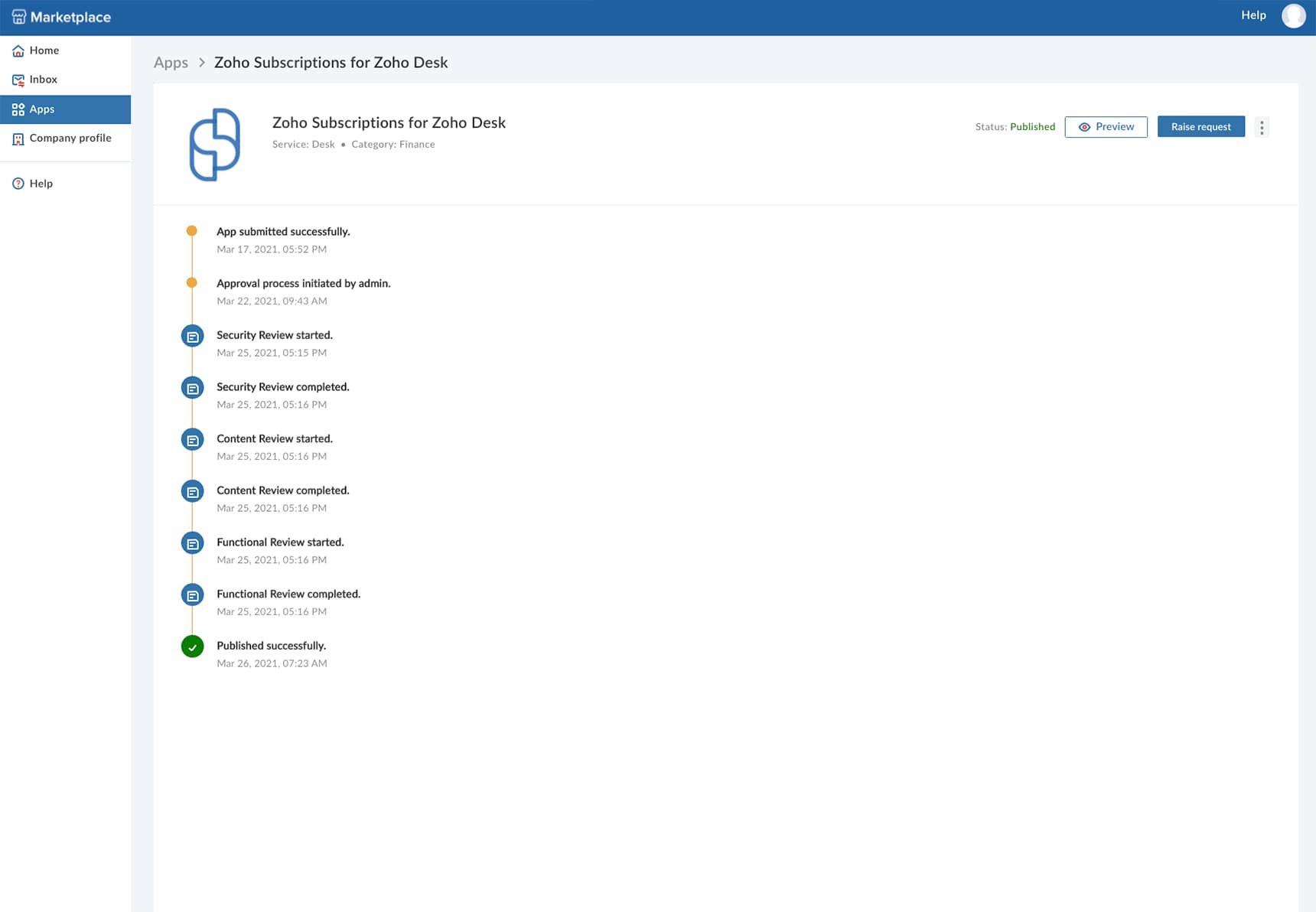 Listing an application
An application will be listed on Marketplace only if it meets the following criteria:
The application must work exactly as described.
The application must not degrade the performance of the system it is installed on.
The application must be compliant with the OWASP protocol.
The application must not illegally access or transfer data from a Zoho account it is installed in. All data transfers during and after installation must be explicitly mentioned in the description and may only occur with the user's authorization.
Proper documentation must be provided to guide the user through installation, setup, and the benefits of using your application. This documentation can be in any format, including text, videos, or slide decks and it must be hosted by you.
The application listing page must not advertise any apps, products, or services.
If the application allows integration with a third-party service which requires a separate account (whether free or paid), it must be clearly outlined in the application's listing page.
After vetting, your application will be listed on the Marketplace. This process usually takes around two weeks. However, if application you've submitted does not meet the above criteria, you will receive an email with a detailed report outlining the reasons and changes to be made. Once the necessary changes are made, the application can be resubmitted.
If you have questions about the process or need clarification, you can send an email to approval@zohomarketplace.com.