What is issue tracking software?
An issue tracking system is any software application that allows you to record and follow the progress of every customer ticket or "issue" in your inbox until the problem is resolved.
Take a free trial
How does it help you?
The issue tracking cycle begins when the customer tells your company about their questions, and ends when the customer leaves feedback on the support they received. An effective issue tracking software ensures that this process goes smoothly, stays error-free, and makes customer service easy for everyone involved.
What should you look for in an issue tracking system?
By choosing a help desk that will suit the following criteria:
A multichannel ticketing software collects all support tickets from different channels and organizes them in one tab. This helps agents reply to all of them from the same tab. These channels include: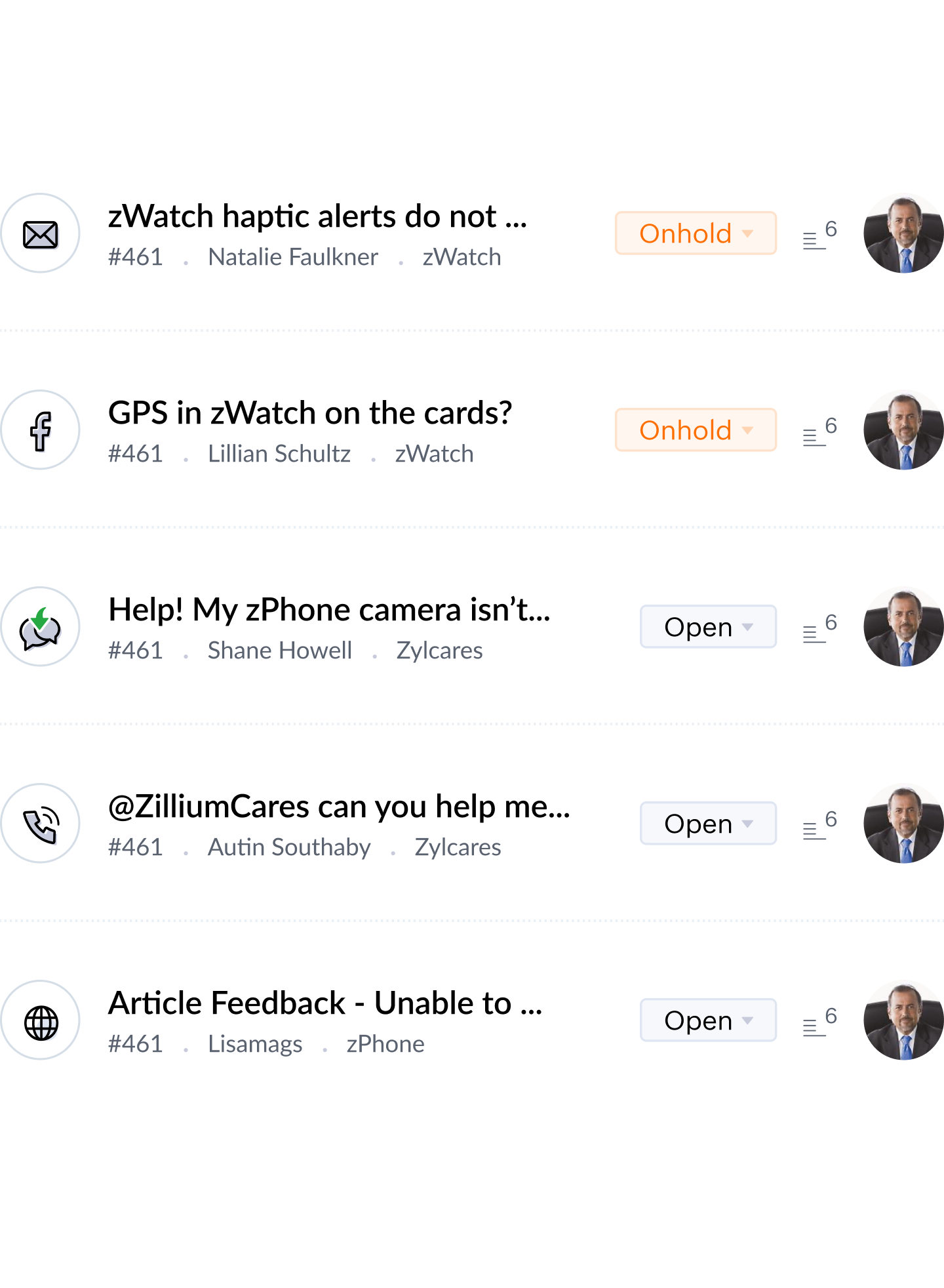 Email: You can respond to customers better when you have all your emails in one easy-to-manage place. This is essential when you have several email addresses.
Social media: You can now manage your customer's Facebook and Twitter interactions with your company from one tab. You can reply to tweets and posts from your help desk and set keyword alerts. Learn more.
Live chat: Chat with customers to understand their concerns better, and give them instant, personalized help. If the issue needs more attention or seems time-consuming, your issue tracking software converts chats into tickets in one click.
Telephony: Effective ticketing tools allow you to receive and make phone calls from the help desk with cloud telephony. Log and monitor these calls, and convert them into tickets or associate them with existing ones. Learn more.
Web form: Embed a customizable web-form widget on your website that will help your customers fill out a form with the details you need and submit their questions as tickets.
 

Advanced process automation

Integrations

Automations

Feedback loop

Analytics and insights
Advanced process automation
When teams work together to fix customer issues, bottlenecks and miscommunication can delay your customer service. With advanced process automation, you can set up all your internal processes in your help desk, implement them automatically, and instantly spot bottlenecks that are causing delays.
Integrations
By integrating your issue tracking software with a project management app like Jira, your customer service agents can file bugs, feature requests, and improvements from inside any ticket within the help desk. This shows them the status of the issue as the engineering team updates it, and so they can keep the customer informed.
Automations
An issue tracking system comes with smart automations that can ensure diligent use of your manpower. Automatic ticket tagging and sorting helps your agents save time on routine tasks and spend more time on things that really need their attention. Automatic assignment rules, tasks, and SLAs helps your managers ensure work stays on track.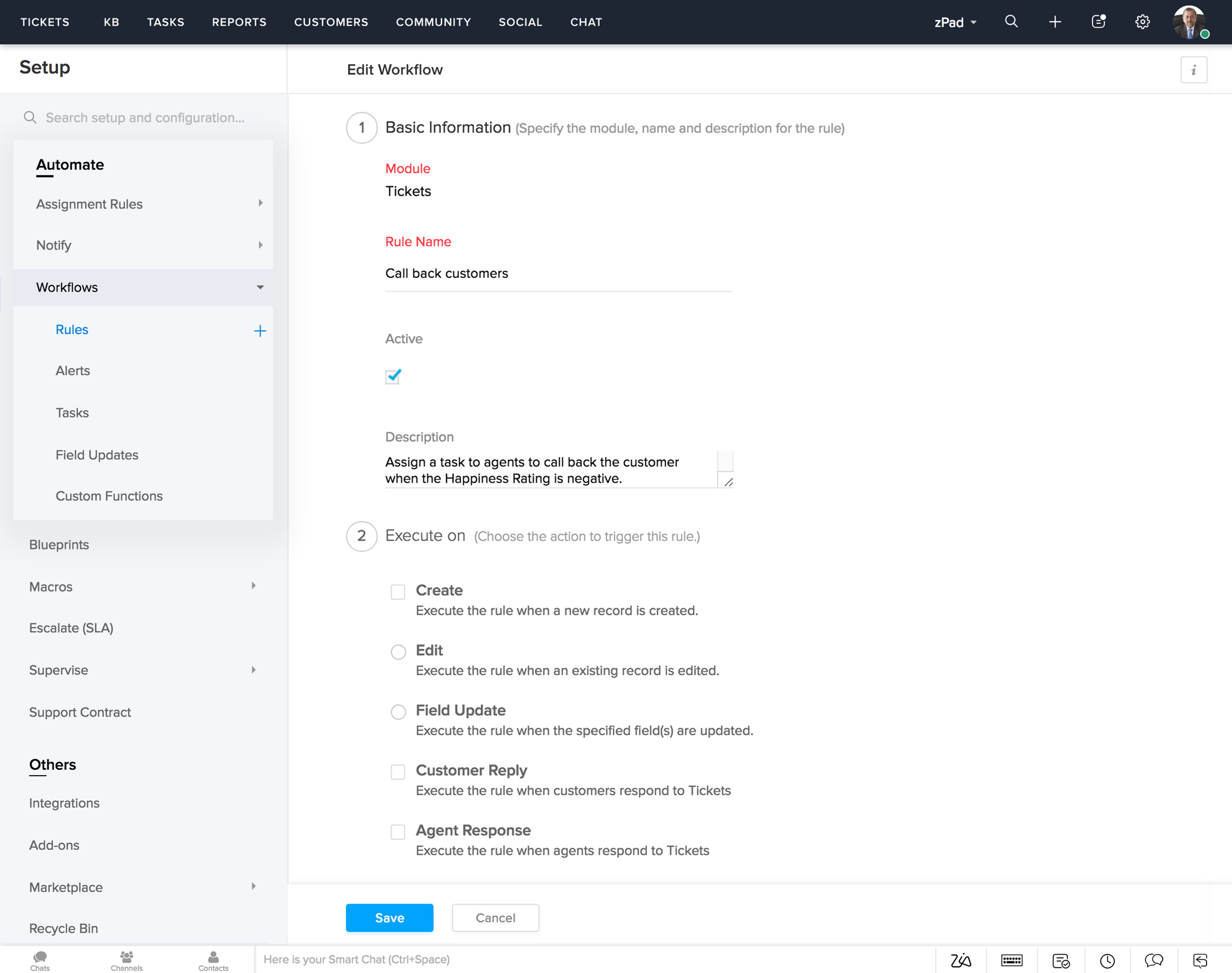 Feedback loop
Once the issue has been fixed, with the help of a ticket management system, agents can ask for the customer's feedback about the service received. This helps agents understand which areas they're strong in and which ones they need to improve.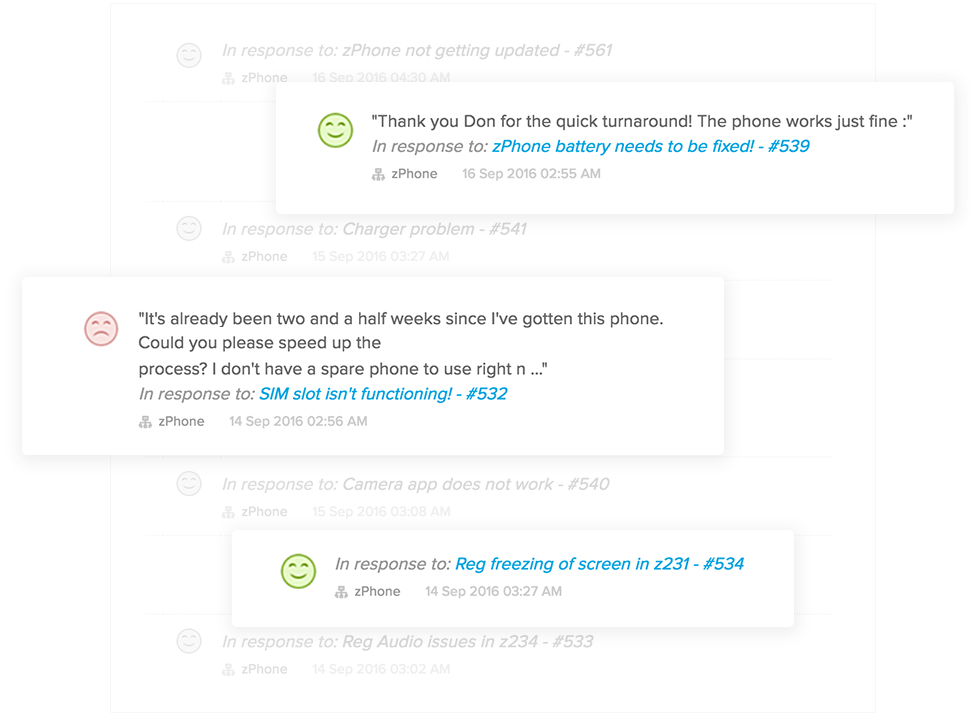 Analytics and insights
With customizable dashboards and reports, the issue tracking system allows you to schedule reports to your inbox on a regular basis, so you can keep track of every function, review the data, and make the right decisions at the right time.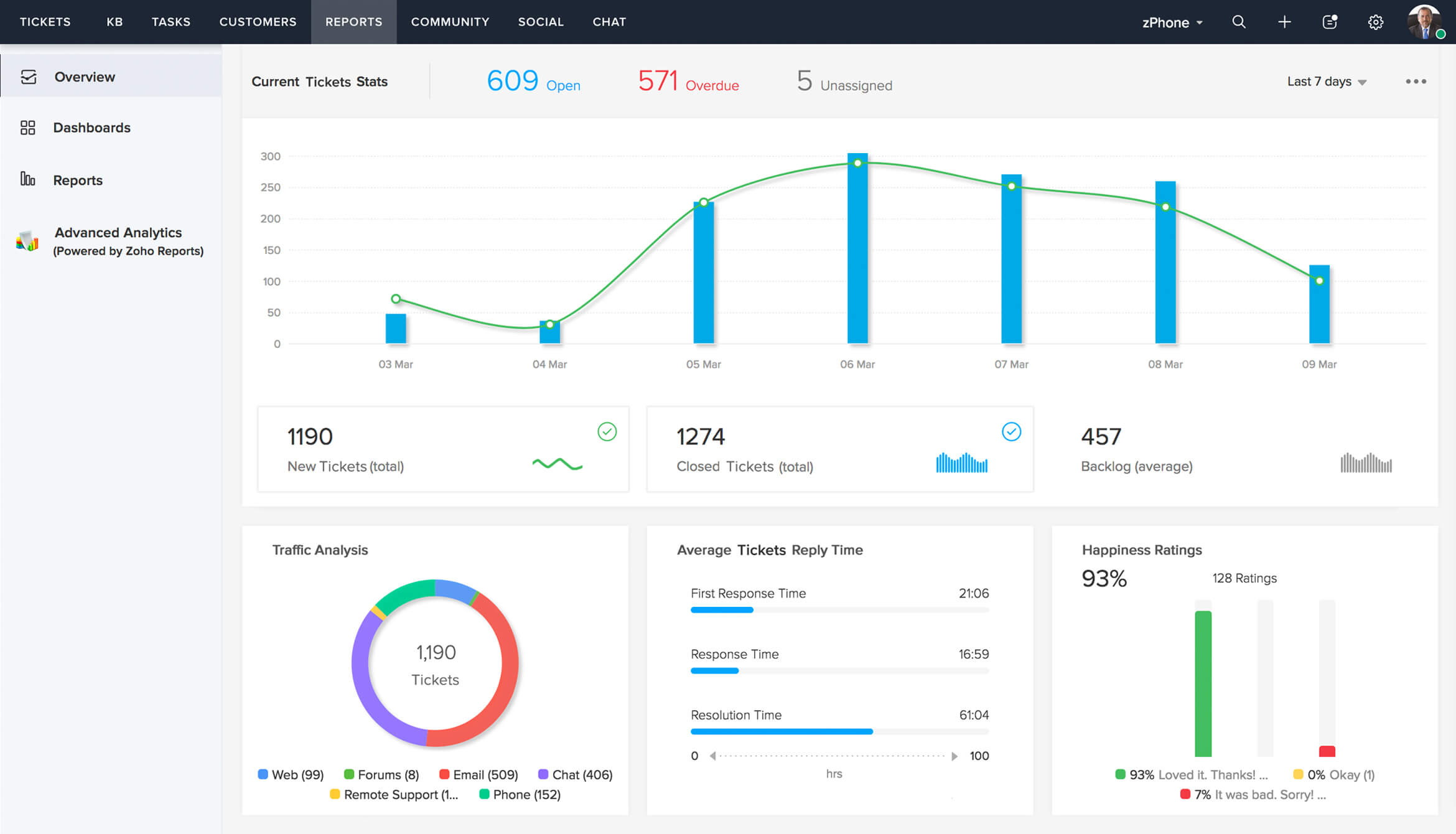 Apart from these, each ticketing system caters to a wide range of organizations, big or small. You can choose the plan that suits your needs best.
 

For small businesses
For enterprises
For small businesses
issue tracking software can help make better use of limited resources.
Self-service
Every customer needs instant and accurate answers. This can be made possible without an agent behind every answer. A ticket management tool allows you to set up your own Knowledge Base, with FAQs, How-to articles, and more. This way, your agents can focus on tickets that really need their attention.
Mobile App
Sometimes human interaction cannot be replaced. However, that doesn't mean being tied to your desk 24x7. Help desk software apps let you perform most tracking issue functions on your mobile phone, so you can help your customers outside of the office.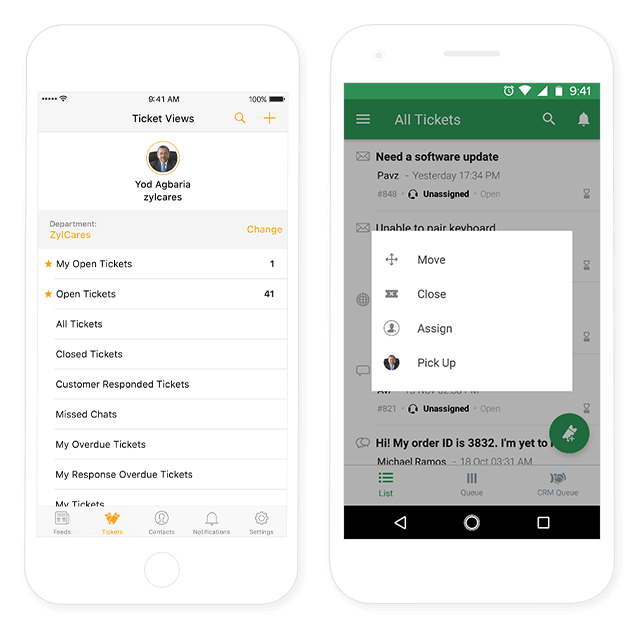 For enterprises
issue tracking system can help keep track of all support efforts and identify bottlenecks at the right time.
Team collaboration
When your support team needs to interact with multiple teams like engineering, sales, and marketing, there tends to be a lot of data and even more confusion. With a best issue tracking software, you can ensure all team conversations are streamlined through a team feed where your teams can see everything, or through team chats where conversations are private and organized.
Artificial Intelligence
With intuitive chat bots and Artificial Intelligence, ticket management gets much easier. AI learns from the data you feed it, and in turn, answers customers, notifies managers when there are anomalies in the daily ticket traffic stats, and analyzes the customer sentiment in every ticket.
Community
Build and maintain your large customer base by giving your customers a platform to discuss their questions and ideas with each other. Multibrand help centers enable you to set up separate Communities and KBs for each of your brands. You can post company announcements and AMAs in the forums and keep your customers engaged.
Flexibility
The right issue tracking software is the one that you can customize completely to match the look and feel of each of your brands. Along with customization, it comes with flexibility—it integrates seamlessly with the third-party apps that you presently use to ensure your company can work without juggling between various app interfaces.
What if you end up not liking the help desk tool after you buy it?
There are a lot of options to choose from when it comes to issue tracking software. Almost all of them come with a free trial period or an open source version, including Zoho Desk, one of the industry's leading free issue tracking software solutions. You can evaluate and compare Zoho Desk with its contemporaries, take a look at pricing plans, and arrive at a decision yourself. It definitely is worth the effort.