Introducing WorkDrive for individuals: your personal cloud storage space
Last Updated: January 10, 2022
1.7K Views
5 Min Read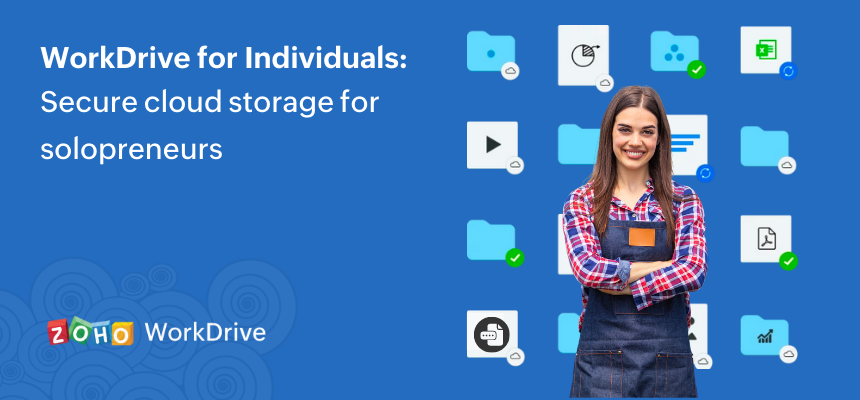 Organizing microbusiness data is equally important as managing enterprise-level information. Like any business today, every freelancer or solopreneur uses multiple applications and produces a considerable amount of data.
Whether you are a teacher, consultant, or small business owner, it's crucial to have constant and secure access to your data and to be able to share it quickly and safely.
Most people find it hard to manage all their information across their various devices and platforms. Many still rely on email to exchange files or opt for hard drives to store sensitive data, but these methods are inefficient and even risky. This is where cloud-based storage solutions come in. They help you store and manage all your data in one place, and access is as easy as having the right credentials and an internet connection.
Introducing WorkDrive for individuals - a secure online file storage solution specially designed for independent users. WorkDrive provides better accessibility, scalability, and security compared to traditional storage devices. Centralize your content and work more efficiently with WorkDrive.
What do you get with WorkDrive's individual plan
Easily add files to your personal cloud
There are three ways you can add files to your personal WorkDrive account.
1. Create files with our built-in Zoho office suite
WorkDrive offers a built-in office suite: Writer, Sheet, and Show help you create documents, spreadsheets, and presentations online. You can create, store, access, and collaborate on them effortlessly from anywhere, at any time.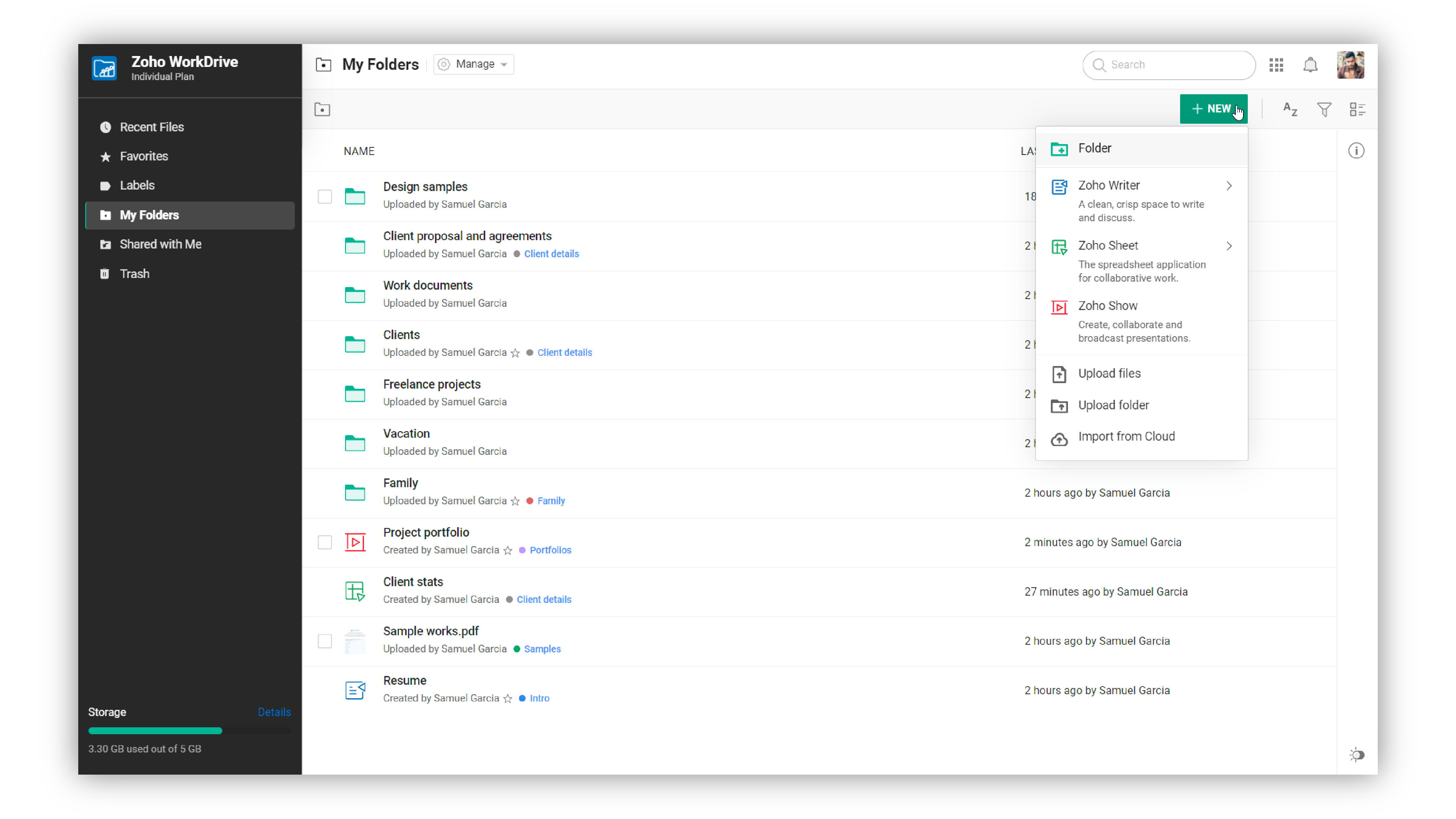 2. Upload files from your desktop
Simply drag and drop files from your computer to upload them to your WorkDrive account. Upload files in different formats and convert them to Zoho format (i.e., Writer, Sheet, or Show) for editing.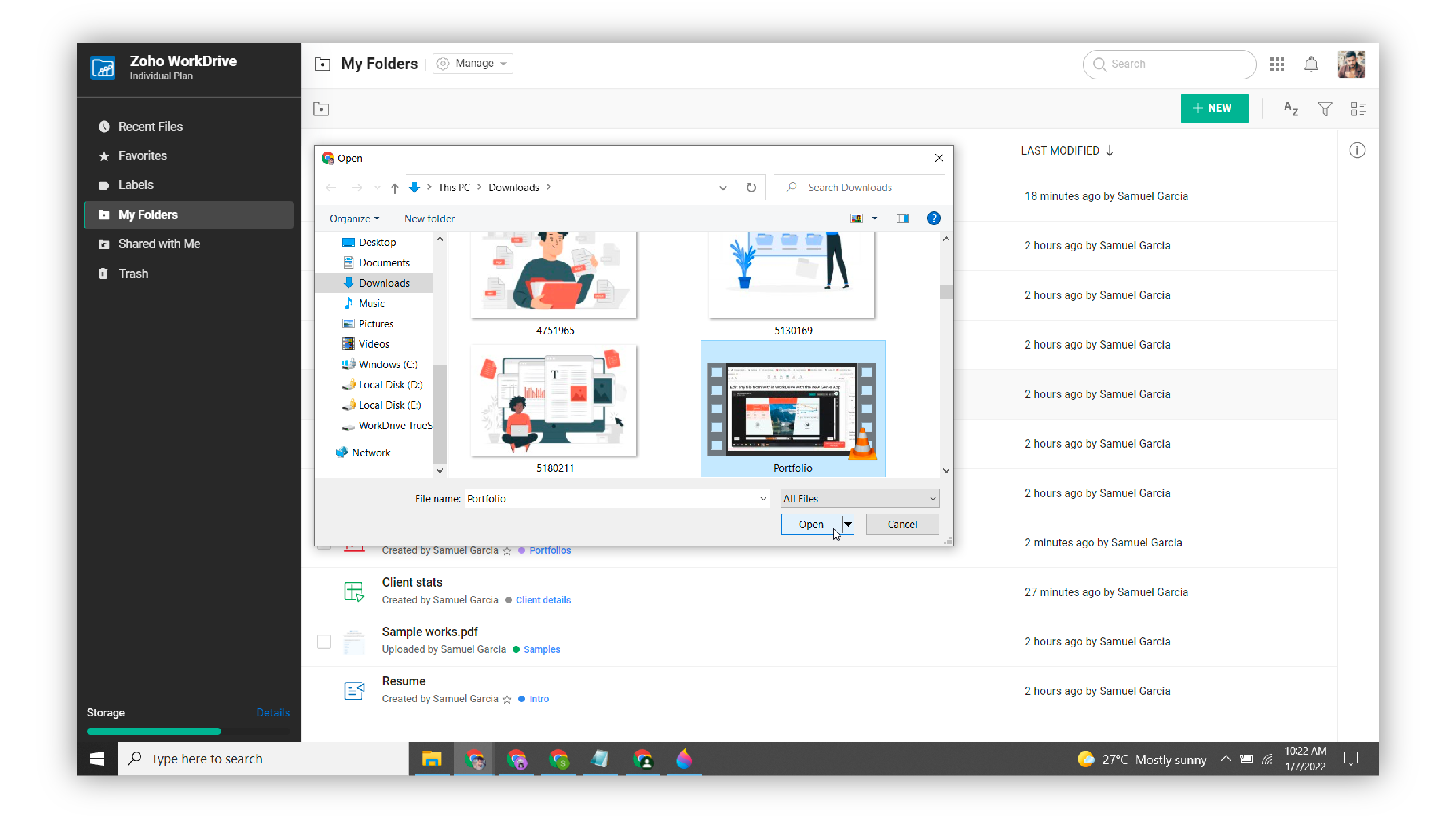 3. Import from other cloud services
Easily import files from other cloud storage services to your WorkDrive account. You can import from Google Drive, Box, Dropbox, OneDrive, and Evernote.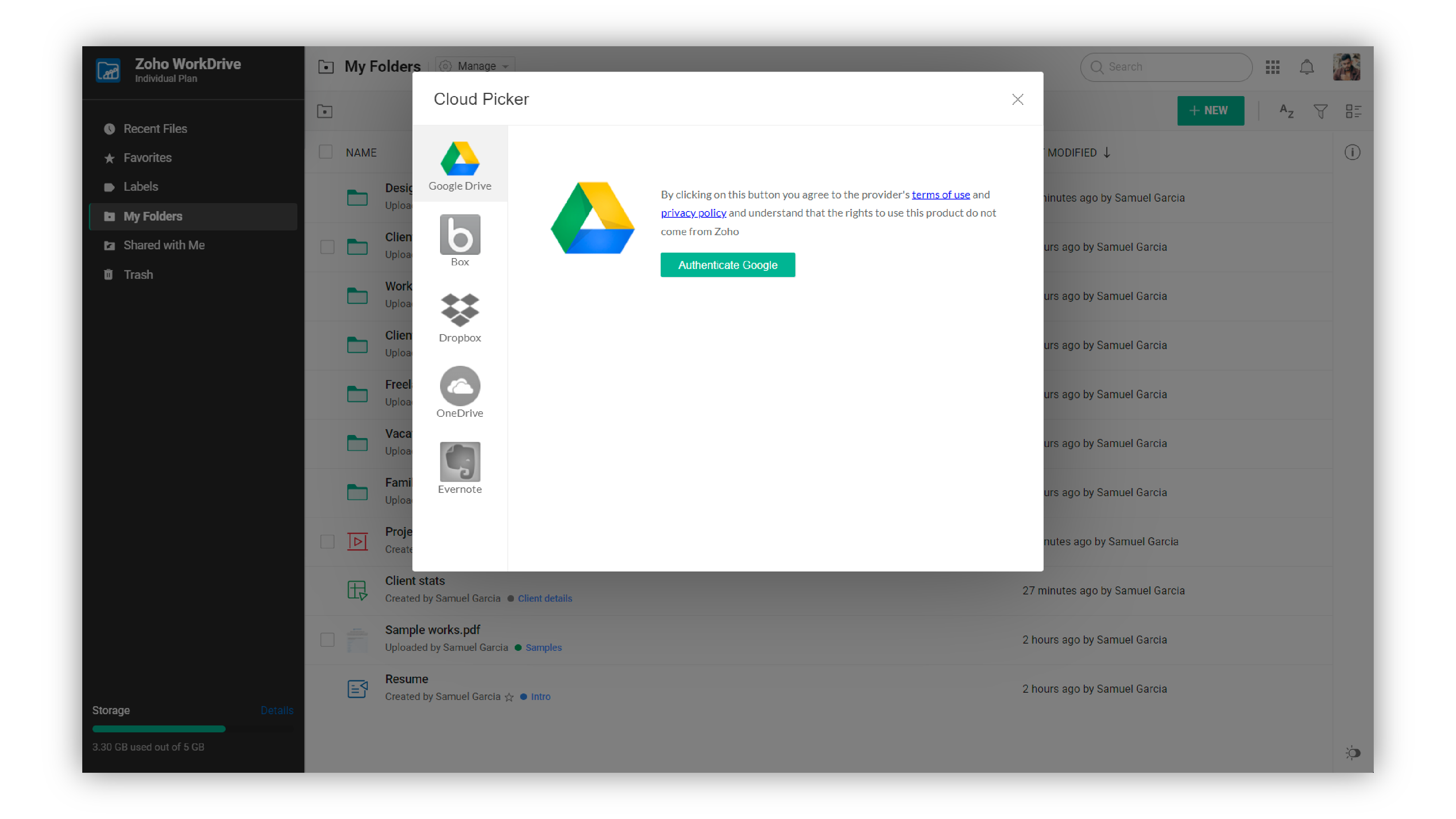 Preview files without any limit
The preview function allows you to view the contents of a document without actually downloading it to your desktop. WorkDrive supports preview for 220 different file formats, including images, videos, PDFs, and developer files.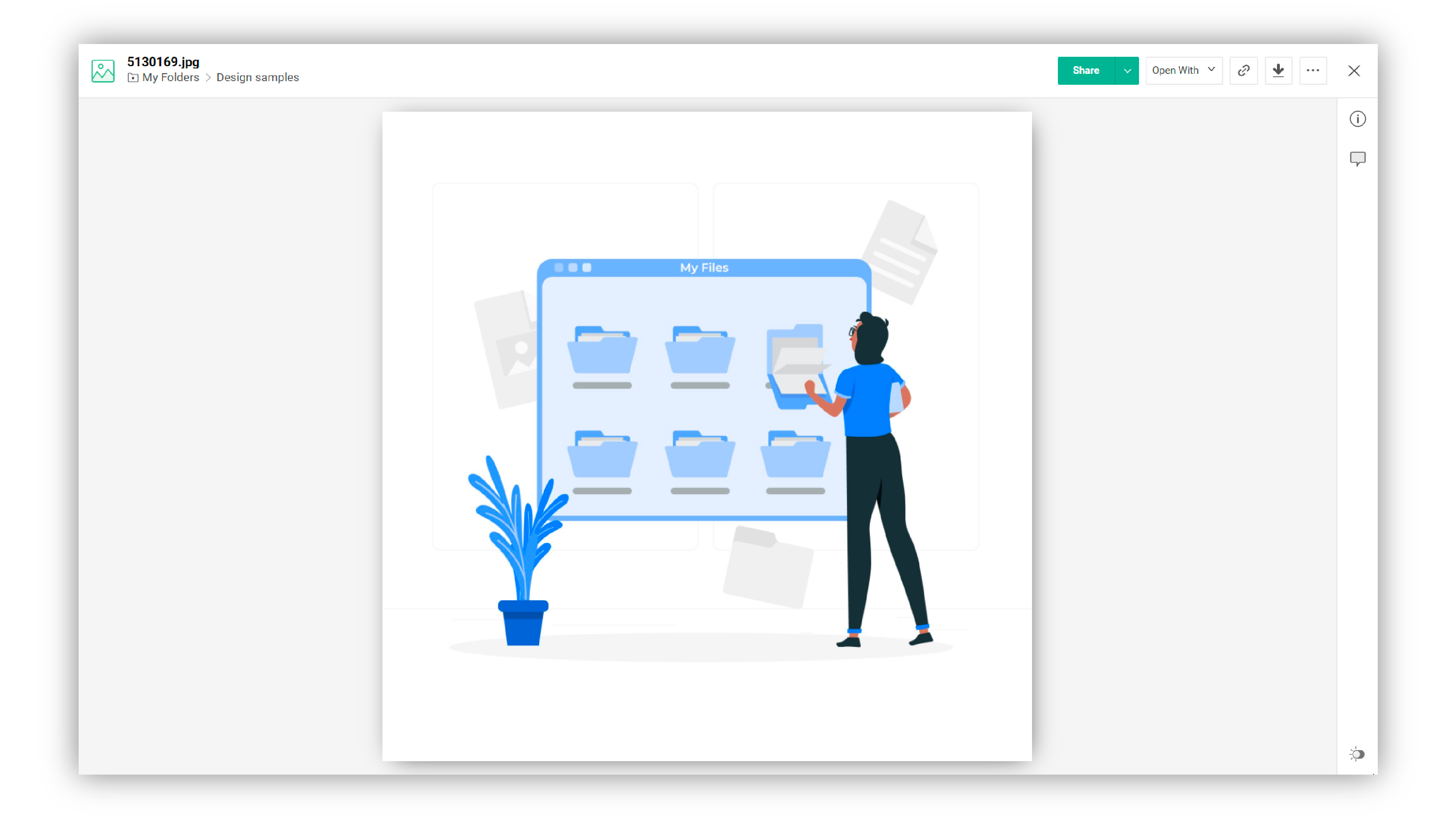 Break language barriers
Most people feel comfortable working on an application that supports their own language. That's why WorkDrive's web and mobile apps support 40 languages, including Chinese, German, French, and Arabic.
Share files and folders seamlessly
Sharing documents quickly is crucial for every solopreneur and aspiring freelancer. One must have a seamless sharing option to showcase their work, be it to a particular person or to the open public.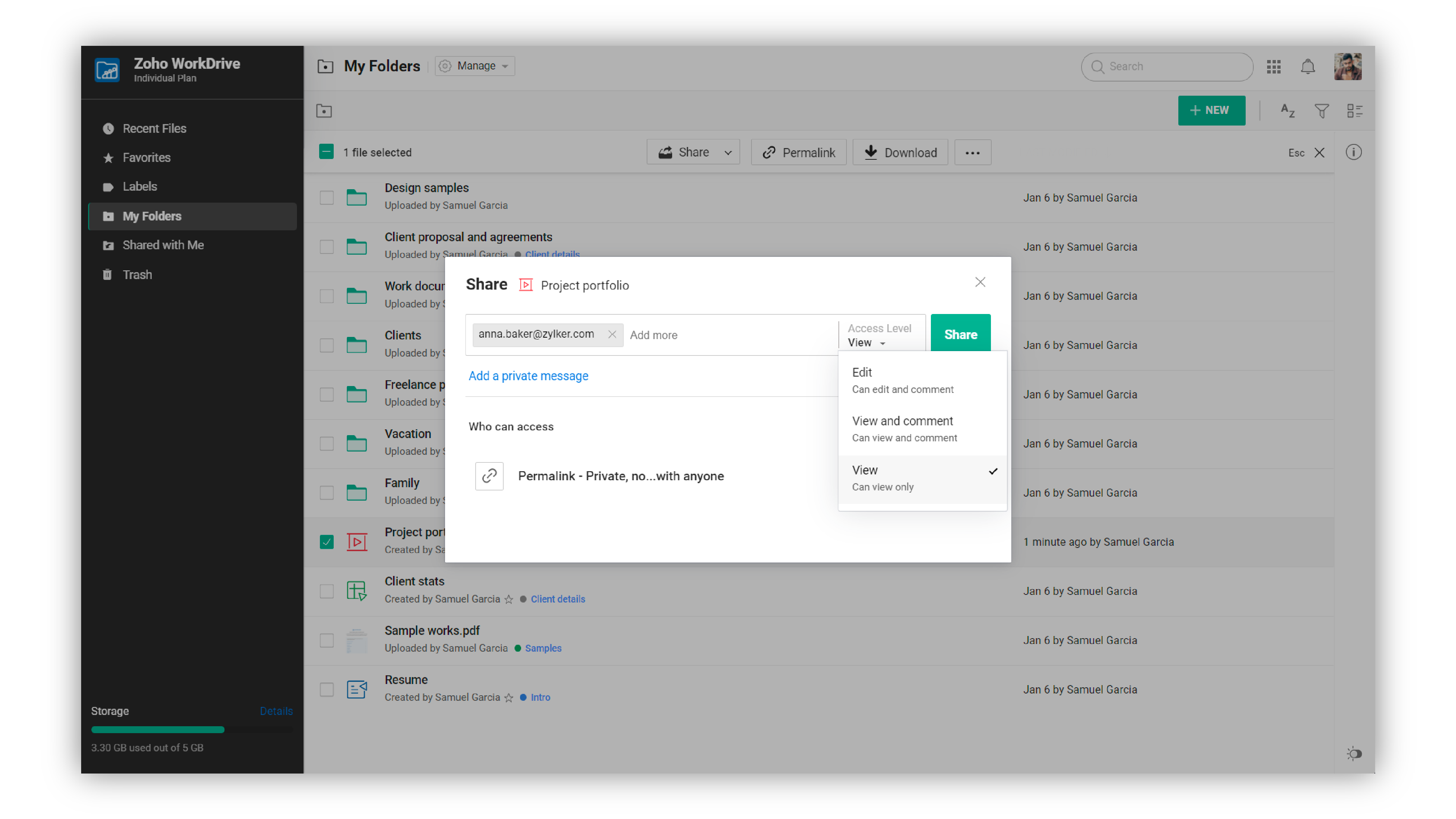 With WorkDrive, you can share files with specific users using their email addresses, set access levels, and work together securely. And if you want to show your work to everyone, you can set the visibility to anyone on the internet or create embed links and post it into a webpage or social media post.
Track user activities
It's important to be able to share your files, but it's way more crucial to be able to check what happened to your shared data. View every collaborator's activities on a file, such as editing, commenting, and sharing. With WorkDrive's Access Stats tab, you can view who has accessed your file and what actions they have performed (number of views and downloads).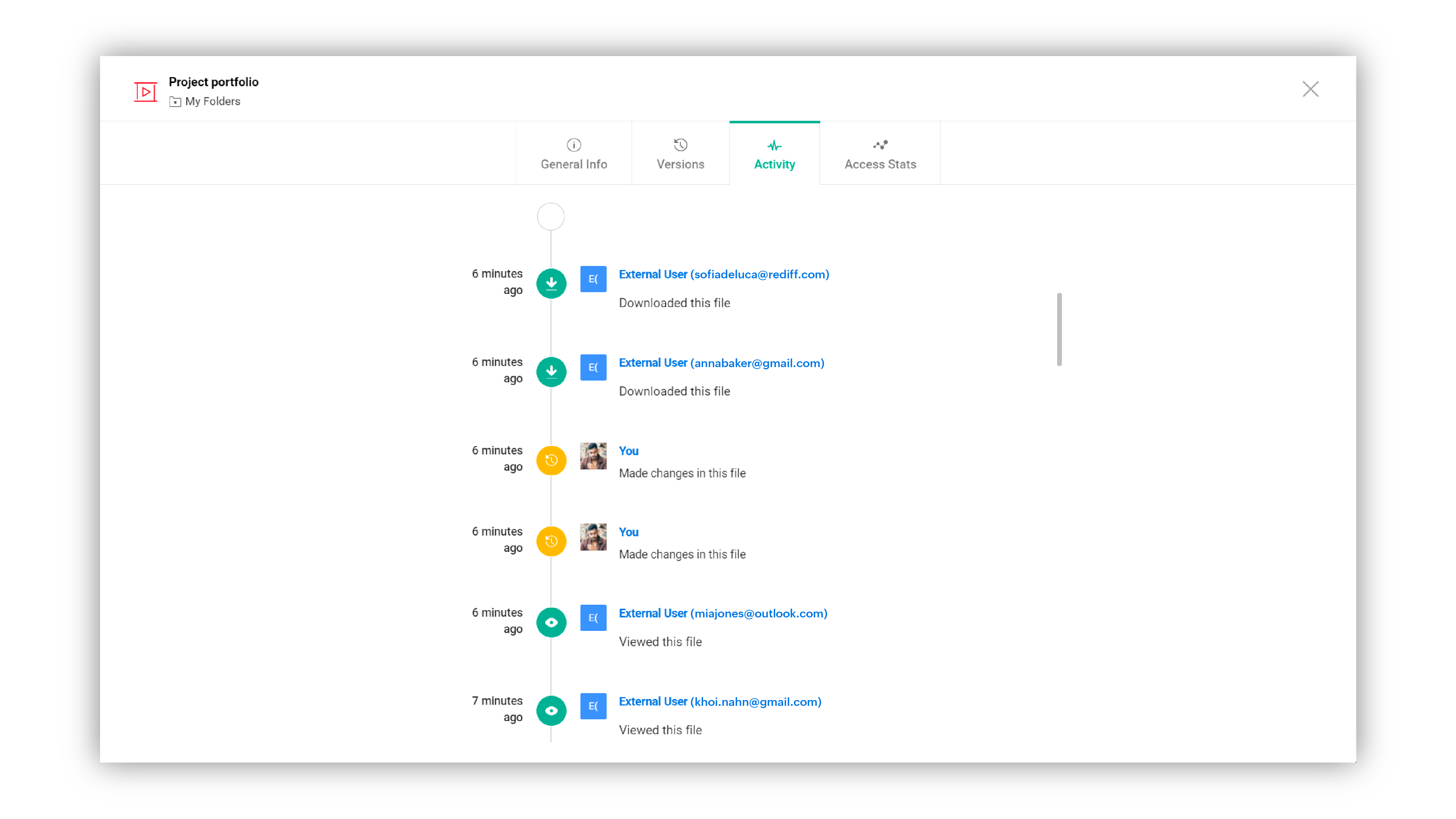 Locate your documents instantly
Imagine you're on the verge of cracking an investor deal but you're unable to find that one file that has all the numbers you need. With WorkDrive, you can quickly find any files using our smart search options.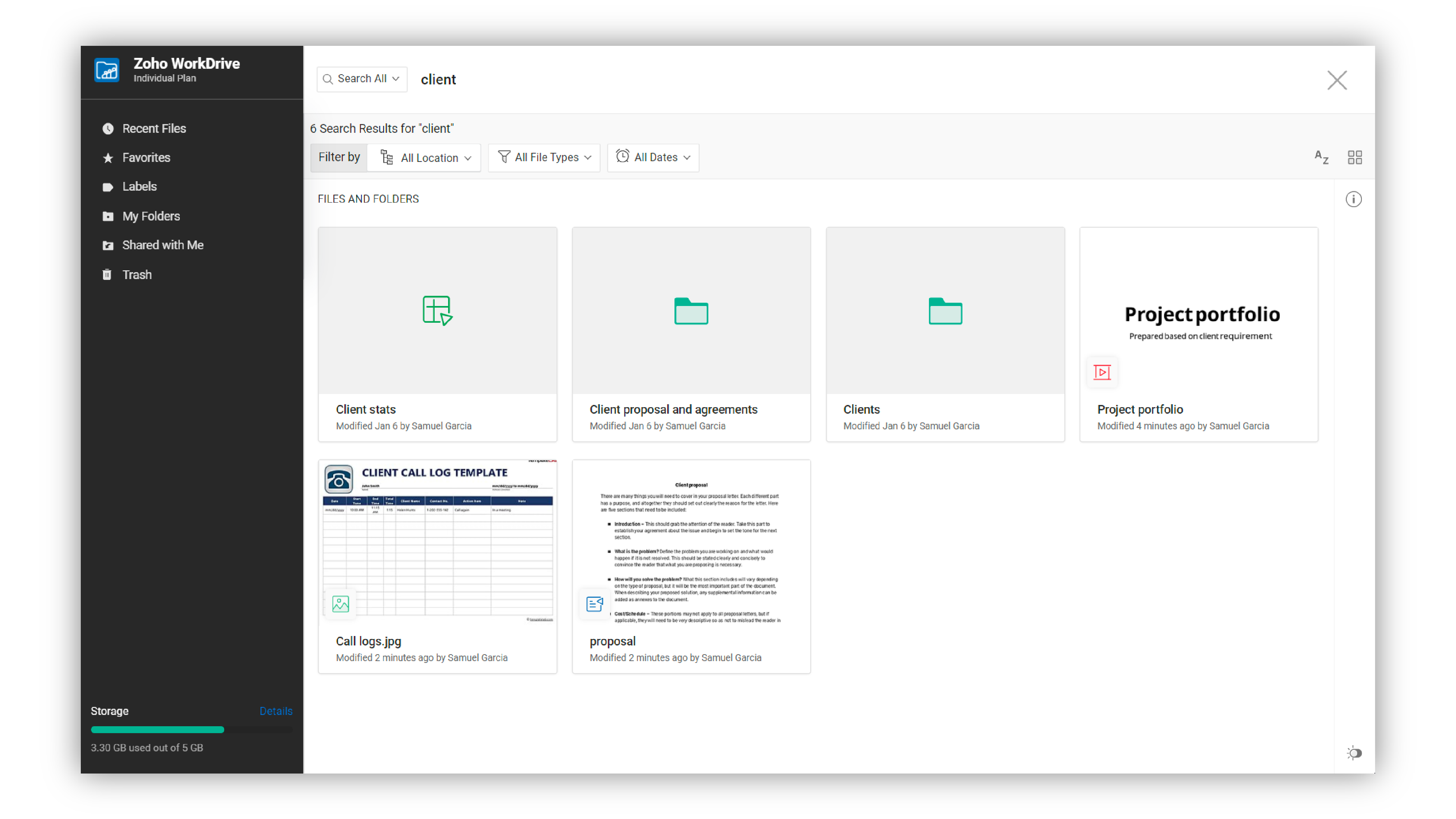 Search by file, folder, or author name, document keywords, text within the images or scanned files (OCR), or by the name of the objects present in the image (OD).
Label your files
Whether you're a designer, writer, or marketer, everyone needs their files organized. WorkDrive's Labels enable users to classify documents based on their preferences. Create Labels and categorize files under each one of them.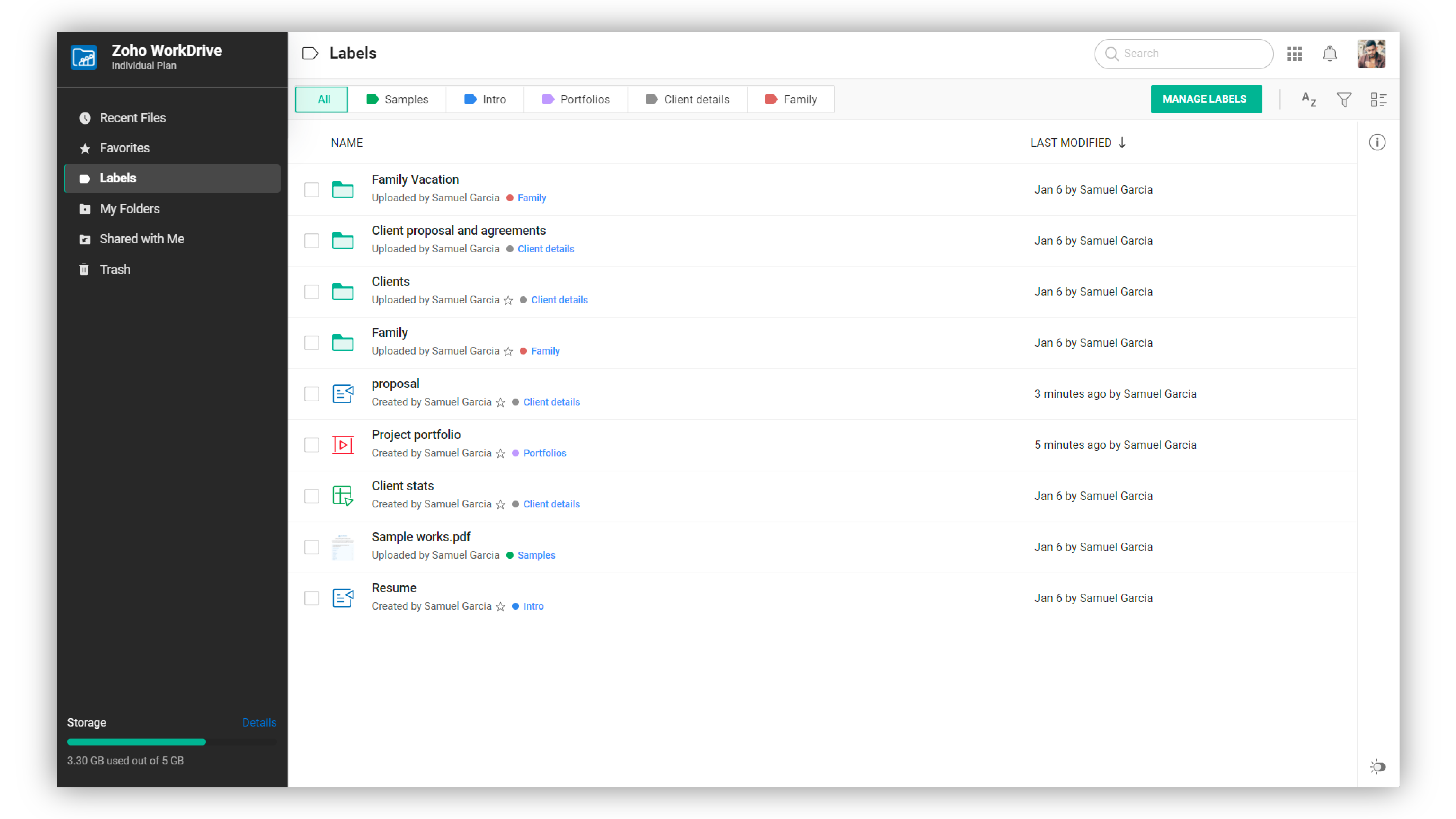 By doing so, you can access the files you need instantly without having to search through multiple folders. You can also add multiple Labels to the same file or folder, or remove them when they are no longer relevant.
Choose your Favorites
There are always a set of files that you use more often. Add those documents to your Favorites and access them without any extra steps. For instance, if you are working on a freelance project, you can add the project guideline document to your Favorites so you can access it whenever and wherever you want.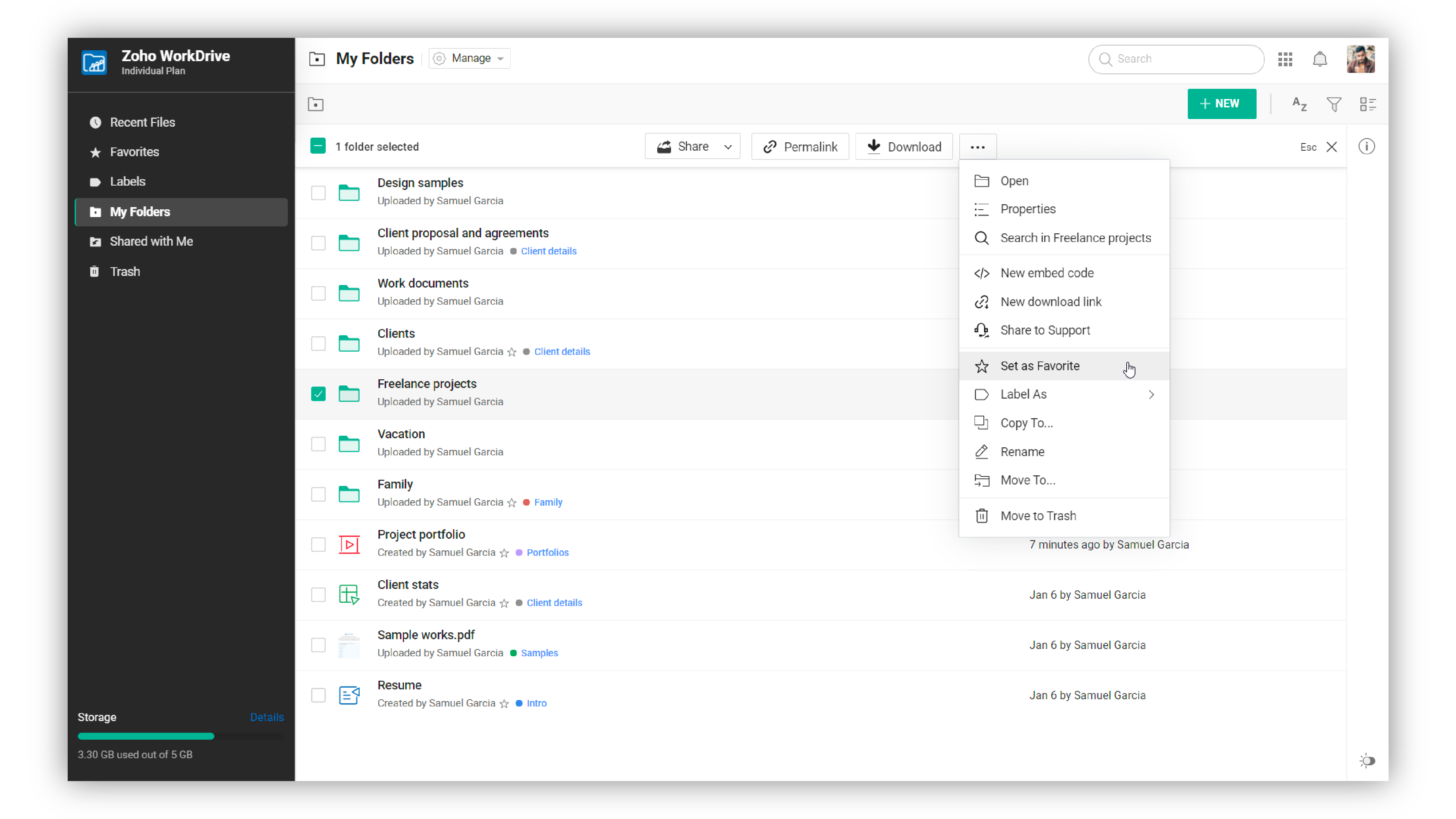 Access files remotely
Freelancers and most independent business owners don't work from an office. They have to travel to meet and work with new clients. To support entrepreneurs on the go, WorkDrive offers apps for both desktop and mobile devices to help you stay connected with your files around the globe. The WorkDrive mobile apps are available for iOS and Android.
Get unlimited file versions
You don't want to spam your account with multiple copies of the same document, do you? With WorkDrive, you can manage unlimited versions of the same file from a single view and even revert to an earlier version if needed. Also, you can keep track of file edits with a full version history.
Sync files to your computer
Have a back up of your online files on your desktop at all times. Zoho WorkDrive lets you sync files from your web app to your computer, and vice versa. All your files will be downloaded to your computer and be in sync with the web app. You can even work on your files offline and see these updates reflected in your WorkDrive account when you are back online.
Experience enterprise-grade security
WorkDrive offers multilayered security at the physical, logical, and data levels. Zoho WorkDrive is GDPR and HIPAA compliant and also adheres to ISO 27001 and SOC 2 Type II security standards. Furthermore, all your files are encrypted during transit and at rest.
Store your files for free
For now, WorkDrive's individual plan offers you 5GB of storage for free. Let go of physical storage devices and move your data to WorkDrive. Access your files from any device without compromising on security.
If you're still on the fence, remember that having personal cloud storage means that you have constant access to your data and applications. As cloud storage technology advances and becomes more available to the public, we know users are offered numerous options for their storage needs. Like with all our Zoho apps, we promise to continuously evolve the personal storage edition of WorkDrive to ensure it's always tailored to your operations.
WorkDrive is a secure, powerful, and comprehensive cloud storage solution. Check our website for more details or sign up for free and get started right away!
Comments(
2

)
Durai Murugan

June 23, 2023 at 2:49 PM

Hello Ravi Shankar, Yes, the information is still valid. For now, WorkDrive's individual plan offers you 5GB of storage for free.

Ravi Shankar

June 23, 2023 at 1:39 PM

Hi Zoho Team. Is this information still valid? What is the Limit for "personal cloud storage space"?
Leave a Reply
Your email address will not be published. Required fields are marked