The file-sharing platform you've been waiting for
Last Updated: September 23, 2021
1.3K Views
3 Min Read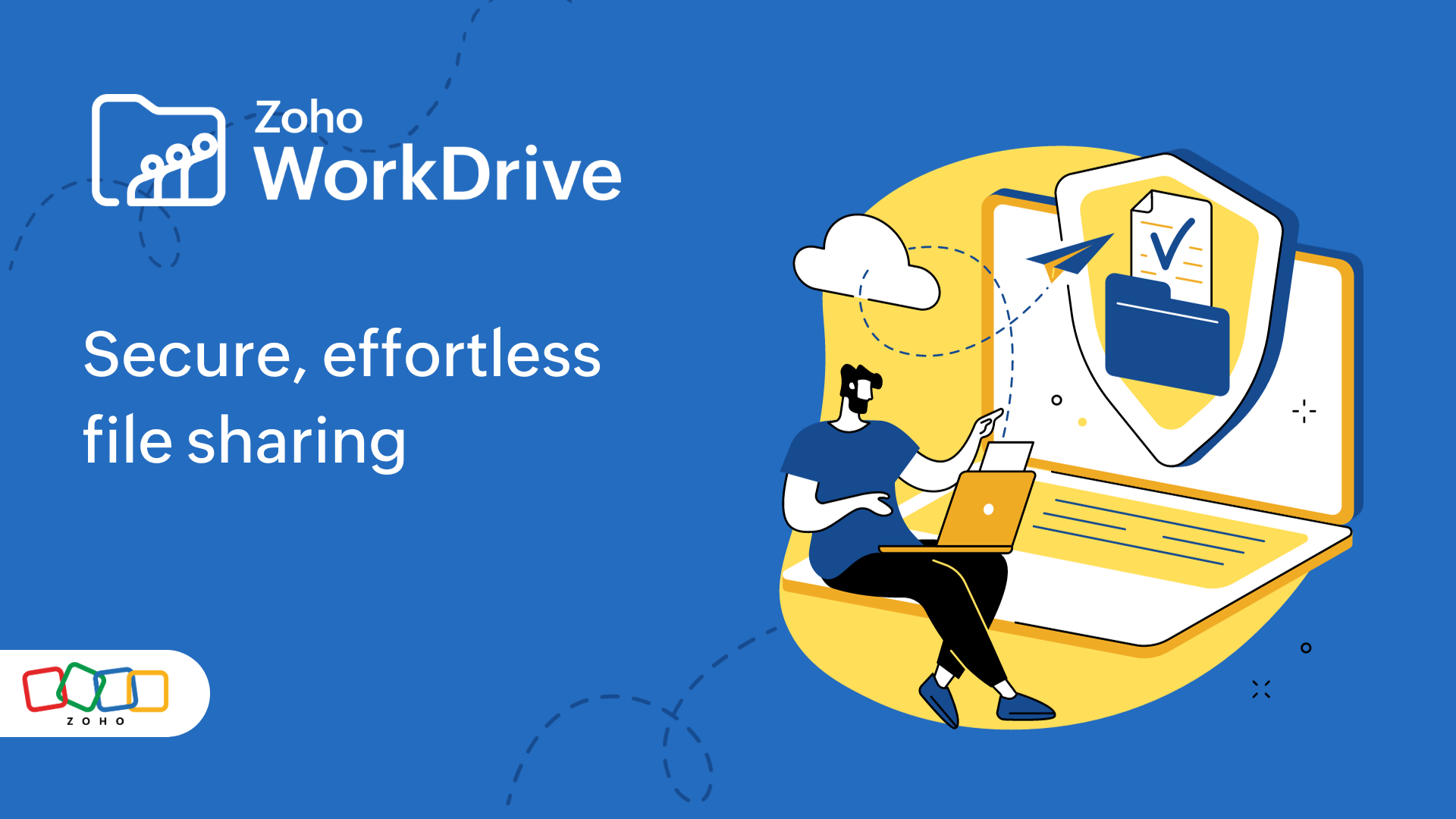 Knowledge sharing isn't new to us, but the way we communicate and share information has continued evolving throughout history. With the advent of cloud technology, this process has become more streamlined and efficient.
Most businesses rely on multiple tools to help them share and collaborate with both internal teams and external stakeholders. However, managing files across applications often ends up creating information silos and even loss of data while transferring from one tool to another. To solve this challenge, WorkDrive offers multiple file sharing options so you and your team can more easily collaborate with anyone and everyone.
Meet WorkDrive: the comprehensive solution for all your file sharing needs
Sharing files within your organization
Team-level sharing:WorkDrive's Team Folder offers a shared space that brings your team and their files together. Create Team Folders when you have a constant group of people you collaborate with on a daily basis. You can assign roles to each member and closely monitor their activities as well.
Direct sharing: Often we find ourselves working with colleagues from different departments. With WorkDrive, collaborators can make edits to documents in real time and discuss files from within WorkDrive. All you need to do is directly share the file with your colleagues and assign relevant permissions.
Group sharing: Organize members of your organization into groups and share files and folders with them. For instance, create a group for new employees and share your company's on-boarding kit and other relevant materials. Now, whenever you have new members joining the company, add them to the group and they will automatically have access to all the required files and folders for them to get started.
Organization-level sharing: If you want to share information with your entire organization, all you need to do is change the visibility of the file. You can either make it visible to just your team or to anyone within your organization. You can also restrict the link access to View only or disable the visibility anytime.
Sharing files with external collaborators
External sharing: With WorkDrive, you can create multiple external links for a file or folder to share it with different audience groups and closely monitor the user activity. Set custom properties based on how you want people to interact with the file. You can add a password to the link, set an expiration date, and request user information. WorkDrive also offers access stats for you to closely track the link. This is a great option when you have to share your work with partners or media sites.
Email sharing: Looking for a secure way to work with external stakeholders? Share files and folders directly with an email address and assign relevant permissions. You can also enable OTP authentication to verify the recipient's email address. This way, you can collaborate on files with your clients or partners without having to worry about data security.
Client users: Temporarily invite clients or guest users to WorkDrive and give them restricted access to the files they need. When you are working with clients for a long term project, sharing files via emails or links can make it difficult to keep track of your work. With WorkDrive, you can invite client/guest users and add them to specific Team Folders. This way, they have access to just the folders they need and you can work with them on project files more efficiently. Once the project is complete, you can disable their license as well.
Embed and download links: WorkDrive's Embed file or download link options are great when you want to showcase your work on a website or blog. You can either create embed codes and place your files directly on to your website or add the download link to your blog. For example, you can create a download link of a brochure or a presentation which highlights the services you offer.
Track shared data from a central location: It's crucial for businesses to be aware of who has access to their confidential data. This helps them recognize unauthorized access and quickly mitigate the risks. With WorkDrive, admins can view, share, and manage all shared items from a single place.
Information is only valuable for your company when it is accessible to the right people. WorkDrive offers a shared platform for teams to easily work together with all the stakeholders while ensuring your data is secure. Whether it's internal or external sharing, WorkDrive gives you complete control over your files and and valuable information.
Leave a Reply
Your email address will not be published. Required fields are marked