Unveiling WorkDrive 4.0: Enhanced productivity. Advanced data administration. Part-1
Last Updated: April 17, 2023
730 Views
5 Min Read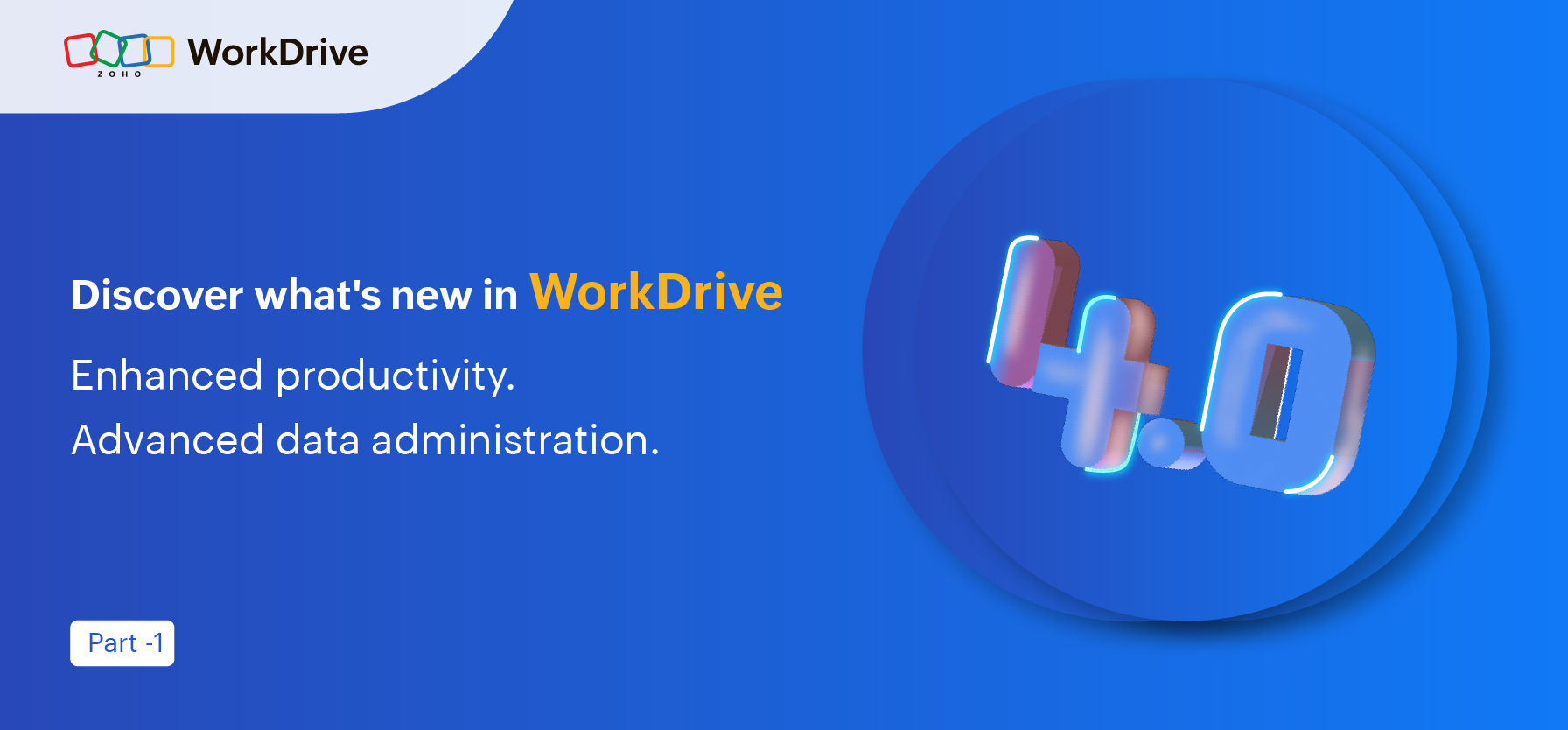 As the modern workplace continues to embrace and experiment with different work models, it's more crucial than ever for organizations to have the right tools to unify their teams, data, and knowledge.
With the latest release of WorkDrive, we have focused on enhancing the core capabilities that cater to the needs of modern teams. From boosting productivity to collaboration, to data administration and, crucially, security, our latest release does it all. Let's look at these updates in more detail.
Say goodbye to third-party recording tools. Say hello to WorkDrive Snap.
Whether you want to train new hires with a video demonstration or troubleshoot a critical problem by sharing your screen, WorkDrive Snap makes it easy to record your screen, along with audio and video, right within the WorkDrive app and share it with your team.
The ability to record directly from your file management system makes it easier for teams to access and manage recorded files, improving efficiency and productivity.
Let's explore the different recording options available in WorkDrive Snap and discuss how they can be useful for asynchronous communication.
Screen Recording
Looking for an efficient way to share knowledge within your team through instructional videos? WorkDrive Snap's recording options help you capture your screen along with your video to document relevant processes, procedures, or demonstrations.
Video Recording
Sharing information with your distributed teams can be a challenge. With WorkDrive, you can quickly record and share engaging videos to effectively communicate key information with your team members.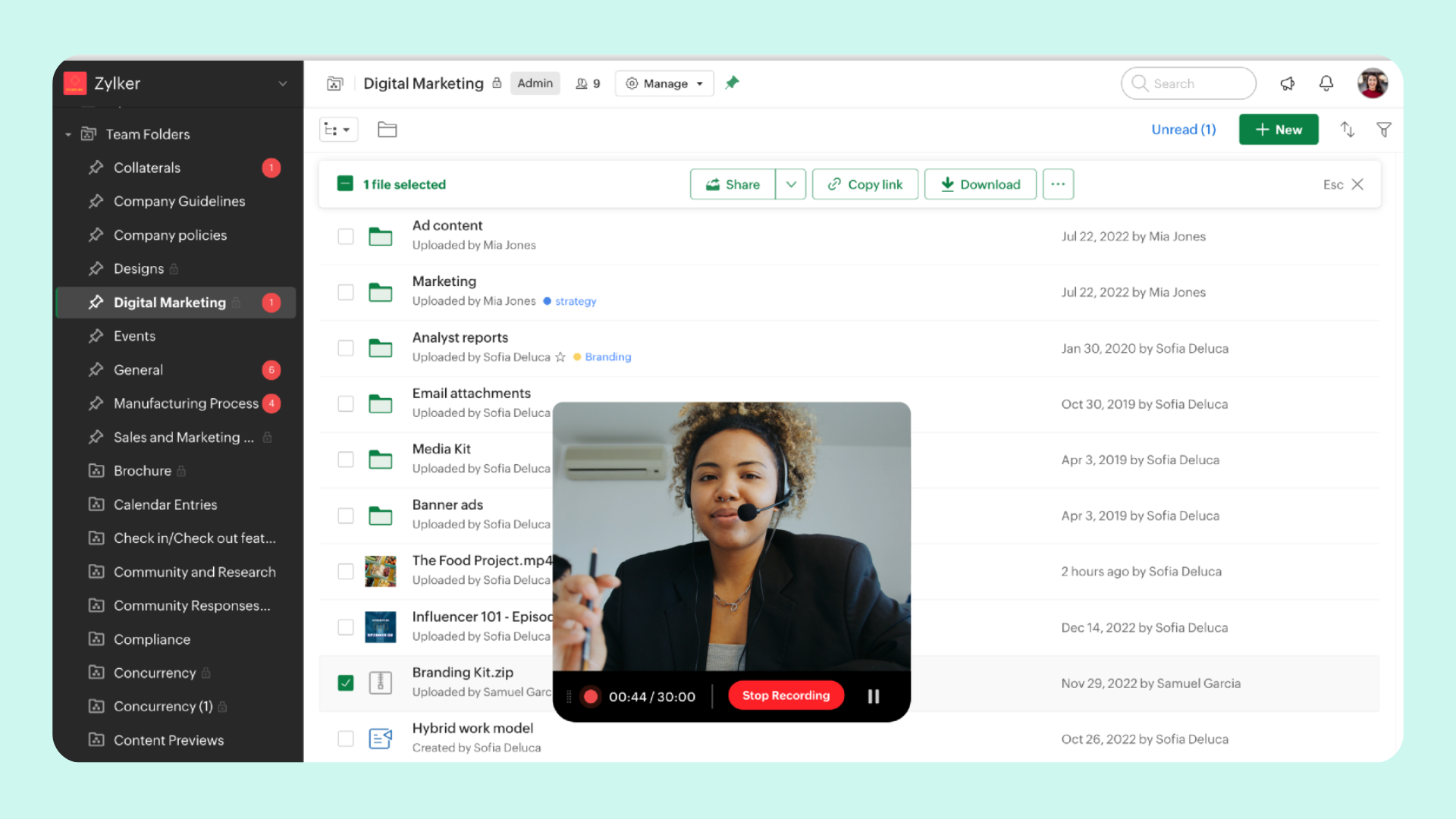 Audio Recording
Easily retain all the essential details discussed during your team meetings. Use the audio recording feature to record the minutes and share them with other attendees.
Break the collaboration barriers with external users
OTP authentication for external share links
Data is any organization's biggest asset, and it is crucial to prioritize its protection when sharing files with individuals or entities outside the organization. That's why, in this latest update, we've increased security for external sharing.
When sharing a file or a folder with an external user via email, you can now enable OTP authentication to ensure that only the intended recipient can access the information.
Bridge the external collaboration gap
We've made collaborating with your clients more convenient than ever before! Work with external users, even if they don't have a WorkDrive account. Our new update enables them to securely access, comment, reply, @mention, rename, and download files.
The all-new WorkDrive integrations
Bigin integration
WorkDrive's integration with Bigin gives you access to the new File Cabinets feature. This feature provides a dedicated space to manage all your customer files in one place.
Generate unique links to collect customer files and receive notifications whenever a customer uploads a document. You can also set up workflows to automate the file management process.
Cliq integration
We've got an exciting update for teams that use Zoho Cliq for communication! You can now select and share WorkDrive files right from your chat window. Whether you're in a direct message conversation or a channel, you can choose the file, customize the access permissions, and share without leaving the Cliq app.
Group folders from integrated apps
If you use Zoho Projects or Marketing Plus extensively, and have integrated them with WorkDrive, here's an update that will help simplify and streamline your document management process.
WorkDrive now allows you to group Team Folders created in the Projects and Marketing Plus apps under Integrated Apps on the left side of the window, making document access more convenient.
Save your emails in WorkDrive
WorkDrive's integration with Zoho Mail gives you a secure and reliable location to back up all your business-critical emails.
Save copies of all your Zoho Mail emails to a Team Folder in your WorkDrive account. The emails will be saved in EML (electronic mail) format and can be previewed.
Enhanced administrative capabilities
Take control of shared items
Imagine an ex-employee shared access to sensitive information with a stakeholder who is no longer connected to your organization. To make matters worse, no one on your current team is aware of this situation. The results could be catastrophic for your business.
To avoid risky situations like this, WorkDrive now allows Admins to view and manage all shared files and folders in a Team Folder and in an individual member's My Folders. Admins can quickly access important information, such as whom a file has been shared with, and whether the file was shared internally or externally. They can also search for files using filters, such as file type, user name, file location, and sharing method.
This functionality is available for Admins and Organizers at the Team Folder level as well. They can view the list of all shared items in a Team Folder and track what is shared and with whom.
Plus, WorkDrive now lets Admins view a list of files and folders in a team member's My Folders, so they can exercise complete control over their organization's data.
Transfer ownership of files and folders
Transferring file ownership can help ensure that only the right people have access to an organization's information. With WorkDrive, Admins can transfer ownership of files and folders from one user's My Folders (whether the user is active, inactive, or suspended) to another user on the team.
Say a sales team is working on devising a new strategy, which requires them to create a sales pitch deck and training guides. The sales lead, who created the files in My Folders, is going on sabbatical. To ensure the project stays on track, file ownership can be transferred to the team member who will be leading the project in the meantime. This way, the new project lead can make updates to files and collaborate with their team without any issues.
Transformed user experience
Simplify file navigation with a tree-based view
Our new tree-based navigation gives users a bird's-eye view of the file hierarchy so they can easily navigate to their desired file or folder. This empowers team members to locate files more efficiently.
Get work done faster with hotkeys
Here's a time-saving update for all the shortcut lovers! With WorkDrive, you can use keyboard shortcuts for the copy, paste, and move actions. Avoid time-consuming menu navigation and swiftly move files to your desired locations.
Revise comments on any file
We have now enabled the option to edit the comments you add to a document. Easily rectify typos or errors and clarify your message—without having to delete and rewrite your comments.
For example, stats-driven comments on a file may become out-dated. In these situations, the ability to edit comments can help teams avoid confusion and keep communication relevant and timely.
That's it for our Phase One updates! Our team has worked tirelessly to make sure you have the best possible experience using WorkDrive. Now, it's your turn to try our newest improvements and share your experience with us.
We're also thrilled to announce that Phase Two updates are underway. So, stay tuned for more updates and exciting news in the coming months.
Leave a Reply
Your email address will not be published. Required fields are marked