Craft Inspiring content with Zoho Writer
What do you get when the benefits of collaborative editing meet a distraction-free interface? Zoho Writer. Create, edit, review and publish documents with your team, all online.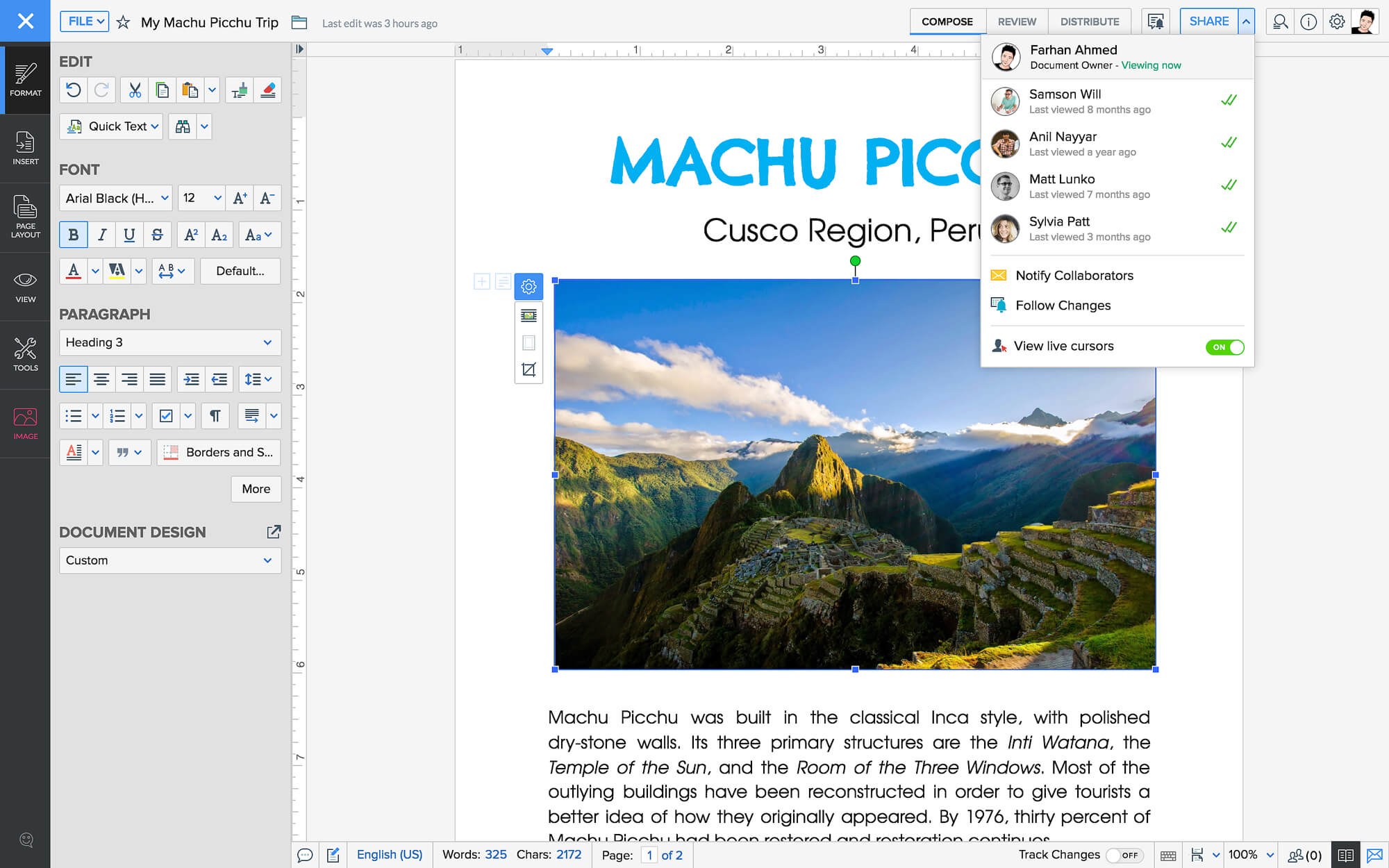 Teamwork done right
Avoid confusion with the Track Changes feature. View edits made by each one of your teammates and choose to accept or reject them on a case-by-case basis.
The one tool for your team
From collaborative code snippets for programmers, to multi-language support for translators and regional language authors, Zoho Writer can handle it all.
Seal deals digitally
Close deals and convert prospects to customers faster. Get contracts and approvals signed using our Zoho Sign, SignEasy, DocuSign and Adobe Sign integrations.
Spread the word
Collaborate on documents with your team and publish them to web pages and blogs directly from Zoho Writer with our WordPress integration.
Extract more value from your data with Zoho Sheet
Make it easy for decision makers to approve your proposals with numbers that speak for themselves. Work with your team to ensure your data always stands out from the crowd.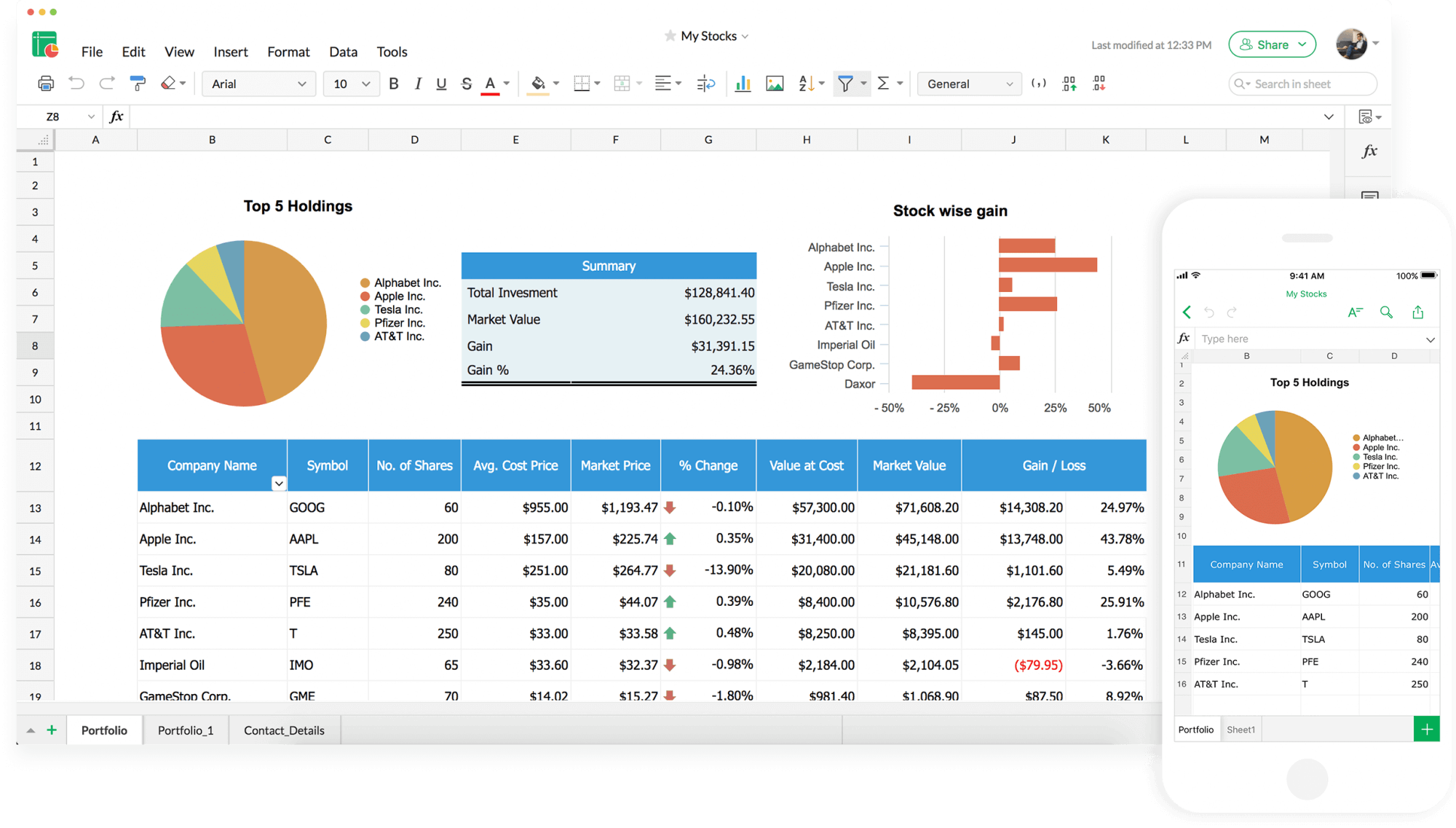 Gain actionable insights
Zia generates custom charts or pivot tables based on your data and also helps you identify any data inconsistencies, duplicates, or missing values.
Create custom functions
Get straight to work by bringing in contextual data from other Zoho apps, such as CRM or Books, using custom functions. You can even create a personalized function based on your needs.
Collaborate in real time
Share your spreadsheets with your teammates and work together on specific reports. Edit, comment, view changes, and resolve issues as a team with Zoho Sheet.
Showcase your content
Want to highlight a certain range or the entire spreadsheet on your website? Just publish the required content and embed it on your web pages.
Steal the limelight with Zoho Show
Be it a sales presentation or an investor pitch, you always want to leave a lasting impression. With Zoho Show, creating and delivering stunning presentations is a breeze.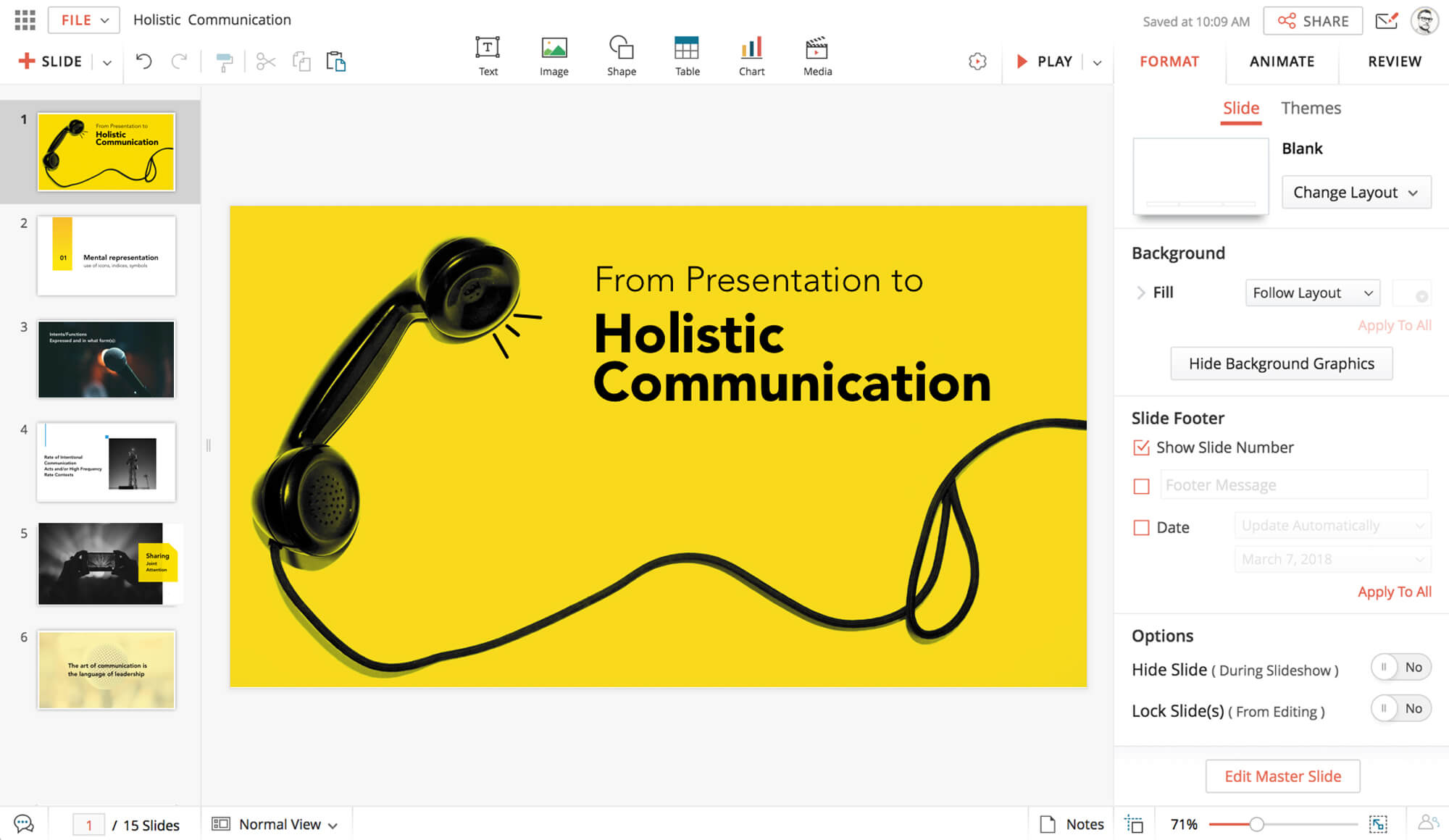 Present from anywhere
Distance shouldn't be an impediment to success. That's why Zoho Show lets you design and deliver presentations remotely, regardless of where your team may be.
Present on your terms
Whatever life brings, Zoho Show makes it work. Pass control of the deck to your team with a click. Download the Show mobile app and present on Android or Apple TVs from your phone.
Review slide elements
Improve your team's presentations by commenting on specific images, text boxes or any other part of the slide. Comment with an image, if you need a more visual suggestion.
Take it to the world
Publish slides within your organization or on websites, blogs, or social media sites. It doesn't end there. You can even modify published slides without disturbing the live deck and republish the new version.