The 9 best Content Marketing tools for your business
Last Updated: December 20, 2018
5.1K Views
7 Min Read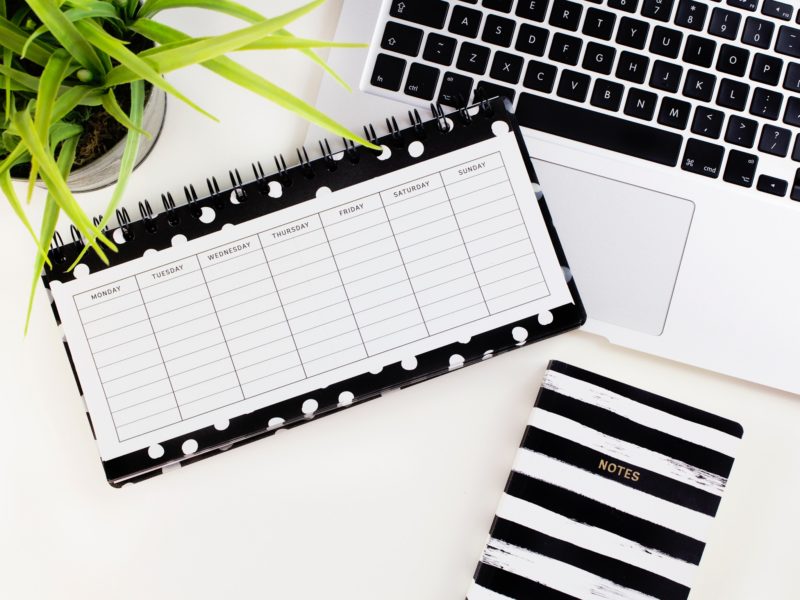 They say the best things in life come free—or at least with a free trial to help you to make the right decision for your business! Since we've already discussed some of our favorite tools for social media marketers, let's dive deeper, to make sure you're using the right tools to up your content marketing game.
The purpose of content marketing is to reach out to potential customers who find value in the content they read. The goal is to convince them to ultimately turn to your brand when it's time for them to buy a product. Sure, that sounds like the ideal situation that we all wish for, right? What if I told you that you could have an edge over your competitors, simply by working with a combination of the right skills and tools?
To start, you need to have your content strategy in place. This should be in line with your brand's overall marketing strategy and business goals. The best content marketing tools help you create, schedule, and share your content, and then measure the impact they're having on your business.
Find out how most brands get it right, simply by using the most efficient SaaS tools on the market to deliver awesome results:
1. Feedly—to gather great content ideas
It's important to understand what your readers are looking for and how your content ideas resonate with their needs—and Feedly can help you do just that, by staying up to date on industry trends.
Feedly is a great application for gathering and categorizing useful information based on the relevant fields and interests your audience is looking for. Once you have the right idea, all you need to do is bookmark the most interesting articles on your board for future reference. You can use notes and highlights to enrich articles with your insights, and even tag your teammates! You can also subscribe to RSS feeds to read blogs from trusted sources. Medium is another good place to read blogs from established authors, and interact with them by leaving meaningful responses.
2. Twitter—to create brand awareness and monitor trending topics
Twitter is an ideal platform to strike up a conversation with your readers and understand the kind of content they'd like to see. You can start by consistently engaging with your readers using popular hashtags, polls, or Twitter threads to build your brand and interact with your audience. You might also want to consider using a tool that'll help you respond and engage with your audience in real time by monitoring keywords and hashtags trending in your industry. This way, you can easily look out for relevant conversations, trending hashtags, and keywords to keep yourself updated at all times!
Use TweetDeck (it's free!) to follow and keep track of your brand mentions, industry keywords, and tweets from your influencers and competitors. You can make sure you never miss anything related to your brand or industry—from important hashtags to cleverly crafted blog posts. Here's an exhaustive guide to marketing on Twitter, in case you missed it. Don't worry, you can thank me later!
3. Zoho Writer—to write and collaborate
Next, you'll need an app to write and collaborate with your editors. And your search is officially over—meet Zoho Writer!
Zoho Writer is much more than an online word processor. It's a powerful tool for editing documents, collaborating with your teammates, and publishing your blogs. With its simple and user-friendly interface, you can publish documents inside or outside your organization. When you publish a document, a link is generated, which you can use to share your document and embed it in websites or blogs like WordPress.
Also, Zoho Writer is a completely free tool, and you can try it without even signing up!
4. Grammarly—to fix grammatical mistakes and typos
With the Grammarly browser extension, you can leave all your worries behind when it comes to creating quality content across channels and devices. As you keep creating new content, Grammarly's AI checks for inconsistencies in your writing, and common and complex grammar bugs. From pointing out contextual spelling errors and improper comma usage to pointing out weak adjectives in your writing—Grammarly's got you covered! You not only get to improve your writing style but also learn to produce better content.
Grammarly's plagiarism checker can be used by any writer striving to produce original and quality content. Spot something a tad bit familiar in your article? Not to worry—just run it by this application to ensure you don't miss citing a source you quoted or crediting an author you drew inspiration from. You can also enhance your writing skills by using Grammarly's feedback on your choice of words, style, and the overall tone of your content. Copyscape is another alternative to make sure you produce authentic and quality content that's free of plagiarism.
5. Unsplash—to create striking visuals
Clear and attractive visuals are an important part of any content marketing plan—it's all about using the right image to tell your story. When you post images on different sites, you need to make sure they're of a high-resolution and quality.
Unsplash has a wide collection of pictures, from a huge community of photographers, for you to choose from. You can either categorize your search by photographers or by the topics and keywords displayed to help you navigate your way through these visuals. And it's even better because these images are free from watermarks and can be downloaded with a single click! The best part—it's a free-to-use tool with an exhaustive collection of images categorized under captions.
Psst… the cover image for this blog is by Emma Mathews from Unsplash. While it's not necessary to credit the source of your image, the best practice is to always acknowledge the artist by mentioning their name or linking to their profile on your blog post (thanks, Emma! :D)
6. WordPress—to post your blogs and articles
WordPress gives you the perfect platform to publish your blog posts, articles, business sites, and more! The best thing about WordPress is that you can get started for free simply by logging into your account—and then purchase a plan for your business when the time is right. You can either choose to register a unique domain name or map your existing domain name to WordPress.com. It's that simple!
You can also find out how your audience is discovering your blog, along with other relevant statistics to learn more about your readers. So, get started right away!
7. Moz Pro—for SEO optimization
Moz Pro includes an all-in-one suite of SEO tools to ensure your website is ranked higher on well-known search engines like Google, Yahoo, and Bing. With the Keyword Explorer, you can see the keywords being used to find your brand. To know what's working for your business, you can track your keyword rankings on search engines and compare it with your competitors. Tools like Site Crawls audit your website to identify critical areas that you can fix, and recommend measures to improve your site content. This way, your page is always optimized to reach its maximum potential to rank for your target keywords.
What's more? You can create custom reports that can be scheduled and shared to help you understand what works for your brand and what doesn't.
8. Bit.ly-for link shortening and tracking
Bit.ly is so much more than just a link shortening tool. You can customize your link names to be shared across various channels, including social media and your email marketing campaigns. You can create consistent, short domain names on the go. Also, you can easily monitor individual link analytics to measure the performance of your websites and content marketing campaigns—all in real time!
9. Zoho Social—to organize your social media publishing calendar
If you're like most businesses, a majority of your audience is already on social media, and the numbers keep growing. So, it's important to keep your readers updated every step of the way! Once you've identified the right social media channels for your business, you'll want to consider using a social media management tool to manage all your pages and profiles.
With Zoho Social's Publishing Calendar, you can create and share posts to your connected social channels, and edit your content until it's perfect for your audience. This way, you can get a quick overview of your content plan for the month, which helps you plan ahead by scheduling your social media posts. Learn more about how you can schedule your content with the help of a publishing calendar.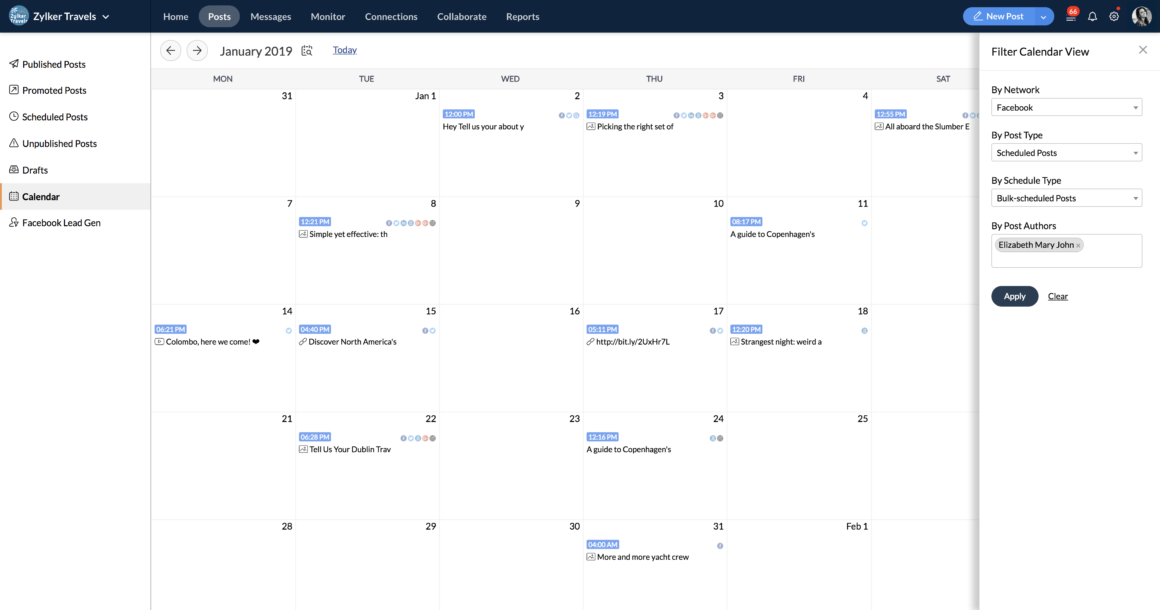 If you plan your social media posts on a spreadsheet, you can simply upload it all with the Bulk Scheduler in Zoho Social. You can easily switch between weekly and monthly views of all the posts on your content plan and filter the posts you need to see by post type, social networks, or authors. How cool is that?
Alright, that's all for today! I'd love to know the content marketing tools you swear by, so go create your own list and share it with us in the comments below!
Comments(
1

)
Johnathon Kania

July 24, 2019 at 7:38 AM

Really informative, thanks for sharing this!
Leave a Reply
Your email address will not be published. Required fields are marked