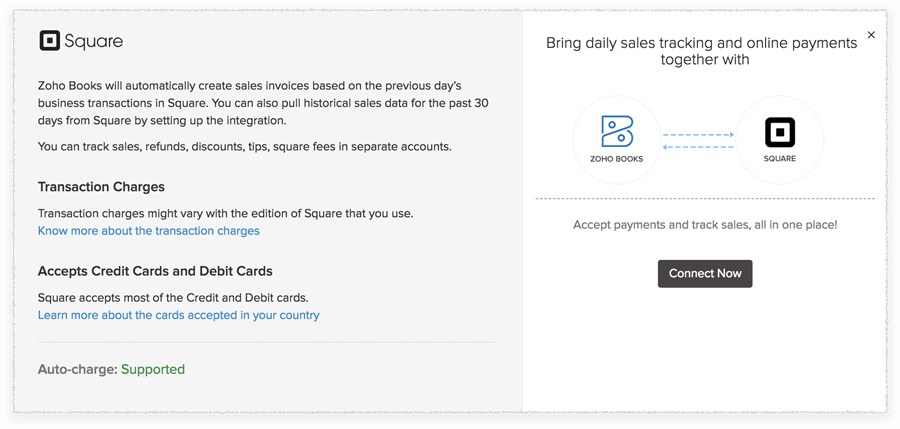 Are you new to Zoho Books?
Check out why businesses love using Zoho Books.
Are you new to Square?
If you are already a Zoho Books user, create your Square account here.
Are you new to both Zoho Books and Square?
Sign up for Zoho Books first, then create a Square account and connect them.
Learn More →
Manage your receivables the right way
Skip the data entry

Each day, the details of all of the sales you made the previous day with Square will be fetched into Zoho Books automatically so you can keep your books up to date.

Up-to-date invoicing without the work

When you make a sale, an itemized invoice will be created automatically in Zoho Books, including your total sale amount, Square fees, and taxes.

Bank reconciliation made easy

Save time on shifting through your transactions. Use bank rules to automatically categorize all of your Square transactions including deposits, payments, refunds, and fees.
Sync your sales and accounting automatically with Zoho Books and Square
Frequently Asked Questions
X

How do I set up this integration and start receiving payments?

Log in to Zoho Books, go to Settings, and select Integrations. Under Payment Gateways, you will find Square. Click Set up Now. Check out our help documentation for a step-by-step guide.

X

Are there any limits for the payments I receive through Square?

The following are the amounts that can be charged through Square in each country.

In the US, you can charge from 1 USD to 50,000 USD.

In Canada, you can charge from 1 CAD to 50,000 CAD.

In the UK, you can charge from 1 GBP to 50,000 GBP.

In Australia, you can charge from 1 AUD to 50,000 AUD.

X

Do I need to pay to integrate my Zoho account with Square?

No, this integration is completely free. You only need to pay the processing fee charged by Square.