What is call center software?
The purpose of call center software is to help businesses manage customer communication over phone, email, live chat, instant messaging, SMS text, and social media. Here's how Zoho Desk can help you do that and more.
Take a free trial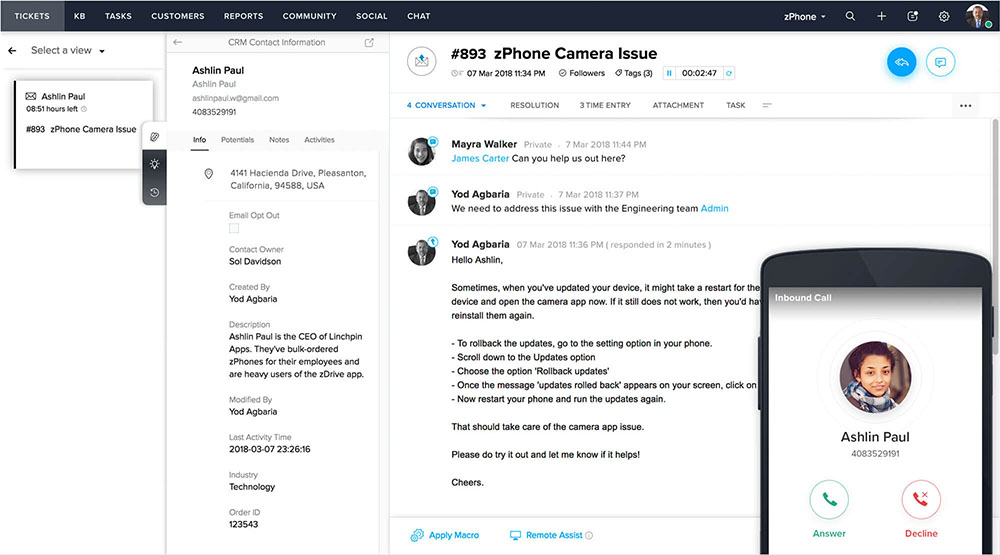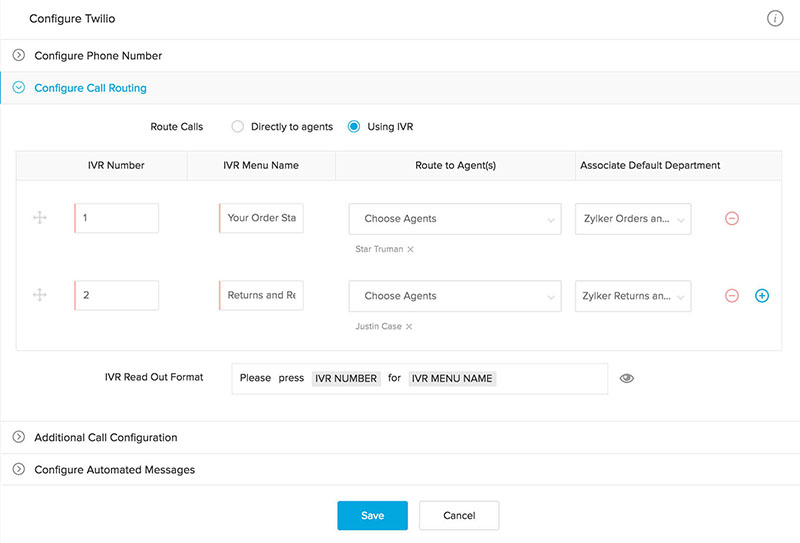 What's an Inbound call center?
The most basic characteristic of an inbound call center is that agents wait for calls to come to them instead of actively making calls. Inbound callers are usually seeking customer service such as tech support, product assistance, or help placing an order. Because of this, inbound call center agents need to quickly and efficiently offer solutions to customer problems and requests.
What's an outbound call center?
In this case, agents have a list of contacts to get in touch with, and they usually use customer relationship management (CRM) software to track and manage their interactions.
A call center system like Zoho Desk supports both kinds of call centers. It helps customers get in touch with the right agents, and gives call center agents access to the right information about a customer's history to improve the overall customer experience.
How can you transform customer experience with a call center system?
Let's start at the beginning.
Relevance, consistency, and first call resolution with Call Routing
Deciding who takes the incoming customer call can make all the difference in the world. Assigning the call to the right agent gets the customer's issues resolved sooner, so the agent can help more customers through the day and keep the customers happy. This is possible on a cloud-based call center, without the need for additional hardware.
Is this easier said than done? Not really.
With Zoho Desk, you can assign and route calls to your agents based on department, team, or account, just like any other ticket. This also automatically routes calls to agents that the customer is familiar with, helping you maintain consistency of service and build meaningful customer relationships.
Agents can also queue and record calls, convert them into new tickets, or associate them with existing tickets.
Multilevel IVR menu set up
Despite automating and assigning more agents, it may still be difficult to personally answer every call you receive. Zoho Desk makes it easier with its Interactive Voice Response (IVR). IVR lets you create an interactive menu with up to five levels of responses, along with sequential and simultaneous incoming call setup. It simplifies the navigation of your customer service hotline and enables customers to find answers with simple commands. Customers can find answers faster, and agents only need to attend to calls that really need their attention.
You now have a setup for making and receiving customer calls easily.
But it doesn't end there.
Get real-time context about the caller
"On average, agents spend 11% of their time looking for information needed to manage customer interactions."(Source: 2012 Aberdeen Group report)
Talking to a customer on call leaves very little time to prepare. Typically, agents would have no way of knowing if the caller is a high priority customer or a potential who is evaluating their product.
Contact center software like Zoho Desk gives agents access to customers' CRM status and data through its two-way integration with Zoho CRM. Agents can see a customer's CRM information, such as their purchase history, upcoming calls with the sales team, and size of the current deal, all from within their ticket. The support team can also add information that they collect during the call and include it in the ticket for the Sales team's benefit. Both teams can use this coordinated data to save time and create a better customer experience.
Build meaningful customer relationships
"According to a 2013 Forrester report, 42% of service agents are unable to resolve customer issues due to disconnected systems, archaic user interfaces, and multiple applications."
Customers hate having to repeat information every time they call, and agents spend a lot of time trying to understand their problems from scratch. This happens because the customer data is scattered over different channels. Agents don't have the customer's previous emails or tweets open when they call. However, with Zoho Desk, agents know the customers' previous conversations with the company and which agent they talked with. They can see all their tickets, raised from multiple channels like social media, live chat, email, web forms and even their previous phone calls, all on a single tab. With all this context, agents can spend more time helping customers and building meaningful relationships with them.
Leave it to the experts
Some customer issues call for experience or specialization that an agent may not have. In such cases, Zoho Desk enables agents to transfer the calls to those that have more expertise. This redirection helps customers get faster and more accurate solutions to their issues. The call transfer option can be used to redirect customers to another department, such as in cases concerning logistics or refunds.
Collaborating with multiple departments
Customer issues are never limited to one department. So, more often than not, customer service agents have to collaborate with teams and departments across the company. To make sure that these conversations stay organized and productive, they need a streamlined channel of communication. With Zoho Desk's Team Collaboration capabilities, support agents can tag their colleagues and other teams within tickets and leave private comments. They can also use Team Chat and Team Feed to discuss issues and post company announcements.
It's going great at your call center.
How do you keep it that way?
Never miss a call, even when you miss one
On some days, there are just too many calls to handle. Your agents might miss a few calls, but with Zoho Desk, missed calls can be automatically converted into tickets so that agents can make sure they get back to those customers and sort out their problems.
Telephony in Zoho Desk also comes equipped with voicemail, so customers can leave their questions as voice messages and they all get logged as new tickets. Agents can then respond to them like they respond to regular calls.
Learn from your mistakes
The conversations between customers and agents can be recorded and added to the ticket upon completion. This helps managers revisit calls and understand areas for improvement. Recordings of agents dealing with angry customers can be used to train agents on how to handle similar situations. An old call could also hold the answer to a new problem, so you can keep those recordings on hand to help.
Track your progress
Managers can also evaluate agent performance with the happiness ratings feature on Zoho Desk, which allows customers to provide feedback on the quality of service they've received. You can view built-in reports that show response and resolution times for each agent, or make customized dashboards and reports, to focus on the metrics that matter to them to see the length of average customer phone conversations and their corresponding happiness rating.
Collaborative features
Any software that you have to go out of your way to adapt to is bound to leave you unsatisfied. Zoho Desk is flexible software that adapts to your business requirements. You can integrate with all your favorite apps via the Marketplace or with APIs and Custom Functions. With our telephony partners, you can choose the one that's most compatible with your business.
Telephony partners
With multiple options to choose from, running a call center on the cloud is easier than ever.
What if you don't like the call center software after you buy it?
There are a lot of options to choose from when it comes to cloud-based call center software. If you run a small business, you might find an open source or free software that suits your needs. You can evaluate and compare Zoho Desk with its contemporaries, take a look at pricing plans, and arrive at a decision yourself without spending anything. It definitely is worth the effort.