Enhancing work continuity with WorkDrive's add-on for Microsoft Office
Last Updated: July 7, 2023
305 Views
3 Min Read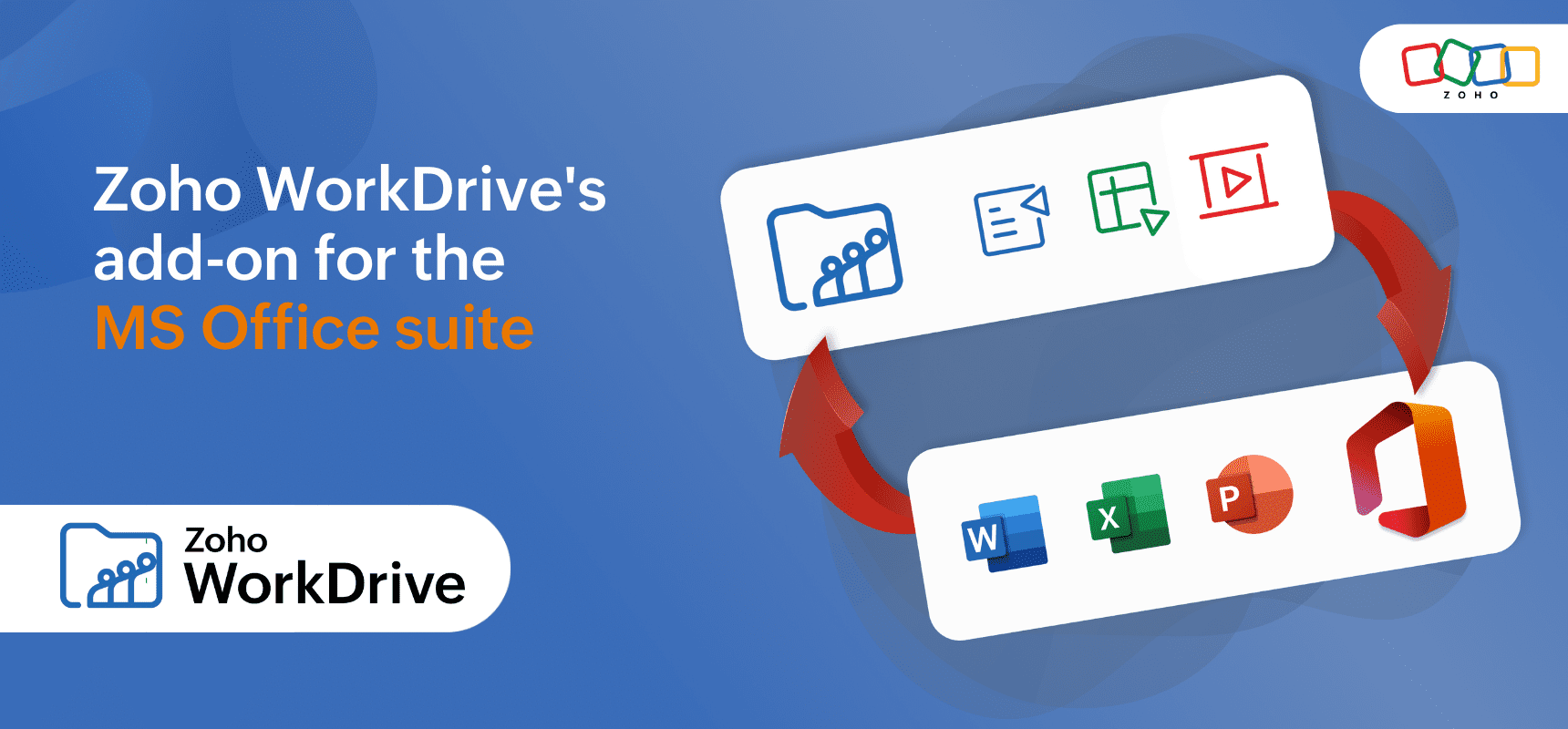 Most companies use legacy software for routine business activities. With the changing work culture and constantly evolving technology, integrating your native legacy tools with third-party apps is essential to gain a competitive edge. Software integration enables work continuity, enhances the user experience, optimizes business processes, and improves overall efficiency. This is why Zoho WorkDrive is designed to integrate seamlessly with legacy software.
With the WorkDrive add-on for MS Office, your teams can work across Zoho WorkDrive and the Microsoft Office suite more effectively. In this blog post, we will explore the ways our add-on can simplify WorkDrive file management and content collaboration for Microsoft Office users.
Connect your MS Office suite with Zoho WorkDrive
With a quick, one-click installation of the WorkDrive add-on, you can create and edit files within the Microsoft Office suite and store them in Zoho WorkDrive.
When you make changes to the file and save them in MS Office, a new entry in your WorkDrive version history will be created. Whether they're using an MS Office app or WorkDrive, all your teammates can keep track of file activity and stay on the same page consistently.
Want to prevent changes by your teammates while you're working on a file or finalizing a document? You can restrict team member activity with WorkDrive's Check-in and Check-out features, which you can access from the MS Office suite.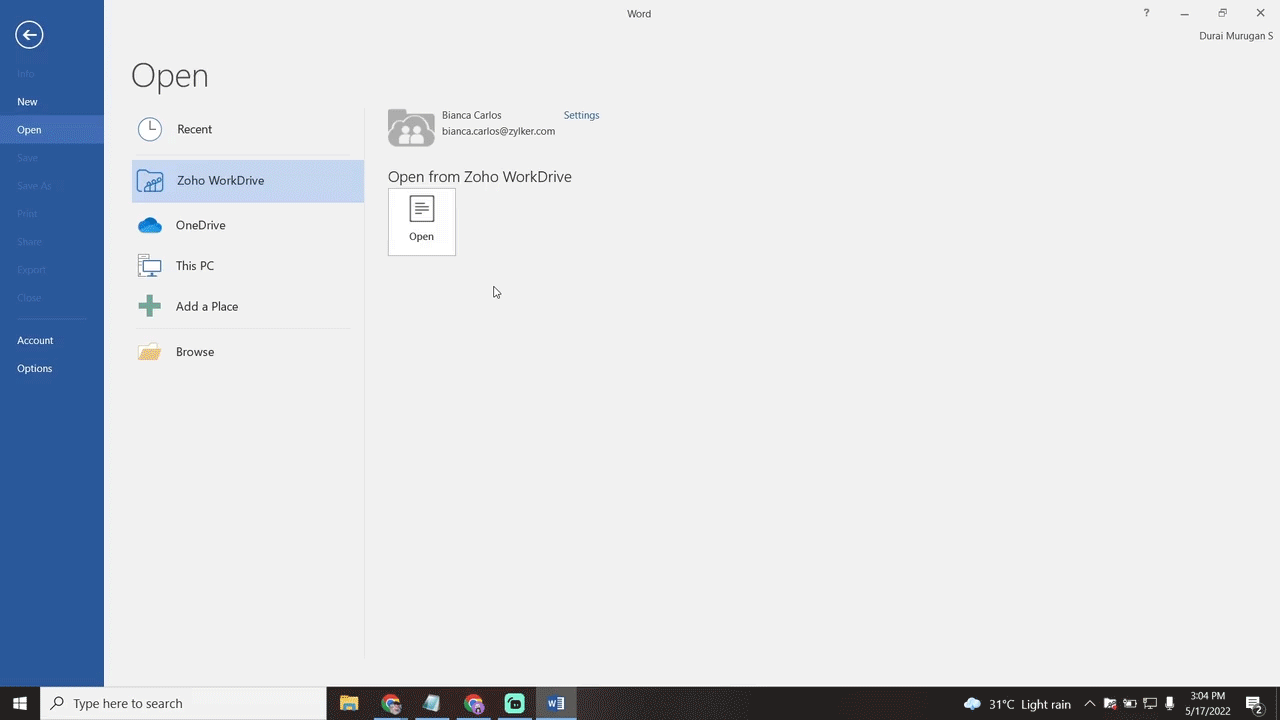 These capabilities extend to WorkDrive's desktop sync application (TrueSync) as well. TrueSync creates a virtual drive without taking up significant system storage space and lets you download selected files, so you can work on them even when you aren't connected to the internet. Changes made to your files are automatically uploaded to the cloud once the internet is restored. With the WorkDrive collaboration widget for TrueSync, you can track your team's live user activity in MS Office and stay updated on changes.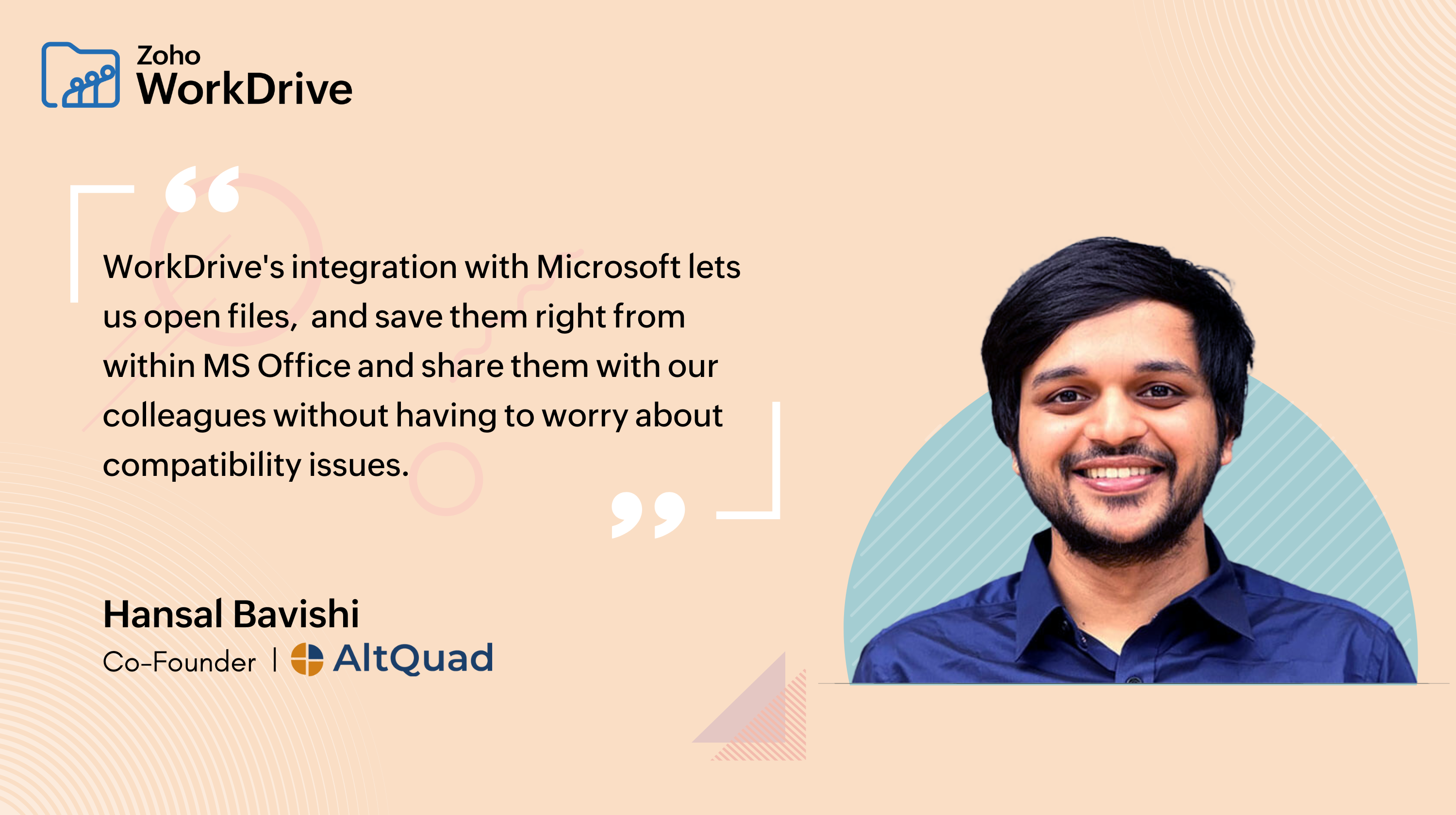 In fact, one of our customers, Hansal Bavishi, co-founder of AltQuad added that he and his team can work directly on a file stored in WorkDrive from their desktop application (MS Office). This way, the team doesn't need to download files every time they have to edit them. Once the changes are made in the desktop application, the updates are saved to WorkDrive.
There's more to come
A seamless integration between WorkDrive and Microsoft Outlook is underway. Users will be able to access their WorkDrive files and folders directly from the Outlook interface, similar to the existing integration between WorkDrive and Gmail. With this feature, users can stay productive and organized without having to switch between platforms.
The way ahead
Integrating WorkDrive with other applications can help streamline your work processes and keep you organized. Offering increased file accessibility and enhanced collaboration capabilities, this integration is a must-have for any MS Office user looking to optimize their workflows with Zoho WorkDrive.
Note: Do you consider yourself a beginner when it comes to using the MS Office add-on for WorkDrive? In that case, you can check out our help article to get up to speed.
Leave a Reply
Your email address will not be published. Required fields are marked