Presenting WorkDrive 3.0: Enhance team collaboration and improve file accessibility: Part -2
Last Updated: June 30, 2022
407 Views
4 Min Read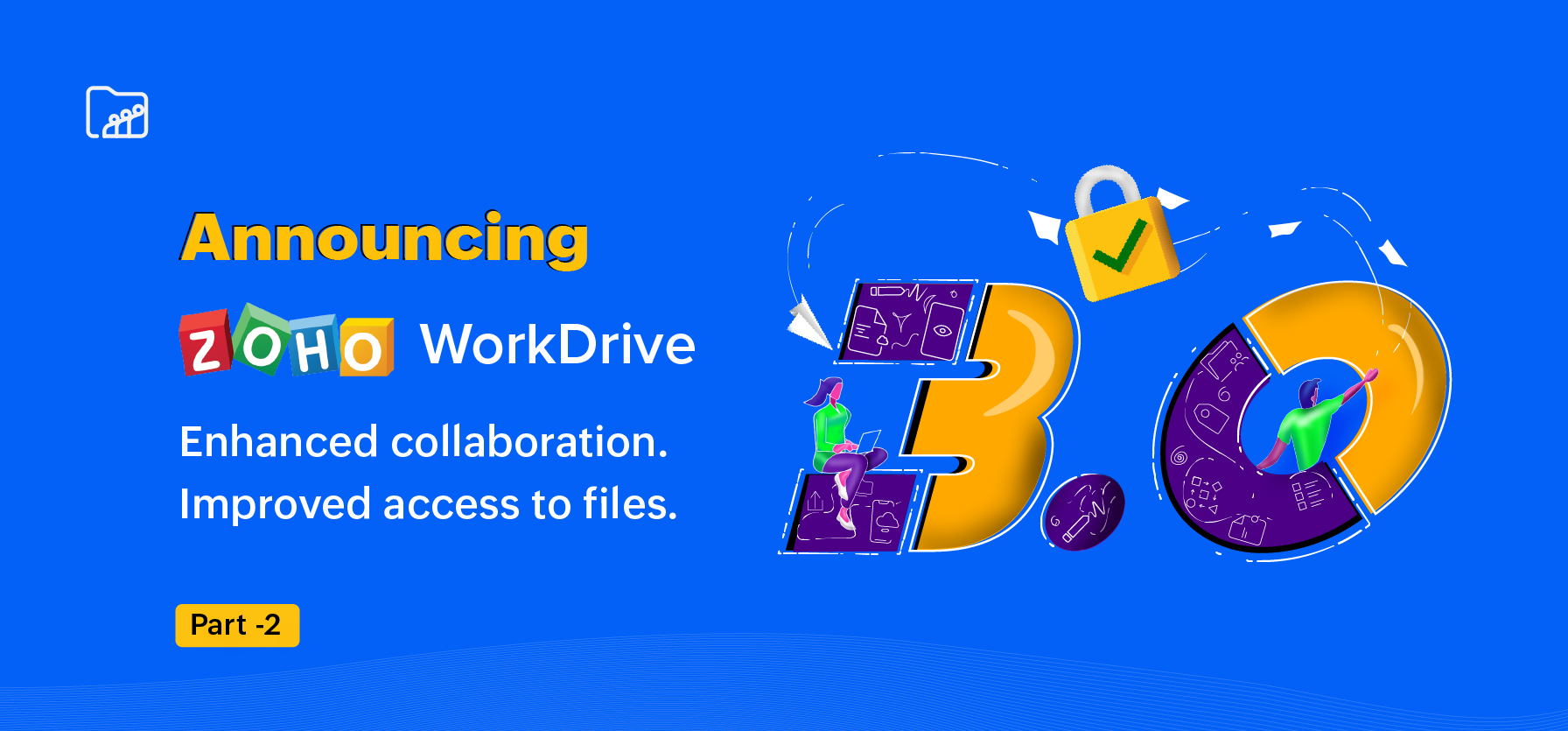 In our previous announcement, we introduced the first set of features to help facilitate better access to data and enhanced collaboration for hybrid teams. Now, we're back with the next set of feature updates, all aimed at helping you manage your data more effectively.
Share files with increased security
With WorkDrive's external share links, teams can securely share and retain complete control over files. We've added a couple of new functionalities to make information sharing even more streamlined and secure.
1. Enforce password-protected file sharing
You can now require passwords for sharing a file or folder through an external share link. This ensures a secure file-sharing process.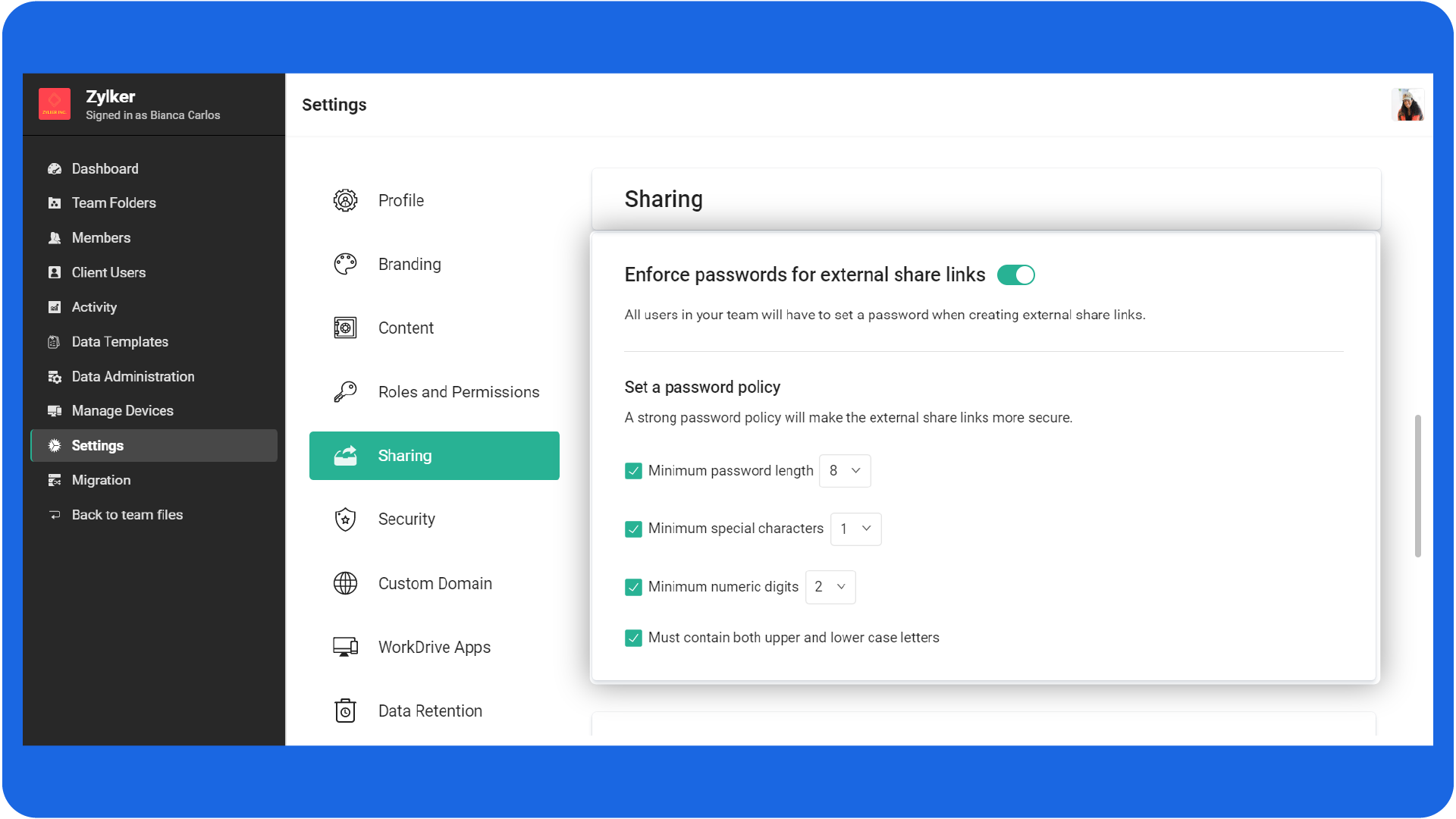 2. Set a default expiration period
Easily share time-sensitive documents with your clients or employees. Set a default expiration period for all external share links and download links, and restrict unwanted access after a certain period of time.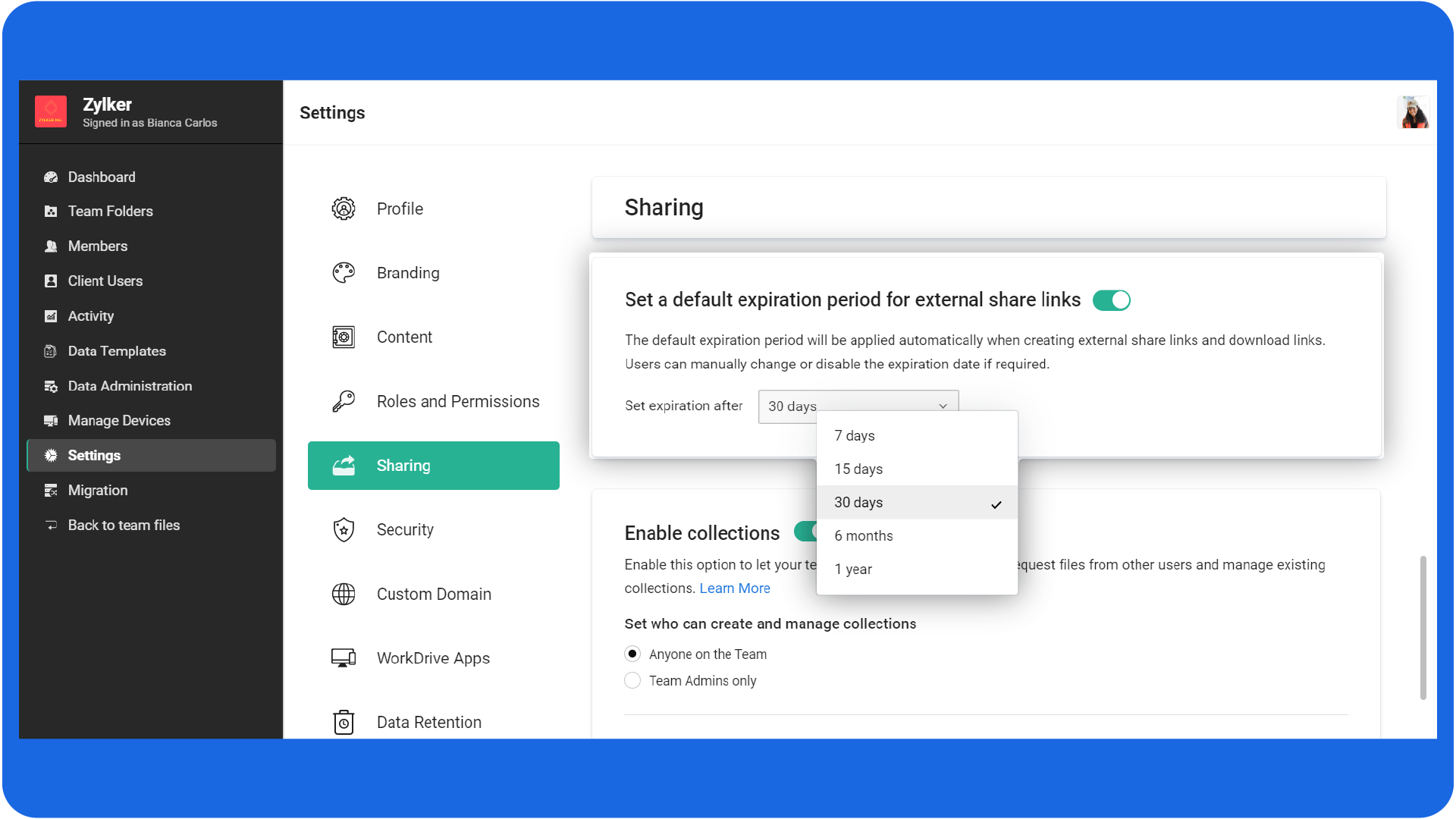 Discuss your ideas with file annotations
Annotations help users highlight text and add notes to files for quick reference.
1. PDF Annotations
Whether you're working on a blog, a business proposal, or a financial report, PDF annotations make it easier to get feedback from your team members. Simply highlight a specific line of text, or a section, and @mention your collaborators to add comments.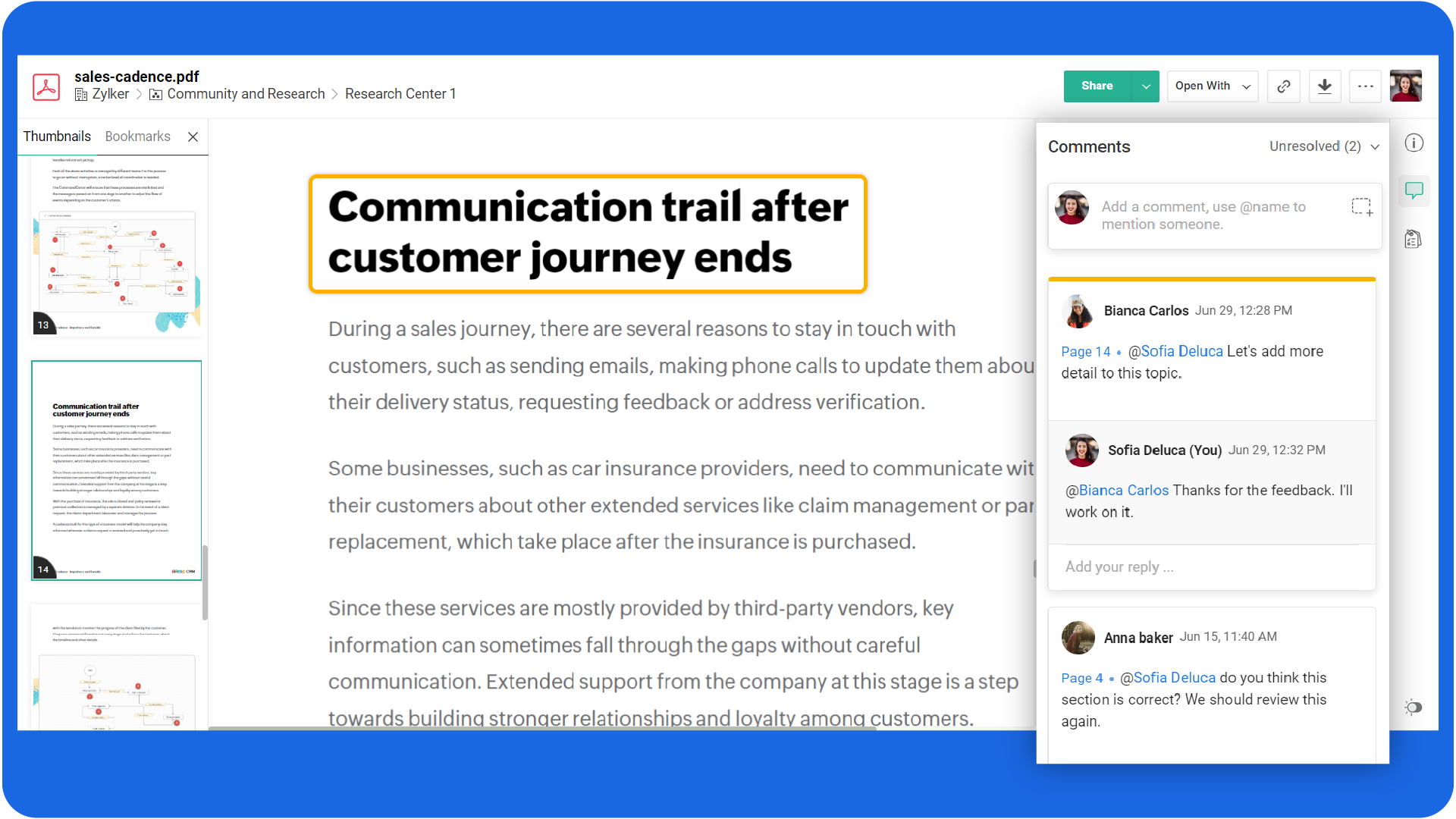 2. Image Annotations
Similar to PDF annotations, this feature helps you highlight a specific part of an image and add comments. For example, when working on creatives with your design team, you can use image annotations to give feedback.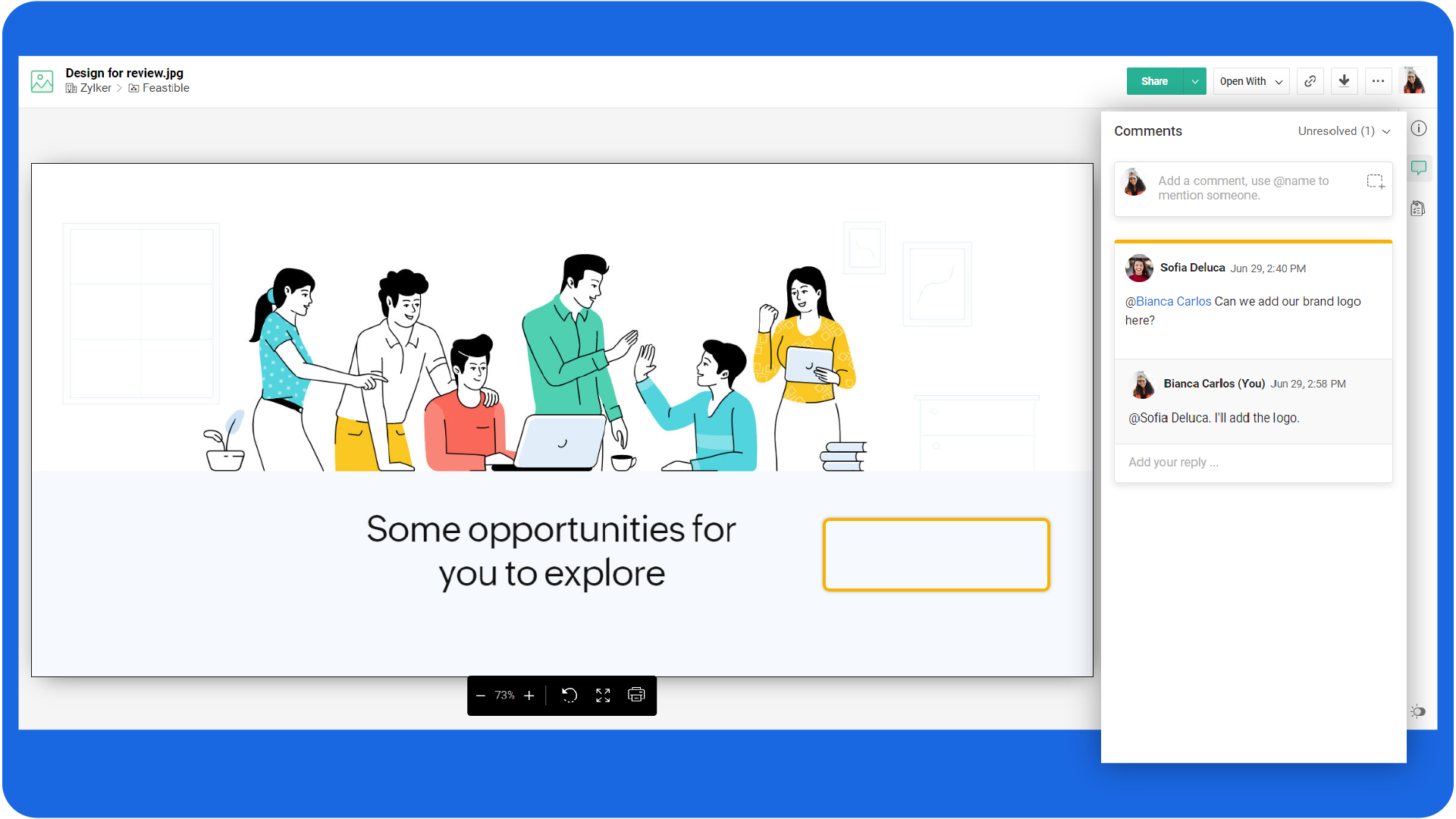 Improve your video experience
Videos provide a compelling way to tell a story. Creating quality videos requires a variety of teams, including design and marketing, to work together. To make the video creation and collaboration process more effective, we've included a few new features:
1. Annotations for videos
Provide clear-cut feedback on the videos you work on. This feature allows you to jump to any frame in the video and add comments with a corresponding timestamp.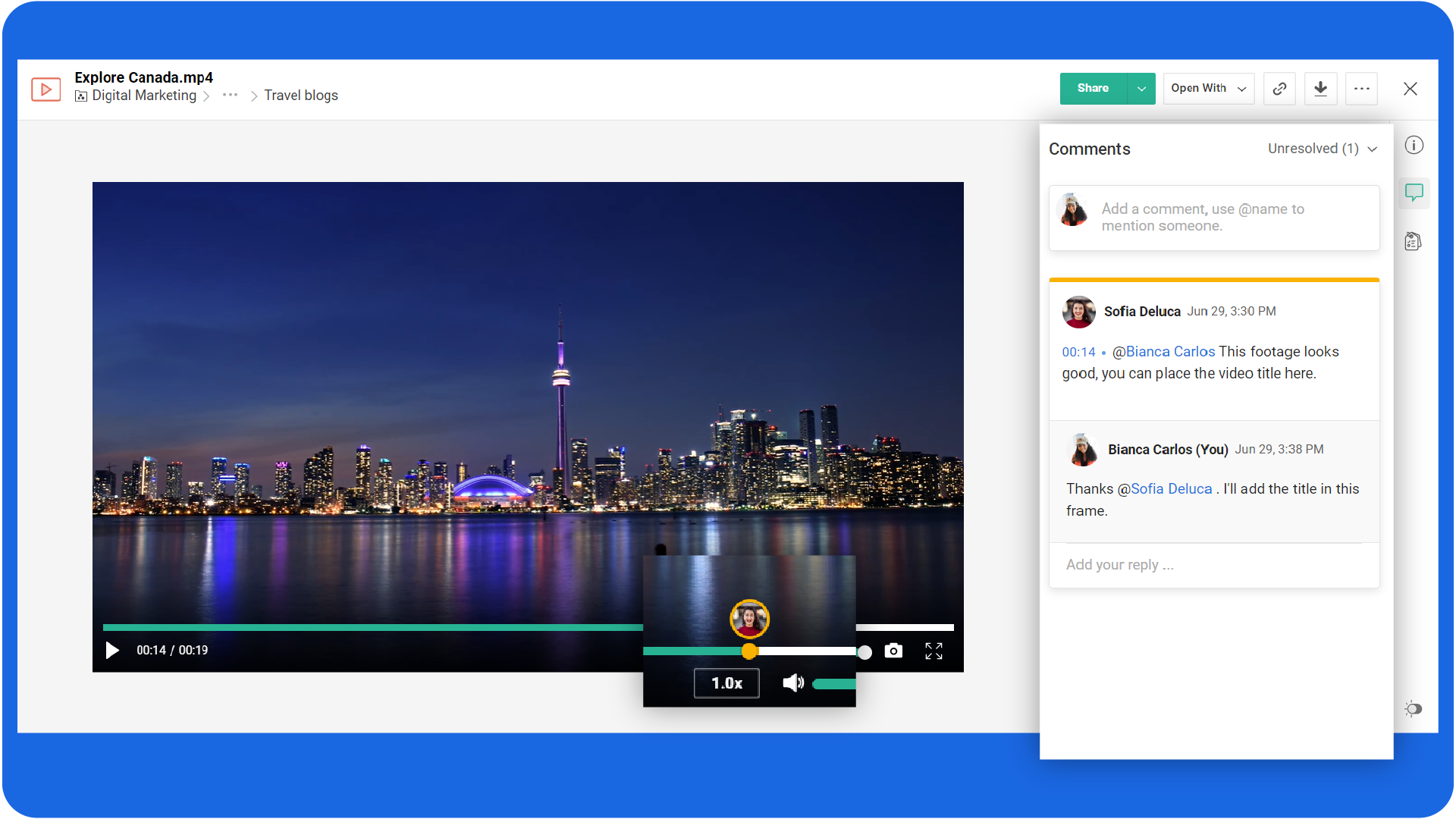 2. Video cover image
A good video cover image not only encourages viewers to watch, but also gives them an idea of what to expect.
Now, WorkDrive gives you the option to modify the default cover image to an image of your choice. Your custom cover image will appear in all video previews (including external users' view), embedded view, and as a thumbnail in the file listing.
3. Break your video into chapters
Want to make your sales pitch videos more interesting? Try using video chapters! You can now segment your videos into multiple sections and easily navigate to the topic your viewers are most interested in.
Organize your digital data with data templates
Teams manage a wide variety of files every day, including PDFs, images, videos, and design source files. Data templates help you classify and organize unstructured data into a structured repository where you can obtain actionable business insights.
1. Structure your business data
With our recent update, you can mandate users to associate data templates and add meaningful metadata to every file. This way, it will be easy to search for files using the data templates filter and linked metadata.
Manage your collected files
Whether you're collecting investment proofs from your employees or resumes from candidates, WorkDrive's Collect Files feature helps you securely request the documents you need.
1. Categorize files by user
It is difficult to find the right information when all files are kept in a single folder. Now, you can create an individual folder for every unique user submission based on their name, phone number, or email address.
2. Create a collection report
Need more details on users and the files they have submitted through a collection link? Export a collection report, where you can find the uploaded file, user name, last submitted date, and more.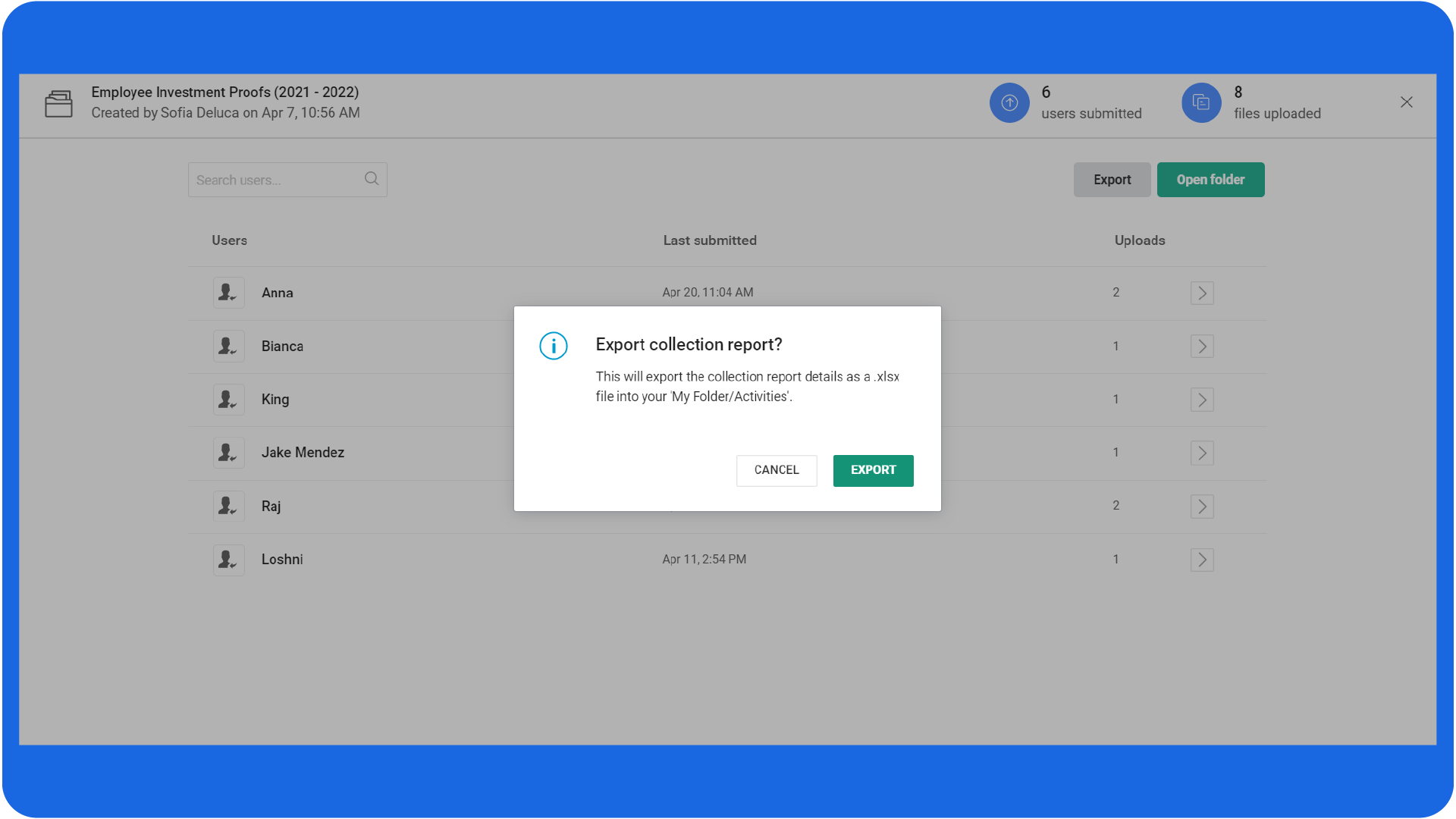 Never miss an update
Worried about missing an important work update? WorkDrive's notifications keep you informed about your team's activity and project status at all times. With our latest update, you can choose the notifications you need and select the platform where you'll receive them.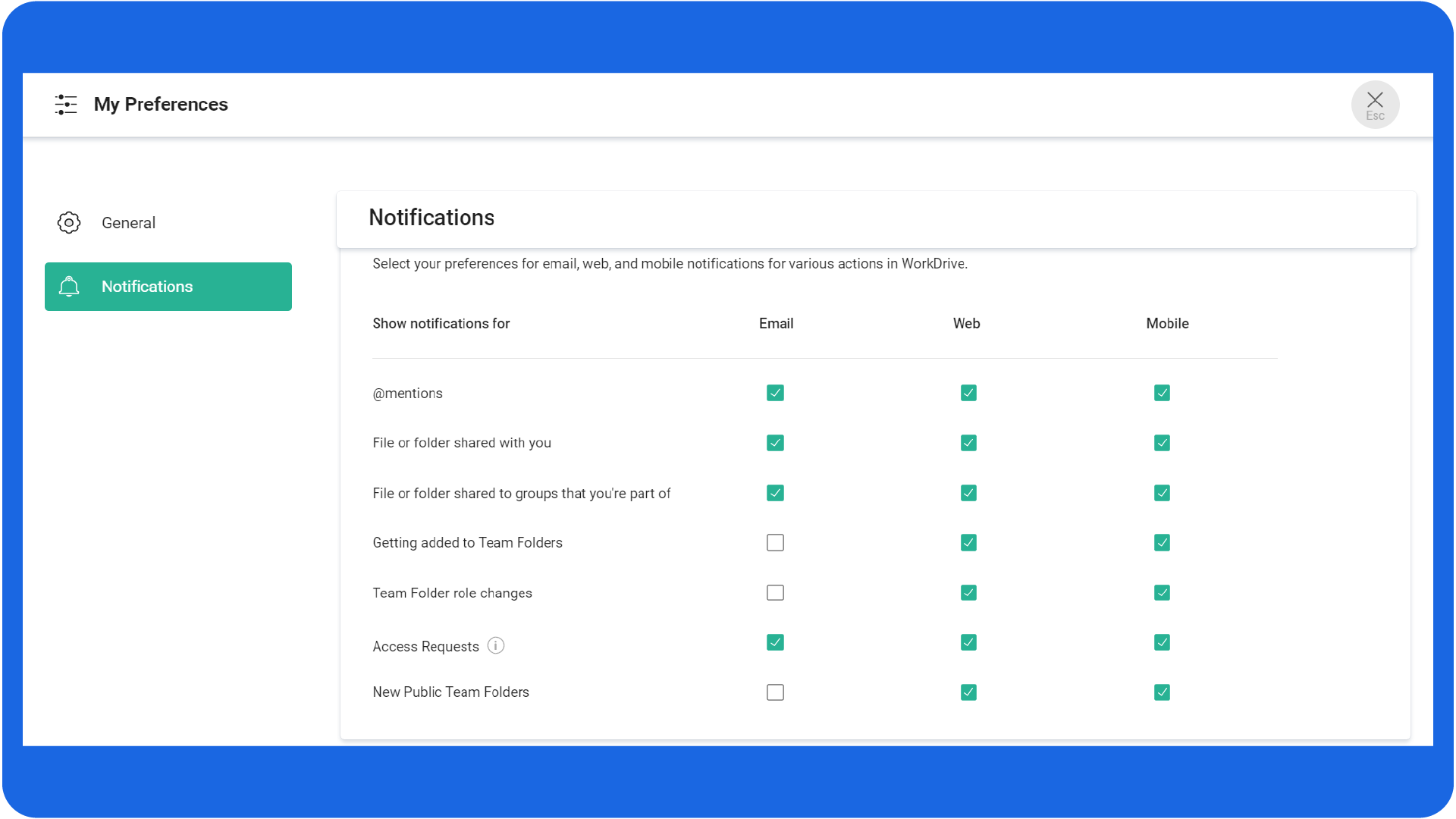 Move your business data to WorkDrive
Migrating your business data to WorkDrive is now easier than ever. Seamlessly transfer your corporate files from your desktop or other cloud service (such as G Suite, Dropbox, or OneDrive). Learn more about migration here!
Data is an integral part of every business. To handle your data in accordance with the demands of the modern business world, you need the right tools and technology.
That's why the WorkDrive team aims to continually enhance your file management experience and roll out new improvements every year.
For feedback and questions, please write to us at sales@zohocorp.com. You can also follow us on Twitter, Instagram, LinkedIn, and Facebook for interesting WorkDrive news and product updates.
Leave a Reply
Your email address will not be published. Required fields are marked