Why use Zoho Meeting's video conferencing app?
An ideal video conferencing tool can conduct audio, video, and screen sharing sessions with minimal internet connectivity. Zoho Meeting's free video conferencing app fulfills this criteria while also being compatible with all major platforms such as Windows, Linux, MacOS, Android, and iOS.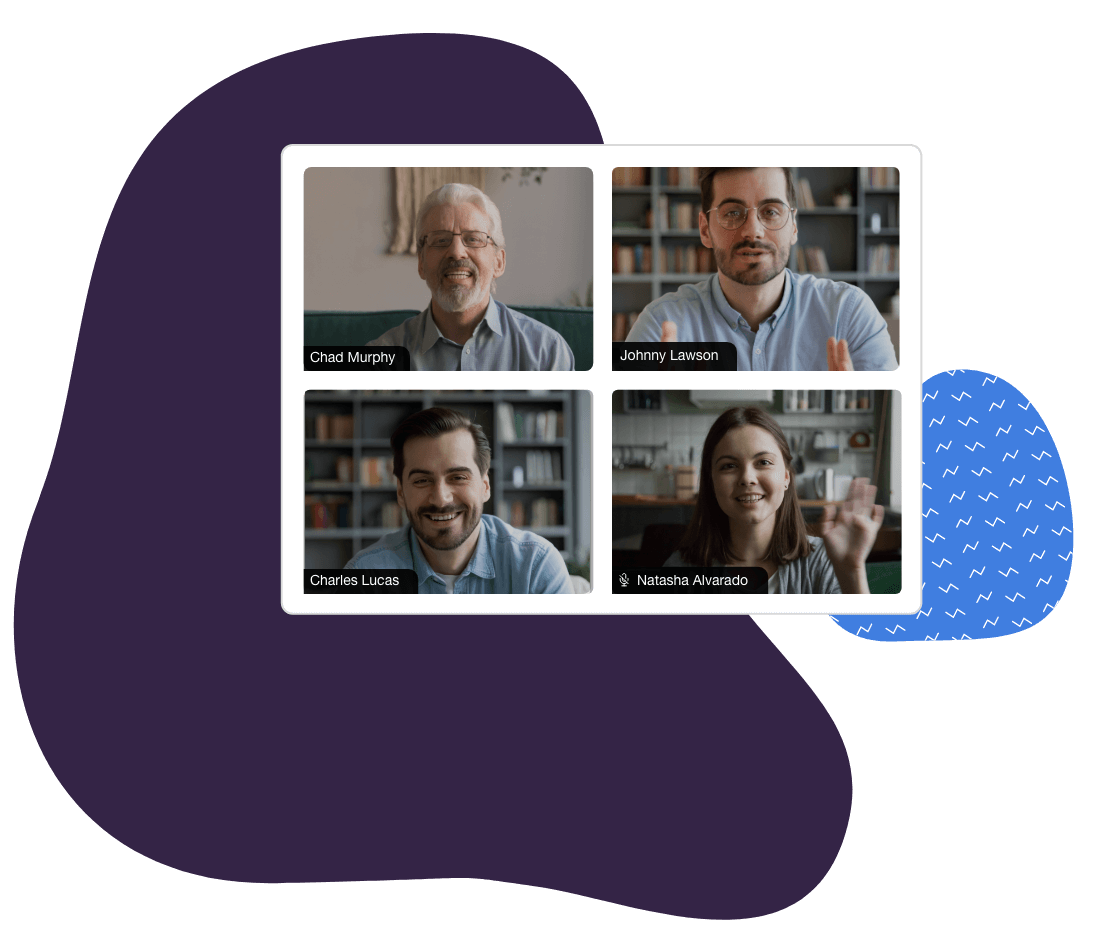 Advantages of using Zoho Meeting's video meeting app
Zoho Meeting's video conferencing app, powered by our proprietary online meeting platform, helps you conduct your video meetings in real-time using video, audio, and screen sharing. Our user-friendly solution comes with interactive controls and is available at an affordable price.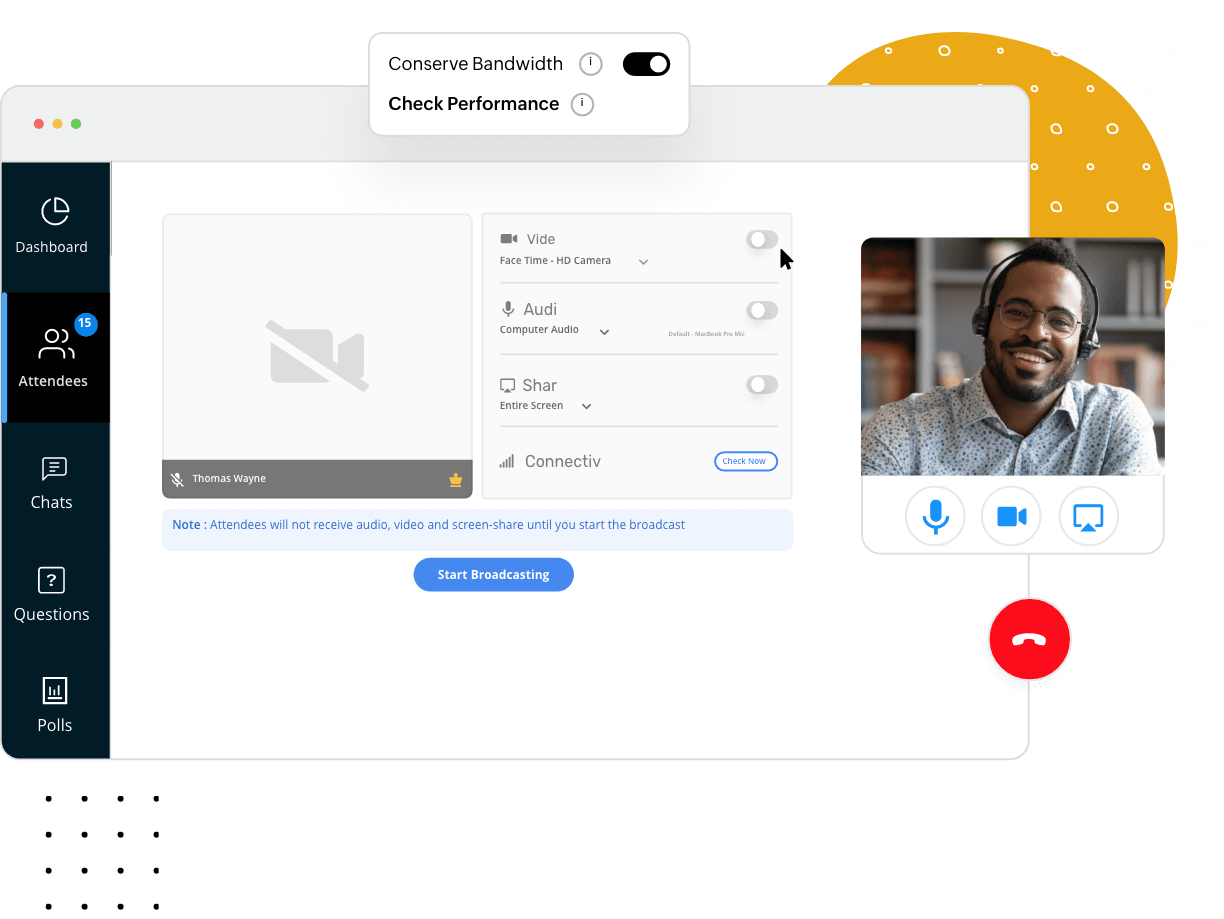 Key features of video meeting apps in 2023
Effortless video meetings
Conduct seamless online video call on the go using Zoho Meeting's battle-tested video conferencing app. It offers single-click entry and exit on handheld devices, PCs, laptops, and workstations for an effortless audio and video meeting experience.
Quick access meeting controls
Start your audio meeting, mute your line, switch to your choice of audio, and more in a flash using our quick access meeting tools for audio conferencing.
Secure video conferencing
Zoho Meeting's video meeting app offers multiple security features to keep your video conferences safe from disruption, such as the Lock Meetings function, organization-level video settings, and Entry/Exit notifications. Zoho Meeting also encrypts audio, video, and screen sharing to keep your information safe as it travels through the internet. Learn more about security and privacy.
Comprehensive analytics
Analyze your video meetings by revisiting your recorded meeting sessions, and generate reports directly from your video conferencing app to track your performance.
Co-branding
Add a personal touch to your video meetings by embedding your meeting links on your website so your audience can easily join your video meetings directly.
Screen sharing
Share your screen to add context to your presentation during video meetings. Share a document with all your meeting participants or deliver a slide presentation. Also, make use of whiteboards to collaborate with participants in real time.
Chat
You can easily use the chat feature to send messages or links to everyone in a meeting. You can also record your screen sharing sessions and use these recordings for future references.
Look at what our customers have to say about Zoho Meeting's free video meeting app
"Neat! Zoho Meeting is finally a true alternative to Zoom and GoToMeeting! I am so excited and I tried it out today."
Anita Campbell
Founder and CEO at Small Business Trends
"Very useful meeting tools, as we use for Zoho for our CRM and accounts, it was an easy choice to use Zoho Meeting as well. Very good for remote demo's."
Tolik Rozensteins
Business Development Manager, Security & Vetting Solutions Ltd
"We now have several weekly team meetings that allow everyone to be in sync with each other. And for our customers we have created a series of live webinars and group meetings where they can speak directly with our team and learn about raising solitary bees."
Karl Alexander
Marketing Director, Crown Bees
Video conferencing apps for desktop, mobile and browsers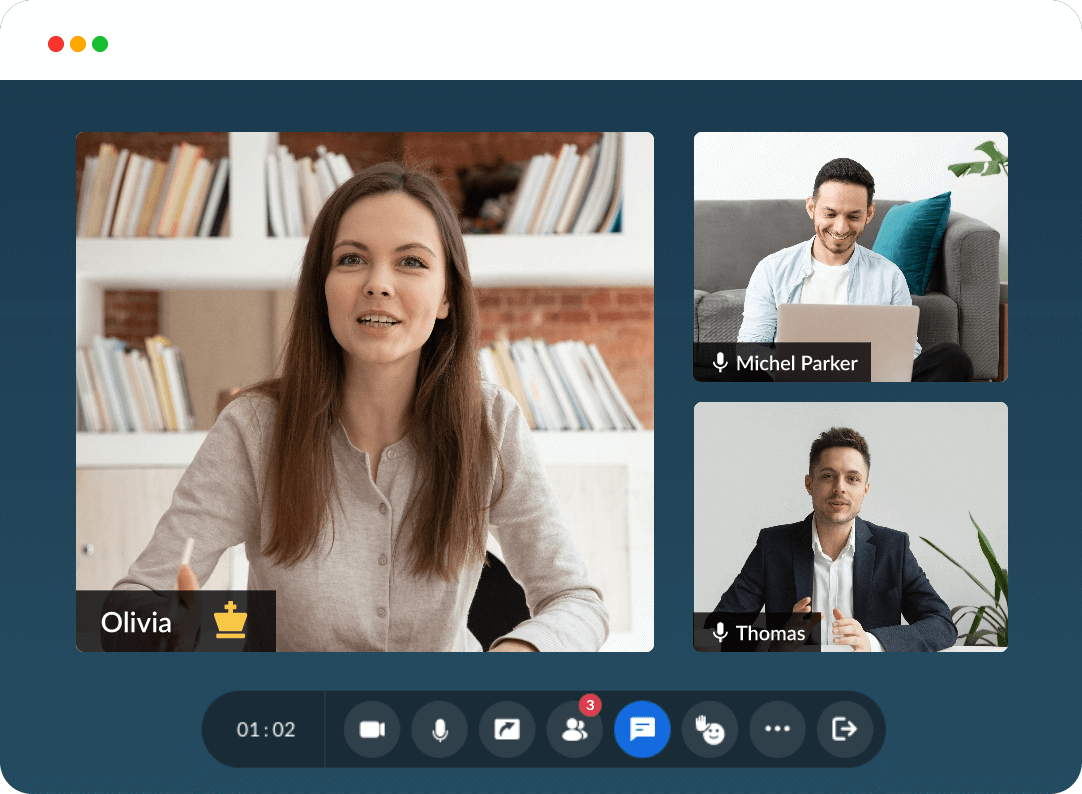 Connect using Zoho Meeting's desktop app
Use Zoho Meeting's desktop video conferencing app for a better and hassle-free experience during your online meetings. Learn more
Download now
Conduct video conferences on-the-go!
Use our mobile meeting apps for iOS and Android and collaborate with your team on the go. Read more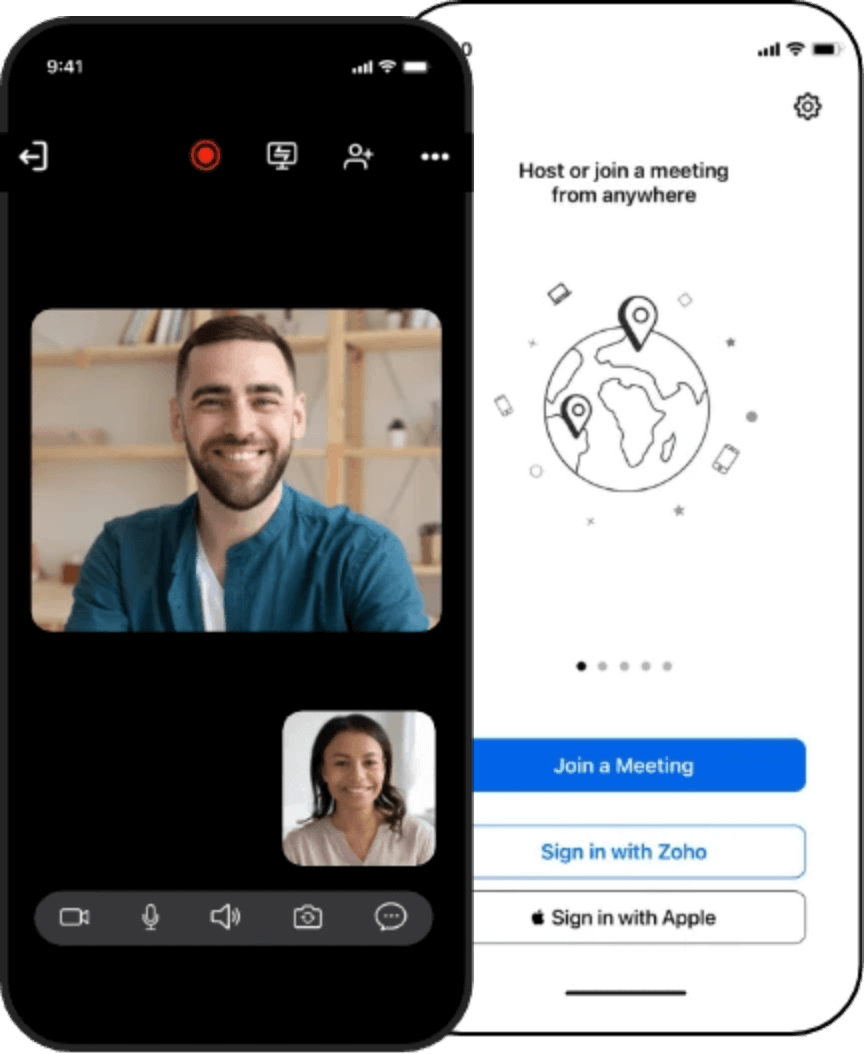 Frequently Asked Questions
01. What is a video conferencing app?
A video conferencing app is a software tool that lets you conduct video meetings online via video conferencing, audio conferencing, and screen sharing. They are useful for remotely conducting interactive virtual meetings, trainings, and demo sessions.
02. What makes a great video conferencing app?
An ideal video conferencing software should provide collaborative features like screen sharing and remote access for business communications. It should have a straightforward interface to start and join remote video meetings.
03. Does Zoho Meeting provide free video conferencing software for teams?
Yes. Zoho Meeting offers free video conferencing solution for teams with features like co-host, lock meetings, and embed meeting links to websites. You can launch meetings from your browser or download our applications to connect with your team seamlessly.