Welcome to Zoho Invoice!
Zoho Invoice is the fastest way to simplify customer invoicing and automate payment collections.
This user guide is designed to help you understand how to use Zoho Invoice.
If you haven't signed up for Zoho Invoice already, click here.
If you've already signed up and wish to configure your account based on your requirements, know more about the Settings section.
Using Zoho Invoice
To access Zoho Invoice, all you need is a web browser and a working internet connection.
If you're a mobile user, you can download the Zoho Invoice mobile app based on your phone's operating system.
Getting to Know Zoho Invoice
Let's get started by looking at the dashboard of Zoho Invoice.
Dashboard - Gives an overview of your company's sales and expenses; top projects; due receivables, and lot more. To know more about various sections of the dashboard, click here.
Sidebar - Allows you to switch between different modules of the product. You can raise estimates, invoices, etc. from the Sales module; Record expenses from the Purchases module.
Quick Create - Instantly create transactions with a single click.
Gear - Lets you access the settings section, where you can configure and customize Zoho Invoice for your business.
Help - The help icon give you quick access to help documentation or access to our Support team.
Notifications - Notifies you on what's happening in your client portal and also updates you on what new feature has been added to the product.
Organization - Allows you to manage/switch between multiple Zoho Invoice organizations.
Recent History - View recently visited transactions
Create and send an invoice in 4 simple steps
If you're a new user, and you wish to generate invoices instantly, kindly follow the steps mentioned below:
1. Add customer(s)
Add your customer data into Zoho Invoice and easily choose between them while sending out an invoice. If you have a huge list of customers to be added, use the import option to add customer information in bulk.
2. Add item(s)
You would usually invoice your customers for the products or services that you offer. Add your products/services to the Items section to choose them while sending out an invoice.
3. Setup a payment gateway
You've added customers and items. Now, you need a way to receive payments from your customers. Integrate your account with PayPal. This allows you to add a payment link to the email along with which your invoice is being sent.
If you do not wish to configure the payment gateway, you can still receive offline payments from your customers and record an offline payment.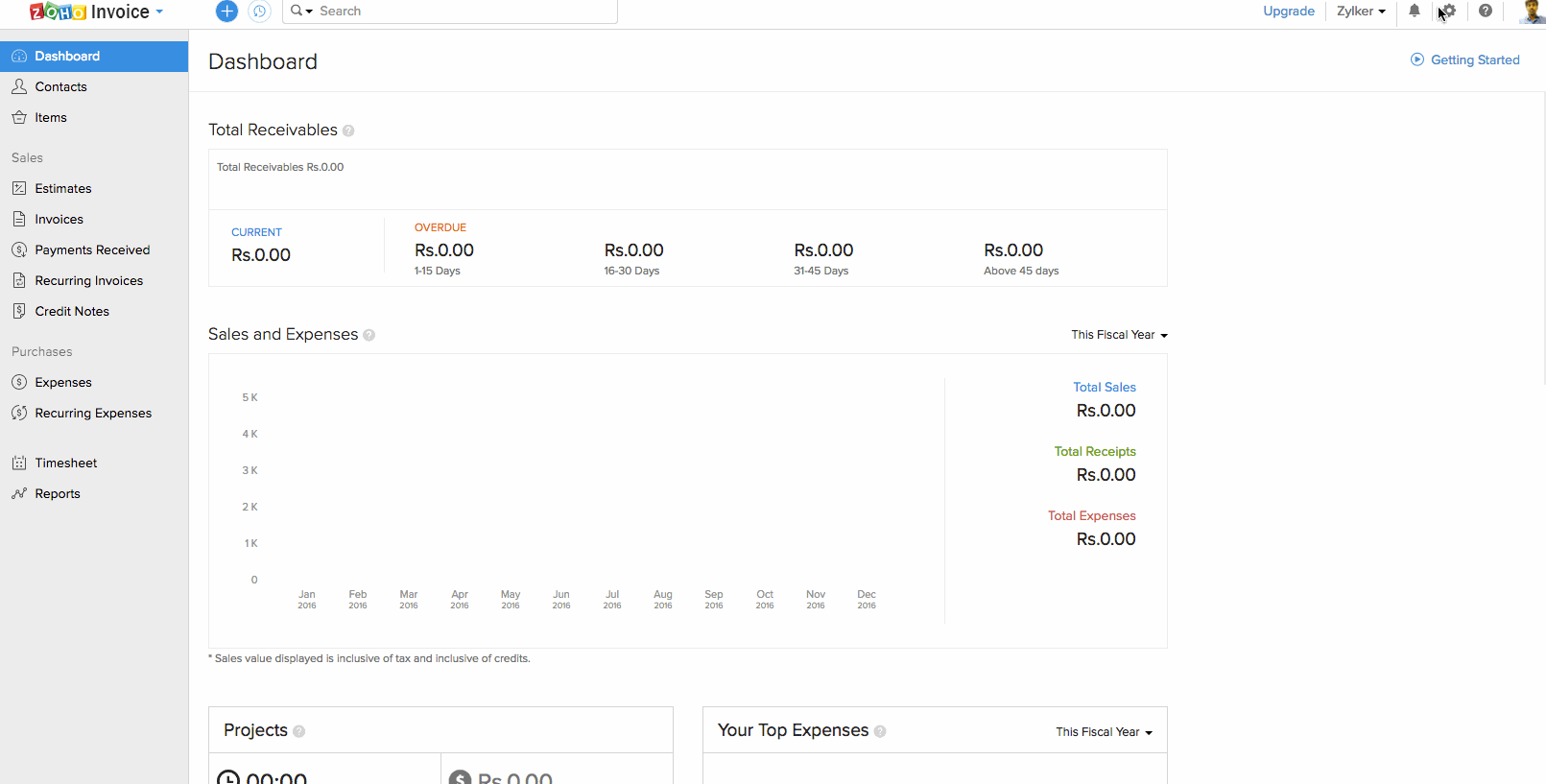 4. Create and send an invoice
To create an invoice to your customer, kindly follow the below mentioned steps.
Select the Quick create icon present next to the Invoices tab
Select a customer
Choose the invoice date and payment terms.
Choose the items for which you wish to raise the invoice.
Select payment options (choose your payment gateway)
Click Save Draft to send the invoice later, or click Save and Send to instantly send your invoice.
This would've given you the basic idea on how to use Zoho Invoice. But, hey! We're not stopping you from learning more! Feel free to navigate through the rest of the help document to know about each module in detail.