Integration Preferences
Zoho Invoice provides a variety of integrations allowing you to collaborate and make different entities work together in your business. In the Integration Preferences, you can configure them. The integrations are grouped as follows:
Online Payments
Zoho Invoice is integrated with major online payment gateways to help you receive payments for your invoices online. This ensures faster and hassle free receipt of payments and further automates your cash flow and its book keeping. To set up a payment gateway, click the gear icon on the top right and select Integrations. Now choose Online Payments. You'll find the list of payment gateways that Zoho Invoice supports.
When you integrate a payment gateway with your Zoho Invoice organization, your merchant account information will be shared with the gateway. Zoho Invoice will store only the last four digits of your customer's card details.
IN THIS PAGE…
Payment Gateways
Click on a payment gateway to find out how you can use it along with Zoho Invoice.
---
PayPal
To setup PayPal as your preferred gateway for receiving payments,
Click on the gear icon on the top right corner of the screen.
Go to Integrations and select Online Payments and click the Setup Now button adjacent to Paypal logo.

Enter the following information and click Save.

Registered email Address: Enter the email address using which you registered in PayPal.

Re-enter the email Address: Re-enter the email address for confirmation.

Default Payment Option:

PayPal Standard: Choose this mode of payment to transact with your clients from across the globe. Your clients can pay you with a credit card even if they don't have a PayPal account. You receive your payments instantly. In PayPal standard, a percentage is charged as the transaction fee.

PayPal Business Payments: Regardless of your invoice amount, the transaction fee charged by PayPal is just 50 cents. Your clients however can make payments only via an eCheck or PayPal balance. The payment may be delayed if the payment is received via eCheck. In this mode of payment, both you and your clients need to have a US PayPal account.

To help you decide which of the Payment Options work for you, click on the grey question mark icon next to the Default Payment Options field to see the comparison between the two.

Page Style: Enter the layout of the payment page, that your customers see. Please note that this option is available only for PayPal Standard users. Click here for more on PayPal's page style option.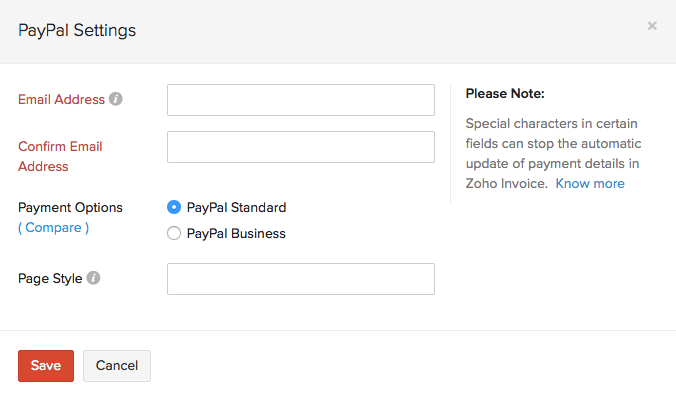 ---
Razorpay
Razorpay is an Indian Payment Gateway that accepts and validates online payments via Credit Card, Debit Card and Net banking.
Set up the Razorpay Integration
To set up Razorpay for receiving payments,
Go to Settings > Integrations.
Navigate to Online Payments.
Click the Set up Now button under Razorpay.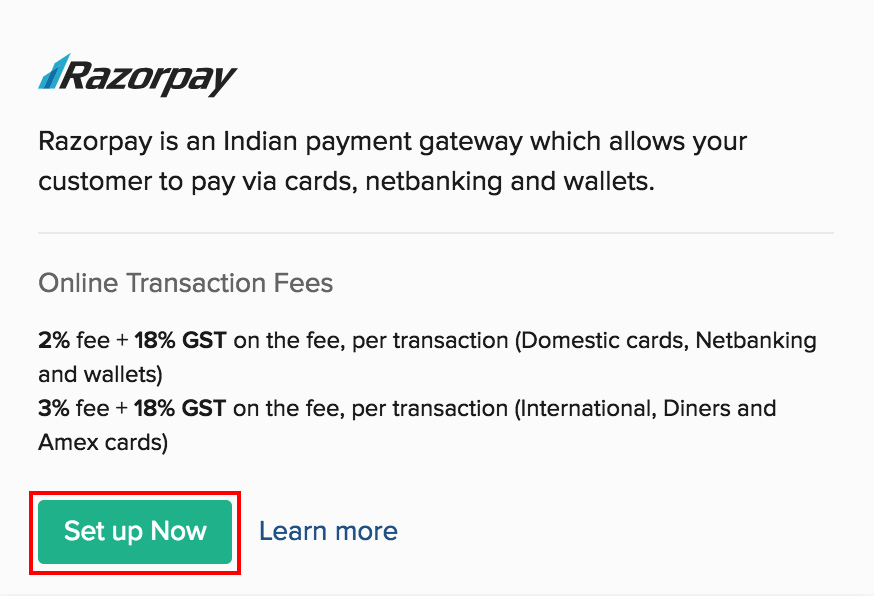 You will be redirected to the Razorpay website.
Enter the email and the password of your Razorpay account.
Click Login.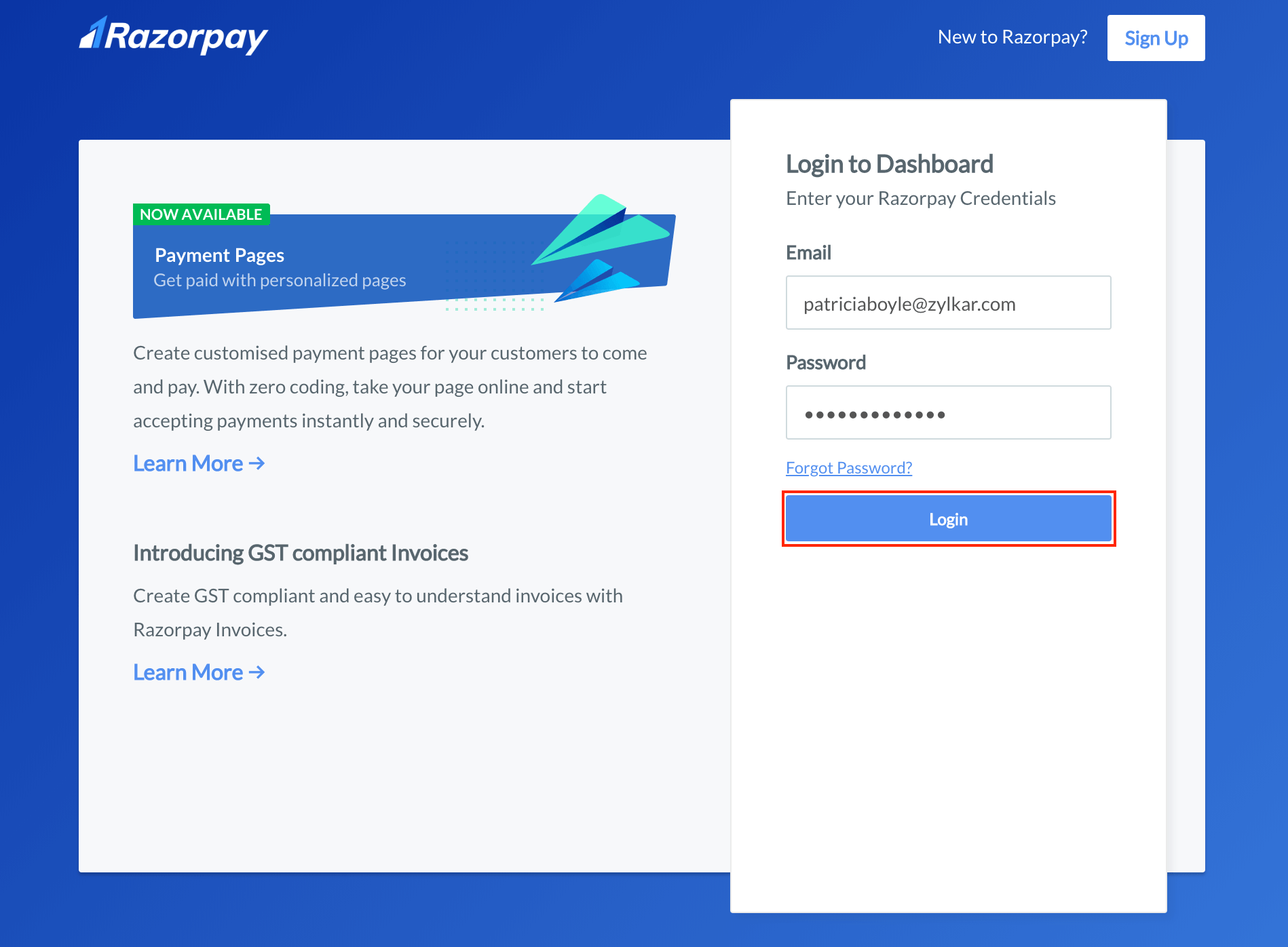 Note: If you don't have an existing Razorpay account, click the Sign Up button in the top right corner to create a new account.
Once you've logged in to your Razorpay account, click Authorize to complete the setup.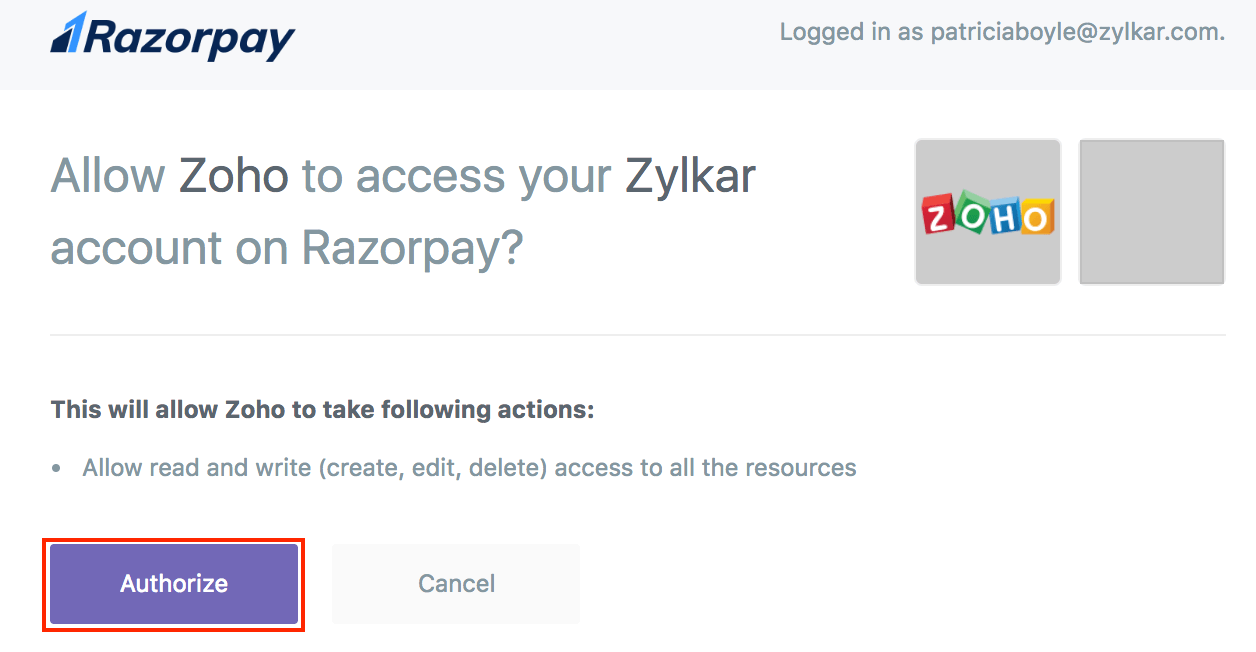 Disable the Razorpay Integration
To disable the Razorpay integration:
Go to Settings > Integrations.
Navigate to Online Payments.
Click the Trash icon on the right side of Razorpay.

Note: If you disable the Razorpay integration and want to enable it again, you would have to re-enter your Razorpay credentials.
---
2CheckOut
To configure 2CheckOut,
Click the gear icon on the top right corner of the screen and select Integrations.

Select Online Payments and click the Setup Now button below 2Checkout logo.

Enter your 2CO Account number in the 2CO Account No field . Ensure that you configure your 2CheckOut account by logging in to the 2CO control panel.

Enter the secret word (Password) in the Secret Word field and hit the Save button.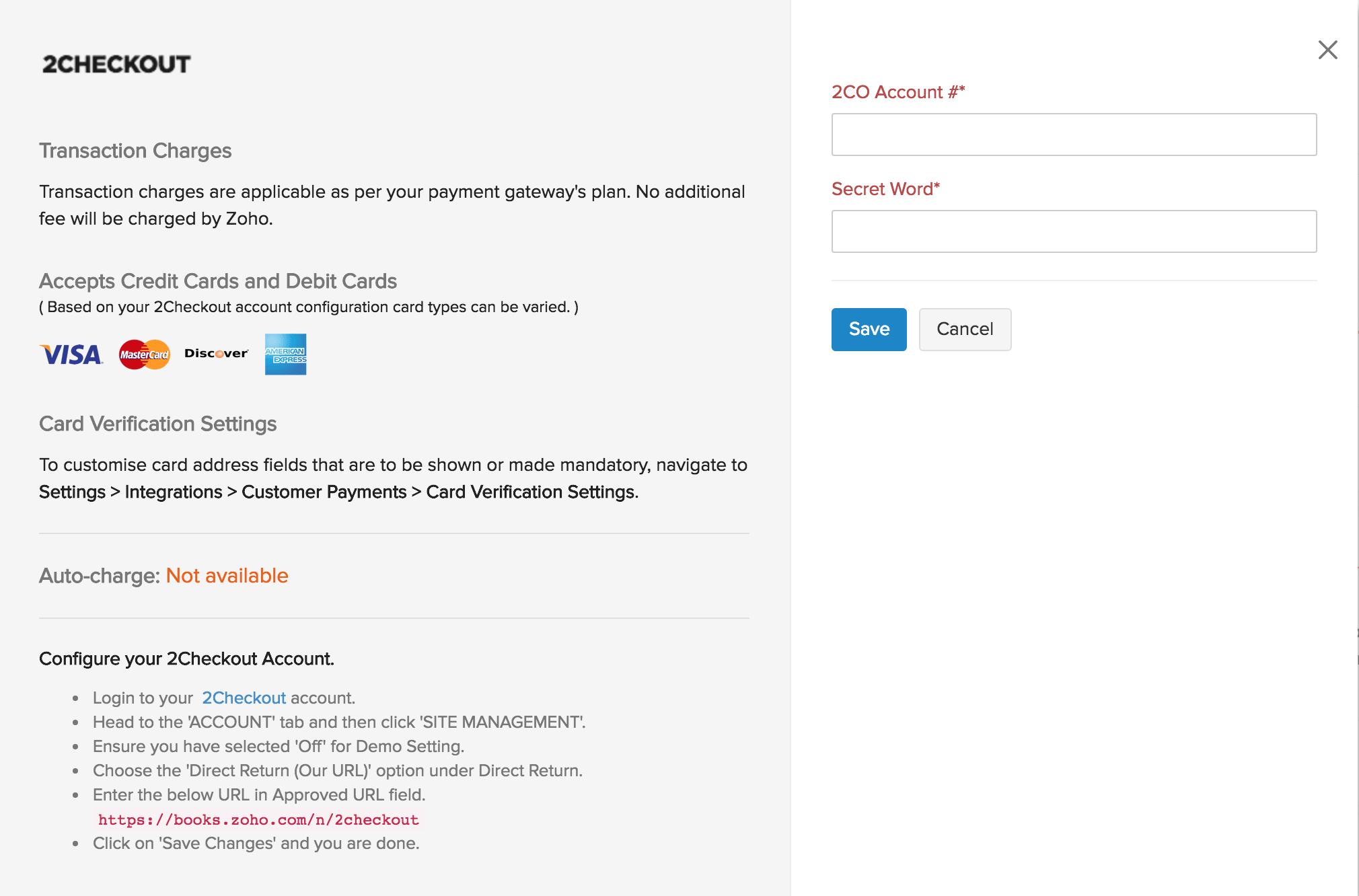 If you haven't created a 2Checkout merchant account yet, click here to sign up now.
---
Card Verification Settings
Initially card address was made mandatory in Zoho Invoice. This was initiated by us to avoid confusions with respect to various payment gateways as different payment gateways have different validations. But now you are given that option to decide on whether the card address needs to be shown or not.
Depending on your choice of gateway you can enable the necessary fields of the card address to be shown or to be made mandatory by making the preferences in Card Verification Settings.
Kindly follow the steps below to make card address related changes:
Click the Gear icon present at the top right corner of the screen.
Go to Integrations and select Online Payments and click the Card Verification Settings button.
Here you can customize card address details accordingly.
---
Zoho Invoice ZSC (Zoho Service Communication) Key
Zoho provides numerous world class apps in addition to Zoho Invoice, such as Zoho CRM, Zoho Books, etc. If you have a Zoho CRM account and would like to integrate with your Zoho Invoice or Zoho Books account, you may use this ZSC key to do so. The ZSC Key is a unique key used to communicate between these apps.
Click the Gear icon present at the top-right corner and select Integrations.
Select Zoho Invoice ZSC Key, to get the key or to generate a new one.
Click the Regenerate ZSC Key link provided on this page, to generate a new ZSC key.

---
Transaction Fee of All the Payment Gateways
PayPal - 2.5% + Fixed Fee
razorpay - 1.75% for Indian Credit Cards, Indian Debit Cards, Net Banking from 58 Banks, UPI, Wallets including Freecharge, Mobikwik and 2.75% for Diners and Amex Cards, International Cards, EMI.