Simplified Online GST Software for Accounting & Compliance in India
Stop worrying about laws changing in India. Stay updated and compliant with the online GST software for accounting, Zoho Books. Manage your finances, and file GST online for your business—all from one platform.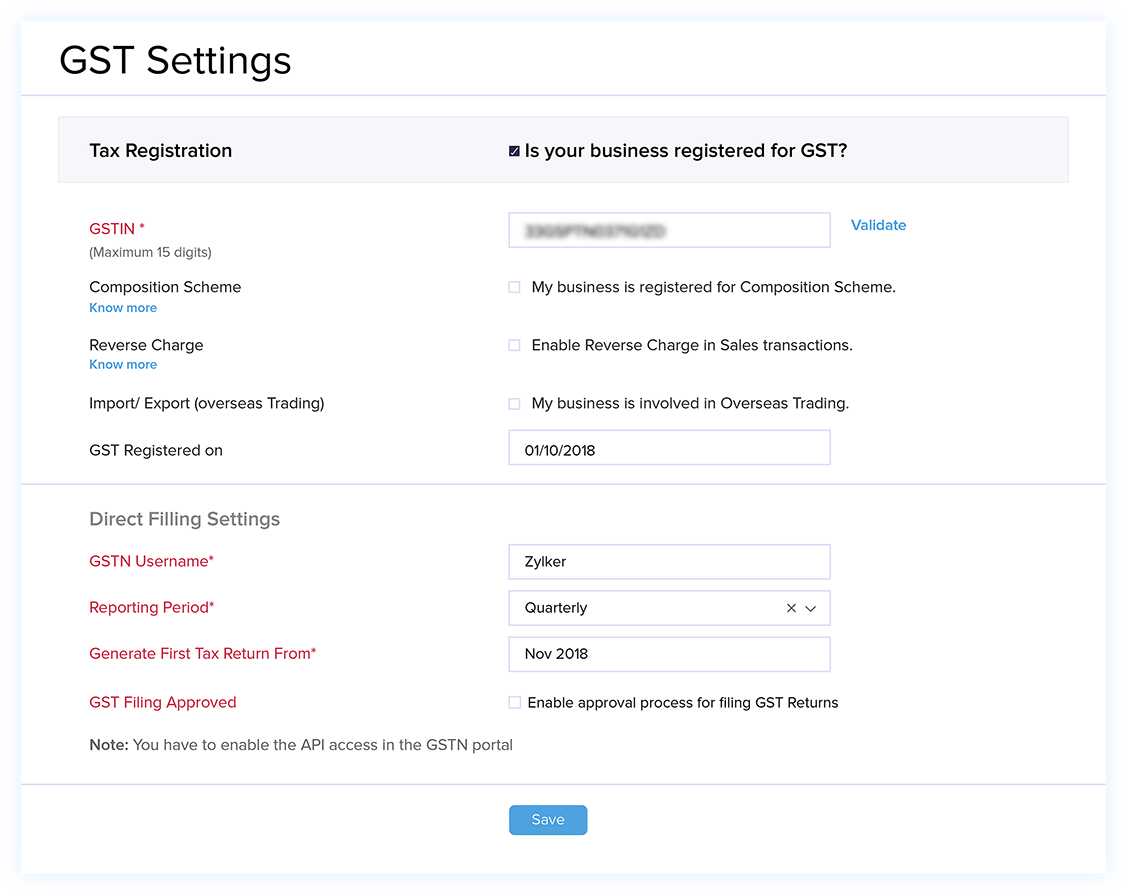 Get the best GST accounting for your business
Both existing and new users can file GST returns online through Zoho Books by entering their GSTIN, username, and a starting date for their accounts. All taxable transactions will be automatically compiled from that date by this GST reconciliation software, saving you time and resources.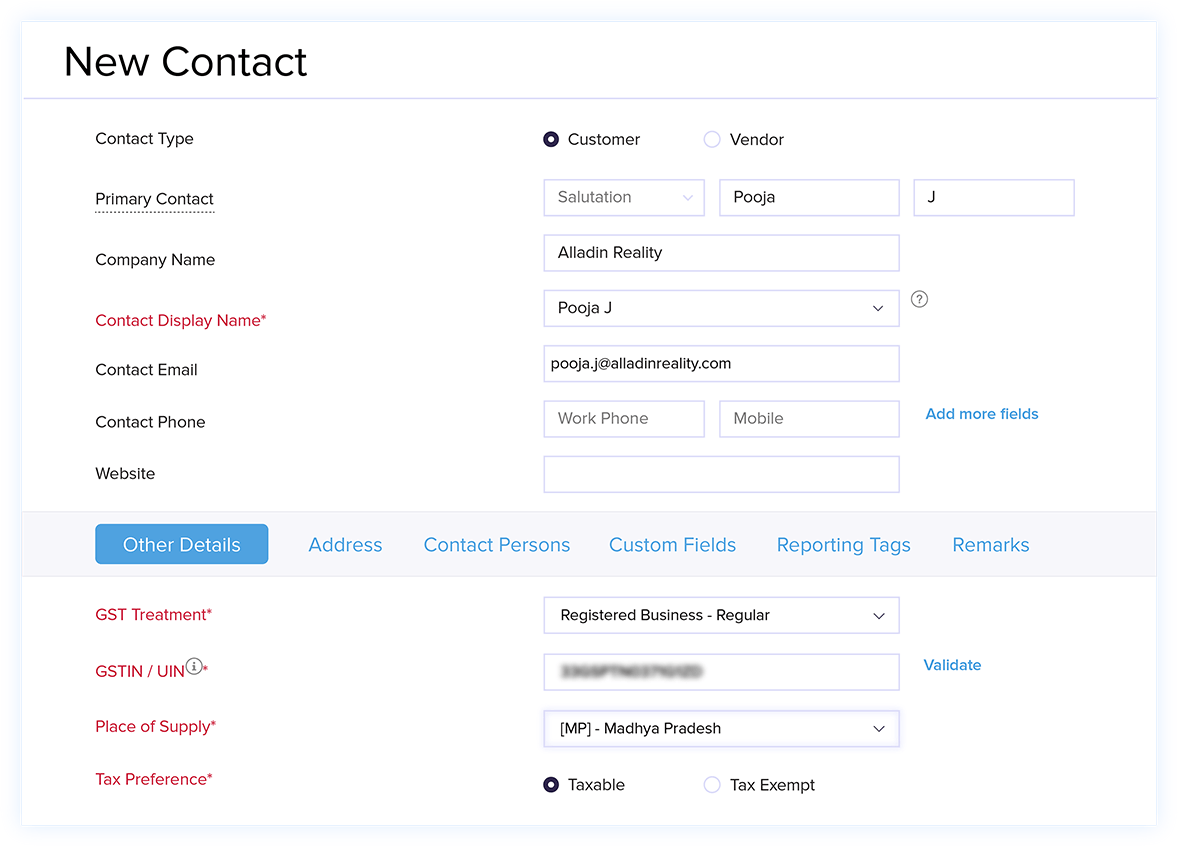 Auto-populate GST for transactions
Associate your contacts with their GSTIN and assign appropriate tax rates to ease your GST return filing. Once added, Zoho Books will identify the GSTIN and the tax components to be paid and collected for all the transactions you create with that particular contact.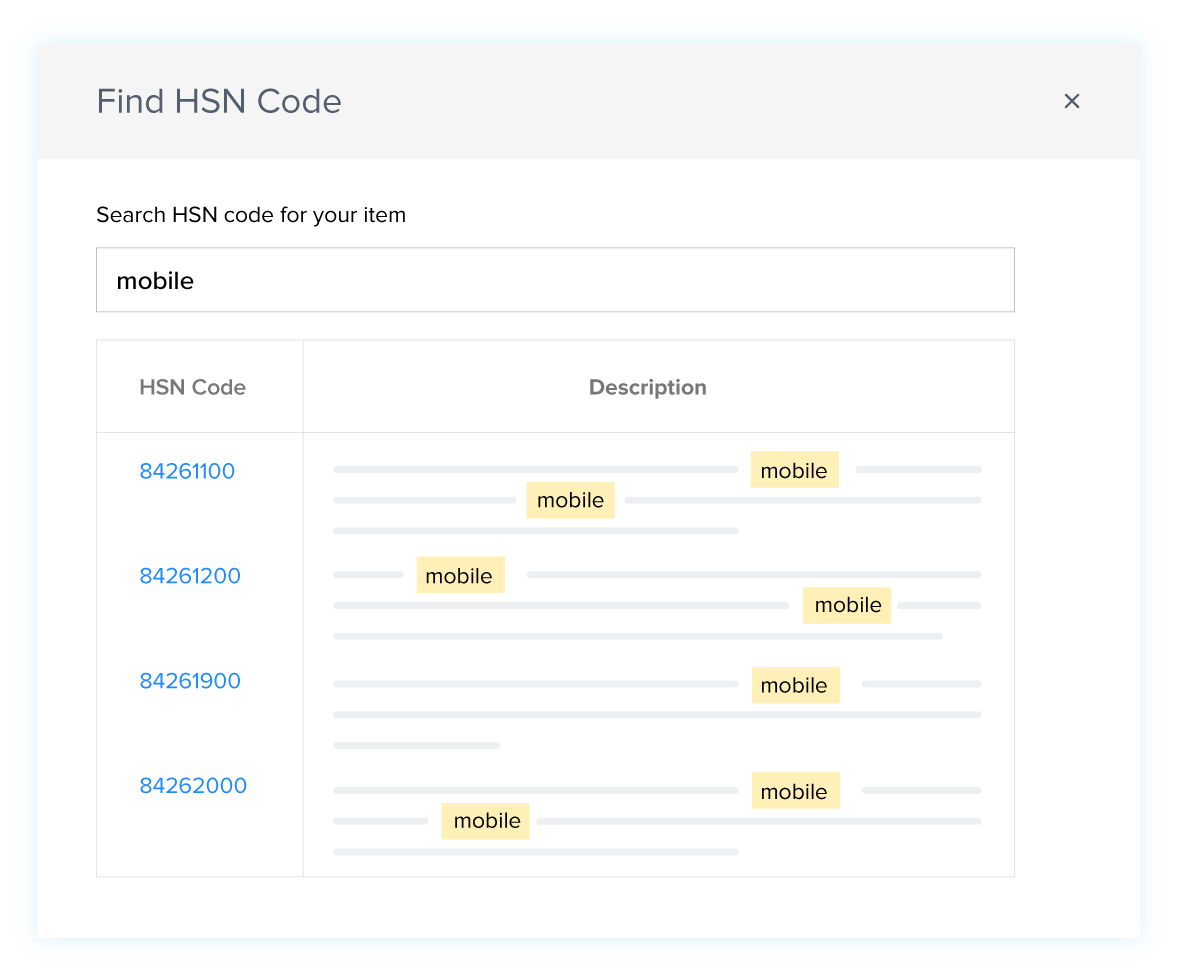 Label your items to stay compliant
Zoho Books lets you classify your items as either Goods or Services by entering their corresponding HSN or SAC codes to ensure proper taxation. If necessary, you can also search for the HSN or SAC code of your items using Zoho Books.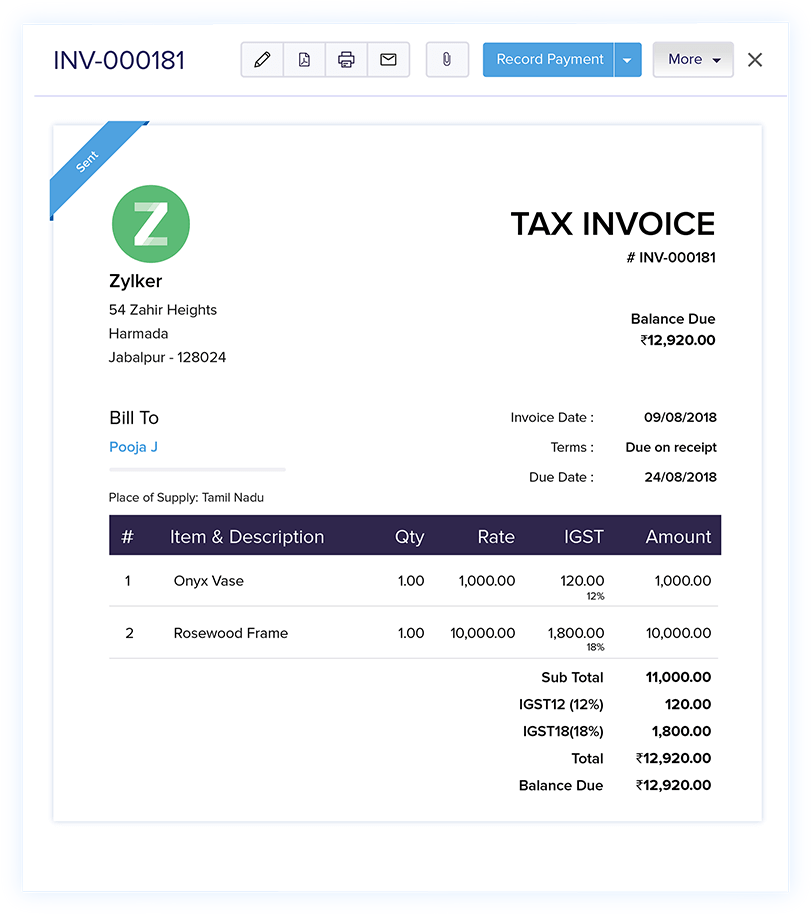 Create GST compliant invoices
Design and send customized invoices that reflect your brand while complying to government mandates. Zoho Books not only captures essential details like GSTIN and appropriate HSN/SAC codes, but it also chooses between the set tax rates during invoice creation based on the place of supply.
Effortless e-way bill generation
Create e-way bills with the click of a button using Zoho Books. Transactions that require e-way bills as per the GST regime are detected. The system notifies you and helps you create an e-way bill instantly.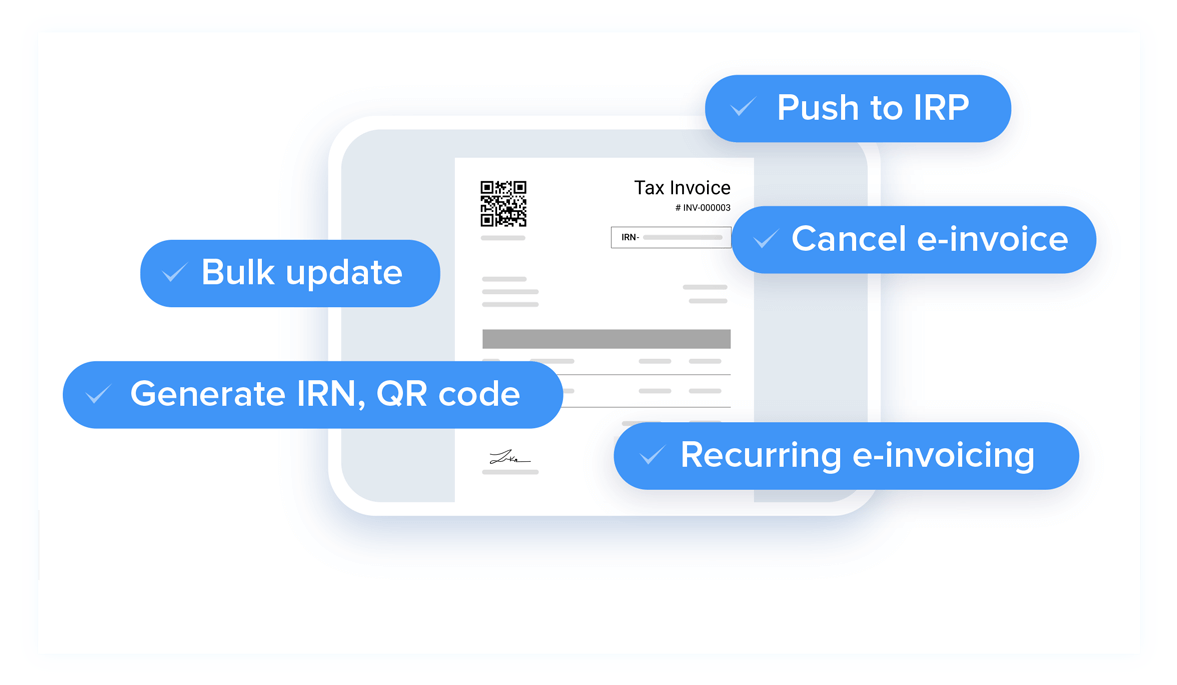 Switch to e-invoicing for better security
Zoho Books allows you to send an electronic invoice for B2B transactions that are authenticated electronically by GSTN, increasing transparency and security. This automation saves you time during the GST filing process.
Learn more
File error-free GST returns with approvals
Set an approval workflow that your admin or accountant can use for filing your GST returns in Zoho Books. This ensures the returns are error-free and approved before filing.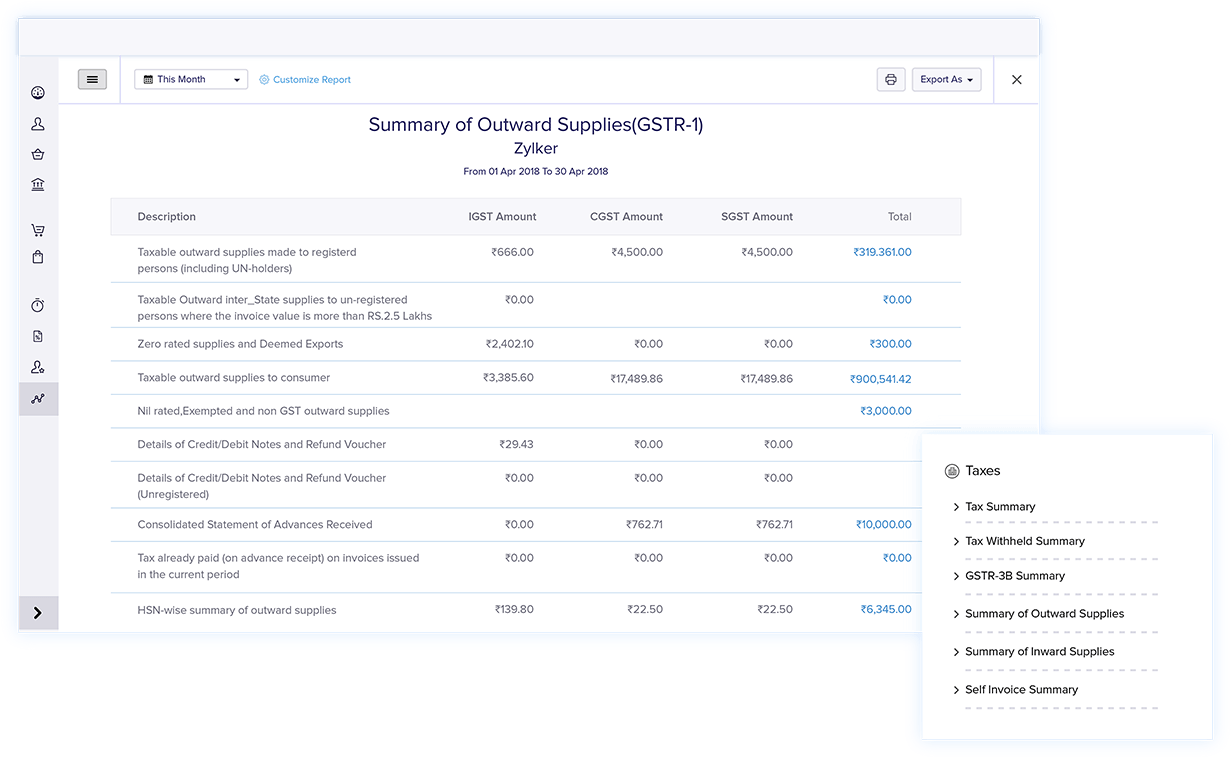 Generate your returns report with ease
Improve the process of filing and recording GST with GST reconciliation software such as Zoho Books that offers powerful reporting tools. Keep tabs on the GST you owe and the amount you can reclaim in reports that are ready to be filed come tax time.
Tax season made hassle free
Let Zoho Books do the heavy lifting, from generating your GST online and filing your returns to helping you reconcile your transactions. Do all this and more with the click of a button.