What is web-based help desk software?
Web-based help desk application is an online software-as-a-service (SaaS) customer support system, generally purchased on a subscription basis or for free. This type of software is typically cloud-hosted, secure, and easy to use.
Difference between web-based and desktop support software?
 

Ease of set up

Implementation and maintenance take up time and effort with desktop support software. With web-based help desk software, setup is simple and takes a day, at most.

 

Cost

Apart from the maintenance cost, desktop support also comes with many hidden costs. Online help desk software comes with clear pricing plans that fit your budget.

 

Issue handling

Desktop support might require an in-house IT ecosystem to troubleshoot server issues faster. With a web-based help desk, support is remote, more accessible, and quickly resolved with software updates and patches.
Why do you need a
web-based help desk system?
Here are some of the most common features of help desk web-based software.
Omnichannel

Customers want to connect with you through any means when they encounter an issue. cloud-based help desks collect customer issues from various channels, like live chat, social media, email, phone, and web forms. Then, those are all placed under a single tab, so you never miss a request.

Automation

Time is everything in customer support. Web-based help desk software comes with built-in automations to automate manual tasks, set up SLAs, design workflows, and apply macros. These features save you time and effort, so you can focus more on customers.

Self-service

Today's customers try to resolve issues by themselves before they contact you. When you use a web-based help desk, you can give your customers a knowledge base that contains help articles, FAQs, and more. This allows agents to prioritize and focus on complex issues.

Analytics

Customer support transcends channels, agents, and time zones, and to understand if you're on the right track, you need powerful data-crunching abilities. Web-based customer service software can show all of your key metrics and help you interpret them.
How to choose the best
web-based help desk software?
Look for more than just the basics. An efficient online help desk should come with cutting-edge features to handle support difficulties across industries and business sizes. Here are some of the features that make Zoho Desk the top-rated help desk: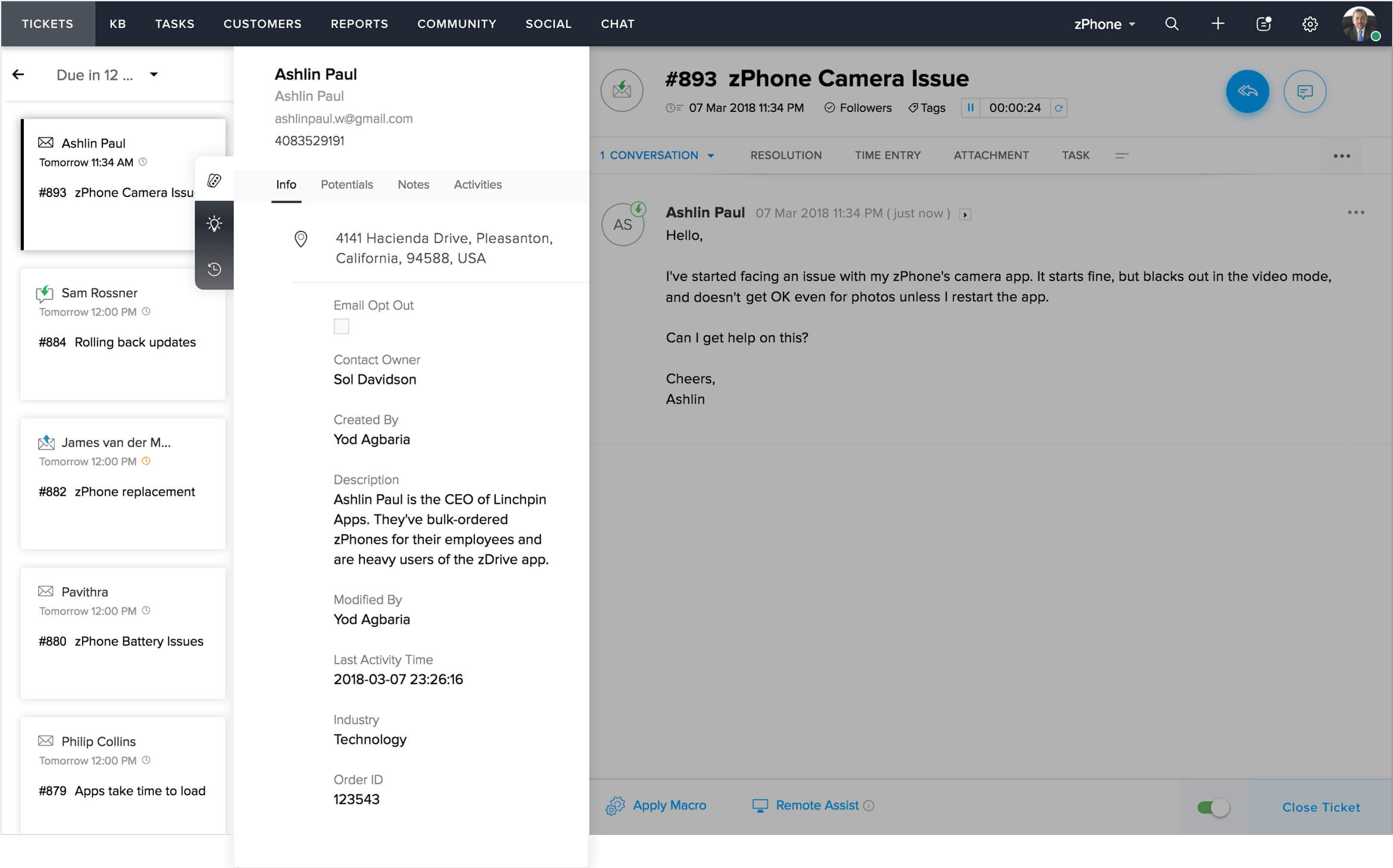 Contextual support
Don't make your customers repeat themselves. Zoho Desk's web-based support ticket system gives you contextual ticket views, complete with customers' interaction histories, SLA breaches, and ticket timelines. This helps you stay informed and offer an excellent customer experience.
Agent productivity
Zoho Desk's web-based help desk makes organizing and prioritizing tickets simpler and offers more space for team collaboration. The Advance Response Editor has customized snippets, keyboard shortcuts, and options to share tickets and tag teammates, all to help agents be more productive.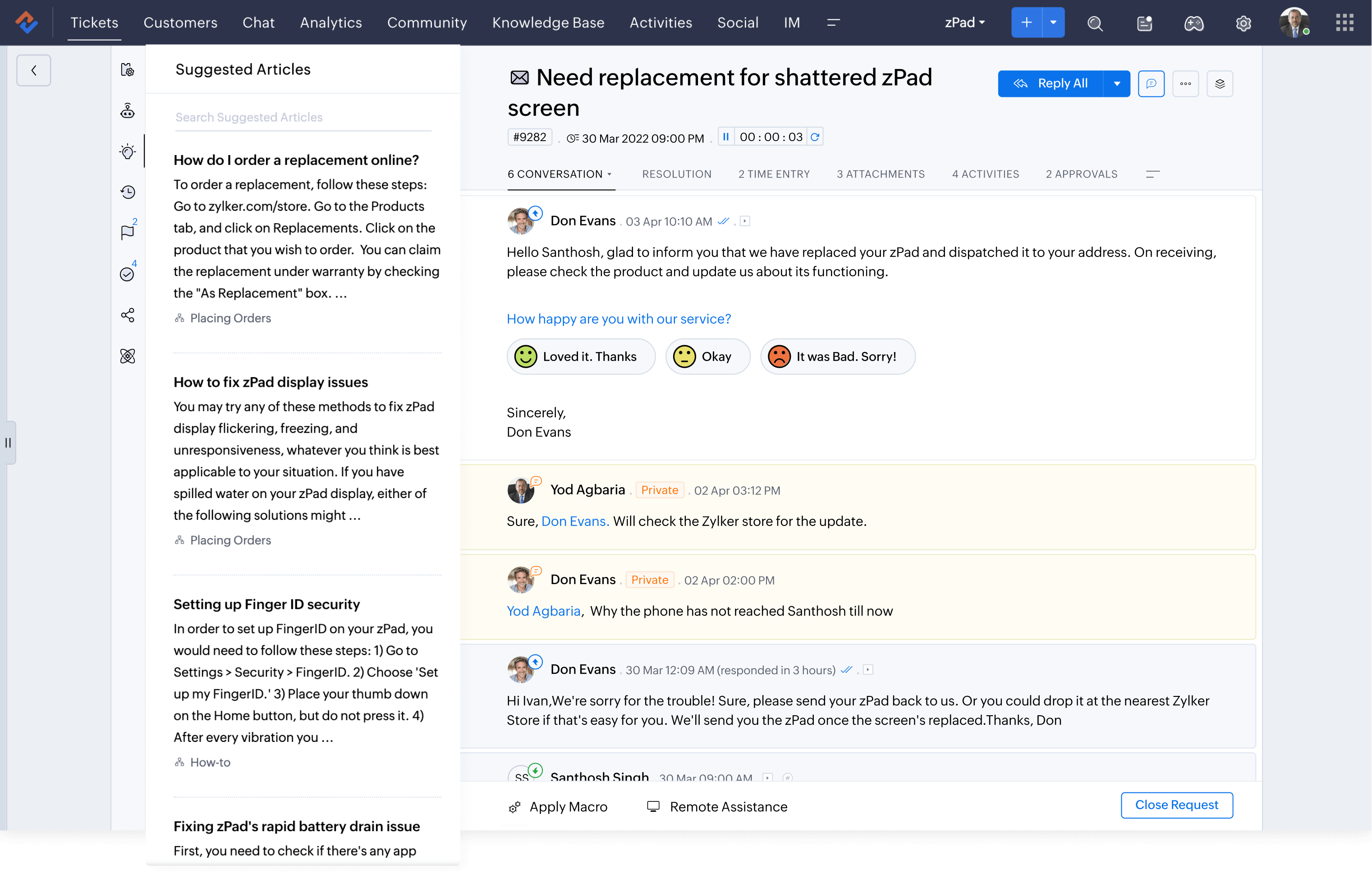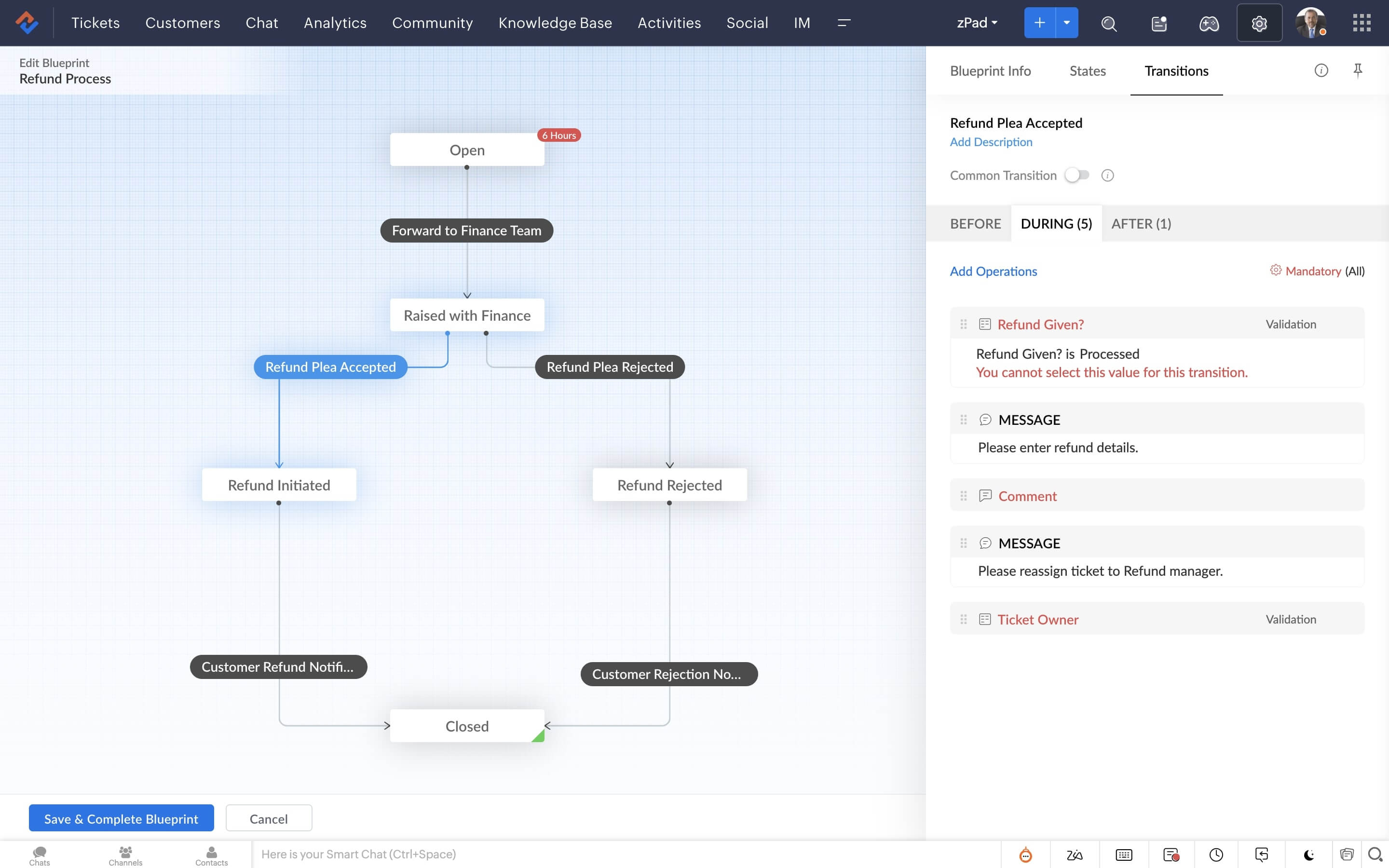 Advanced process automation
You can take automation a step further and introduce cross-functional processes to your help desk. With Blueprint from Zoho Desk, you can create methods to notify stakeholders, conduct actions, spot anomalies, and ensure things go according to plan.
Artificial intelligence
A SaaS help desk equips you with tools for predictive insights and improved customer satisfaction. Zoho Desk presents you, Zia, an AI-powered support assistant that helps customers by having natural conversations and pulling up relevant help articles. Zia helps agents by analyzing customer sentiments and providing drafted responses. The Zia dashboard also provides accurate stats for decision-making.
Multi-brand help center
With Zoho Desk's web-based help desk system, you can offer a distinctive multilingual help center for all your products/services. You can customize each help center, add permissions for access, publish SEO-friendly articles, and run a community channel for customers. This boosts customer relationships and lets them consume support material in the language they're most comfortable in.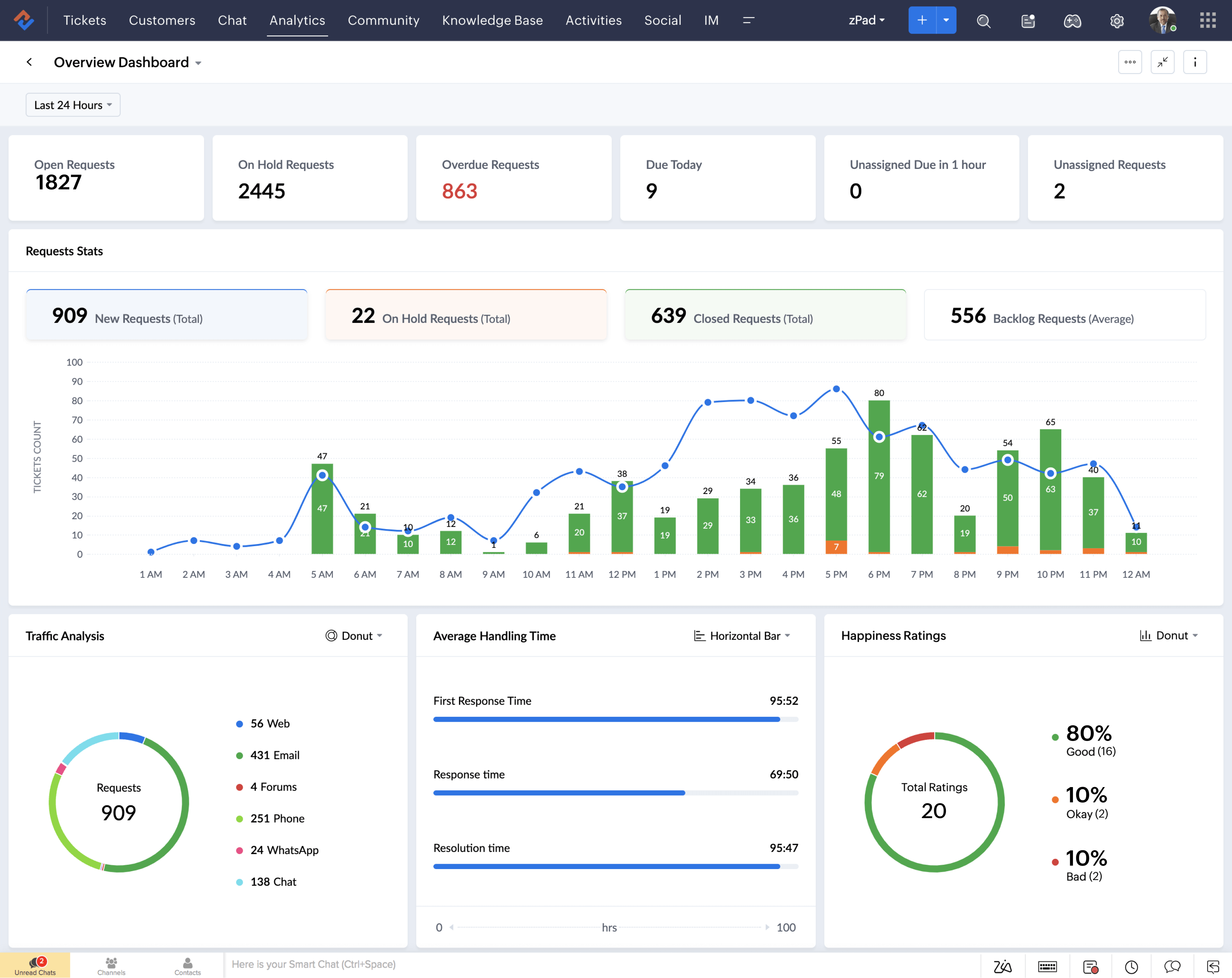 Reports and dashboards
You can get actionable insights from your web-based help desk system. Built-in reports and real-time dashboards help you monitor the team's performance, keep an eye on ticket traffic, and identify bottlenecks. With Zoho Desk, you can create customized reports with the desired metrics and have them sent to your email directly from your help desk.
Zoho Desk, the industry's favorite
web-based help desk, also has
 

Mobile-ready help desk

When you kick-start customer service requests using a web-based ticketing system, you can stay on top of things without being tied to your desk. Using the Zoho Desk mobile app, you can get instant ticket updates, view customer information, and respond promptly.

 

Flexibility

When you use different apps for various business operations, you need your SaaS-based customer support software to work well with other tools. Zoho Desk solution offers plenty of integrations and add-ons, so your job gets easier, and your data is less fragmented.

 

Extensibility

An efficient web-based ticketing system should extend its abilities to suit your business. Zoho Desk offers a range of customization capabilities, from custom functions to APIs, to help you increase your help desk capacity.

 

Scalability

You can start with free web-based help desk software and scale up as you expand. Zoho Desk has a free plan to support freelancers and small businesses, and the popularly priced editions are made to fit right into your budget. Zoho Desk offers a free trial of 15 days on any plan.

 

Community

The Community feature is a public forum facilitated by your web help desk software, where your support team can drive customer engagement.

 

Security

Data security, yours and your customers, takes top priority. A good help desk tool must be GDPR compliant, and meet industry standards of ISO 27001 and SOC 2 Type II—this gives customers more control over how their data is used.
Bring support costs down with
web-based help desk software
Frequently Asked Questions
How Zoho desk is better than solarwinds web help desk?

Zoho Desk is cost-efficient than SolarWinds web help desk with the standard plan starting from  /agent/month billed annually . Zoho Desk is simpler to set up and offers more ticket context and automation hacks like Macros to improve productivity.

How much does the Zoho Desk web help desk software cost?

Zoho Desk comes in competitive pocket-friendly editions that start at You can scale up the pricing plan and unlock new features as you grow.

Where can I find customer reviews of Zoho's web help desk?

To know if it's suitable for your business, scroll through the Zoho Desk customers page and see what the current users have to say.

Web help desk open-source Vs. Web help desk free. Which is better?

When you prefer a fully functional free web help desk to an open-source, your service instantly gets better. Your data is secure, and no hidden costs.
Learn more about customer service systems