What is a trouble ticketing system?
A trouble ticketing system is a tool an organization uses to track the detection, reporting, and resolution of tickets from customers.
Take a free trial
What should you look for in a trouble ticketing system?
It needs to suit your requirements from end to end.
An ideal trouble ticketing system should help you manage every part of the ticketing process, which begins when your customer submits a ticket and ends when your agents receive the customer's feedback on how their issue was resolved.
So, your customer wants to know what the solution to their issue is.
And they need it right away.
This can be done without an agent behind every answer. A trouble ticket management tool allows you to set up your own Knowledge Base, with FAQs, how-to articles, and chat bots. Customers only reach out to your support team when they can't find the answer they need in the Knowledge Base.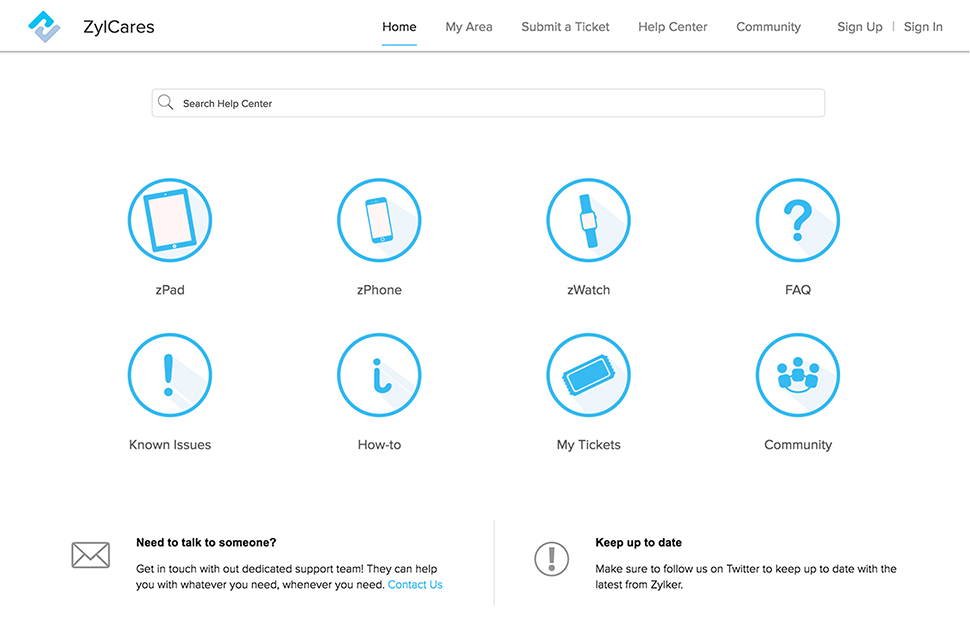 Your customers can reach out to you through many different channels.
How do you keep track of it all?
By choosing a trouble tracking system that has multichannel capabilities.
It collects all support tickets from different channels and organizes them in one place. This helps agents reply to all of them from the same tab. These channels include: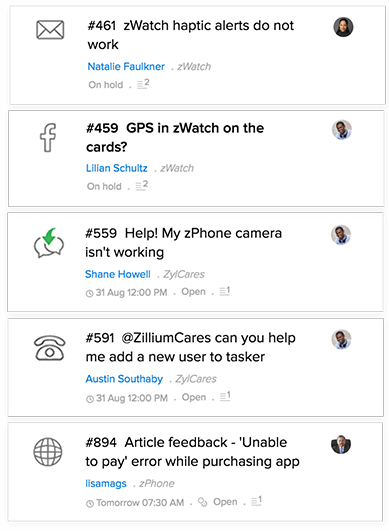 Email: All your customer emails converts into tickets and get pulled into a convenient interface where agents can respond to them easily. This is the best way to handle customer service emails, especially when you use several email addresses. Learn more.
Social media: Your reps can view and manage your communication with your customers via social media. You can reply to tweets and posts from your help desk and even set keyword alerts. Learn more.
Live chat: Agents can chat with customers to understand their concerns better, and give them more timely, personalized help. Help desk software helps you convert chats into tickets if the issue needs more detailed attention. Learn more.
Telephony: Effective ticketing system allow you to use cloud telephony. Receive and make phone calls from your help desk. Log, record, and monitor these calls, and convert them into tickets or associate them with existing ones. Learn more.
Web form: Embed a customizable web form widget on your website that will help your customers fill out a form with the details you need and submit their questions as tickets.
The request needs to be taken up by the right agent, right away.
Time is of the essence.
Your agents deal with lots of tickets on a daily basis. Prioritizing these tickets will help them see which ones need their immediate attention. Zoho Desk comes with smart automations that help them do just that, with automatic ticket prioritization according to time left or status.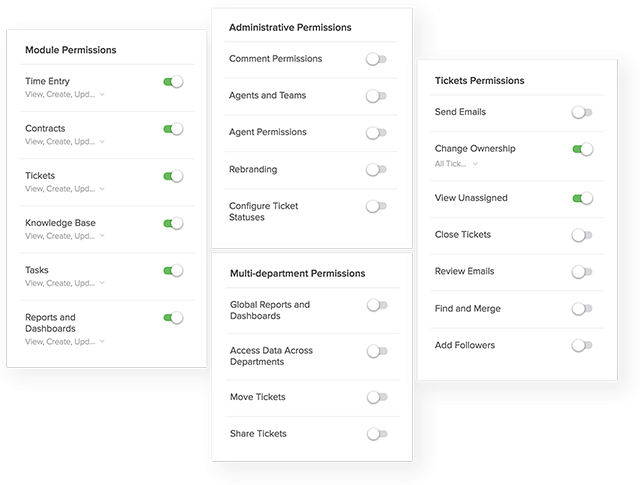 The Automation Suite also lets you skip repetitive tasks by assigning tickets and initiating workflows. That means, With the help of automatic assignment rules, you can ensure that questions from customers are redirected to employees who can answer them. This reduces the amount of time your agents take to understand and act on the issue.
The trouble ticket system identifies keywords in the customer's request and pulls up the relevant articles from the help center. These automatic suggestions appear in the same workspace so agents can answer and resolve simple issues faster.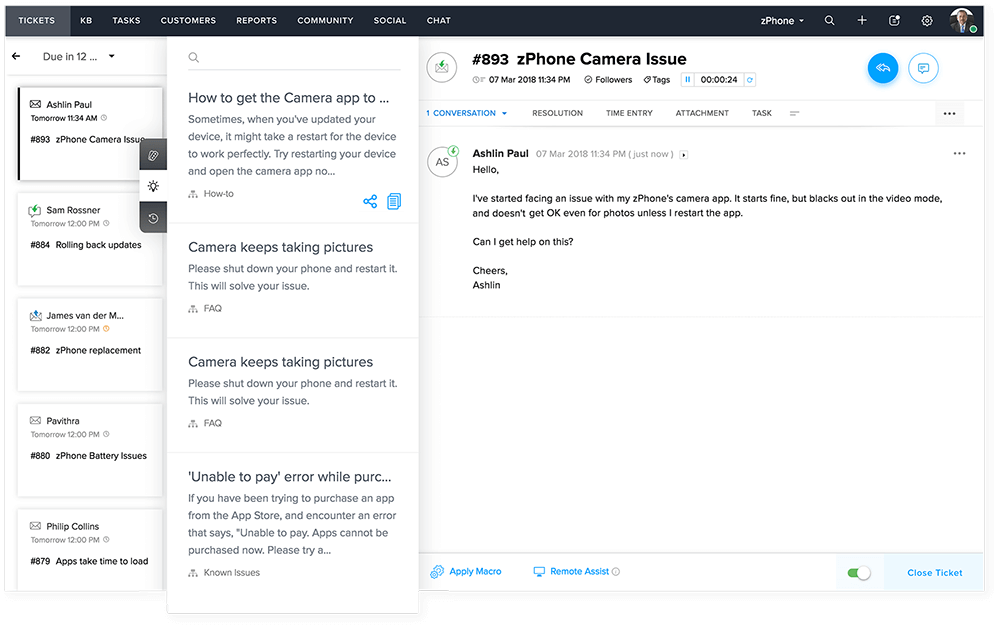 When a support executive hasn't responded to a trouble ticket, or when a ticket is taking too long to resolve, SLAs can ensure that these are brought to your notice and taken care of immediately. This helps you improve your customer's experience and maintain consistency.
However, customer issues are not limited to one department.
Your support team needs to work with other teams to find the right solution.
Your support reps need to collaborate with other teams within your organization, and that means keeping tabs on all of these conversations and make sure there is no miscommunication between them.
A trouble ticketing software comes with team collaboration features that will ensure all of these teams stay on the same page, with no context lost.
These features may include:
Private threads within tickets, where your support agents can tag other teams and talk to them.
A team chat where they can discuss issues together.
A team feed, where you can post company announcements and agents can communicate with the rest of the organization.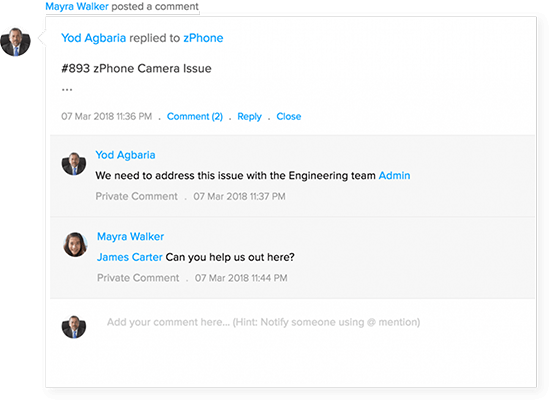 To work effectively, your agents need an interface that's easy and familiar.
Look for flexible software.
The best trouble ticketing system is one that you can customize completely to match the look and feel of each of your brands. Along with customization, it comes with flexibility—it integrates seamlessly with third-party apps, to ensure your company can work without juggling different interfaces.
A resolution has been reached.
Does it end there?
A trouble ticketing cycle does not end until your team receives the customer's feedback. With the help of a ticket tracking system, agents can ask the customer for feedback about the service received after their issue has been resolved. This helps agents understand which areas they're strong in and which areas they need to improve.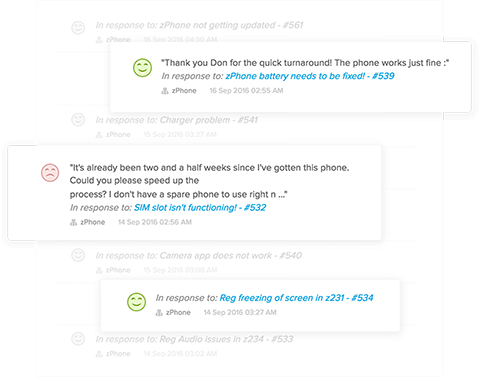 There's no progress without learning from the past.
And there can be no learning without data.
Data analytics constitutes the most important function of customer service. It helps managers pull up pertinent information about all the critical aspects of their web-based help desk. Managers and leaders can track and analyze things such as
Ticket load on your support team,
Turnaround time and resolution rate of each agent
Average customer happiness levels, etc.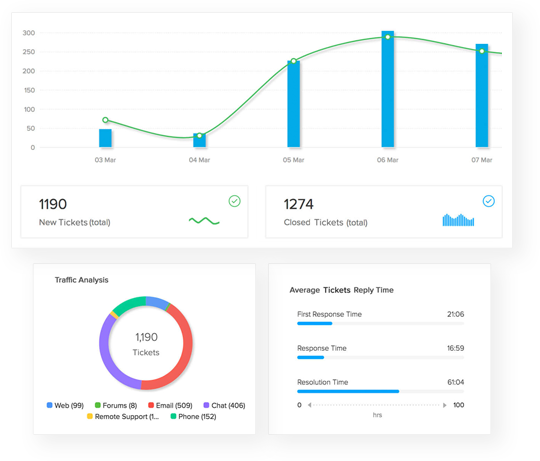 Metrics like these give managers a quick perspective of how things are faring and let them make the right decision at the right time. With a good trouble ticketing software, managers can even schedule reports to their inbox on a regular basis, so they can keep track of every function, review the data, and make the right decisions at the right time. Learn More
What if you end up not liking the trouble ticketing software after you buy it?
There are a lot of options to choose from when it comes to trouble ticketing system, and most of them come with a free trial period. If you run a small business, you might even find a free trouble ticket software that might suit your needs. Evaluate them, compare them, choose the right pricing plan and software. It is definitely worth the effort.