Why need ZohoDesk
As simple as an email inbox is, it comes with its set of downfalls. It's a clutter of emails from all your customers, leaving you scrambling to figure out which ones require your immediate attention. You can't really measure progress, nor can you keep track of your previous interactions with the customer from a different channel. That's why you need Zoho Desk— the industry's favorite email ticketing system. It's a solution that is just as simple and cost effective, and helps you be far more efficient.
Watch Video
What is an email ticketing system?
An email ticketing system helps you convert customer emails to tickets, and compiles and organizes them in a single place so no customer complaint goes unnoticed.It helps you automate tasks, set up workflow and SLA rules, and monitor how many emails come in and how many responses go out.
What should you look for in an email support system?
A way to make sure all your tickets get the attention they require, on time.
Convert your emails to tickets
By setting up email forwarding rules, you can make sure that all customer emails get automatically converted into tickets in the help desk system. You can also auto-cc every response sent to your mailbox, so you always have a copy of the response handy.
Intuitive ticket sortings
Ticketing software helps support agents decide which tickets to solve first. Automatic ticket views like Work Modes in Zoho Desk help sort tickets based on time due, priority, ticket status, and more. With the complaints organized effectively, agents can respond to tickets faster and save a lot of time.
Immediate ticket assignment
Email managemnt software like Zoho Desk automate process to save time and ensure assigned to right agents, accurate responses. You choose exactly how the software assigns tickets, so everything is within your control.
Assignment based on criteria
For instance, you can set up a rule to assign tickets from social media only to the social media experts, so that customers get the best solutions in a short time.
Round Robin
The simplest form of automatic ticket assignment. It distributes tickets evenly to all your agents based on the limit that you set.
A way to make your agents send out faster, more accurate responses
Supplement your customer service efforts with powerful email ticketing solution . Here is how a email ticket systems is better than a email management software.
Automatic suggestions

Shortcuts to save time

Get more context

Easy collaboration

Go Mobile
Automatic suggestions

Your support agents receive common questions every day. Typing out those answers each time slows your team down. An email ticketing system like Zoho Desk pulls in relevant articles from your Knowledge Base and has an answer prepared even before your agents read the ticket—all they need to do is hit send. This ensures consistently faster and more accurate responses.

Shortcuts to save time

With Zoho Desk, agents use templates and keyboard shortcuts to reduce the time spent typing out repetitive content. With simple clicks, they can respond to customers much faster, and reduce the manual effort required with each ticket.

Get more context

No matter how many shortcuts they have, it's difficult to resolve a customer's issue without any context. This email-to-ticketing software gives agents all of the customers' previous interactions with the company in a single place, which helps agents understand exactly what the customers need and how to help them.

Easy collaboration

Your support agents often depend on other teams to help customers with their issues. An email based ticketing system comes with collaborative features that allow your agents to communicate the issues with other teams right within the ticket through private comments and tagging. This also reduces miscommunication and repetition of information, as all interactions are brought together in one place.

Go Mobile

Agents can provide customer service without being tied to the desk with Zoho Desk's contemporary mobile help desk app. They can view, reply, collaborate with other teams, and reassign tickets from the Zoho Desk mobile app.
A way to measure and monitor your customer service
It could be a daily overhead to sort through the day's pile of tickets and assign them manually based on your priorities and requirements. This can lead to bottlenecks, leaving tickets unassigned longer. A way to make sure all your tickets get the attention they require, on time.
Quantifiable feedback

The customer service cycle does not end until your agents receive the customer's feedback. Without a ticketing system, it's difficult to quantify the levels of customer satisfaction. With Zoho Desk, agents can attach a feedback widget to their replies, enabling customers to rate their service. Managers can measure these ratings comprehensively, based on individual agents or on a broader level. This also helps agents understand which areas they're strong in and which areas they need to improve.

Measure and monitor agent performance

Ticket load on your support team

Turnaround time and resolution rate of each agent

Average customer happiness levels

Zoho Desk also helps managers schedule reports to their inbox on a regular basis, so they can keep track of every function, review the data, and make the right decisions at the right time.

Set up SLAs

With SLAs, you can specify the response and resolution time for a ticket based on criteria like priority, channel, time due, and customer type. Contracts ensure that you stick to the customer support plans that you've agreed to for the specified time.

Rule with Workflows

Associate rules, tasks, and alerts with multiple conditions to ensure that work goes on smoothly. Managers can also define rules to automatically escalate a complaint that's past its due time, to get instant alerts, and also re-assign the ticket to a different agent.

Pocket-sized data charts

Radar from Zoho Desk gives you a comprehensive view of critical metrics such as ticket resolution time, customer happiness, live traffic, and individual agent stats, on the go. This helps catch exceptions and anomalies well in time.
Quantifiable feedback

Measure and monitor

Set up SLAs

Rule with Workflows

Pocket-sized data charts
A way to help your customers help themselves
Your customers want quick ways to ask questions, and even quicker ways to get answers. The best way to do this is to help your customers help themselves. By setting up a Help Center with a Knowledge Base, you can make help articles and FAQs easy for your customers to find, without waiting for an agent to reply.
When your customers can't find answers from your list of articles, they can turn to fellow customers to discuss and resolve issues among themselves. These forums also serve as platforms for your company to post important announcements and interact with your customer base.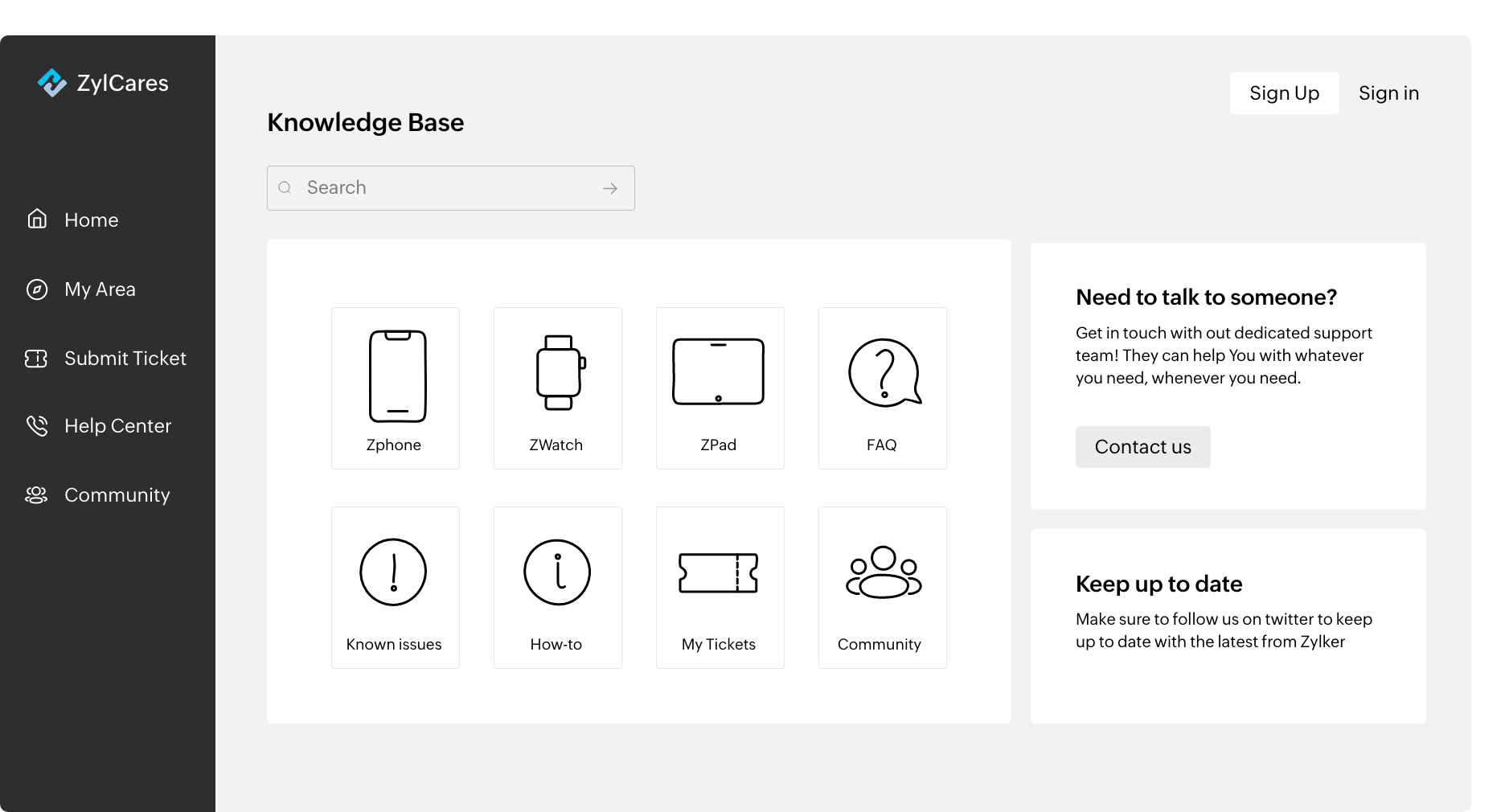 What if you end up not liking the email ticketing tool after you buy it?
There are a lot of options to choose from when it comes to email tickets management, and almost all of them come with a free trial period. If you run a small business, you might even find an free help desk software that might suit your needs. Evaluate them, compare them, choose the right pricing plan and software. It definitely is worth the effort.
Zoho Desk is the perfect solution for Email Tickets Management
Turn a new leaf with Zoho Desk.
GET STARTED