Handling customer complaints is easier now.
Every business needs an online complaint system that provides multichannel capabilities, advanced reporting functionalities as well as a platform for cross-functional collaboration and immediate customer feedback system. 
Try Zoho Desk
What is Complaint Management software?
Complaint management is the process of handling, managing, responding to, and reporting customer grievances. This process requires a streamlined approach and constant monitoring to ensure faster resolutions.
Collect tickets from various channels and segregate them in one place
Nowadays, customers approach you from everywhere, so you need complaint tracking software with multichannel capabilities to respond quicker to their queries. Zoho Desk collects all support tickets from different channels and organizes them under one tab, to help agents respond to all of them. These channels include: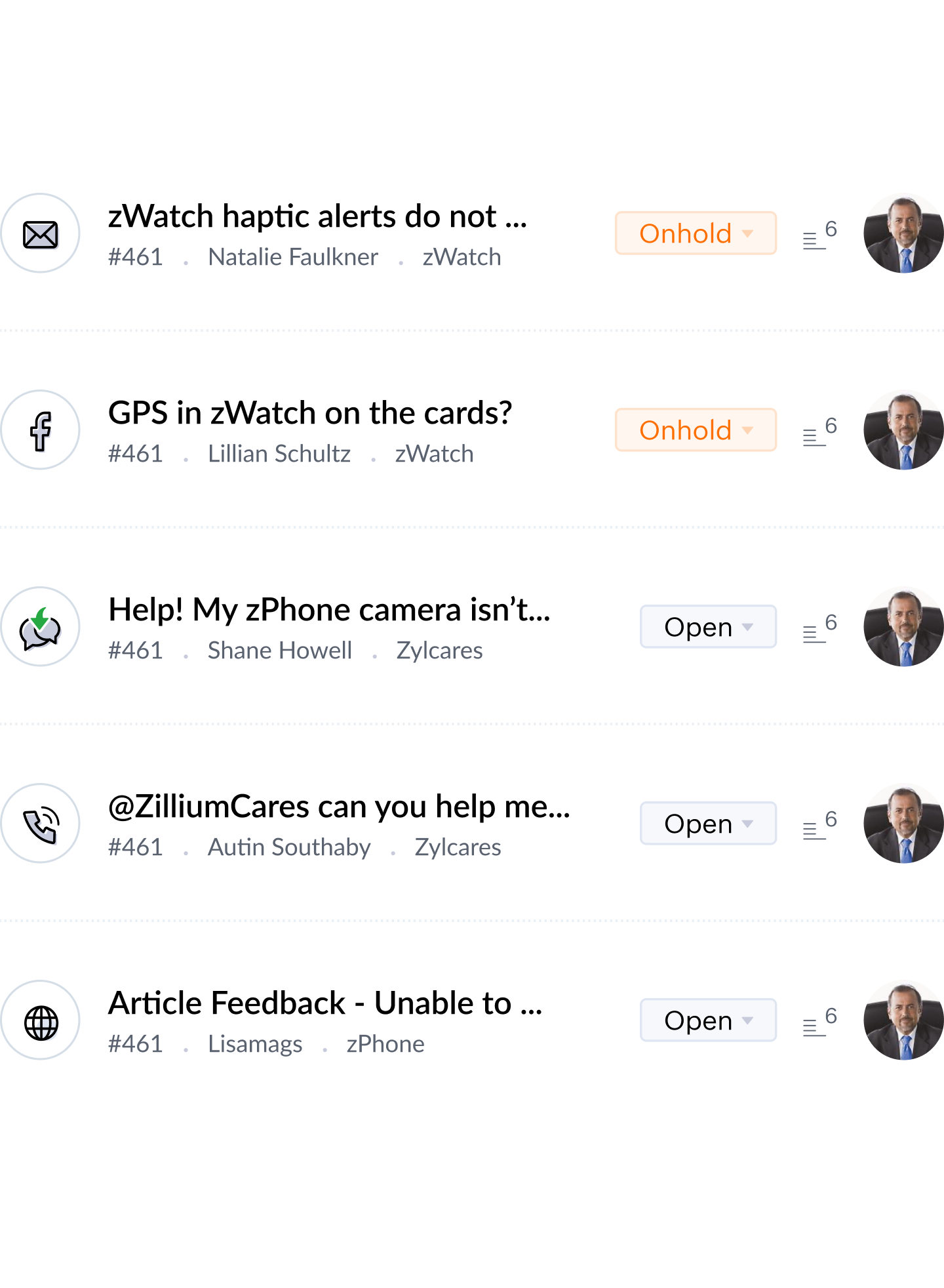 Email : All your customer emails get pulled into a convenient interface in your complaint handling software, where you can easily respond to them. This is the best way to handle customer service emails, especially when you use several email addresses. Learn more
Social media : You can view and manage your customers' communication via social media like Facebook, Instagram, and Twitter. You can reply to tweets, post from your help desk, and even set keyword alerts. Learn more.
Live chat : You can chat with customers to understand their concerns better, and give them more timely, personalized help. You can also convert these chats into tickets in your online complaint system, if the issue needs more detailed attention. This way, you can respond to customer issues in a jiffy. Learn more.
Telephony : A well run complaint tracking software allows you to use cloud telephony. Cloud telephony allows you to receive and make phone calls from within the help desk, as well as log, record, and monitor these calls, and convert them into tickets or associate them with existing ones. Learn more.
Web form : Embed a customizable web form widget on your website that will help your customers fill out a form with the details you need and submit their questions as tickets in your complaint management software.Learn more.
Assign the tickets to the right agent and notify them promptly
When a customer submits a complaint, it needs to be routed to the right department or person. While this process can be done manually, it increases the risk of delays. Automate this process with your complaints handling software helping your team to resolve each issue faster.
 

Round Robin
Specific automation
Round Robin
Round Robin is the simplest form of an automatic ticket assignment. It distributes tickets evenly to all your agents based on the limit that you set. With minimal intervention and no time wasted, Round Robin ensures that no ticket within the complaint management system goes unassigned.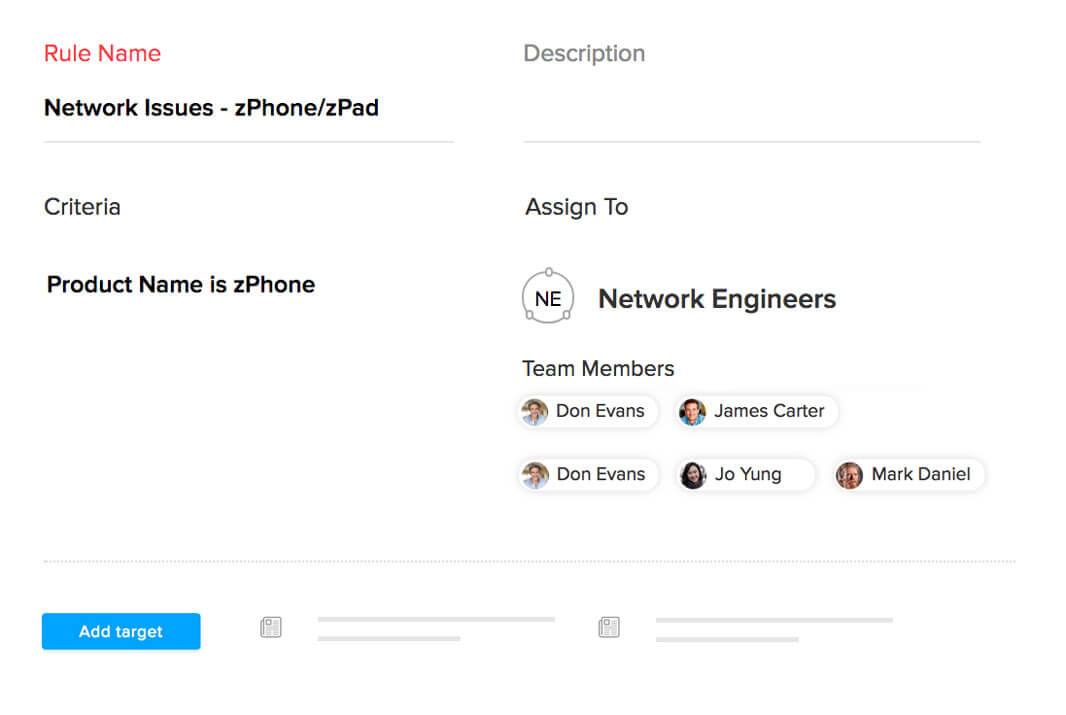 Specific automation
You can also ensure that specific kinds of tickets are handled by specific agents on your team. For instance, you can set up a rule to assign tickets from channels like social media only to the social media experts, so that customers get the best solutions in the shortest possible time.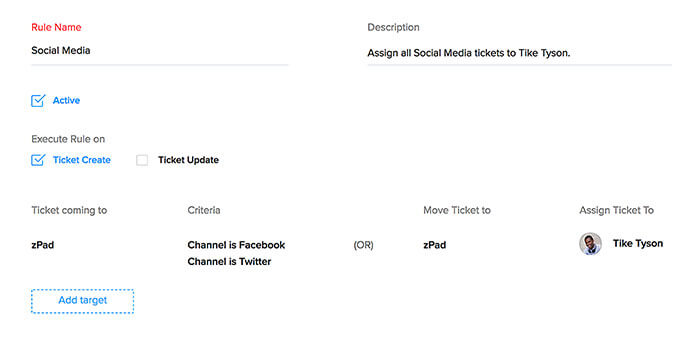 Provide a Platform that facilitates workplace collaboration
With a large team of agents, chaos and confusion can be commonplace without a proper customer complaint management system in place. Complaint management software, like Zoho Desk, comes with a set of features that are specifically designed to make workplace collaboration easier.
Team collaboration
Resolving customers' complaints go beyond just a single team. It can often require a cross-functional team or several departments to work together. This creates a risk of communication gaps and a lot of back-and-forth that complicates the problem and takes time to fix. Zoho Desk keep things on track by enabling your agents to tag their colleagues and other teams within tickets and leave private comments. This ensures that no context is lost when information is passed on, creating a smoother path to resolution.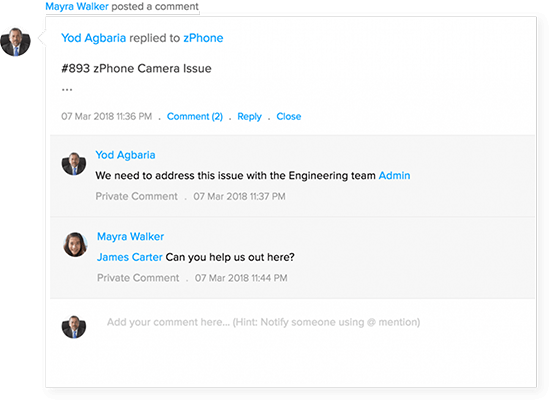 Agent collision alert
Companies with growing teams must be cautious about overlapping of work, so they don't waste time doing the same work twice. Zoho Desk's Agent Collision Alert prevents this overlap by notifying agents that are viewing the same complaint at the same time within your complaint tracking software.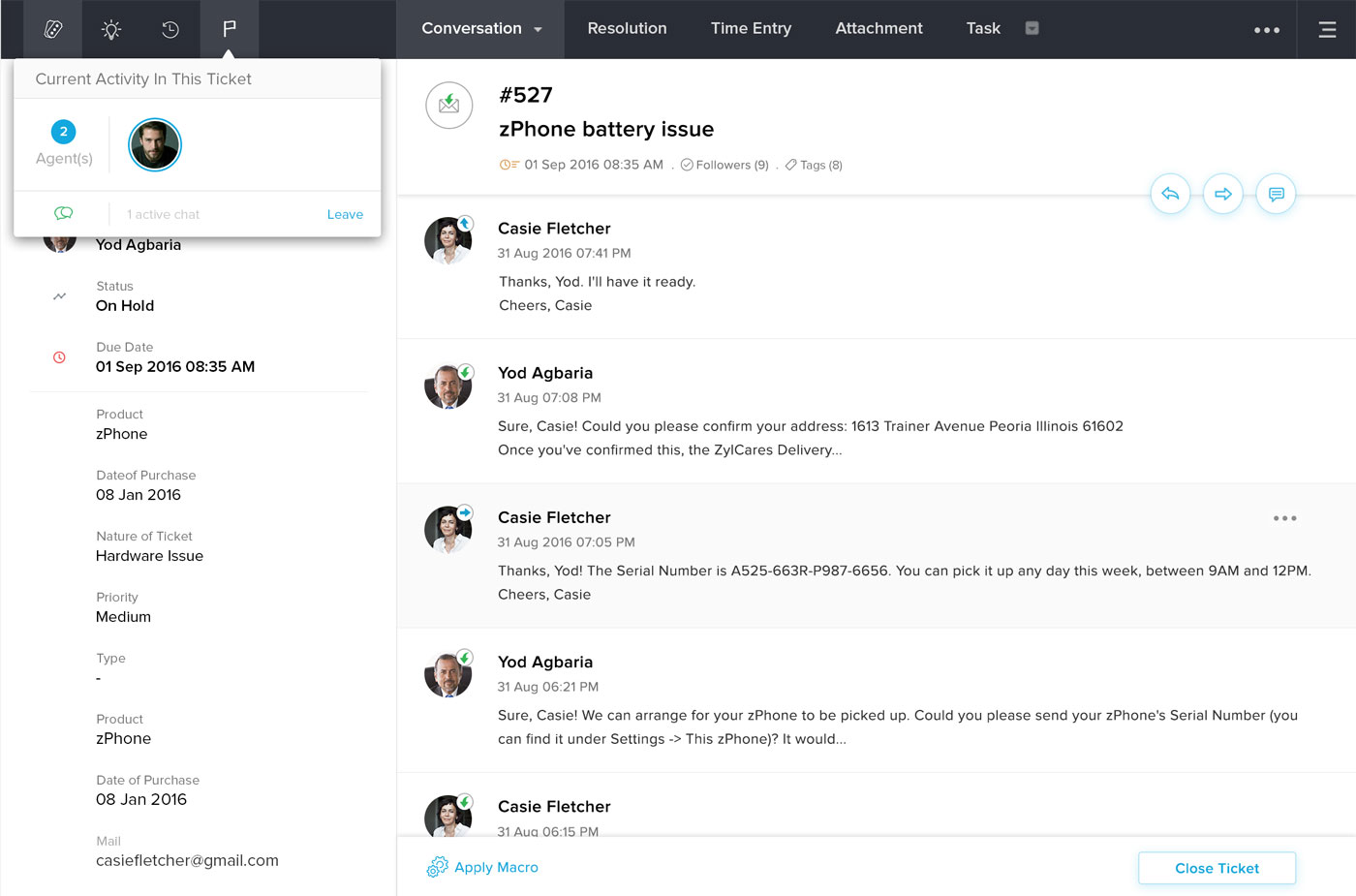 Integrations and customization
Integrating your other apps, like project management apps, CRM, and calendars with your complaint management software gives you a unified view of your customer information that would otherwise be scattered. This helps agents prioritize issues based on the customer's status and exchange notes across departments to resolve issues faster.
 

Zoho CRM

 

Zoho Books

 

Zoho Analytics

 

Zoho Assist

 

Slack

 

Jira

 

Salesforce

 

Google
Save time, manage effort, and optimize productivity using intuitive Automations
An efficient complaint management system must enable you to automate the repetitive but important actions that are pivotal to your business process. Automations in Zoho Desk are flexible, easy to configure, and widely customizable.
Workflows
With Workflows, you get to define conditions that automatically trigger rules, tasks, and alerts, to ensure that work continues smoothly. Managers can also define rules to automatically escalate a complaint that's past its due time, to get instant alerts, and also re-assign the ticket to a different agent.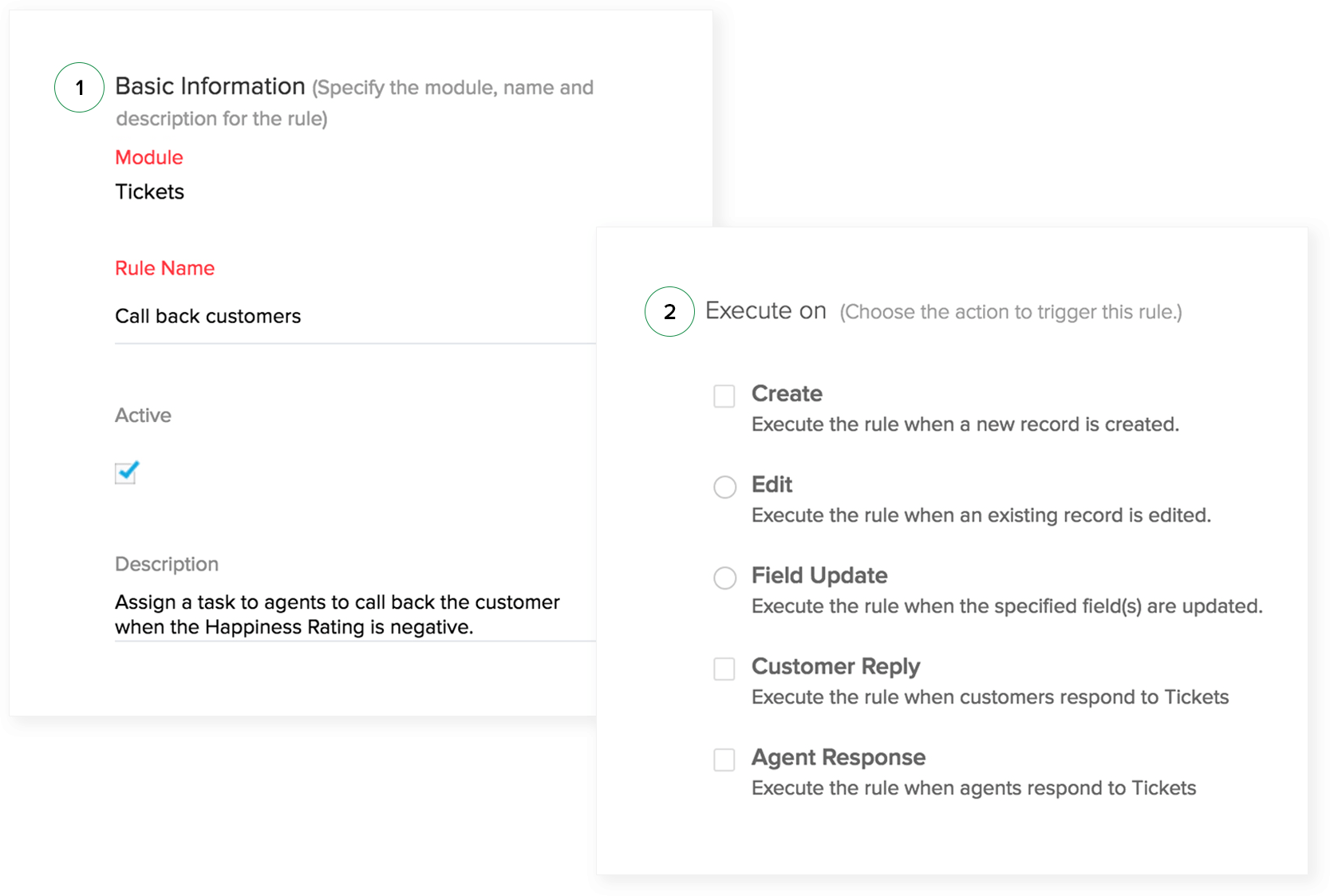 Service Level Agreements
You can specify the response and resolution times for a ticket based on criteria like priority, channel, time due, and customer type in your complaint management software. Configuring SLAs' in Zoho Desk helps your support team stick to the standard of service that you've agreed to provide for the specified time.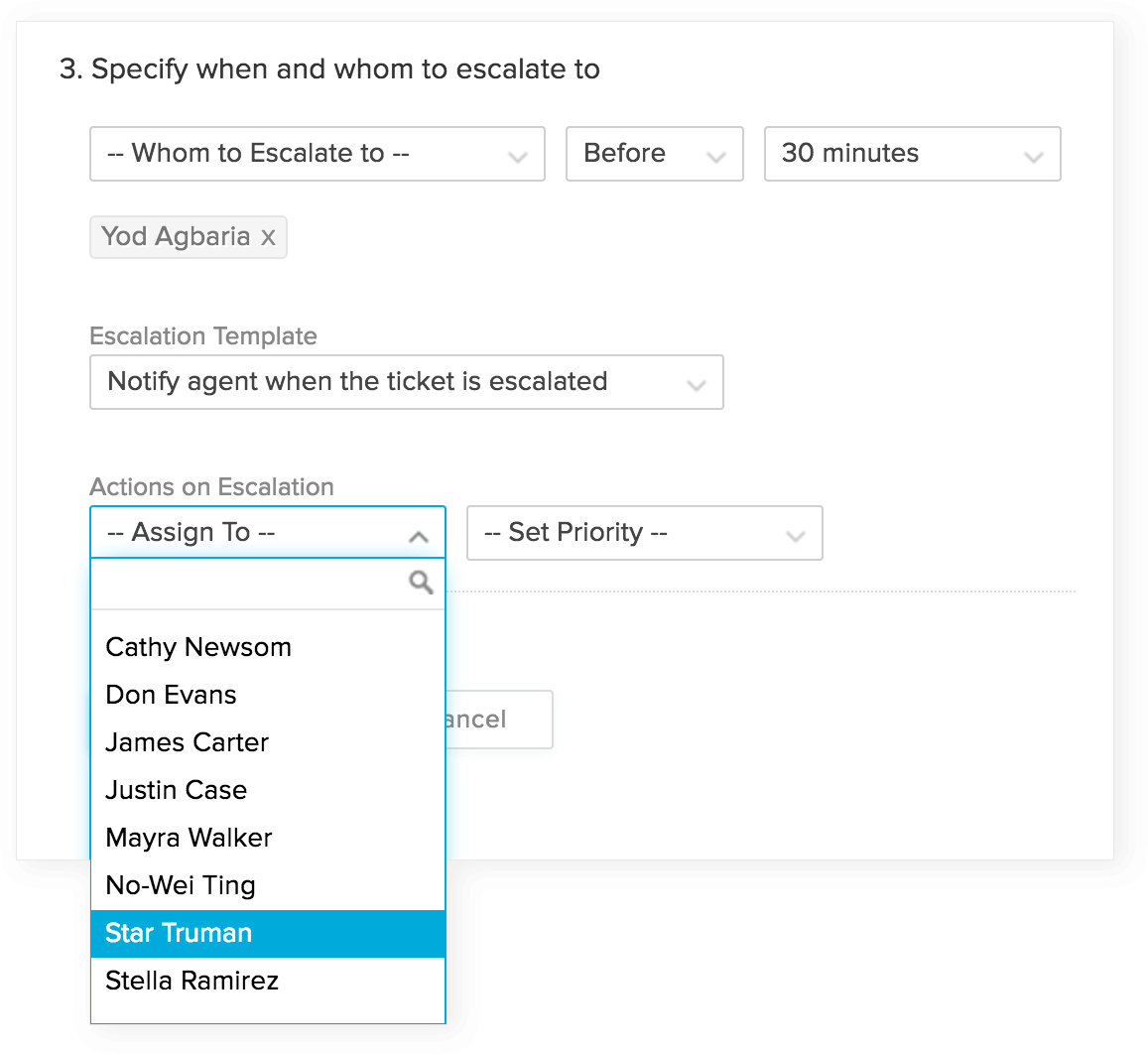 Macros
Your support agents may have a set of actions they frequently perform on some tickets on a daily basis, like updating a field, sending an email, or setting up an event. With macros, from Zoho Desk, Agents can combine all these actions as a macro and apply that macro manually wherever necessary. This saves the time and effort spent on individually performing these actions on every record in your complaint handling software.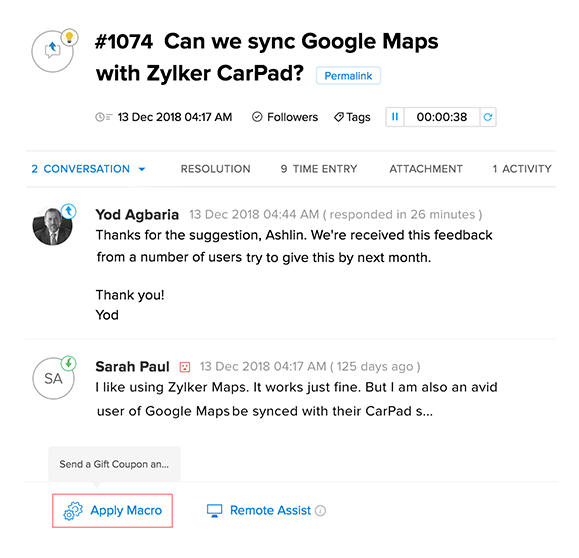 Be a step ahead by creating a blueprint of a process from real life
Automations from Zoho Desk doesn't just stop at making the existing processes simpler and easier. It goes one step beyond and helps you define your business processes that align with your business plans. 
Blueprint from Zoho Desk helps you with defining your processes, online or offline, and keeps all the stakeholders and decision makers in the loop. This advanced automation provides faster resolution by collaborating with multiple departments internally. By configuring the blueprint, you get total visibility over the progress and transitions of the process, and also a clear picture on when the issue will be resolved. Blueprints can be applied to any ticket, and all the related actions will be triggered without missing a detail.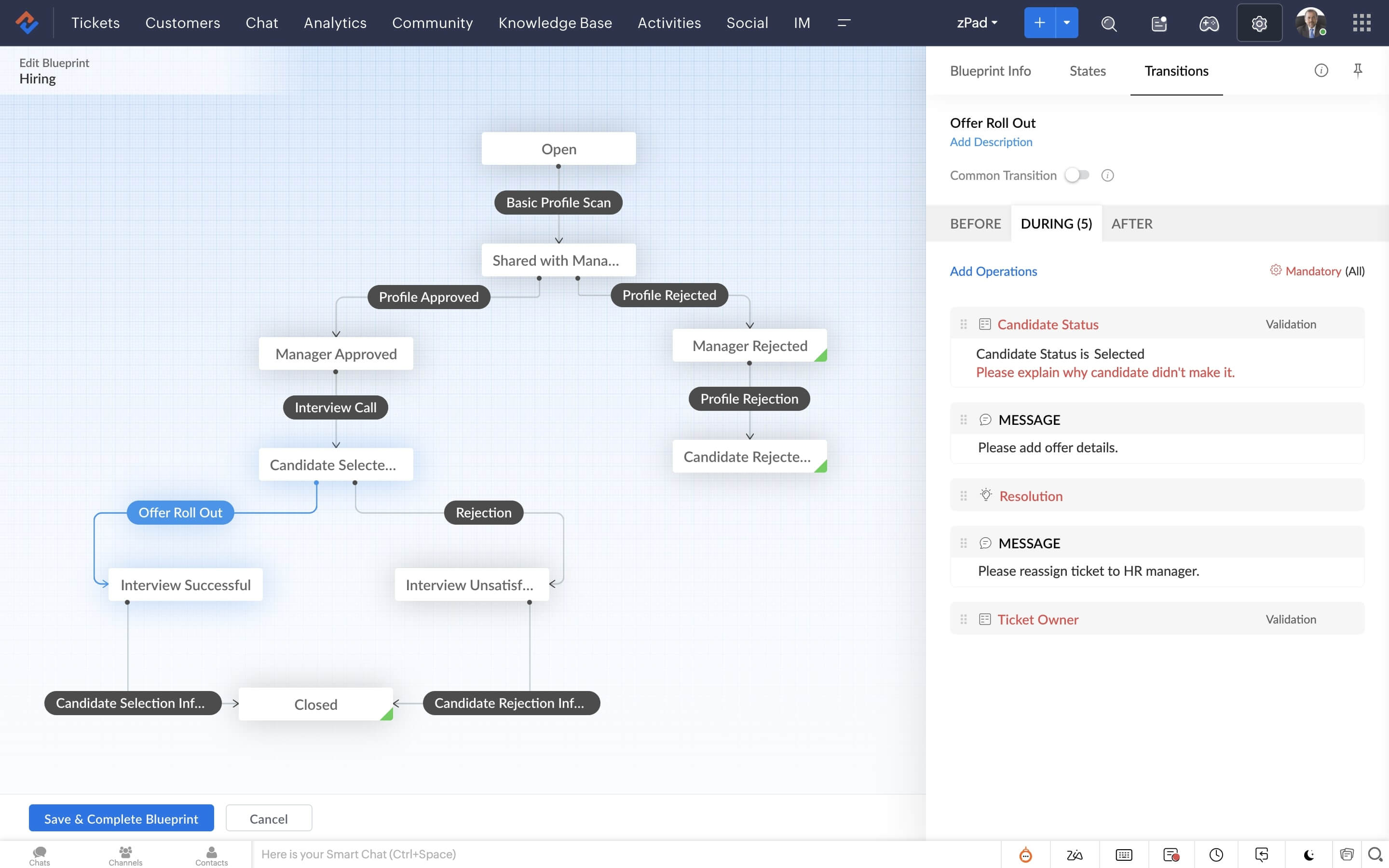 Measure the quality of your complaint management system
Constant monitoring and improved feedback are critical for building a coherent customer complaint management system. These features in Zoho Desk allow managers to keep track of the help desk activities and get accurate feedback from their customers.
Reports and Dashboards
Managers can view detailed reports and dashboards to measure the volume of traffic per channel, average response and resolution times for each agent, and the customer feedback. Managers can generate and schedule custom reports and dashboards for deeper analysis and well-informed decision-making.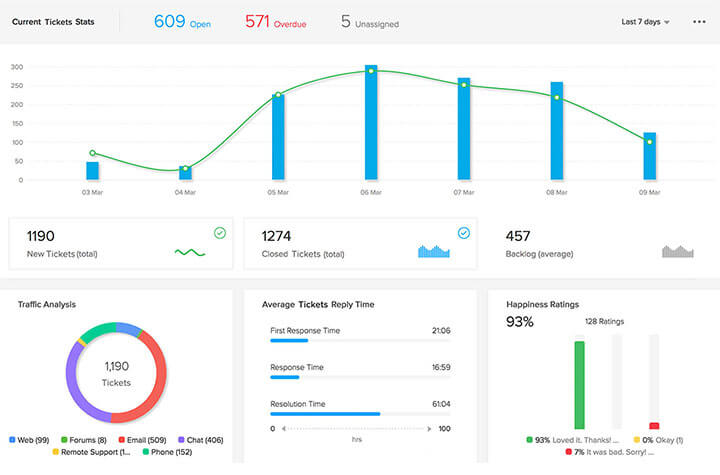 The HQ
This dashboard gives managers a quick overview of all the important metrics—like ticket traffic, customer happiness ratings, and the most threaded tickets in your complaint management system. This way, managers can step in wherever necessary and resolve issues faster.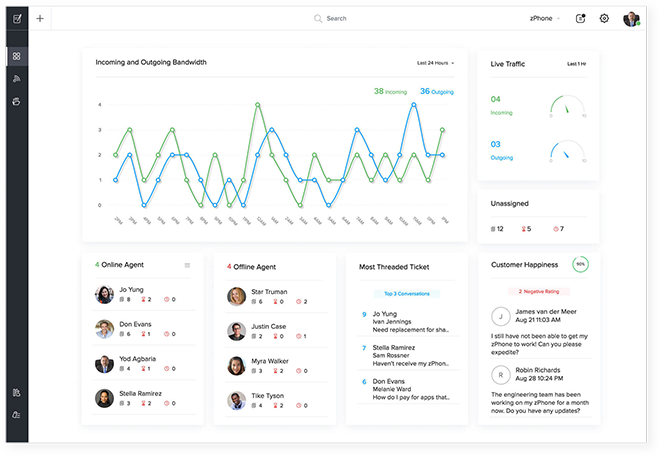 Agent Scorecard
Agent scorecard contains the number of tickets assigned to an agent, their average response and resolution times, and the customer happiness ratings they received. These statistics help agents gain insight into their performance and standard of service, thereby helping them manage their time and effort better to maintain good customer ratings.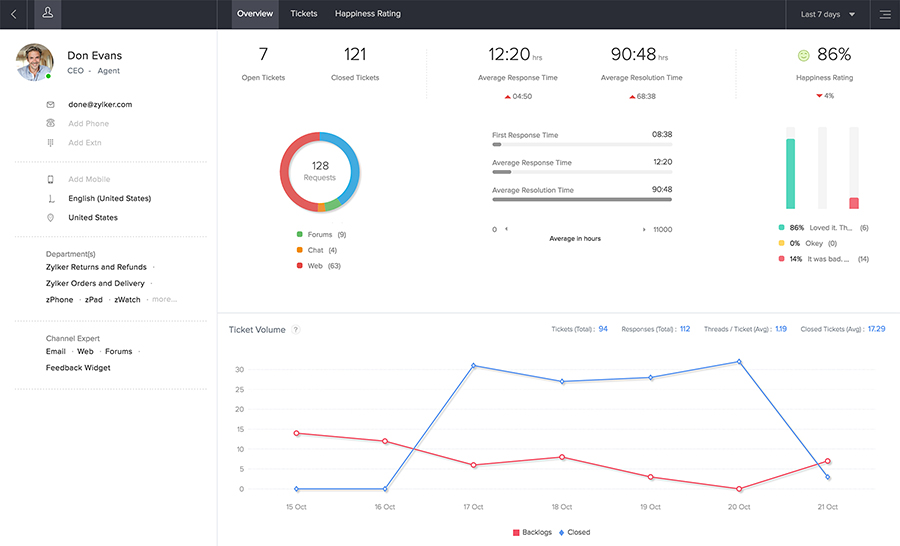 Customer Happiness Rating
This gives agents and managers a look at how the customers feel at the end of the support they get. Managers can benefit from the built-in analytics that help keep track of the ratings agents receive over a period. They can also turn a negative feedback recorded in your complaint handling software around by following up immediate.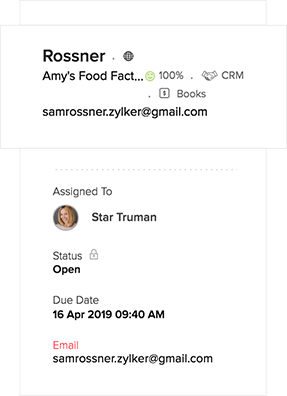 Mobile-first capabilities
 

Ticketing app
Radar for managers
Ticketing app
You can provide customer service without being tied to the desk with Zoho Desk's contemporary mobile help desk apps. Agents can view and reply to tickets, collaborate with other teams, and reassign tickets from the Zoho Desk mobile app.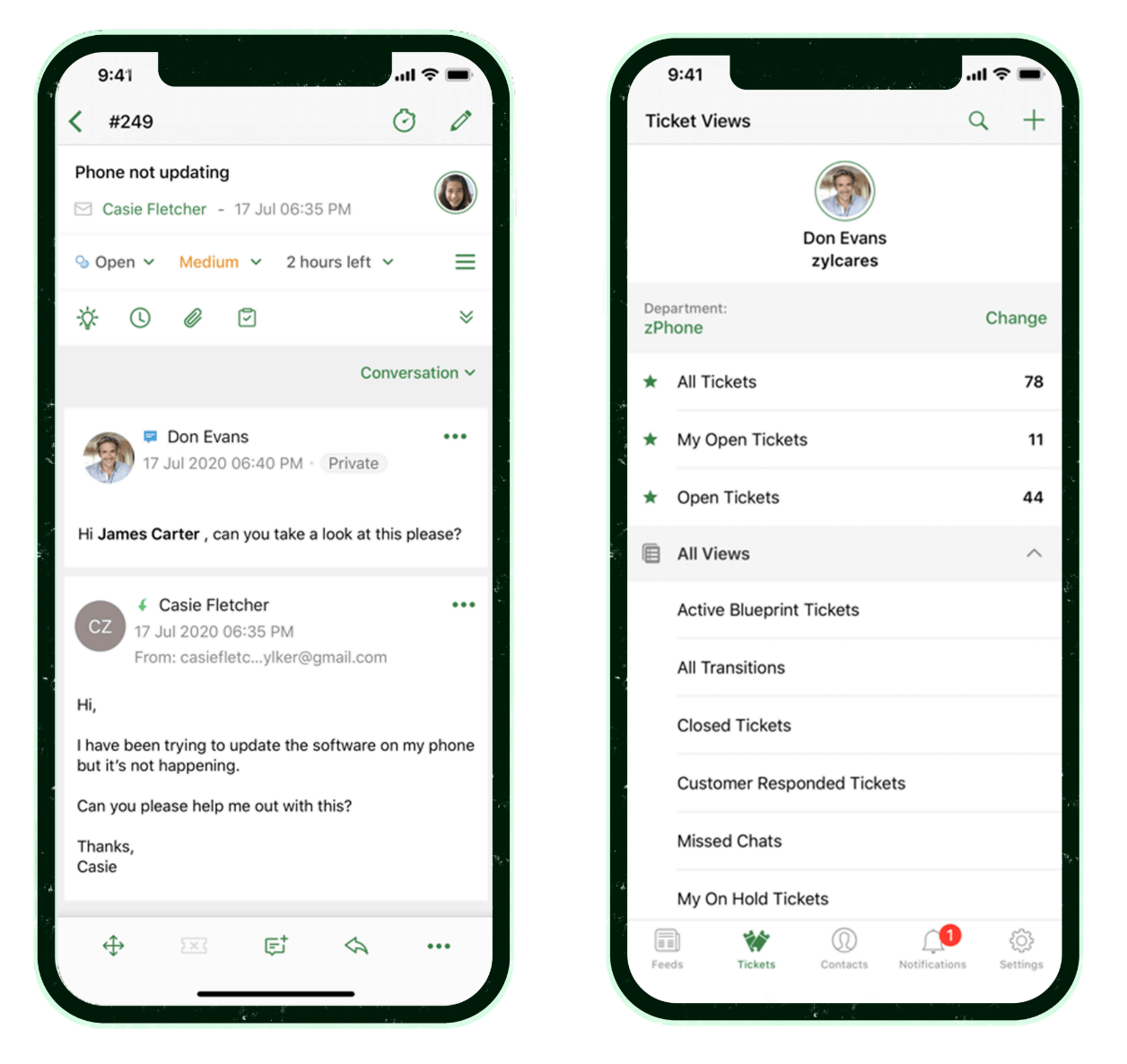 Radar for managers
The Radar app gives agents and managers a comprehensive view of critical metrics such as ticket resolution time, customer happiness, live traffic, and individual agent stats, on the go. This helps catch exceptions and anomalies well in time.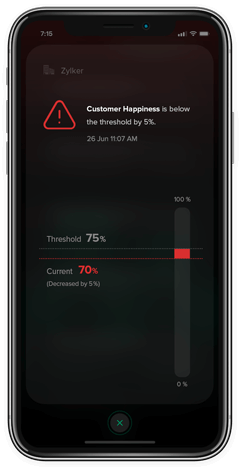 What if you are unhappy with your complaints management software after buying it?
You have numerous options to choose from when it comes to a complaint handling software and it is always better to get your head around the functionalities as well as the affordability of the product that serves your needs the best. If yours is a small business, you might even find a free online complaint tracking software to consider.
Most of the complaint management software, including Zoho Desk, offer a trial period. Evaluate, compare, understand, then decide. You can even evaluate and compare Zoho Desk with its competitors, and take a look at pricing plans before you make a decision.