What is a Complaint Management System?
Complaint management is the process of how organizations handle, manage, respond to, and report customer grievances. This process requires a streamlined approach and constant monitoring to ensure faster resolutions.
Try Zoho Desk for free
Handling customer complaints is easy when you have the right software.
When customer complaints are not resolved within a reasonable time frame, it's a recipe for disaster. These tickets come from multiple channels and a multitude of customers. So, no matter how many agents you employ, there's bound to be bottlenecks and confusion.
Complaint Management software helps you receive, respond to, and resolve customer grievances with the help of multichannel capabilities, advanced reporting functionalities, and cross-functional collaboration. It helps you tackle multiple problems with simple solutions, and leaves you with more time for tasks that matter.
You need all the complaints in one place.
Your customers get in touch with you through multiple channels on a daily basis. Resolving these customer complaints requires a system with multichannel capabilities. Complaint management software like Zoho Desk collects all support tickets from different channels and organizes them in one tab to help agents reply to all of them from one place. These channels include: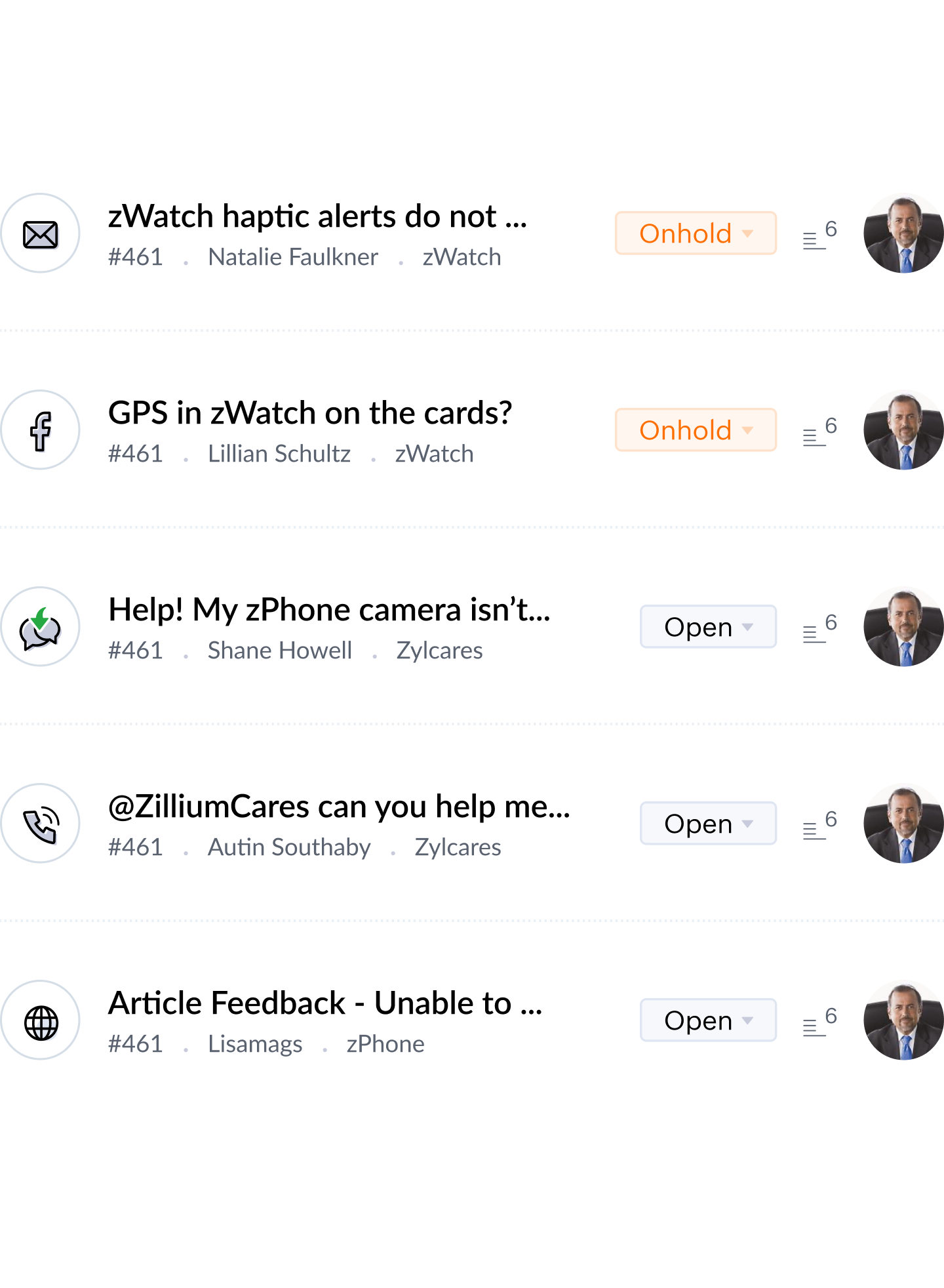 Email :All your customer emails get pulled into a convenient interface where you can easily respond to them. This is the best way to handle customer service emails, even when you use several email addresses.
Social media : You can view and manage your customer's communication via social media like Facebook and Twitter. You can reply to tweets and posts from your help desk and even set keyword alerts. Learn more.
Live chat :You can chat with customers to understand their concerns better, and give them more timely, personalized help. You can also convert chats into tickets if the issue needs more detailed attention, and respond to customer issues faster. Learn more.
Telephony : Effective complaint management tools allow you to use cloud telephony. Cloud telephony allows you to receive and make phone calls from within the help desk, as well as log, record, and monitor these calls, and convert them into tickets or associate them with existing ones. Learn more.
Web form :Embed a customizable web form widget on your website that will help your customers fill out a form with the details you need and submit their questions as tickets.
Self-service portals :Help centers enable customers to find answers to commonly asked questions without waiting for an agent to be available. However, there are times when the articles in your Knowledge Base aren't enough to solve their problems. In such cases, Zoho Desk lets customers log their complaints within the self-service portal easily. You can also embed your entire help center in your mobile app with ASAP for all your brands—this helps customers submit tickets without leaving your app.
These tickets need to be assigned to the right agent.
When a customer submits a complaint, it needs to be routed to the right department or person. While this process can be done manually, it increases the risk of delays. Automating this process helps your team resolve each issue faster.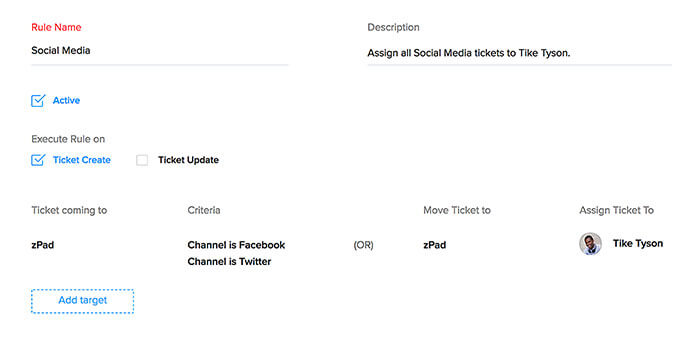 "There are two kinds of automatic ticket assignment rules you can use, depending on your needs:"
Round Robin: Round Robin is the simplest form of automatic ticket assignment. It distributes tickets evenly to all your agents based on the limit that you set. With minimal intervention, Round Robin ensures that no ticket goes unassigned.
Specific automation: You can also ensure that specific kinds of tickets are handled by specific agents on your team. For instance, you can set up a rule to assign tickets from channels like social media only to the social media experts, so that customers get the best solutions in the shortest possible time.
Automatic assignment rules help tickets reach the right person, but effective complaint management requires both parties to be notified at different stages of this process. Zoho Desk's Notification rules help you achieve this.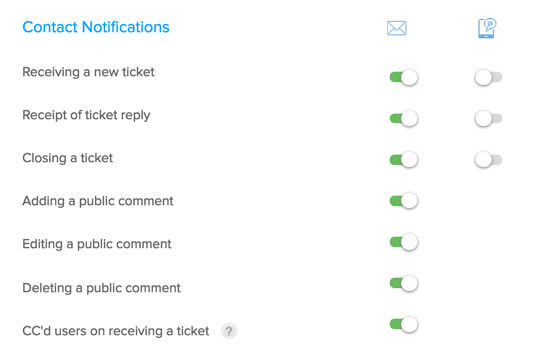 Keep your customers in the loop: Acknowledging to customers that you've received their complaint is the first step in building trust. Put them at ease with instant notifications via email, SMS, or both, to let them know that a team member is already on their ticket and will respond soon.
Help your agents stay updated: For your agents, working on multiple tickets at the same time can get complicated. To help them stay on track, Zoho Desk sends them automatic notifications at important stages of the process, such as when a ticket is assigned, when a response is received, or when a task is added.
You need software that gives agents all the context they need
With tickets from so many channels and customers coming in, your support agents need a streamlined view of all this data to maximize efficiency. Zoho Desk does that through it's Agent Producitvity toolkit.
Work Modes
Support agents spend a lot of time trying to figure out what issues need their attention first. To manage customer complaints effectively, they need a system that streamlines and organizes these complaints. Work Modes from Zoho Desk sorts complaints based on time due, priority, and status, automatically. This helps agents save time and decide which ticket they need to attend to immediately.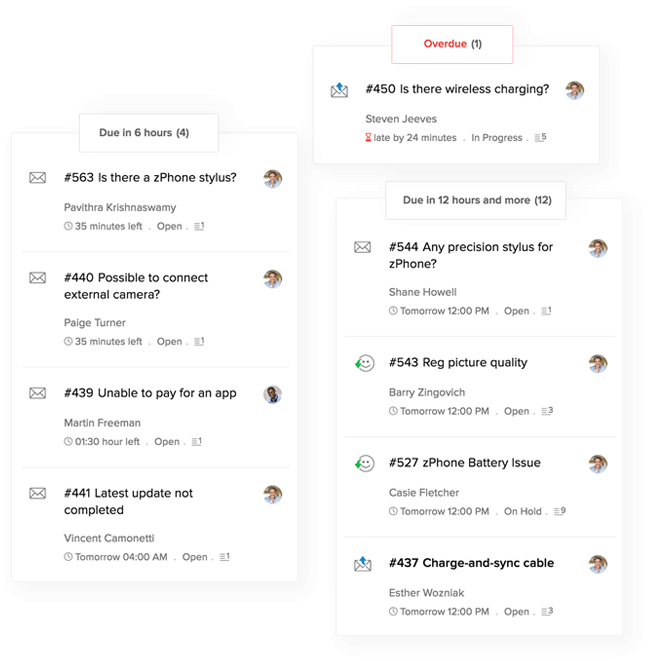 Sentiment analysis
Zoho Desk goes a step even further, and organizes complaints according to the sentiment analysis of the ticket. Zia, the AI assistant for Zoho Desk, analyzes the ticket for signs of the customer's feelings, flags tickets into Positive, Negative' and Neutral categories. Agents can attend to the tickets with a negative sentiment first to ensure a quick response and reassure upset customers.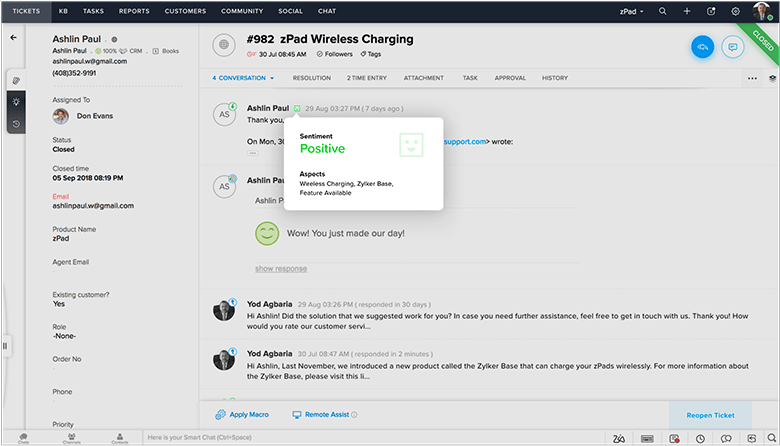 Customer history
When dealing with customer grievances, it's important to have as much context as possible about their previous interactions and the sort of relationship they have with your company. With Zoho Desk, agents can access a customer's timeline of interactions right within the ticket interface.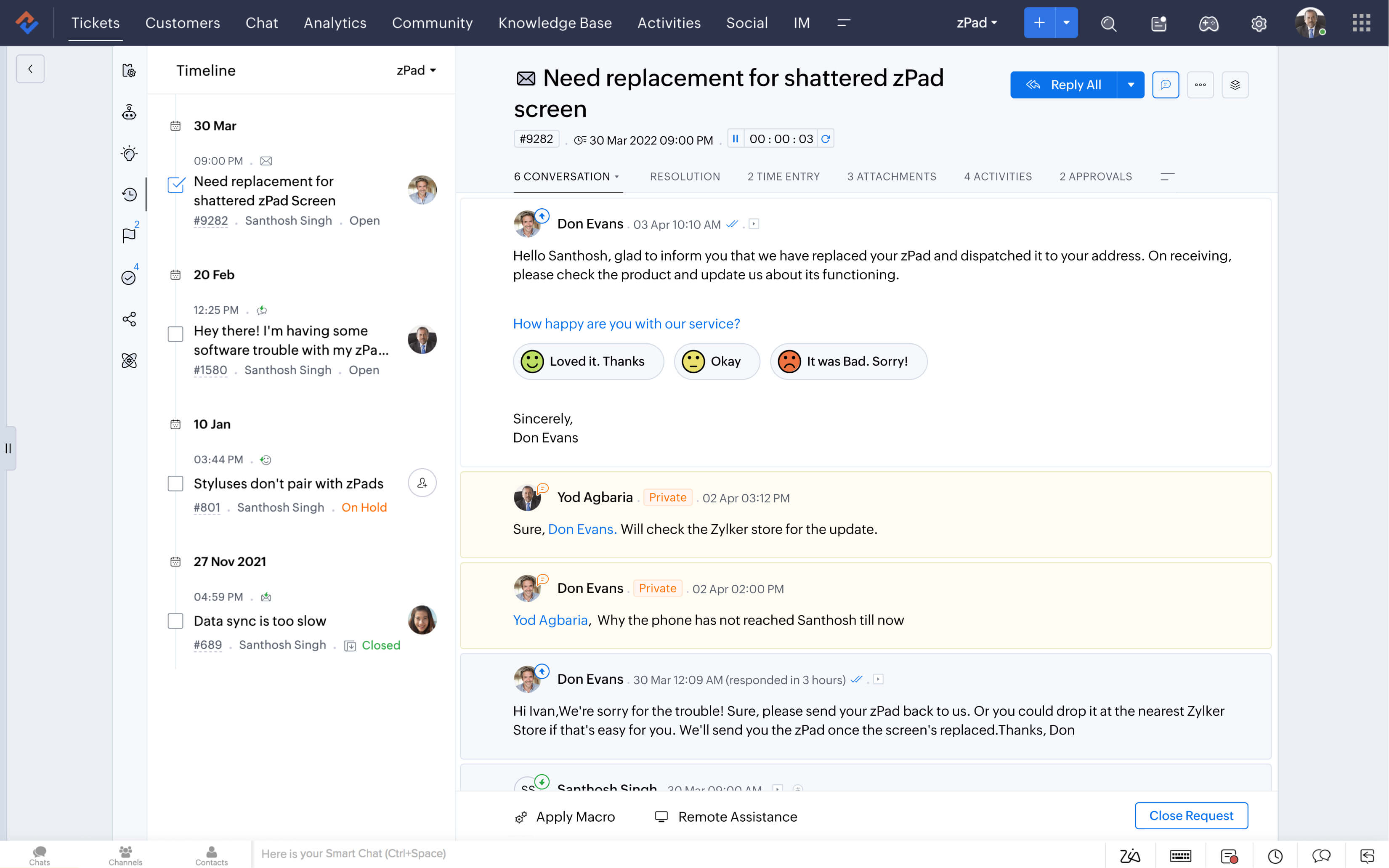 CRM integration
Zoho Desk's deep integration with Zoho CRM makes it easy for agents to manage complaints and retain high-value clients without losing any time. Your support team can view vital information—the CRM status of every ticket, the customer's previous interactions with the sales team, deal size, and more—to gauge the level of attention the prospect requires. Your sales team, on the other hand, gets notified about the ticket activity, and can respond to them from within Zoho CRM.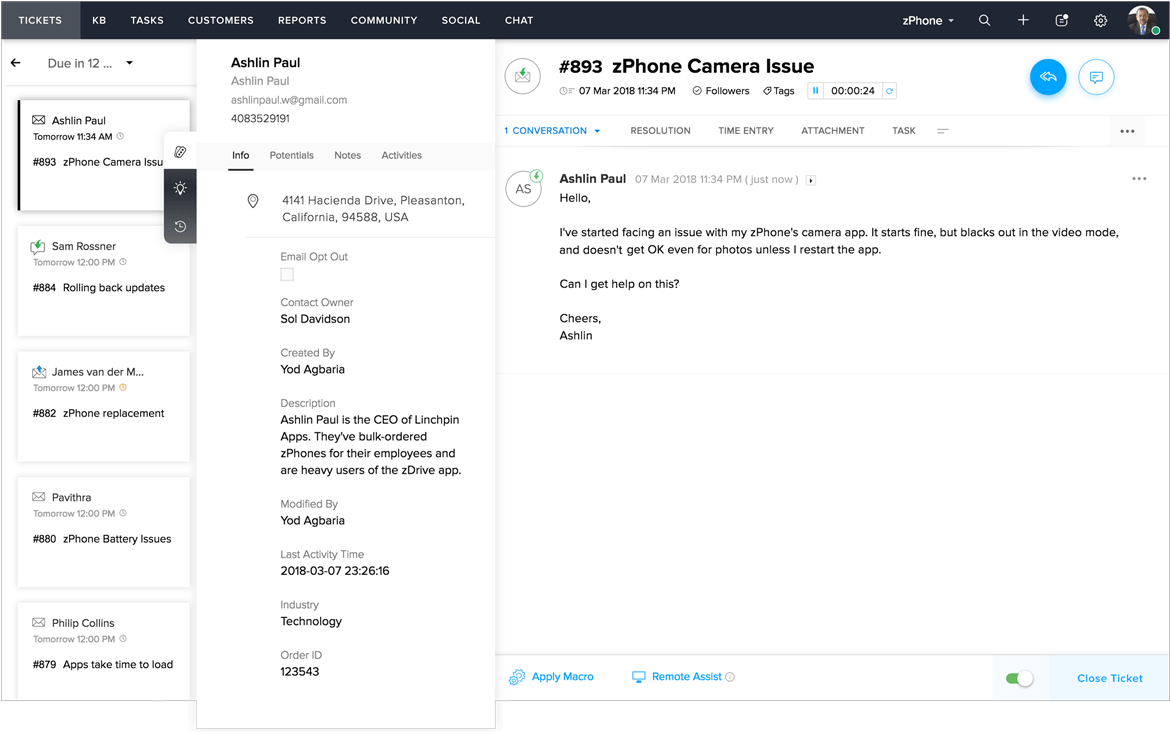 Auto suggest
Effective customer complaint management requires quick responses. Zia, Zoho Desk's AI assistant, pulls relevant articles from your KB and has an answer prepared even before your agents read the ticket. All they need to do is hit send. This ensures consistently faster and more accurate responses.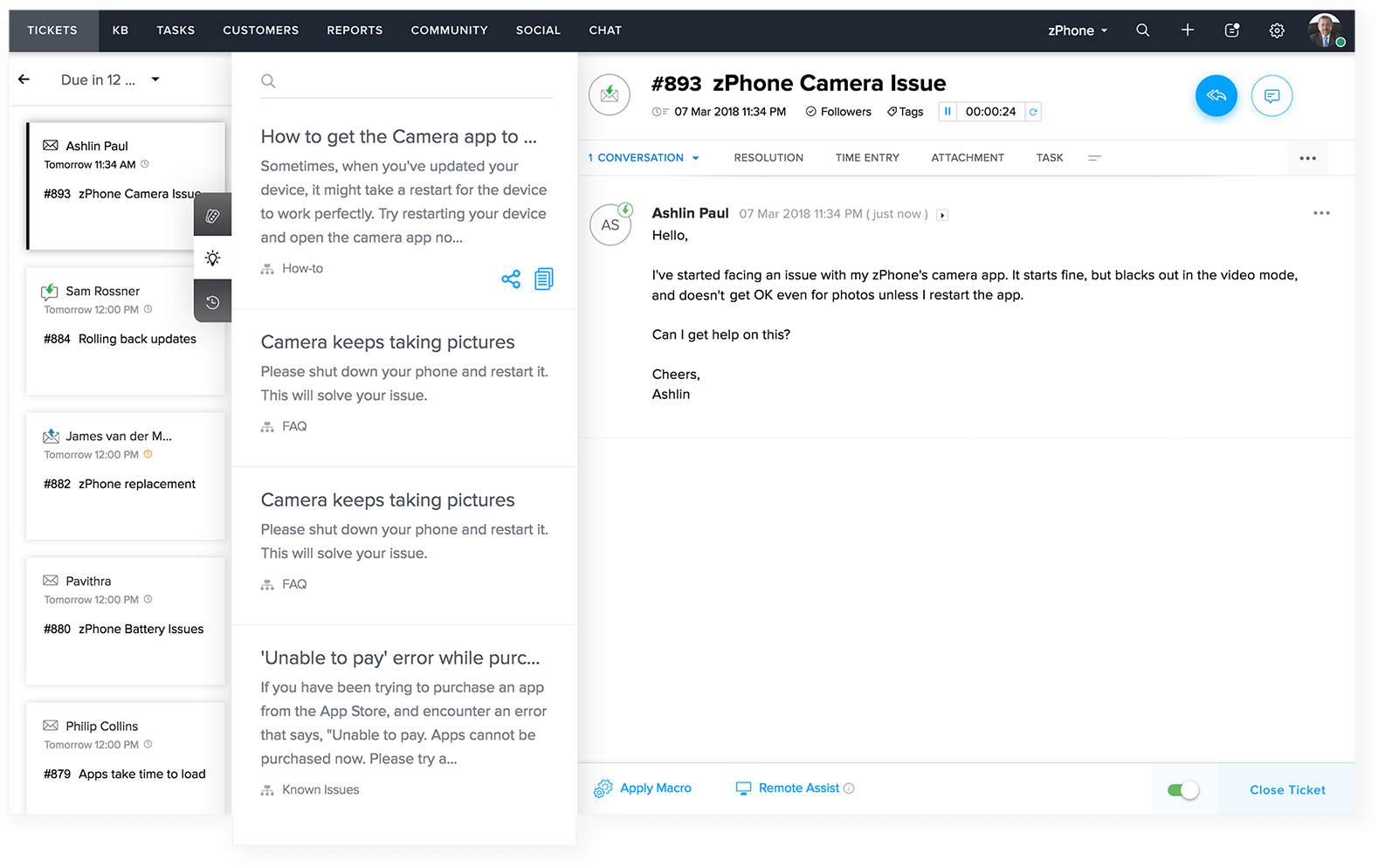 Resolving customer complaints goes beyond just one team
With a large team of agents, chaos and confusion can be commonplace without a proper complaint management process in place. A help desk system like Zoho Desk comes with a set of features that are specifically designed to make workplace collaboration easier.
Team collaboration
Customers' complaints often require several departments to work together to resolve. Often, your support team finds itself trying to collaborate with multiple teams to resolve an issue. This creates a risk of miscommunication and avoidable chaos. Zoho Desk keeps things on track by enabling your agents to tag their colleagues and other teams within tickets and leave private comments. This ensures that no context is lost when information is passed on, creating a smoother path to resolution.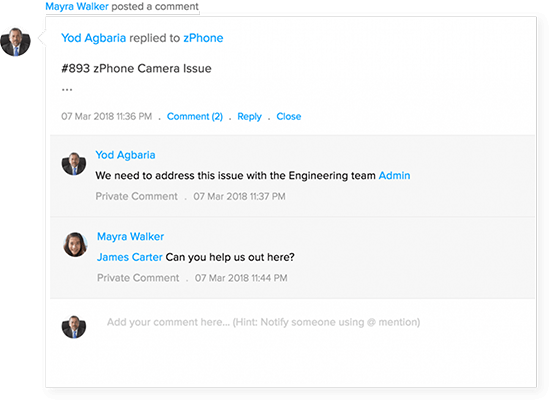 Agent collision alert
With a growing team, companies must be especially careful about overlapping of work. Zoho Desk's Agent Collision Alert prevents this overlap by notifiying the agents that are viewing the same complaint—this reduces duplication of work and effort.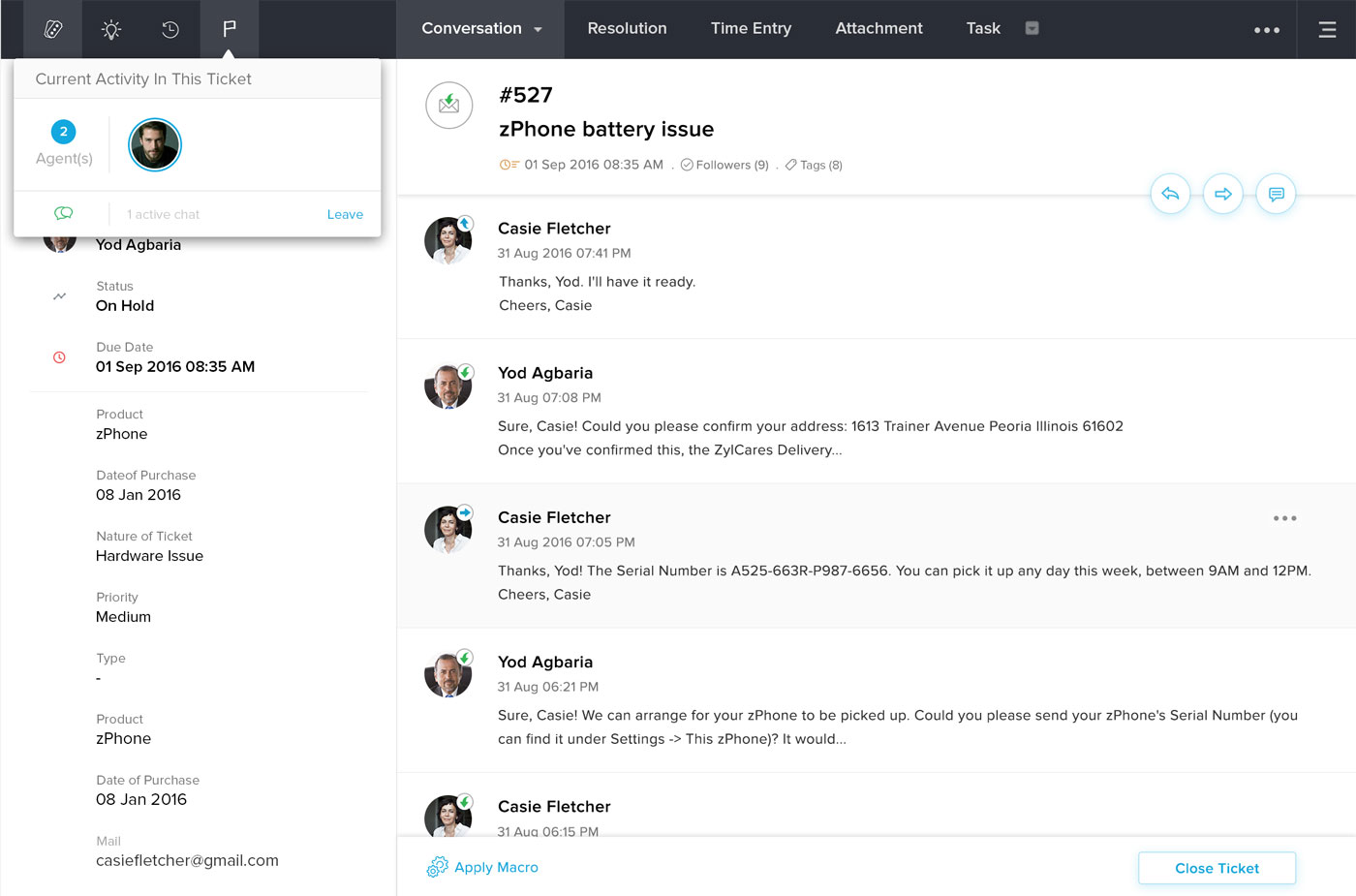 Integrations and customization
Integrating your other apps, like project management apps, CRM software, calendar apps, email marketing apps, and others with your ticketing system gives you a unified view of your customer information that would otherwise be scattered. This also helps agents exchange notes across departments and find the best solution to customer issues.
 

Zoho CRM

 

Zoho Books

 

Zoho Analytics

 

Zoho Assist

 

Slack

 

Jira

 

Salesforce

 

Google
Managing your agents requires intuitive automations
Every business has a unique set of processes that are crucial to its functioning. Automations can help you save time by eliminating the need to perform repetitive but important actions. These automation rules are flexible, easy to configure, and are widely customizable to suit your business needs.
Workflows
Associate rules, tasks, and alerts with multiple conditions to ensure that work goes on smoothly. Managers can also define rules to automatically escalate a complaint that's past its due time, to get instant alerts, and also re-assign the ticket to a different agent.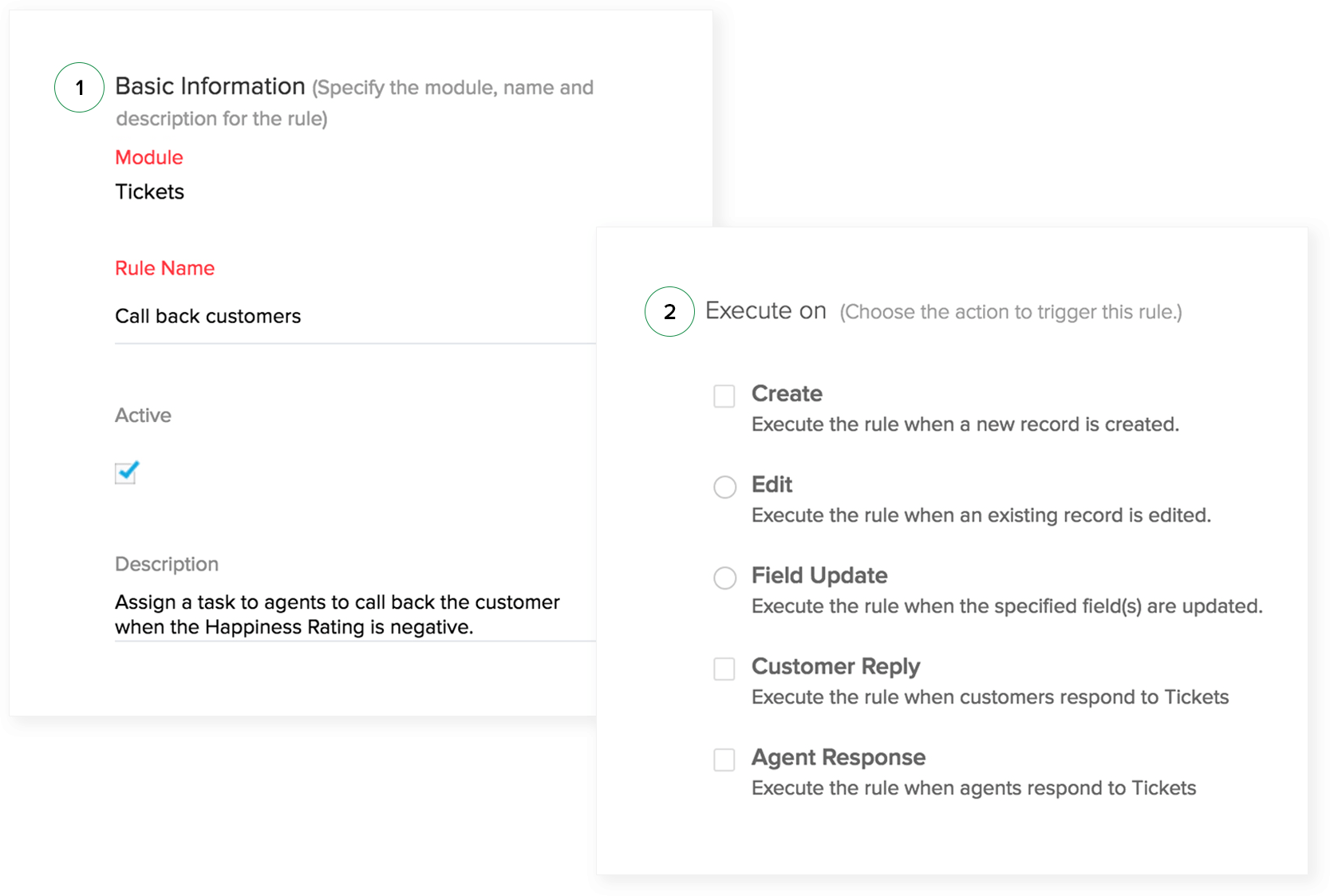 Service Level Agreement
With SLAs, you can specify the response and resolution time for a ticket based on criteria like priority, channel, time due, and customer type. Contracts ensure that you stick to the customer support plans that you've agreed to for the specified time.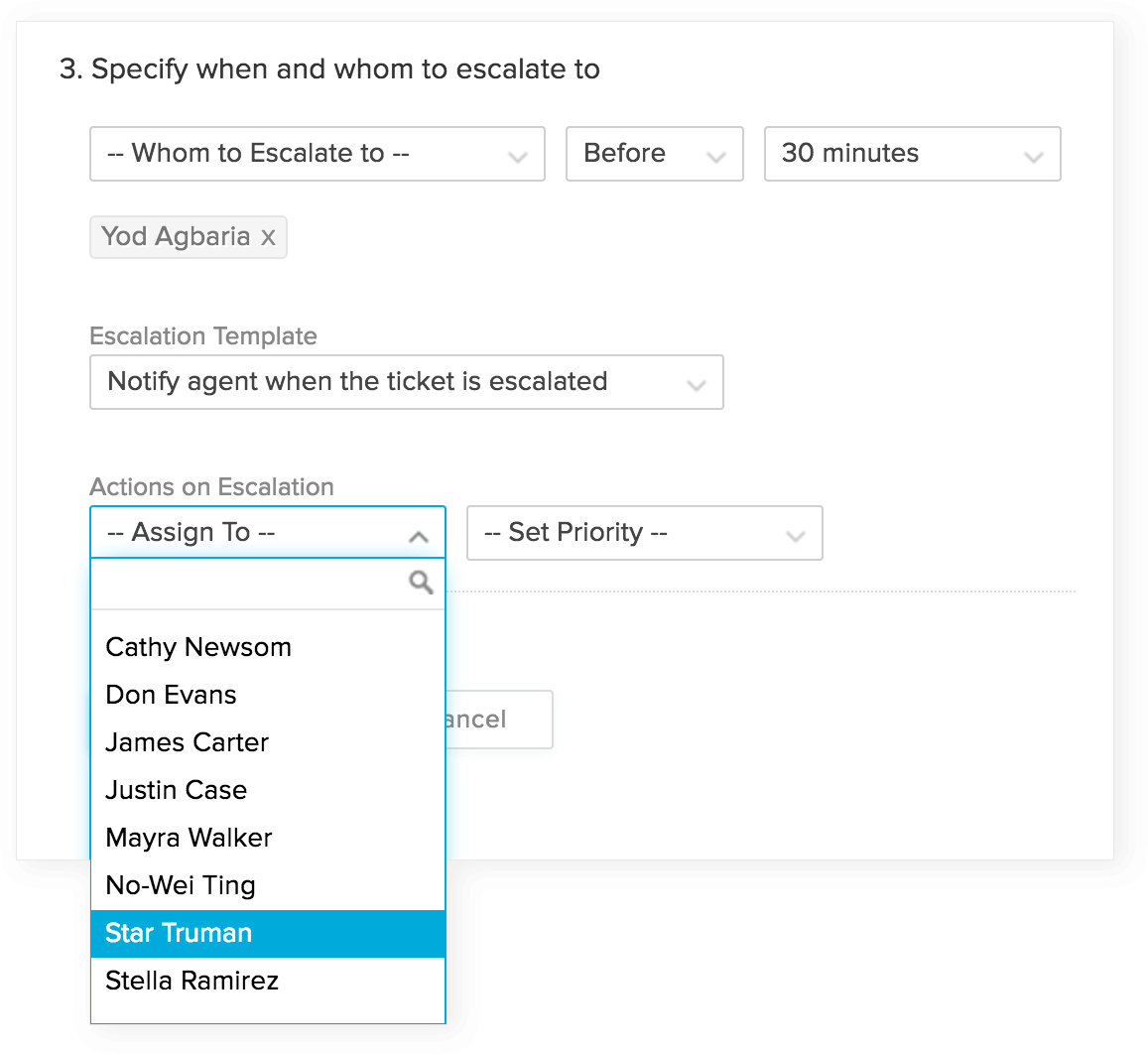 Advanced process automation
The larger your company gets, the harder it is to implement and stick to your processes. However, Blueprint from Zoho Desk comes with advanced process management tools that help you create and manage your processes on the cloud. Automating your process implementation means more consistency and no need for supervision.
Reports and dashboards
Managers can use detailed reports and dashboards to measure the traffic volume per channel and average customer satisfaction, response, and resolution times for each agent. Managers can also create and schedule custom reports and dashboards for deeper analysis.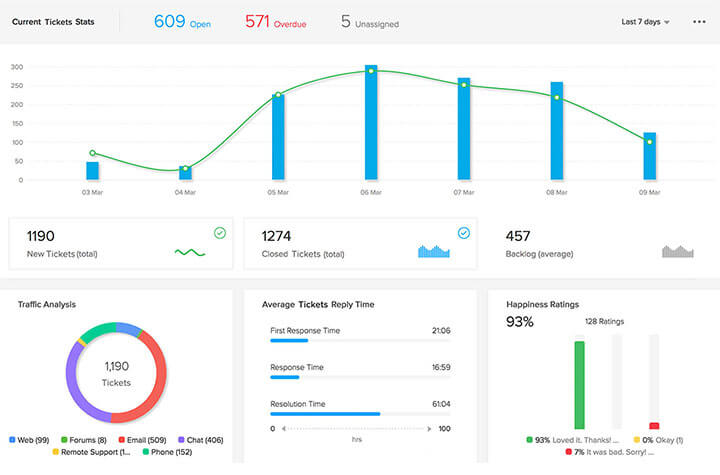 The HQ
This dashboard gives managers a quick overview of all the important metrics—like ticket traffic, customer happiness ratings, and the most threaded tickets. This way, managers can step in wherever necessary and resolve issues faster.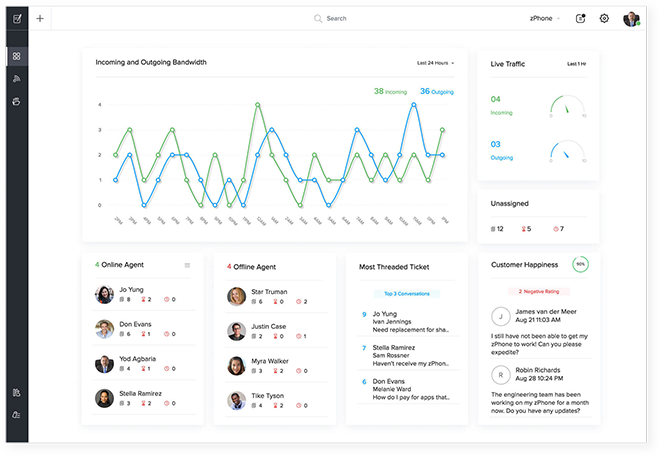 Mobile-first capabilities
 

Ticketing app
Radar for managers
Ticketing app
You can provide customer service without being tied to the desk with Zoho Desk's contemporary mobile help desk apps. Agents can view, reply, collaborate with other teams, and reassign tickets from the Zoho Desk mobile app.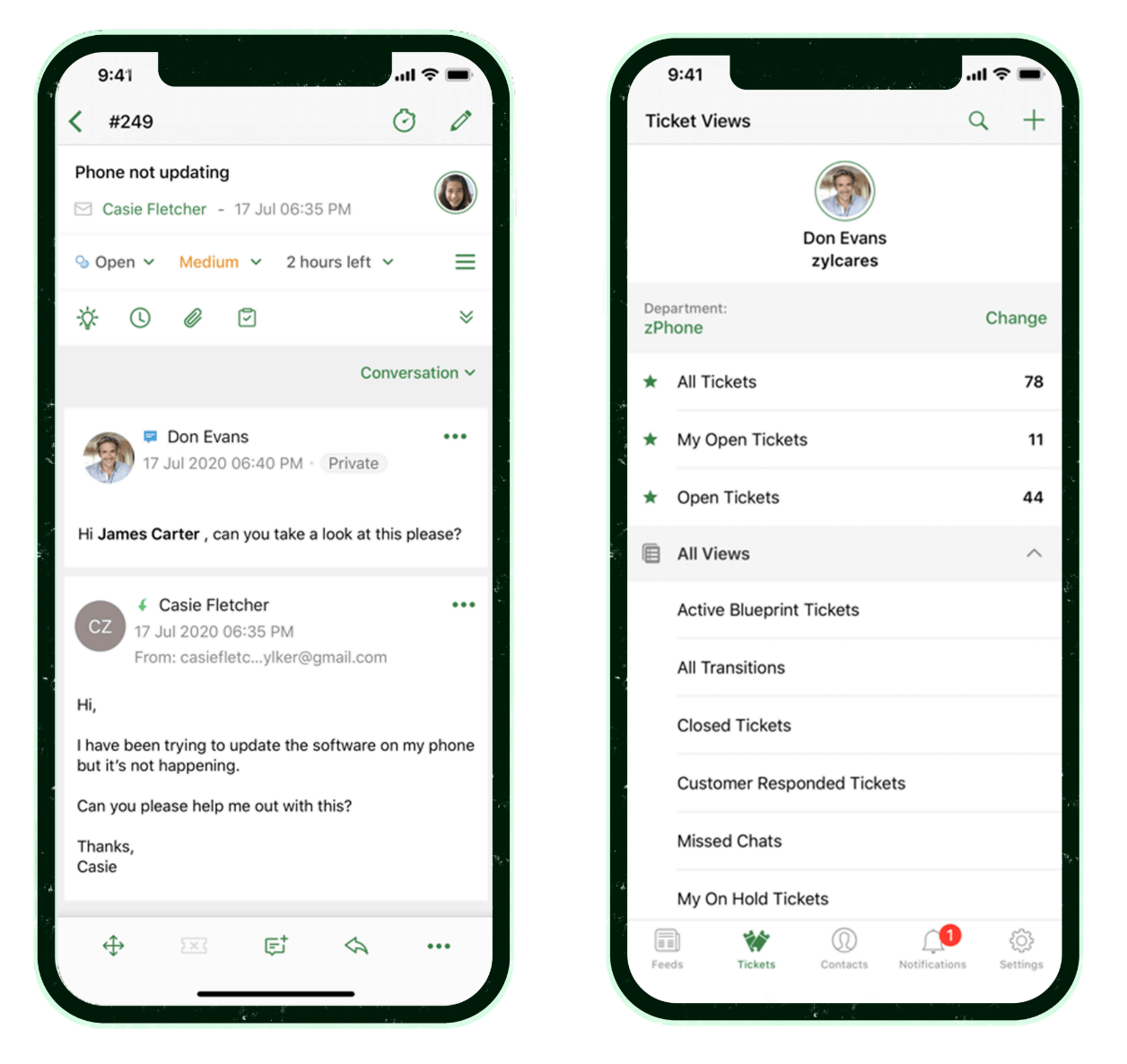 Radar for managers
For managers, the Radar app gives agents and managers a comprehensive view of critical metrics such as ticket resolution time, customer happiness, live traffic, and individual agent stats, on the go. This helps catch exceptions and anomalies well in time.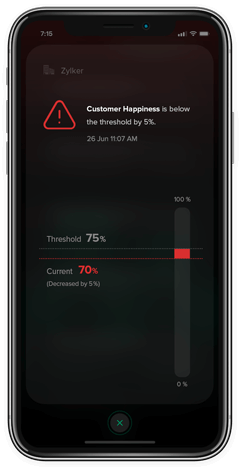 What if you end up not liking the complaint management software after you buy it?
There are a lot of options to choose from when it comes to complaint tracking software, and most of them, including Zoho Desk, come with a free trial period. If you run a small business, you might even find an open source or free complaint management software that might suit your needs. Evaluate them, compare them, choose the right pricing plan and software. It is definitely worth the effort.