Drag-and-Drop Interface
We detest complexity. That's why we didn't put any in our application. Zoho Creator's pride lies mainly in being easy to tame, not only for the geeks, but for the not-so's too. If not, how else do you think 80% of our customers have built their custom applications all by themselves? All credits to the intuitive drag and drop interface, not only in form designing, but also in adding business logic.
Embed Forms in your website/blogs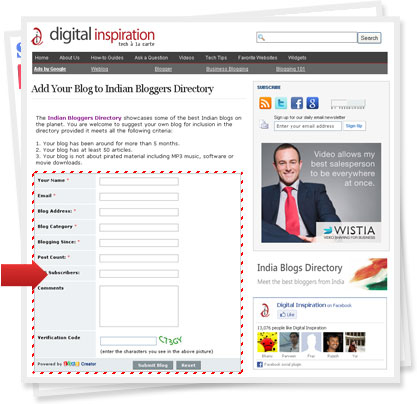 Creating multiple online forms is free and easy, alright, but what have we done to make data collection as easy? You can embed your form on websites, wiki or blogs for your viewers to enter data. It can be done by including a couple of lines of code and is as easy as sharing the link via email. After the process of data analysis, you can generate reports based on collected data and publicize them as well. If your website's color scheme does not get on very well with the default template, change it to what suits. Modify form properties, header, footer and width of labels and fields as you would like them to be. Go build your embeddable forms for free.
Generate Reports
Reports become inevitable when you want to analyze progress over a certain span of time for the collected data. It provides a graphical intepretation of raw data, thus making it convenient to analyze. Options are that you can create reports as a pivot chart or pivot table. Reports can be generated based on an existing view that needs to be mentioned during generation. In addition to all these, you can sort or filter data on any column and isolate the required data alone from the large repository.
Export data in various formats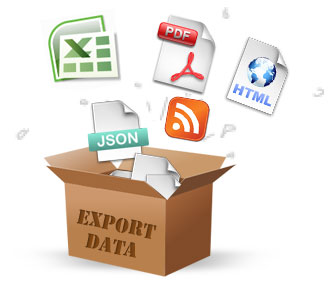 Just as you enter records into the database, you can opt out anytime too. Suppose you wish to view the database on a speadsheet or want to print a hard copy out or want to share it with friends, it is possible to export the database as seven different file and feed formats; Spreadsheet, HTML Document, PDF, RSS Feed, JSON Feed, CSV Feed and TSV Feed. These formats are supported by many other applications such as Excel, open office, Zoho Sheet and Google Docs. Feeds are mainly intended to keep you updated on changes made to the database.
Email Notification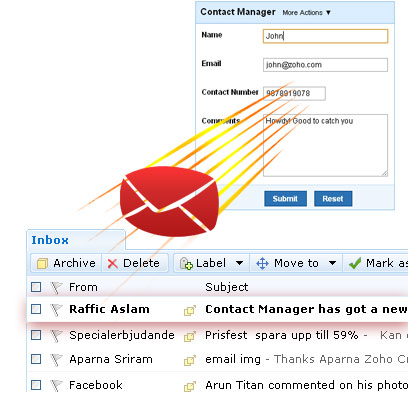 Data collection using online forms, we thought, would not be so complete without notification options. That's why we have come up with this feature: email notification. You could do with this option especially when a large number of users add or alter records on your database. Scheduling a notification will let you stay updated on all happenings on the database. You are more than welcome to customize the mailbox you wish to get the notifications in. If a database is administered by more than one user, then too, notifications can be scheduled for multiple mailboxes using Cc and Bcc options.
Set Captcha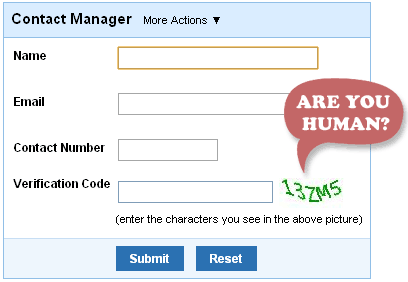 You create forms and share it with others or embed it on websites. Though it is targetted at intended audience, such public forms would surely be victimized by smammers. Here is a countermeasure. Adding Captcha in your form should prevent undesired entries of record into your database. Captcha is a set of squigly letters, which when reproduced alone, would allow a user to submit the record. With that, you can look forward to seeing relevant data alone in your databases.
Attachments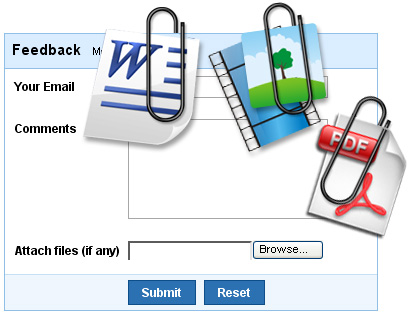 Adding data alone would make your database very dull and static. We knew you would appreciate being able to upload files too; images to jazz up the data and files that have supportive information to the entered data. Include a File Upload Field in your online application or form so as to allow users to browse for the file and attach it to the record. Zoho Creator considers the total file storage for the account on the whole and not for individual users. Maximum size of a file, however, is limited to 5 MB.
Security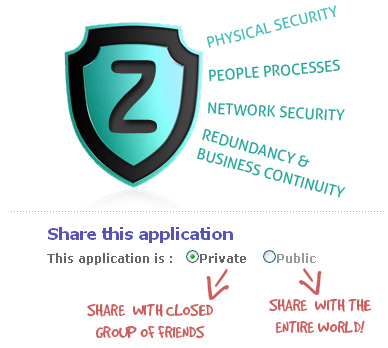 Speaking of secure forms, you can restrict the forms from being displayed to everyone. Keep it private or share it with only a group if intended audience. Likewise, views too. You can embed forms on websites without the views going public, so that no one else, but you, gets to see the entered data. On a bigger picture, state-of-the-art security mechanisms stand guard at our servers which host your data. Access to these sensitive information is discrete and highly selective. That leaves you with one thing less to worry about.
Customize the look and Feel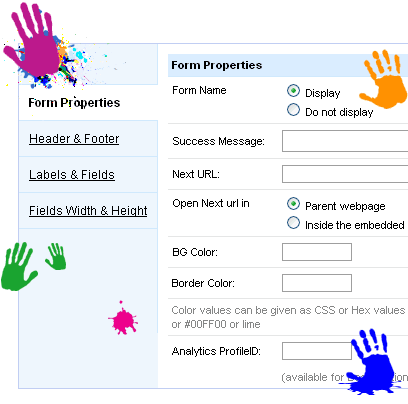 Customization is purely a matter of taste. Naturally, it differs between people. It is only rightful that you decide how your form and application should look like. We offer a series of options for you to modify the form layout, color theme and the arrangement of forms. There are a range of predefined themes to choose from and options to create your very own custom themes.