How can low-code help streamline your work order management?
How can low-code help streamline your work order management?
Last Updated: August 4, 2023
99 Views
4 Min Read
Low-code platforms enable the development of applications with minimal coding, allowing users to create solutions faster and more efficiently. Drag-and-drop interfaces, visual development tools, and prebuilt components empower traditional and citizen developers to collaborate and build applications that meet their unique needs. This increased speed and agility make low-code an ideal solution for businesses looking to stay ahead in the digital era.
The low-code development platform market is expected to reach $187 billion by 2030, growing at a compound annual growth rate (CAGR) of 31.1% from 2021 to 2030. Zoho Creator is a prominent low-code platform that empowers businesses to build custom solutions without extensive coding. In this blog, we'll learn about a comprehensive work order management app built by the low-code experts at Aziri, a certified Zoho Creator Partner based in Belgium.
The application is designed to help businesses in the construction industry manage their operations and improve efficiency by streamlining the process of creating and tracking the status of jobs. It provides users with an easy-to-use yet feature-rich platform that can be tailored to their needs. The app can track hours worked, materials used, tasks completed, and activities and expenses associated with the job.
Why build an app on Zoho Creator?
Zoho Creator has a user-friendly interface that allows staff of all technical levels to learn quickly, without requiring extensive training.
It helps cut down on manual data entry and other tedious tasks by automating the processes behind work order management.
It works online and offline across any device, providing maximum accessibility and flexibility.
Its comprehensive reporting and analytics capabilities help gain insights into workloads, identify areas that need improvement, and stay ahead of customer service performance.
By streamlining processes and eliminating manual data entry, Zoho Creator can help cut costs and reduce the time and resources needed for compliance and operations.
Let's dive into the various modules of the work order management app
The app opens into a dashboard that acts as a landing page to view important KPIs at a glance. It comprises data on customers, prospects, pending orders, monthly and yearly turnover, and forecasts, based on what's in the pipeline.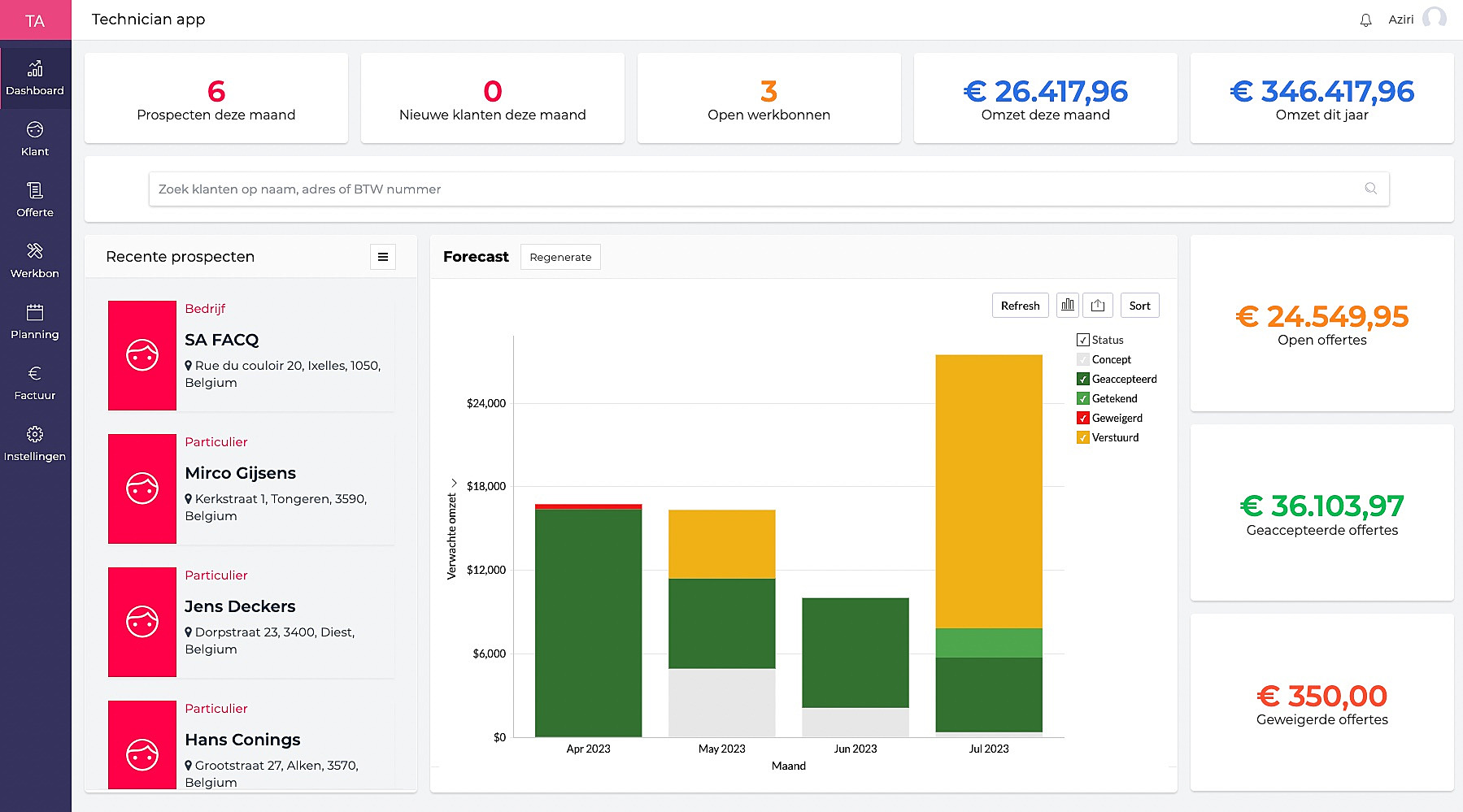 Manage clients with the customer module
The customer module provides aggregate data on existing customers and includes potential customers. It also contains information about communication and invoicing, and an overview of quotations sent and projects completed. Users can easily populate company details that are mapped with their respective tax numbers. Once the VAT code is entered, the app automatically fills in data into the rest of the required fields, like name and address information, using an integration with a central database.

Make quotations using the offers module
In the offers module, one can create work orders and send customized quotes to customers with products, discounts, and digital signatures. The price offer is automatically generated on Zoho Writer, at which point an email can be sent to the customer for approval. Then Zoho Sign allows the customer to sign the work order digitally, and the status of the order changes depending on acceptance/rejection of the order. It also helps manage all quotes, and creates a work order when a quotation has been accepted or a provisional schedule is set up while awaiting approval.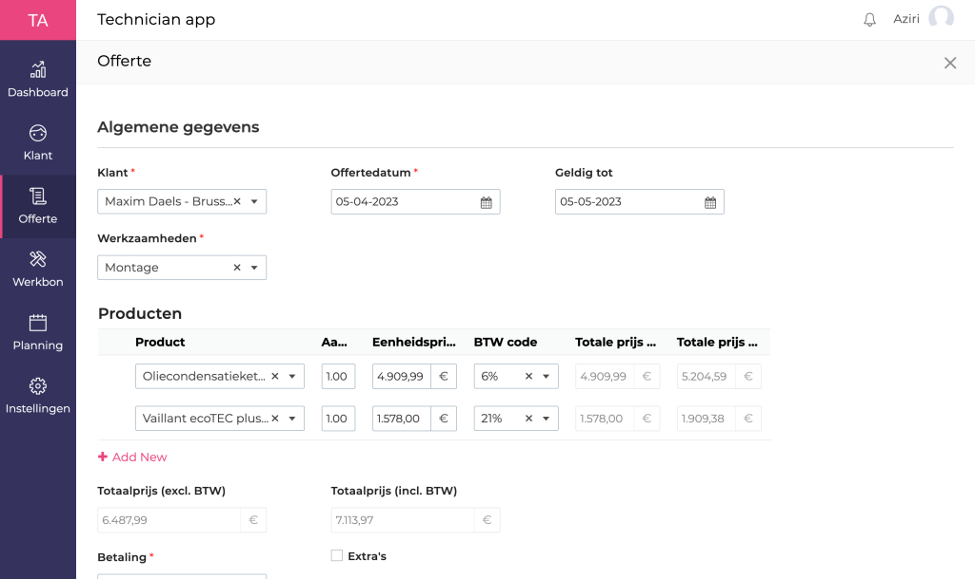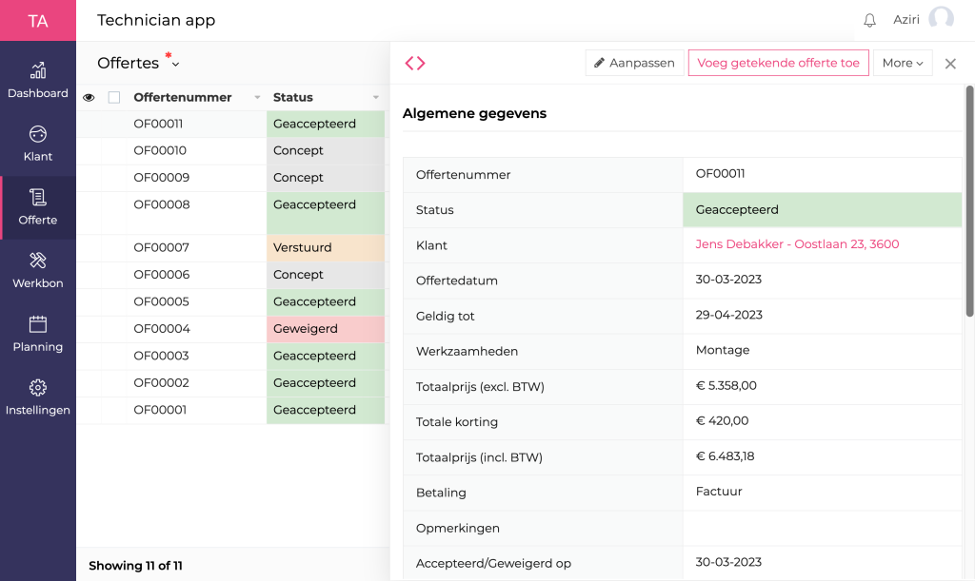 Manage work orders
The work orders module helps keep track of your work orders. It automatically generates new work orders on acceptance of offers by fetching the relevant data from approved quotations. A technician can be assigned, and the user can add more information.
A customer approval can be configured with digital signatures, after which a work order document can be created on Zoho Writer. Users can monitor the progress of work orders and adjust the scheduling and required materials as needed.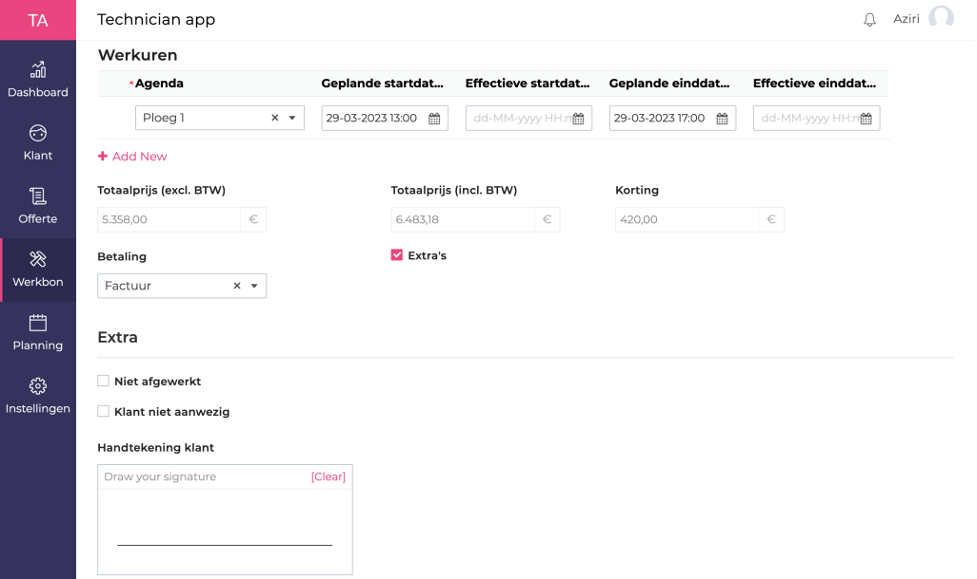 Schedule tasks in the planning module
The planning module helps with scheduling the tasks for technicians. New orders can be added, and existing orders can be modified. The technician (with a restricted view) can use the mobile app to view their assigned work orders and all related customer information. The technicians can also record the time spent on a job. Customers can then sign off on completion, or a new work order can be issued.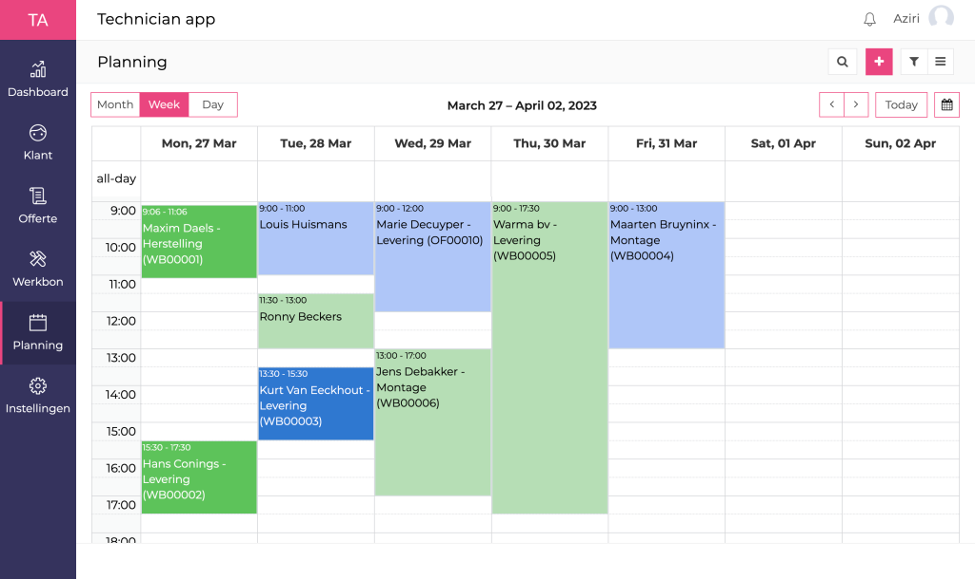 Generate receipts using the invoice module
On completion of the order, an invoice can be generated and sent to the customer. The invoice automatically calculates the cost of the utilized supplies and materials and adds the labor cost based on details the technician has added. Invoices also have a status, to indicate if it's sent to the customer, yet to be paid, paid, etc.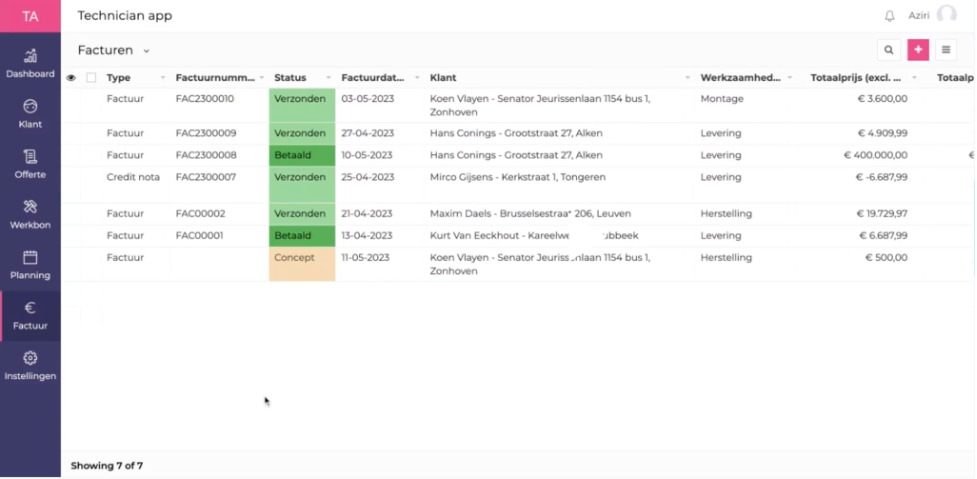 Customize the app using the settings module
Every business has unique needs, so the settings module is designed to customize general configurations, email templates, and more. You also have the flexibility to ensure you stay compliant with regulatory guidelines.
To learn more about this work order management solution and/or deploy custom low-code BPM (business process management) software for your organization, schedule a call with Aziri.
Zoho Creator offers significant benefits for users. With its rapid application development approach and visual builder, users can quickly create custom web and mobile applications without extensive coding. The platform's customization options, integration capabilities, and cross-platform compatibility empower users to tailor applications to specific business needs, connect with third-party services, and reach a wider audience. Zoho Creator also provides scalability and security features, and supports scripting languages for extending application functionality, which makes it the ideal platform to streamline your work order management.
---
Explore More about Zoho Creator Now
Falak Kochar

As a B2B SaaS marketer for Zoho Creator, my mission is to zap developers, CIOs, and CTOs with stunning campaigns and my creative writing. I predominantly manage global events marketing initiatives to position our low-code wonder to enhance the brand reach and drive revenue. Outside work, I enjoy a daily morning run at the beach. During my vacation, I like to experience cultures and savor the wilderness in peace.
Leave a Reply
Your email address will not be published. Required fields are marked