2023
Oct
Enhancements in Admin Panel
New
eDiscovery and data retention: Retrieve and clean up your organization's data and assets with eDiscovery and data retention policies. These are necessary for compliance audits, lawsuits, and intellectual property theft, as you can quickly locate and provide the required supporting evidence.

Audit trails: Get a snapshot of all user activities across chats and channels at a glance and maintain a record of all critical actions performed by specific users across different modules.

Usage reports: Measure adoption rates and the hours spent on different modules. Admins can get a clear picture of the organization's interactions and how everyone uses Cliq.

Media IP versioning: With this new tool, you can track which of Cliq's media servers are whitelisted within your organization's network. This ensures continuous and seamless connectivity in your calls and meetings.

Status configuration across the organization: Manage your organization's status configurations by customizing the text, setting time limits for each status, and availability of custom statuses.

Centralized management for your channels: Get better control over every channel within your organization by performing detailed actions like changing channel admins, adding or removing participants, and adjusting the roles available to a channel admin from a single centralized location.
Conference Call and Meeting Modifications
New
Cliq Rooms : Our newly released app, Cliq Rooms, turns any room into a smart conference space with just an Android TV. It bridges the gap between in-office and remote teams, as employees in the office can meet face-to-face and use the conference room's TV to connect with remote workers who join online.

Live events : Use live events for seamless organization-wide virtual gatherings. Organizers have full control over the event with front and back stages, such as managing who goes on the stage, playing videos, and showing images between meetings. Employees can join via mobile or Cliq for TV.
Meeting summary & action items: Effortlessly review discussions with AI-generated meeting transcripts, pinpointing critical details and follow-up tasks for actionable insights.

Unread message summary: Missed a group chat and overwhelmed by hundreds of unread messages? Now generate message summaries to quickly catch up on what is going on.

Writing assistant: Receive support in composing messages with tone analysis and grammar correction while also gaining additional insights about your texts from our AI, Zia. Explore details like writing quality, word count, and readability for a comprehensive writing experience.
Updates in the Collaboration corner
New
Auto response: Set an auto-response in Cliq to keep your colleagues informed of your unavailability and return time with the out-of-office responder.

Pin multiple messages: Effortlessly pin multiple important messages in a chat to ensure essential information remains at the forefront.
Cliq Platform progressions
Enhancement
New
Images and cards in widgets: Cliq Widgets now offer enhanced image and card display options, enabling captivating visual content in gallery and carousel views.

Unfurl handler in extensions: Elevate link interactivity with unfurl handler in extensions, allowing customized domain-specific unfurling with buttons, dynamic actions, and post-link sending workflows.

Custom icons for bot menu action: Add a touch of style and enhanced meaning to your bot menu actions for all bots by customizing icons and colors.

New Database fields: Large text and Encrypted text have been added as new fields in the database to cover all your data needs, whether they are extensive or sensitive.

Webhook token revamp: The interface for webhook tokens has been revamped so it is easier to manage your incoming webhook tokens.

New bot subscription model: Non-subscribed users can receive notifications and decide to subscribe when prompted, while the admin can use the Bot Message API to send messages to specific users, enhancing user engagement and control.
Scheduled messages
Android
iOS
You now have the power to schedule messages right from the Cliq mobile app, ensuring maximum convenience and timeliness for your planned interactions.
Connecting with external contacts
Android
iOS
Easily invite external contacts through the Cliq mobile app by clicking on your profile picture on the home page and granting access to your list of external connections.
Call recording for one-on-one calls is now supported in the iOS version of the Cliq mobile app.
Live event support
Android
iOS
Now enjoy viewing live events on Cliq mobile and Android TV. This will ensure you stay connected, engage, and actively participate in real-time, whether on your mobile device or TV.
Cliq Rooms support
Android
iOS
With the launch of Cliq Rooms, we now offer the capability to monitor and manage room participants directly through the Cliq mobile app.
Events UI improvement
Android
iOS
We have implemented minor UI enhancements in the Cliq mobile app's events module to improve your overall experience.
Sep
Customize bot menu icons
Enhancement
Customize your bot menu action icons, including changing their colors. These icons will add a touch of style to the bot menu actions and convey more meaning visually.
Open chat in widgets
Enhancement
Open chat windows right alongside a widget to quickly access your conversations, thereby minimizing context switching.
Access all shared media files in chats, conveniently from a central space.
Aug
Noise cancellation for your calls and meetings
New
Whether you're in a bustling office or a noisy coffee shop, enjoy uninterrupted and focused communication by cutting out unnecessary external noise, with our background noise cancellation technology. You can turn it on in the "Calls & Meetings" settings.
Exporting data of inactive users
Enhancement
Previously, , exporting data from the admin console was restricted to only active organizational users. However, with this new enhancement, admins have the flexibility to choose not only from active users but also from inactive users when exporting data. This update offers greater control and access to a wider range of user information for your convenience.
ChatGPT bot playground support
Android
You can fine-tune your chat experience by adjusting variables like AI model, randomness, maximum length, etc. with the ChatGPT playground in Android. You can access these settings through the cog wheel icon at the top of the ChatGPT bot chat.
Double tap to react
Android
By double-tapping on a message, you can effortlessly express your approval with a yellow thumbs-up emoji (👍). This quick gesture allows for instant reactions to messages, adding a convenient and expressive element to your conversations.
Unread summaries for threads
iOS
The unread message summary feature has been updated to summarize unread messages within threads. When you long press a channel with unread messages, you get an option to summarize all the unread messages in it. On doing so, all the unread threads within that channel will also be displayed under the summarized messages. You can then click on any of the threads to summarize the unread messages within that specific thread further.
Jul
Background effects for video messages
New
Enhance your communication by introducing various elements such as backgrounds, blurs, and filters to your video messages. These features serve to either convey your messages with heightened clarity, eliminating potential distractions, or to infuse your messages with additional visual appeal and impact.
Read more
Updates to Cliq platform
Enhancement
Multi-line input: We have increased the maximum character length from 1000 characters to 5000. So no more counting characters or playing around with extra input fields in Forms.

New database fields: "Large text" and "Encrypted text" have been added as new fields in Database to cover all your data needs, no matter how big or confidential.

Script versions (Deluge IDE): You can now toggle between the different versions (history) of Deluge scripts stored in custom functions, bots and the like.

View execution - Output: We did a bit of a tiny revamp to showcase the output seperately. This will offer improved clarity and distinction from the executed info statements.
Delete messages as administrator in conversations
Android
We have granted channel administrators the authority to delete text messages in conversations from their phones! Channel admins can efficiently manage conversations by removing specific messages on the go, providing greater control over the content in the channel.
Updated language settings
Android
The latest update brings support for an impressive 14 languages in the Zoho Cliq android app. Now, you can enjoy seamless communication in your preferred language, making collaboration even more accessible and inclusive!
Unread message summary
Android
iOS
On the mobile app, users now have the convenience of obtaining a summary of their unread messages within a specific chat, eliminating the need to read through the entire conversation. By simply clicking on the magic wand icon located on the side of the chat, users can quickly access the summary, saving valuable time and gaining a comprehensive overview of the discussion's key points.
Screen sharing in 1:1 calls
iOS
Good news iPhone users! You don't have to initiate a meeting just because you need to share your iPhone's screen. With the latest update, you can now effortlessly share your iPhone's screen during a one-on-one call.
Ability to share permalink for conversations
iOS
By simply clicking on the conversation title, you can now access the permalink for threads and group chats, in addition to regular conversations. This means you can easily share a direct link to any conversation, making it more convenient for others to join or access specific discussions.
Double tap to react on messages
Android
Save time and effort by skipping the tedious process of hovering over messages to react with a thumbs up. Now, all you need to do is double tap on the message to show your appreciation with a thumbs-up reaction instantly! It's that simple and efficient!
Vary playback speed on audio messages
iOS
With the latest update, you have more control over audio messages in various scenarios. Whether someone speaks too quickly for your comprehension or you receive a lengthy audio message that you need to listen to in a limited time, worry not! You can now adjust the playback speed on audio messages from 0.5x to 2x, giving you the flexibility to listen at your preferred pace.
Jun
Desktop app support discontinued for Windows 8.1 and below
Support for the Cliq desktop app on Windows 8.1 and lower has been discontinued due to incompatibility with the operating system. The framework utilized by the app is not supported on these operating systems. For further details, please refer to this forum post.
Deleting conversations as an admin
Channel administrators can now delete messages sent by other participants with the option to specify a reason for deleting the message, ensuring transparency and accountability in content moderation.
Multicultural emojis
The Cliq iOS app has introduced support for multicultural emojis, promoting inclusivity and celebrating cross-culturalism. Users now have access to a diverse range of emojis that represent various ethnicities, fostering a more inclusive and representative communication experience within the app.
Replay recordings:
Access your meeting recordings directly on the Cliq TV app, as they are now automatically synchronized. This convenient feature allows you retrieve and play your past meeting recordings directly from the TV app.
May
Assign Cliq's paid licenses to specific users
In situations where there are more users than available licenses, you have the flexibility to designate which users are assigned paid licenses and which ones have free access. This allocation can be managed conveniently within the admin panel by accessing the user listing.
Call conversion from chatbar
The chatbar in Zoho Cliq has been enhanced with a valuable feature that enables the conversion of one-to-one calls attended from the chatbar into group calls, all without leaving the chatbar interface.
ChatGPT extension v2
After making some significant improvements (mainly focused on security and admin controls) to the ChatGPT extension, we've released a version 2. A few of updates include:
ChatGPT playground: You can now fine-tune your chat experience by adjusting variables like AI model, randomness, maximum length, etc..

ChatGPT Widget: With the new widget for ChatGPT, you gain the ability to configure the extension and make changes to the authentication mode and update the token
Admins can now assign and distribute tokens purchased by the organization to specific users or groups.
Better data security: Any data submitted via our APIs will not be used to train or improve OpenAI's models.
ChatGPT now takes into account the context by passing the last 5 messages to the bot to provide more relevant and contextual responses.
New date and time format:
You can now choose which day of the week is displayed at the beginning of your calendar view, so you can prioritize the day that is most relevant to your workweek structure. Additionally, we have introduced the ability to change the time format in your calendar between 12-hour or the 24-hour format.
Create and manage events
With the events tab in Cliq mobile, you can plan your day by creating and managing events directly from your phone.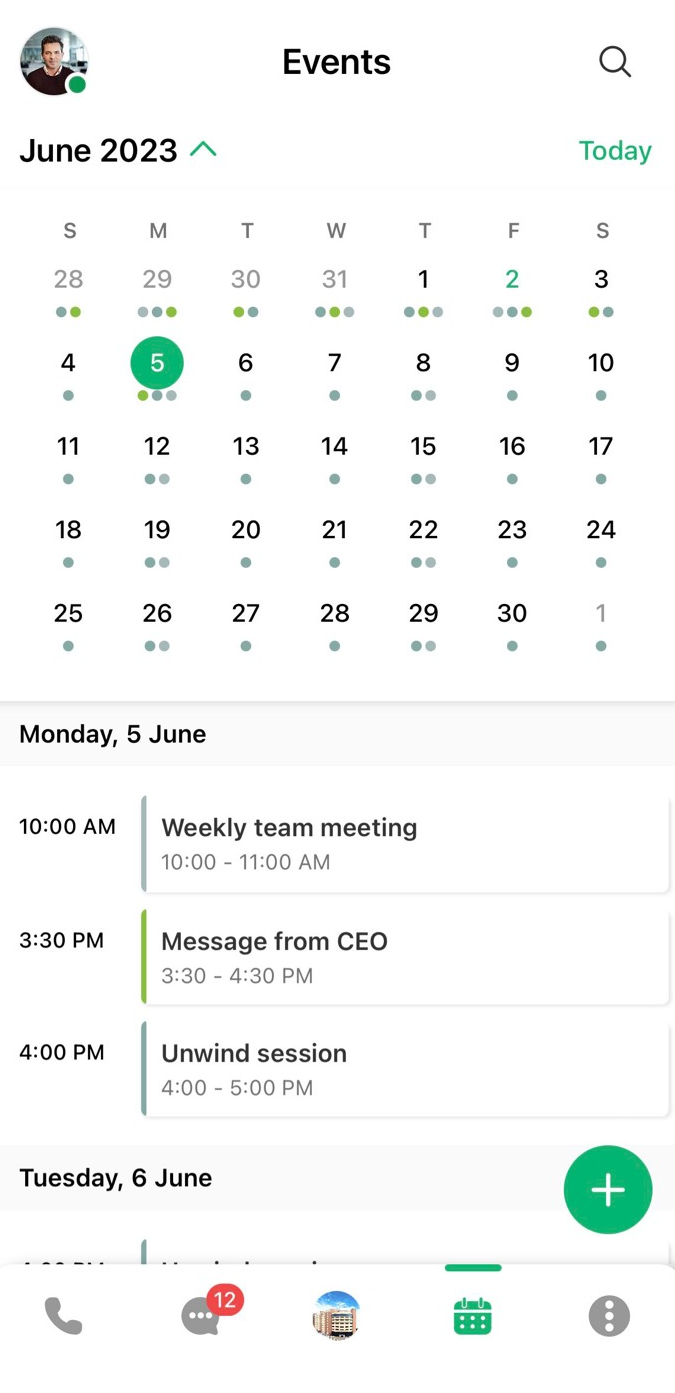 Apr
Microsoft Teams migration
Looking to migrate from MS Teams after Microsoft's sudden decision to discontinue their free Classic version? We've made things easy for you. With just a click of a button in the admin panel, start a simplified process to migrate all your data from MS Teams to Cliq.Through this brand-new import feature in Cliq, existing user information, DMs, channels, group chats, and thread messages from Microsoft Teams can be imported and you can continue conversations in Cliq instantly. Check this out now by exploring this video clip.
Org policy to limit/allow all users of the organization to install extensions
With the latest update to the organization policy, administrators now have the ability to restrict users from installing extensions that are not verified and available only in the Cliq marketplace. This new feature provides added security measures to prevent unverified extensions from being installed on a team's account, thus reducing the risk of privacy breaches and ensuring the safety of confidential information
Admin configuration to customize shortcuts for Cliq iOS and Android apps
Admins can now personalize Cliq app's shortcut menu on iOS and Android devices. Admins can choose which shortcuts should appear when users press and hold the app icon. These shortcuts can include frequently contacted users, unread chats, switching accounts, and more. By tailoring the app's functionality to their organization's needs, admins can improve user experience, navigation, and productivity.

QR code generator for form view handler
You can now generate a personalized QR code (with custom parameters if required) for your forms through the Form View Handler. Users can easily access the form by scanning the QR code.
WorkDrive upload restriction
Admins now have the option to prevent users from uploading files from Zoho WorkDrive in a chat. The latest feature in the admin panel provides admins more control with the type of files users can upload, to help maintain data privacy and ensure that sensitive information is not shared inappropriately.
Mar
Dual reply mode
With the support of the new reply mode, both thread replies and normal replies can be active simultaneously. Users can select the reply mode that best suits their communication style and the context of the conversation, and switch between modes as needed.

Host handover in meeting
Started a meeting and need to leave without disrupting it? With the new update to meetings, you can now start a meeting and assign another participant as a host.
Optimization of chat switching during meetings
Switching between different chats during a meeting will be a smoother experience because we have optimized the response timeto be 50% faster.
Feedback after calls
Just finished a meeting and faced an issue? Or maybe you were just jubilant with the quality of the call ;). You don't have to reach out to our support via mail or forums to provide feedback. You can now send your feedback directly from a meeting through more options (kebab button). After finishing your calls you may get a small feedback pop up once in a while. You can send your feedback via that as well and our developers will spring into action ASAP.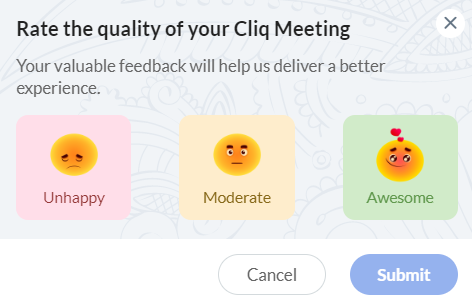 Screen share support
A new update to the Zoho Cliq iOS app allows you to share your mobile screen in a meeting, providing a new level of mobility and flexibility for remote work.
Feb
Introducing Zoho Cliq 4.0
The key features in this release includes:
Performance improvements
Instant preview of attachments even while they're being uploaded.
Optimized attachment upload process so memory usage is decreased by 800-2000%.
New dynamic date filters to jump to a conversation on a specific date quickly.
80% improvised FCP (First Contentful Paint), which is the content the browser renders first when loading a website.
Also, much more quality of life updates such as smoother scrolling and navigation and bug fixes.
UI/UX improvements
You can now minimize most of your pop up windows (like previewing a file or coding an internal tool) and get back to your chat in a flash.
You also have a new option to open the chat on the side while previewing a file.
Desktop app upgrades
Tabs are now supported within the desktop app so you can multitask with different workflows or attend a meeting in one tab and simultaneously chat in a different tab.
You can also log in and manage multiple accounts with the desktop app.
Last seen
Last seen for users is now supported. If there is no activity for 15 minutes, your last seen status will be displayed so your colleagues can know when you went away before they contact you.
Upgraded calls and meetings
With the upgraded interface, you can now share slides in Cliq meetings and also the device audio while you're sharing your screen. The "speech detection" system notifies you with a pop up when you speak while you're muted (so you never have to hear "you're on mute" ten seconds into your speech). You can also transfer your active call to a different device seamlessly.
Editing images before you share
Add a fresh coat of paint and delight to your images shared in your Cliq mobile apps with the annotating option.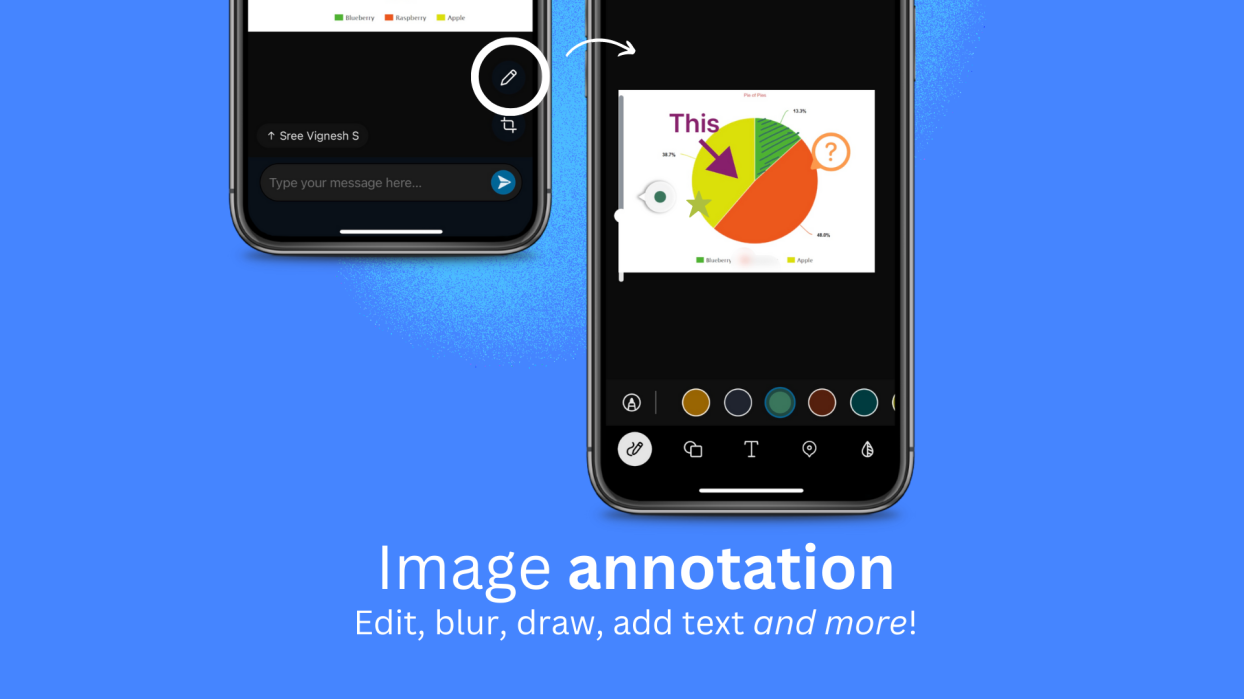 Support for Kiosk mode in widgets
We now support an option to open widgets in kiosk mode.Kiosk mode allows you to render only the widget so there's nothing else that populates the screen.
Upgraded search
The search bar has been upgraded so you now have the options to:
Filter by date
Filter by sender name
Jump to date
Jan
More customizable notifications
With the finer controls we have added to the notifications and sound settings in Cliq, you can now add custom notification sounds to reminders, group chat and channel messages. This way you can easily differentiate what kind of message you've received from the notification sound.
We have also added separate desktop notification controls for these as well.
2022
Dec
Manage data access for debugging by Cliq support team
Enhancement
A new policy has been enforced which allows you to manage the access of your data by our support team. When you disable this option, our support team cannot access your company's data for debugging.
Nov
Easy access to message builder and form builder
Enhancement
You can now easily access the message and form builders directly from the deluge editor page.
Message builder is a user friendly, no code way to build your messages. Decide how you want your messages to be conveyed and the message builder will generate the code for you.
Just like the message builder, the form builder provides you with an easy drag and drop interface to build your forms without coding.
Change in policy for exporting conversation history
There has been an update to the policy for exporting history of conversations. According to the new policy, admins can now download the entire history of private conversations regardless of when the policy was enforced.
Rearrange pins and organize them using chat folders
Android
iOS
Got an important conversation that you don't want to miss any updates on? You can now rearrange your pinned chats directly in your Zoho Cliq mobile and group them under different cartegories using chat folders. For instance, you can create a chat folder named My Teammates and add all your teammates whom you work closely with under that folder.
Oct
Picture-in-Picture mode for video meetings/calls
New
This feature allows you to view your video meetings in a floating window even while using other apps. You will have options to mute your mic/video and end the call at the bottom of the floating window.
Search support for "chats in common"
Enhancement
You can now search for specific chats in common you have with another user using the search bar.
Sep
Introducing Cliq Networks for external collaboration
New
Businesses using Zoho Cliq can now collaborate seamlessly with partners, vendors, contract employees and other stakeholders outside the organization. Networks offer a fully featured Cliq experience through chats, channels, meetings, admin controls and permissions promoting secure communication inside a specific network while keeping your organization's assets segregated and protected. Read on to know more.
Access your entire sent message history
New
Check out the history of the messages that you sent by navigating to History > Sent Messages from the navigation sidebar.
View call history with specific users
New
Click on the user's profile picture in chat and select Calls to view your entire call history with the individual.
Aug
Make guest users a part of your broadcast sessions
New
As the host of a broadcast session, you can now invite guests to join by sharing the broadcast link with them.
Enable user access restrictions based on IP only for Cliq organization or across all Zoho Products
New
This new feature allows the organization admins to restrict users from accessing only Zoho Cliq or all Zoho apps based on the IP address. IP restrictions can also be applied for specific roles and departments in Zoho Cliq.
Learn More
Organize your meeting conversations
New
Channel admins can now configure whether to create a separate thread conversation for the meeting, continue meeting chat in the channel or let the host decide between options.
Learn More
Play with new layout colors
New
You can now opt for either Accent Blue or Dark gray layout options and tailor the appearance of Cliq as per your likes. You can configure these under Profile & Settings -> Display -> Themes.
3 levels of security - Exporting files from Cliq
New
When exporting files from Cliq now, you can choose between three security levels, unlike before, when password encryption was mandatory.
1. None - The user can open the file without a password, i.e., no added layer of security.
2. Password protection - The user will have to enter a specific password to open the file.
3. Password encryption - Only authorized users with the encrypted key can decrypt and access the file.
Jun
Sort channels in alphabetical order
We have now introduced the option to sort your channels in alphabetical order. Go to the channels category in the navigation sidebar, click the sorting icon next to the search bar and choose "Alphabetical order". Your channels will be sorted in alphabetical order.
Multi-Account Support in iOS
iOS
You can now manage all your Cliq accounts from one place in your Cliq iOS app. You do not have to switch tabs to stay on top of all your Cliq accounts as you'll be posted with all notifications in the Cliq mobile app.
The DND mode allows you to turn off all push notifications in Cliq. You can now schedule and manage the DND mode from within your Cliq mobile app.
Now you can crop, rotate, mirror images and do much more before sharing them with your colleagues on your iOS device.
All new revamped file preview
New
You can now pane, rotate, and zoom in/out on images and files when previewing them.

May
Managers can now view their reportee's attendance
Managers can now check their reportee's weekly and monthly attendance reports. Here's how: Click on your reportee's profile picture and select Attendance.
Cliq brings remote work utilities in iOS: check-in / check-out and statuses
Users can now quickly check-in / check-out and set their remote work status from Cliq iOS devices.
View Cliq call history from your iOS device
iOS
Your Cliq call history isn't just restricted to the web version. Here's how you can view it from your iOS device: Tap on the call icon in the bottom navigation to reach call history.
Apr
Plan ahead using Scheduled Messages in Cliq
Enhance communication between people working in varied time zones with scheduled messages in Cliq. Refer to our knowledge resource to know more.
Say hello to our redesigned widgets section
Quickly access the widgets you use to enhance your workflow from the navigation sidebar in Cliq
Tag to notify the users while you share an attachment with them
Enhance contextual conversation by tagging the person you are sharing an attachment with @mentions
View the ongoing meetings on the go
iOS
Catch a glimpse of the ongoing meetings in your organization right from your Cliq iOS device.
Mar
Introducing "Leave" status in Cliq
New
The all new leave status notification has been added to intimate users about your availability. Once you apply for leave from Cliq your Cliq status automatically gets auto updated to "On leave"
Introducing Custom Emojis and Stickers in Cliq
New
Zoho Cliq brings you "Custom Emojis and Stickers" to keep your conversations interactive and lively. Refer to our forum post to know more.
Feb
Say Hi to message bubbles!
Cliq now offers you a variety of message display views (classic, monochrome, bubbles) to choose from. Refer to our user documentation to know more. To set your preferred message display view, navigate to Profile and Settings -> select General -> scroll down and choose your preferred message display view.
Be notified when a user joins or leaves a channel
Enabling the "Notify when users join or leave" option will post an info message, notifying the channel members when a user joins or leaves the channel. You can find this option in the configuration section under channel permissions.
Channel admins can now delete channel messages posted by channel members
Admins can now delete messages with unprofessional language, typos or irrelevant messages.
Open any channel -> navigate to channel permissions -> By default, this permission will be enabled for admins. The admins can further provide this permission to the channel moderators from here.
Jan
Enable "Mandate 'Original sender' Info"
Admins can now mandate the original sender for forwarded messages. Navigate to Cliq Admin panel -> Organization -> Configuration -> enable "Mandate 'Original sender' Info".
All new Cliq meeting extends support for IOS
iOS
Have contextual conversations with @mentions
Android
Avoid miscommunications in channels by @mentioning the name of the individual you are addressing your message or attributing your message to.
Fix Cliq android notification issues with simple steps
Android
Resolve your Cliq android notification issues by following these simple steps.
2021
Nov
All new audio/video meetings in Cliq
New
Connect with up to 1000 participants in a single audio conference, with the help of Cliq audio/video meetings. Cliq meetings enable you to schedule, create and start a meeting instantly by adding users from your organization, and external organizations. Read to know more about the various actions that you can perform in a Cliq meeting .
Blur messy backgrounds and add filters in video calls
New
Record your Cliq audio/video meetings
New
All the meetings that you host can now be recorded by the host and can be accessed from the "Recordings" tab in the files section.
Collaborate real time with Cliq whiteboard during meetings
New
Task Management made easy with the Projects module in Cliq
New
No more switching between your task management application and Cliq. You can now create, manage, and track your tasks & issues from the projects section within Cliq.
Create notes, collaborate on them, and work better
New
Swiftly take down notes and view all your meeting notes in a consolidated space from the notes module. You can edit, share, set reminders and perform more actions on notes in Cliq. Read our help page to know more about the various actions that you can perform in Cliq notes.
Get in touch with anyone in your organization in a jiffy with the Organization module in Cliq.
The organization module in Cliq provides you with an insight about your team and the people in your organization. Refer to our help resource to learn more.
Communicate asynchronously with quick Video messages and screen recordings
New
Calendar in Cliq provides you with a wholesome view of your team's calendar making it convenient for you to plan and schedule your day to day activities and meetings efficiently. Read more to know about the various actions you can perform in the Cliq calendar.
Request leave in Zoho People from Cliq's remote work module
New
Navigate to the Remote Work module -> Click on the Check out button dropdown -> select Apply Leave -> enter required details -> Submit.
React instantly with quick emoji reactions
New
Configure quick emoji reactions in Cliq to access the emojis, you most frequently use by just hovering over the message you receive. Refer to the help page and learn to configure quick emoji reactions in Cliq.
Work on the go with Zoho Cliq Carplay support
New
With Zoho CarPlay support, you can now:
Listen to unread messages
Send a message
Call someone via Siri command
Oct
Introducing DND in Cliq
New
The "Do Not Disturb" (DND) status in Cliq will block all your Cliq notifications, pop-ups and sounds. You can set DND status from the Default status dropdown or from the Remote work module. Refer to our help guide to enable DND.
Cliq is integrated with IFTTT
New
Increase your work pace and get more done by simplifying and automating your routine tasks with the IFTTT integration for Cliq. Refer to the IFTTT integration knowledge base and automate your routine tasks with ease.
Check-in and Check-out using Remote work
Android
Check-in and Check-out on the go with Remote work status in your Cliq mobile application.
Click on the hamburger menu in your Cliq application
Tap on the Remote Work toggle
Set your work status using Remote work
Android
Quickly set your current availability status from Remote work in your Cliq mobile application.
Click on the hamburger menu in your Cliq application
Click on Remote Work, set your current availability status
Sep
Introducing Threads in Cliq
Streamline your conversations in Cliq with Threads. Threads are a group of related messages in reference to a particular subject or a topic made available exclusively in Cliq channels. With threads, you can have conversations about multiple topics in the same channel by grouping them. Do check out our help guide to learn how to create threads in Cliq with ease.
Note: Threaded conversations are made available on both the web and on your mobile devices.
Share your screen in landscape mode (iOS)
iOS
You can now share your screen in landscape mode on your iOS devices. Launch landscape mode on your IOS device by tapping on the full-screen icon during a screen share session.
Aug
Admins can configure default notification settings for org users
New
Users may miss important notifications by turning them off by mistake. To address this pain point, we have provided the org admins with the ability to configure default notification settings for all their org members. Notifications about a doc being shared, event reminders and others can now be mandated.

View screen share sessions on your mobile
Attend one-on-one call screen share sessions right from your Cliq mobile!
Jul
Introducing voice messages in Cliq chats and channels.
Navigate to any chat or channel. Click on the mic button in the message composer to start recording. Click the link to learn more.
Pricing plan changes for new users
Marginal changes in Cliq UNLIMITED, UNLIMITED TRIAL plans for new users. Click here to know more.
Jun
Admins can now provide admin privileges to user roles
New
The admin of the organization can choose to provide selective admin privileges for any role and make them the custom admin of the organization.
Introducing /feedback command
New
Share your comments, raise bugs and ask questions from Cliq by using the /feedback command. Our support team will get a ticket and they will resolve the issue.
Quick options made available to close current chat, close other chats and close all chats.
New
Right-click on the chat profile picture for quick options.
Create Group calls in IOS app
iOS
You can now create group calls from your Cliq IOS application in addition to joining group audio/video calls
May
Enable Telephony integration
New
Smart suggestions in Cliq, auto-detects the phone number shared in a conversation and provides you with an actionable suggestion to make an instant phone call via Telephony integration.
Group calls in IOS app
iOS
You can now connect, engage and discuss with your team anytime, anywhere on the go by joining in Cliq audio and video group calls via your IOS app.
Mute notifications
Android
Mute the noisy channel or chat for upto1 hour with a simple tap on the "Mute 1 hour" option in the notification.
Hide your app preview
Android
Step up your privacy by enabling the "Hide app content from task switcher" option to hide your data while you switch between applications on your phone.
Mar
The all new navigation sidebar
The upgraded navigation sidebar in Cliq prioritizes your ease for accessibility. It allows you to collaborate and communicate efficiently by bringing all the significant components that you frequently access under one roof.
New access sections to help you connect and collaborate better
New
Files: All the files shared in Cliq, that you have access to can be found here.
History: The History section contains the logs of your entire direct calls, group calls, conversations and broadcasts. From the chat history, you can contextually search and retrieve the required data from your past conversations.
People: You can easily find and connect with people in your organization from the people section in the Cliq navigation sidebar.
Widgets: Extensions in Cliq are often accompanied by widgets. All these widgets can be accessed easily from here.
Feb
Join in more participants in video/audio conference
Enhancement
You can now add up to 1000 participants in a video conference and up to 60 participants in an audio conference.
Locate your files easily with OCR
New
The Cliq search bar is now powered with optical character recognition. You can now search using not just the file name but also using any text in the images shared.
Set a default status while Check-in/Check-out
New
You can now choose a default status that will be updated once you check-in / check-out or can choose to have a status update pop up, show up every time you check-in / check-out or can retain your last updated status in Cliq.
2020
Dec
Launch instant voice or video call with your group!
Android
Initiate and engage in a group audio/video call from your Cliq Android app and stay connected with your team on the go.
Read receipts is now available on iOS!
iOS
You can see if your message has been read by the receiver with the visual indication of a double tick. A quick swipe over the message will show you the message read info.
Nov
Select your preferred time zone while creating an event via Cliq
New
No more missing an event due to overlooked timezone! Schedule events conveniently by selecting your timezone and the attendees will receive the event details in their timezone.
Pause and play the gifs you receive via Cliq chat
New
Pause your gifs to keep your chat window clean and drive focus to the conversation. Click on the gif and replay it whenever your want.
Oct
Cliq Mobile: Read receipts now available in Android
Android
Now you can get to see whether your message is read by the receiver. You'll be visually informed with a double tick when someone has read your message.
A quick tap on the double tick will display the message read info in channels and group conversations.
Digitize your paperwork with Cliq's Document Scanner
Android
Digitize your paperwork with Cliq's Document Scanner. Convert documents, agreements, checks, business cards, receipts, etc into advanced digital copies with Cliq's Document Scanner.
Tap Attach (+) -> Scanner to get started.
Power Shortcut for Message Action Menu
Enhancement
You can now access the message action menu with a simple right-click on the messages.
Here are the message actions made available:
Select
Forward
Copy
Fork from here
Set Reminder
Mark as Unread
Edit
Delete
Copy Message URL
Pin message
More

Convert your Group Chats into Channels in Cliq
New
You can now add more structure to your group conversations and collaborate better by converting them into channels.
Click on Actions in chat window --> Convert to channel
Sep
Bring your apps into Cliq with Widgets
New
Document collaboration made easy with the Zoho Writer Integration for Cliq
New
Zoho Writer's integration with Cliq is a great way to collaborate on your documents from the comfort of your chat window. This powerful integration comes with a "Documents" Widget where you can view recent documents, create new documents, view documents shared with you, your favorites, or even create a new template.
Learn How The Zoho Cliq Integration With Zoho Writer Works
Telephony integration for Cliq: Automatic status updates and context-driven suggestions
New
Cliq detects the context behind every conversation to suggest smart follow-up actions. For example, whenever there is a phone number that is shared on chat, a contextual suggestion powered by Cliq's Telephony integration is listed right next to the text.

Make sure that Telephony is set up and enabled from the Zoho App of your choice (CRM, Bigin, Recruit, Zoho One) and get to make an outbound call right from your chat window.

Also, once the call gets connected, your Cliq status automatically reflects that you're on a call.
Read More About Smart Suggestions in Cliq
Build webhook based extensions for Cliq
New
You can now create a webhook based extension for Cliq by accessing Cliq's developer console. All you have to do is create the extension, choose the platform components you'd like to add to your extension, and provide a call back URL for your server.
Configure Taz notifications and stay updated!
New
Now you can configure Taz notifications and get to decide on when to receive alerts/notifications under specific circumstances.
You can enable/disable notifications for the following cases:
When a document is shared
When a new event is created or updated
When an event invite is accepted or rejected
For event reminders
Cliq Mobile: Sync dark mode with your iOS settings
iOS
You can now swiftly toggle between light and dark mode by syncing Cliq with your device settings. To do so:
Go to Settings > Personalize
Enable Sync with device setting option under Night Mode
Enabling the option will sync Cliq with your device settings i.e when you select the night mode theme for your device it will be reflected in Cliq also.
Cliq Mobile: New addition to Cliq's default status options: Away
iOS
Make sure that your teammates know when you're away from work/desk by switching to Away status in Cliq.
Cliq Mobile: Share content to Cliq with ease
Enhancement
The improved version of the share extension provides a convenient way to share content from other apps to Cliq effortlessly. The improved full-screen UI for share extensions puts a stop to endless scrolling through for selecting a chat and makes it easier for you to view and select a chat/channel.
Share info into Cliq with ease now!
Configure mobile notifications to suit your needs
iOS
We have tweaked our system to keep you notified in real-time with messages that are directed to you or when someone @ mentions you in a conversation. Now you also get to configure whether to receive notifications with sound or not at your convenience.
To configure notification settings,
Go to Settings > Notifications
Under Notification when active on web you'll be displayed with two options to choose between: Receive with sound and Receive quietly
You can select either one of the options based on how you'd like to receive mobile notifications when you're active on the web.
Aug
Introducing galaxy view in group video call
New
The galaxy view is our interesting take on the group video calling interface. All participants will be displayed in rings based on their activity in the call. The current active speaker will be present at the center and indicated by a yellow ring. Galaxy view in Group Video Call is currently available only to Cliq users falling under the US DC.
Check-in reminders in Cliq's Remote Work
New
If you're active on Cliq and haven't checked-in for the day yet, Cliq's check-in reminder will pop up to make sure you remember. Worry no more about forgetting to check-in or checking-in late!
Multi-account in Cliq Android App
Android
Configure more than one Zoho Cliq account in your Cliq Android App and switch between all your accounts with ease.
Add emojis and mentions in attachments comments
Enhancement

You can now add and edit comments for an attachment to insert emojis or mention users just like you do for normal messages.
Scheduling calendar events made easier
Enhancement
The calendar events interface just got a makeover! You can now schedule a calendar meeting more precisely as per your needs with a face to face or online meeting, rope in participants you need, or assign it to a chat directly and more.
Jul
Read receipts in Cliq is here
New
This has been long pending! But it's finally here :)
Read receipts allow you to know whether your message is read by the receiver. You'll be visually informed with a double tick when someone has read your message. A quick tap on the double tick will display the message read info in channels and group conversations.
Learn more about read receipts
Jun
Drag and drop files to a chat in your left side panel
New
Now you can drag and drop attachments from a chat window to a specific chat or channel in Cliq's left side menu. Forget opening a chat to just share an attachment!
Edit attachment comments
New
Ever added a comment to an attachment and wished you could edit or update it after some time? Now you can do so easily by using the edit message action. You can edit comments for an attachment just like you edit normal messages.
Cliq Mobile: Forwarded tags for messages
New
Messages that are forwarded will be labelled with the 'Forwarded from <username>' tag to indicate where it originally came from. All you've to do is, enable the 'Show Forwarded from' option that pops up and forward the message.
May
Introducing Remote Work: Bring your office into Cliq
New
Ever wondered what it'd be like to experience working from an office space while also working remotely? With Remote Work on Cliq, you can get the best of both worlds.
Easy Check in and Check out
Department View
Live Video Feed
Group Calls & Scheduled Meetings
User Availability Reports
Contextual Native Integrations

Read more about Cliq's Remote Work
Admin Panel: View all team channels
Enhancement
You can view all the team channels created under a specific team in the 'Channels' tab under the team preview page.
Here's how: Head over to your admin panel, click on Teams, search for a particular team and open the team's preview page, click on 'Channels' to find all the channels associated with the team.
Admin Panel: Zoho Cliq - People Integration Configuration
Enhancement
If you are using Zoho People as your HRMS, Cliq offers a native integration with Zoho People. You can configure this integration directly from Cliq's admin panel. Here's how: Head over to your Admin panel > Integrations > Zoho People.
Apr
Simple short cuts to view unread and mark chats as read
New
You can now easily carry out short cut actions on a list of conversations. Simply click on the menu button right next to Conversations in Cliq's left side panel and use View unreads to view only the unread chats in your list. You can also mark all the unread chats as read by using the Mark all as read option!
Guest Chat: Collaborate with external users easily
New
Guest access in Cliq lets you invite an external user or a group of external users to be a part of a group conversation. Guest users will be able to send messages, share files, and get on group calls with an invite, without having to sign up!
Learn more about guest chat in Cliq
Reply privately to messages in group conversations
New
You can now send a private reply to a user's message in a group conversation. All you've to do is, click on the message actions menu, choose the Reply Privately option. This will open up your private messaging space (direct conversation) with the message sender. Type your reply and hit send!
View your mentions easily
Enhancement
The mentions view is updated with a filter to hide all group mentions and display only your personal mentions. This makes it easier to sift through the clutter and pay attention to direct mentions that are more important. You can also clear your notifications by marking all your mentions as read.
Mar
Increased maximum channel participants limit
Enhancement

The maximum channel participants limit has been increased to 5000.
Enhanced search results
Enhancement
Cliq's global search algorithm has been updated to make sure it pulls up all relevant chats in search results even if the conversation title has been changed!
Feb
Right click on conversations for chat actions
Enhancement
You can now right-click on any conversation in Cliq's left pane to perform a chat action. The list of actions are currently supported include:
Mark chat as read
Pin/Unpin chat
Mute chat
Copy chat permalink
Search in chat
Jan
Make important messages stand out
New
You no longer have to scroll endlessly through a sea of messages to find that one important text sent hours ago. Simply, pin them to the top of the chat window for everyone to see!
See how to pin a message in any chat
Know your message status 
New
All your messages will have a clear indication allowing you to monitor the progress of your messages. You'll see a single tick when your messages are successfully sent and a clear indicator when message sending fails, making it easier for you to act upon.
P.S - We're gearing up for showing messages read by state as well. Read receipts is coming soon!
Incident management right from chat: Cliq - PagerDuty Integration
Integrations
What if there was a way to bring real-time incidents directly to your team? What if there was a way to somehow bring PagerDuty's alerts to your support team channel so that everybody's in the loop and anybody viewing the channel can take a call? Zoho Cliq's integration with PagerDuty is the solution.
This integration enables teams to communicate effectively and to handle incidents efficiently while having everyone in loop.
Head over to our blog to know more about this integration
PrimeTime's assembly mode is now available on Cliq Android! You can participate or initiate company-wide town halls, presentations and more now.
Install Cliq for Android
2019
2018
Dec
Forms in Cliq Platform
New
Build forms to collect multiple pieces of information at one go to perform an action. Trigger a form from a slash command, while performing an action on a message, on a button click or while interacting with a bot. You can easily bring all your business workflows inside Cliq.
Learn how to simplify business processes with Forms in Cliq
Nov
Siri Shortcuts in Cliq iOS
New
Cliq iOS now supports Siri Shortcuts. From opening unread chats to setting your status, use the default shortcuts available or custom create your own. You're just a voice trigger away from Cliq.
Setup Cliq with the revamped Admin Panel
New
Set up Cliq to reflect your organizational structure. Import your organization's directory and assign user profiles, add custom user roles with finer permissions, configure modules. Custom domain and themes allow you to rebrand and completely customize Cliq.
Read on to know more about Cliq revamped admin panel
No more reducing your screen brightness while using Cliq—desktop, web or mobile. Switch to night mode and go easy on your eyes.
Smart Suggestions
Enhancement
Cliq can now identify the message context and provide you with suggestions to follow-up. Create a reminder or an event to suit your purpose.
User Consents in Cliq Platform
New
Data privacy is our primary concern. With platform consents, first time execution of any internal component will throw a dialog pop-up to the user asking them to grant permission for the command (or) bot (or) message action (or) function to access their information.
Read how user consents enable you to take charge of your data
Special Mentions
Enhancement
Oct
Notification Grouping on iOS
New
Cliq now supports notification grouping in iOS 12. Now your Cliq notifications stay organized in the notification center and the lock screen.
Get notifications on important tasks so you never forget to finish your to-do list. You can also assign tasks to your colleagues and more—all on the go.
Cloud Picker for Attachments
New
Sep
Sharing external files made simpler on iOS and Android
New
Found something worth sharing online? Cliq for mobile now supports sharing files from external apps!
Direct reports on Android
New
Find all your direct reports with a swipe in the navigation drawer.
Aug
Unified Search over all Zoho Products
New
Cliq now has a unified search that will find you the information you need over any Zoho application. Be it Cliq, People or, Mail!
Advanced permissions for channels
New
Control who gets to do what in the channels you've made, with advanced permissions.
More organized side navigation panel
Enhancement
Your side panel will now only show you your active chats and hide chats you've muted. To check hidden chats, just scroll down to Muted Conversations.
Access muted chats faster on Android
Enhancement
Access your muted chats with a single tap on your Android devices.
Add notes and mark-ups to images while sharing them on Cliq.
Jul
Quick switch-in between screen sharing and video chat on web
Enhancement
App security lock on mobile devices
Enhancement
Your private data will be locked away from prying eyes. Keep your messages safe with App Lock!
Advanced permissions for channels
New
Control who gets to do what in the channels you've made, with advanced permissions.
Admin powers unlocked for Android
New
Now channel admins can edit their channels' names, descriptions, and images on their mobile devices too!
Jun
Screen sharing is here!
New
May
Zapier teams up with Cliq
Enhancement
Come over to the dark side on Android, for a dimmer more eye-friendly UI experience.
Mar
Cliq integration with People
Enhancement
With Zoho People powering up our search, you can search for employees and check whether they're available or not.
Invite-only channels
Enhancement
Single sign-on for all Android Zoho apps
Enhancement
Whether you're using Cliq, Connect, or Mail, you only need one sign-in to access them all on your Android device!
PIP mode for video calls on Android
New
PIP mode for Android lets you multitask like a boss.
Feb
Quick create button added
New
Jan
Cliq learns a new language
Enhancement
Simplified Chinese language support has been added to Cliq.
Audio/video messages on iOS
New
Has someone missed your Cliq message? Now you can send them a short clip via your iOS devices to let them know what's up.
Cliq is now optimized for iPhone X
Enhancement
Channel sharing made easier
Enhancement
2017
Sep
Say hello to Cliq, The smart, collaborative tool!