7 cloud storage concepts every business should know
Last Updated: December 9, 2021
682 Views
5 Min Read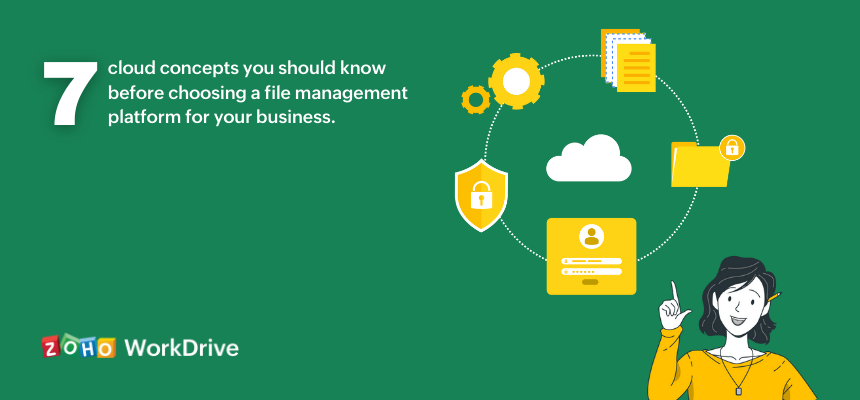 Cloud computing is transforming how businesses function all around the world. It offers complete control over your data, flexibility to scale as your team grows, cost savings for IT infrastructure, and much more. For file storage in particular, the cloud has paved the way for huge advancements. Multiple software vendors have products that give businesses of all sizes easier access to their most important documents, as well as better file-sharing and collaboration abilities.
With the trend toward remote work happening faster than ever thought possible, cloud technology is evolving at a matching pace. It's critical to stay on top of emerging cloud concepts to stay competitive and evaluate your software options as a business appropriately. In today's article, we'll demystify the jargon that surrounds the topic of cloud storage so you can choose the right document management tool for your company.
Intrusion protection
Distributed denial of service (DDOS) attacks are a major security threat, especially for enterprises. These are attempts to take down a website or to make an online service inaccessible by flooding it with traffic from different sources. A cloud service with intrusion protection in place assures that the data you store in the cloud is protected at any cost from cyber attacks. An Intrusion Prevention System (IPS) is responsible for monitoring network traffic, detecting malicious activity, and preventing cyber attacks.
When evaluating document management systems, look for advanced data security features. Ideally, you'd want both an IPS and an Intrusion Detection System (IDS). This will allow your cloud storage software to identify any suspicious activity, including DDOS attacks, and protect your sensitive data from any threats or vulnerabilities.
Data-level security
Data is one of the largest assets in any organization. Having a highly secure cloud platform to manage all of your digital assets should be a top priority.
In addition to an IPS and IDS, two-factor authentication (2FA) and Advanced Encryption Standards (AES) ensure that your business data is protected in every way. Cloud servers that run on a distributed grid architecture can create a backup of your files on another server in case of server damage. Furthermore, features like role-based access can allow you to give permissions to the right people, not just at the folder level but also at the sub-folder and file level.
Cloud compliance
Data compliance is one of the factors to look for when choosing a document management system for your business. Cloud compliance standards are set by data protection authorities around the world, so before deciding on a cloud service, make sure to be aware of the industry-specific standards, regulations, and local and international laws to which your organization should comply. Taking the right steps can mitigate risks such as penalties, legal ramifications, and fines.
For example, the Health Insurance Portability and Accountability Act, or HIPAA, is a US federal law that includes the Privacy Rule, Security Rule, Breach Notification Rule, and HITECH Act. These all require that "Covered Entities" and "Business Associates" take certain measures to protect any health information that can identify an individual. Similarly, the General Data Protection Regulation, or GDPR, is a European law designed to protect the personal data of individuals in the EU.
Once you're aware of which laws, regulations, and standards apply to your business, you will be able to choose the right software vendor to manage your digital file storage needs.
Interoperability
Interoperability is the ability of an application to streamline information and work seamlessly with other apps. Using cloud storage platforms that are interoperable can increase productivity and improve performance while also giving organizations a clear overview of all their data. Businesses today utilize a wide range of applications to meet their various demands. Choosing apps that have robust integration capabilities lets you get access and share data so you can work on your powerful ideas as a team from any tool.
For example, when your document management system is integrated with your business email account, you can streamline your information flow. The majority of corporate communication occurs via email, and it's inevitable that you'll lose track of a file if you can only access it through your flooded inbox.
If your file management platform and email account are in sync, you can automatically store the incoming files into your storage space, instantly attach documents without leaving your email window, easily retrieve information, and much more.
Data discoverability
Most businesses deal with enormous volumes of information every day, but this is of no use when you don't utilize it properly. To become a data-driven company, your workforce needs prompt access to the required information at the right time for better decision-making.
File management systems that support both optical character recognition (OCR) and Object Detection can accelerate your data discovery process. You can broaden your search by looking for the file name, folder name, author name, and keywords from images and scanned documents, too. With this feature, you can easily find your content quickly, even if you forget the file name.
Additionally, Object Detection can identify objects within images. This means you can search for an object name such as "laptop" or "book" and get the files that hold your search criteria. Having a file management solution that can quickly let you access these granular levels of data can allow you to make decisions that are grounded in a more comprehensive look at your organization and its trends.
Device management
Workplaces have evolved over the previous decade from typical office models to remote home offices. Many people lead a more digitally nomadic lifestyle, taking their work with them as they travel. Coffee shops, coworking spaces, family homes in whole other countries—employees feel empowered when they can work from anywhere and still be productive. However, data protection should go hand in hand with any type of work model.
Device management is a security feature that allows companies to monitor and control the devices that are connected to your network or that are used to access a certain application. Since cloud storage is the central space where businesses keep sensitive data, it's critical to choose a platform that has device management functionality. With it, you can stay informed about your employees' connected devices, app type (Desktop or Mobile), last accessed date and time, IP address, and location.
On top of that, the Remote Wipe feature comes in handy if a device is stolen or lost. You can delete the stored data from the device and log the member out of your business apps.
Data strategy
Having the right tools in place isn't always enough. Devising a data strategy that suits your organization and coupling it with the best resources in technology can unlock your business potential.
Data strategy identifies the processes, tools, and technology that will enable your company to make informed decisions to achieve your business goals. Enterprises generate massive amounts of data, so it's important to manage this without any data redundancy or breaches and facilitate the data availability process in order to work efficiently.
File management solutions with functionalities like role-based access, file versioning, file activity reports, and app integrations can help organizations to eliminate data silos.
Planning to invest in an online file management solution? Look no further. Zoho WorkDrive is here to meet all your cloud content management and collaboration needs.
Comments(
2

)
shirley feldman

April 4, 2023 at 3:33 PM

Hello! I just read your article about cloud storage concepts that every business should know, and I found it to be very informative. As someone who works in technology, I understand the importance of cloud storage for businesses, and I appreciated the way that you broke down the different concepts related to it. I particularly appreciated the explanation of the different types of cloud storage, such as public, private, and hybrid, and the advantages and disadvantages of each. It's important for businesses to understand the differences between these types of storage so that they can choose the one that's right for their specific needs. The explanation of cloud storage security concepts, such as encryption and access controls, was also helpful. Security is a critical aspect of cloud storage, and it's important for businesses to understand the measures that are in place to protect their data. Another aspect that stood out to me was the emphasis on collaboration and file sharing. Cloud storage can make it much easier for teams to work together on projects, and it's important for businesses to choose a storage solution that supports these types of activities. Overall, your article provided a great overview of the cloud storage concepts that every business should know, and the factors that businesses should consider when choosing a cloud storage solution. Thanks for sharing this information with us!

Padmalosani

April 5, 2023 at 11:00 AM

Thanks for your comment, Shirley feldman. We are glad that you found this article useful.
Leave a Reply
Your email address will not be published. Required fields are marked