How to organize emails in shared inboxes
Sorting and organizing emails is one of the key processes involved in effective email management. Being able to manage and organize your inbox is an important workplace skill, irrespective of the role or the industry you belong to. In a shared inbox platform, "tags" allow you to organize emails effectively.
What is a tag?
A tag is nothing but a label that is applied to an email/ message to sort or organize it based on various topics. For example, a sales team may use tags like "New Lead", "Follow-Up", or "Demo Scheduled" to track different stages of the sales process, a finance team may use tags like "Budget", "Accounts Payable", "Accounts Receivable", "Taxation". Tags are created with a keyword and by giving a colour to it.
Benefits of tags in shared inboxes
Effective organization and identification: Tags allow team members to easily categorize and sort emails, making it easier to find specific messages or groups of messages based on the topics.
Enhanced visibility: Since emails are properly organized, team members can quickly identify the messages, and access information with ease. This will help prevent duplicated efforts and missed conversations, as every activity happened in that thread would be visible as soon as they open the message carrying the tag.
Automatic categorizing: Tags are customizable and can be applied manually or automatically. Workflows can be created and upon meeting certain conditions, tags can be made to be applied automatically to threads. This will allow team members to tailor their workflows and prioritize their tasks based on their own preferences and work styles.
How to create tags in Zoho TeamInbox?
Tags can be created both for team purposes and individual purposes.
Setting up shared tags for teams
You can create tags specific to teams. Those tags can only be used by your team, and not by members from other teams.
Login to your Zoho TeamInbox account.
From the left pane, hover over the team for which you want to create the tag, click the More icon and click Manage team.
Select the Tags tab and click Create Tag.
Enter a Name for your tag.
Choose a color for your tag.
Choose if you want to make this tag accessible to all the inboxes under the team or make it available only for specific inboxes you select.
Click Save.
After you've created the tag, they will be listed in the left pane under the title Tags. Click on the tag name to view the threads listed under them.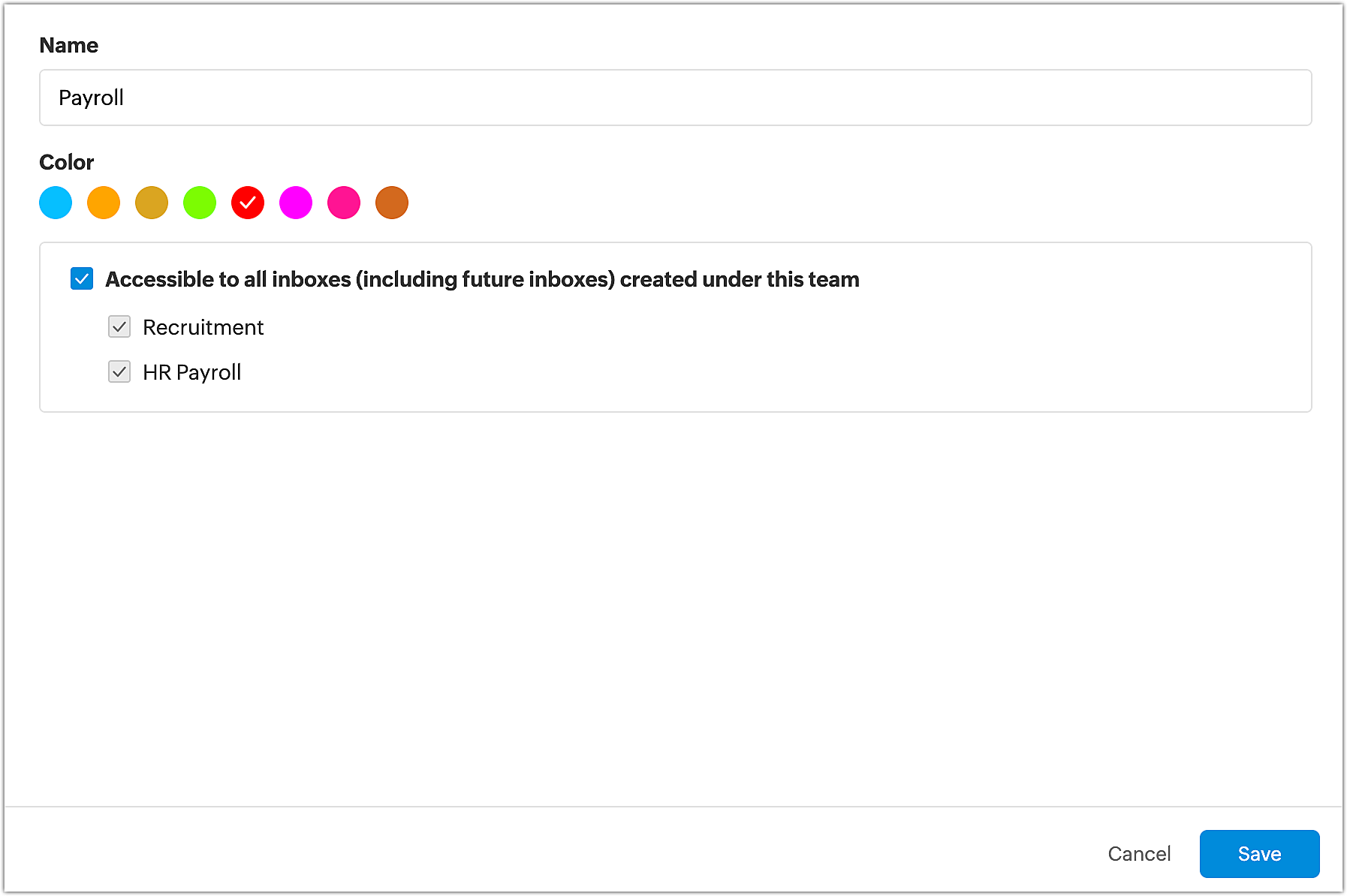 Setting up personal tags
You can create tags for your personal emails. These tags can only be viewed by you, and your team members will not access to it.
Login to Zoho TeamInbox.
Click the Settings icon in the top right corner.
Click More Settings.
Click Tags under the Personal tab.
Click Create Tag.
Enter a name for your tag.
Choose a colour for your tag.
Click Save.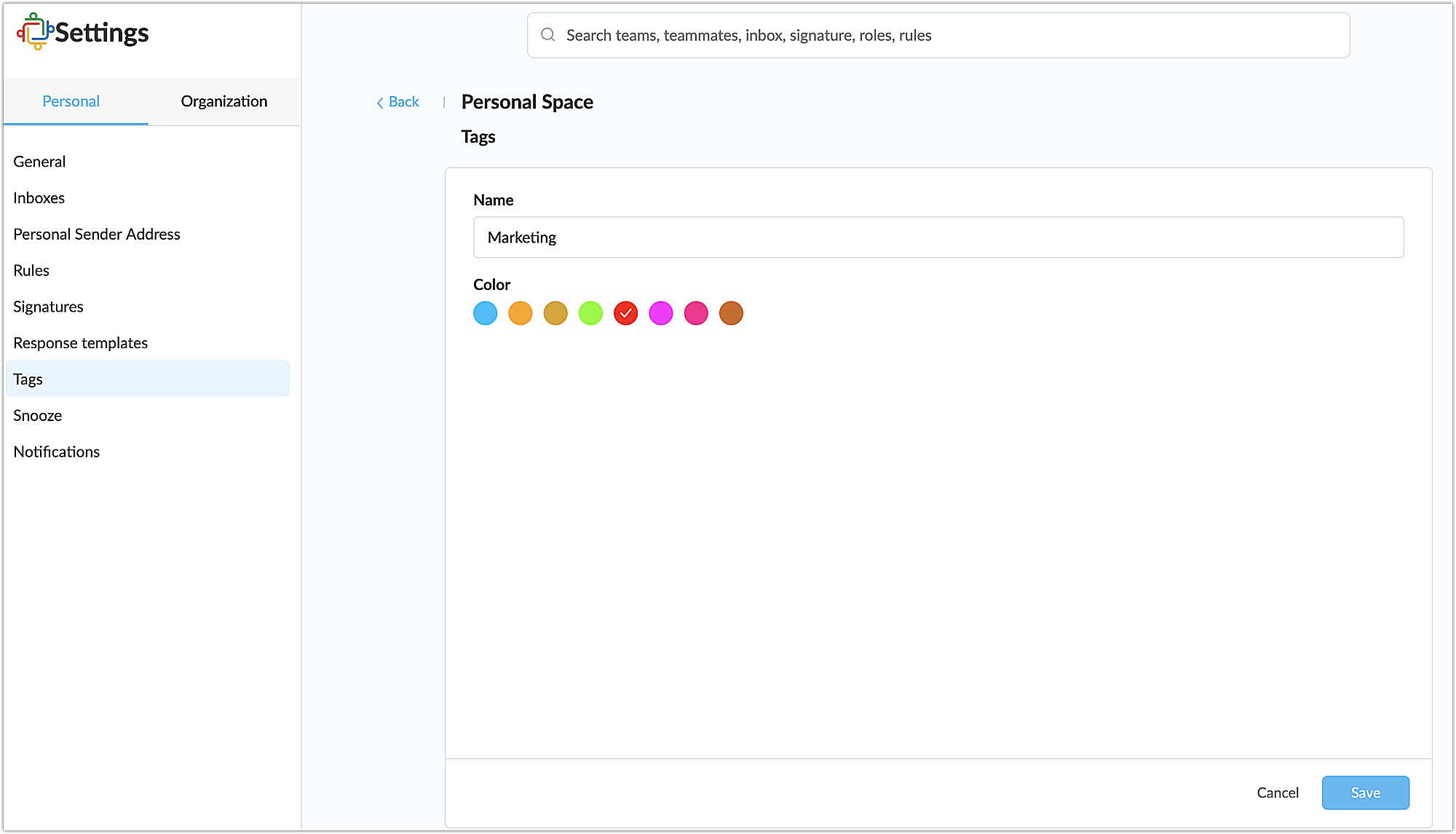 Applying tags to threads
On a particular thread, click Tags from the top bar. All the tags that are accessible to this thread will be listed here. Select the tags you want to apply. You can also remove applied tags anytime by deselecting them here.