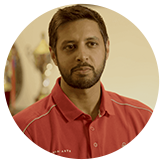 Jaigill
CEO & Founder, Gameday Arts
How Gameday Arts uses Zoho Subscriptions to manage its recurring billing
One of the first professionally managed and operated sports academies in India, Gameday Arts seeks to develop talent at the grassroots level for Indian sport. Through partnerships with Paris Saint Germain Football Club, Michael Phelps Swimming, and adidas, Gameday Arts focuses on nurturing athletes from a very young age, providing them with the right training to achieve excellence in their chosen sport.
Challenge
Like most training academies in India in their early stages, Gameday Arts initially managed its training plans and customer subscriptions manually. As one of the early pioneers of the subscription-based business model in the country, Gameday Arts faced the typical challenges that come along with charging customers on a recurring billing model. This included spending a lot of time and money on tracking every subscription, right from sign-ups to timely payments.
"We used a lot of Excel, and hired a lot of people for the same. We would spend 5 to 6 hours every day tracking payments, tracking plan dates and sending multiple reminders to the customers. We recruited an organization specifically for this and spent a significant amount of money," says Jaigill, the CEO and founder of Gameday Arts.
Solution
The search for a comprehensive platform that can manage customer subscriptions, recurring billing and payments led Jaigill to Zoho Subscriptions. In just two years, using Zoho Subscriptions has completely transformed his back end business operations. Apart from leveraging the out-of-the-box GST compliant invoicing to manage recurring billing, Gameday Arts has also used the integrated payment gateways to offer easy, safe and flexible payment options to their customers. Jaigill's customers now vouch for how simple it is for them to make payments through their preferred gateway. As for Jaigill, he enjoys the convenience of managing his multiple business locations from a single dashboard.
Conclusion
With billing, sign-ups, and back office operations all running smoothly on a single platform, Jaigill and Gameday Arts can channel the extra time and money they've saved into providing world-class coaching and services for their customers.
This version of browser or your proxy is outdated and not secure. You must upgrade to the latest version to access Zoho Subscriptions.
Learn More